How to plan the ultimate co-ed baby shower
Have you ever attended a baby shower and wondered, "Why doesn't the father-to-be celebrate at a baby shower?" It just seems logical to have both parents present to celebrate the arrival of a new baby, right? That's why co-ed baby showers or "couples baby showers" are becoming more common. If you're wondering what these are and want to know how to plan the ultimate co-ed baby shower, this article will give you all the details you need and more. Let's dive right in!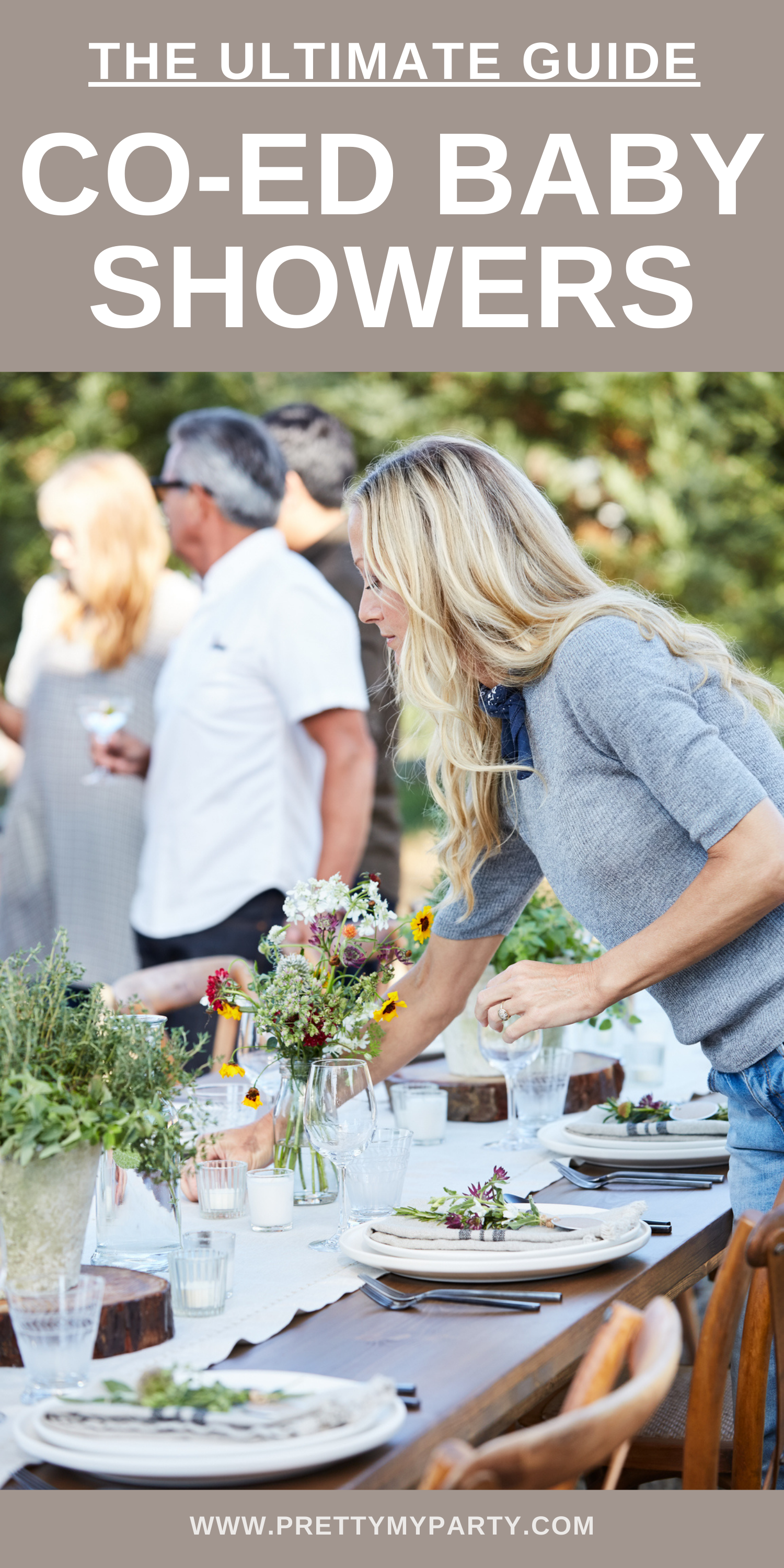 What is a co-ed baby shower?
Traditionally, baby showers focus on the mom-to-be, and most of the time, the guest list will include her female relatives, friends, and co-workers. This is the time to "shower" the expectant mom with well wishes, advice, and gifts for the new bundle of joy that's about to make an entrance into the world.
A co-ed baby shower is when both parents are involved in the planning and celebrating. This way, the soon-to-be-dad and his male friends and relatives can join in on the fun too!
Should I have a co-ed baby shower?
While a girls-only baby shower is still a popular choice for many people, having the dad-to-be involved is a great way to keep him in the loop on all things baby! While many great things can come out of this idea, the decision will also have its challenges. Here's a list of pros and cons you should consider if you're planning a co-ed baby shower.
Pros of having a co-ed baby shower
A co-ed baby shower is a more inclusive celebration where everyone in the family and friend group can participate. I'm sure your grandfather, father, uncles, and brothers would love to be included in the event.
Hosting the perfect baby shower is no easy task, and sometimes it's a lot of pressure for the host to plan and execute. Having a co-ed celebration will ease a lot of the burden on the host because the tasks can be shared among friends and family.
At the end of the day, dads also need advice from other experienced fathers, right? If you want your partner to be involved in raising your baby, they need to get all the encouragement and help from those who've already raised children.
You'll also have a wider range of fun games to plan. You can have separate women's and men's games and some that involve both.
Cons of hosting a co-ed baby shower
Unlike a traditional baby shower with all female guests, where intimate details about childbirth and what a woman goes through can be discussed freely, this might not be the case with men present. All of those childbirth stories can be a bit uncomfortable for some to hear. However, the host can always plan separate group discussions to prevent this from happening.
While you can control the number of people attending, having a couples shower means having a longer guest list. The host will most likely have to increase the budget to accommodate the number of guests.
The shower won't have the pretty frills and intimate vibe that most moms-to-be like. So if that's what you're envisioning, a co-ed shower may not be for you.
How to plan the ultimate co-ed baby shower
If you're convinced that having a co-ed baby shower is what you want, then it's time to plan an awesome one! Here are some shower ideas that will help you throw an unforgettable baby shower like a pro!
Get friends or family to help. Since this will most likely be a bigger event, do not hesitate to ask your family and close friends for help. Remember that the purpose of this type of celebration is inclusivity, so get help, insights, and recommendations from those that really know the soon-to-be parents.
Select a fun co-ed baby shower theme. There are so many cool ideas to choose from when planning a co-ed shower! Collaboration is key here – the parents-to-be and host (if someone else is hosting the event) should discuss and choose the shower theme based on the baby's gender or the parent's preference. Below are some fun ideas that can help you decide!

NACHO Average Baby Shower: Try a fiesta-themed baby shower. This one is really catchy and fun! You can decorate the place with colorful banderitas (banners) and balloons. Of course, the menu should include nachos, guacamole, chilis, tacos, tamales, etc. This is perfect for co-ed showers since the bright colors are neutral but still fun and festive.
Let's TACO Bout a Baby: This is an awesome baby shower theme for any taco-loving couple! Imagine having a taco bar, margaritas, piñata cake, and fiesta-themed cookies, among other things! I can just see the men beelining for the drinks and the pinata with this theme!
Poppin' Bottles: Celebrate the arrival of a new bundle of joy with cocktails and mocktails a-flowing! Bubblies are a surefire way to get everyone in a festive mood. Offer guests finger foods and hors d'oeuvres, too, for the perfect co-ed celebration!
Tacos, Brew, and Diapers Too: Who says you can only have one focus when deciding on a shower theme? Fiesta, beers, and diapers seem like a fun theme to consider, right? The men will surely enjoy a few bottles with their "daddy talk"! You can check out some ideas in this Oktoberfest-inspired beer bash and Cinco de Mayo Fiesta for inspiration.
A Baby Is Brewing: If you and your partner love having a good craft beer at a brewery, this theme is perfect!
Star Wars: If the parents-to-be are big Star Wars fans, this theme is a no-brainer! Check out these Star Wars-themed parties for a little inspiration for your shower. May the force be with you!
Harry Potter: Now, this is one theme that can guarantee success for any event or celebration! Check out these creative Harry Potter parties for some ideas!
Battle of the sports teams: Are you a big sports-loving family who might love opposing teams? If that's you, get your friendly trash-talking ready with this fun co-ed shower theme!
Baby-Q: A baby BBQ is a perfect idea if you're looking for a laid-back outdoor shower! Mingle with guests as everyone enjoys a few burgers and beers.
Baby Under Construction: This may not be a popular choice for the traditional female-only baby shower, but it's definitely a great theme for a co-ed shower! Yellow and black construction party supplies and decor can be found at any party shop, so get started planning your construction theme today!
Slice, Slice Baby Pizza Party: This theme is as casual as it gets, but you can still plan the important elements of a baby shower, like opening presents and playing games. For more ideas, check out this Make Your Own Pizza Party.
Smore Fun Campfire Theme: If the parents-to-be love nature and outdoor living, a camping theme would be a cool idea! Check out these Sprinkle Marshmallow Smores and No-Bake Death by Smores recipes for dessert ideas everyone will love!
Cornhole, Brew, and Diapers, too: A friendly game of cornhole plus some beers and bubbly is the perfect idea for a laid-back event.
Tailgate theme: Who doesn't love tailgating, right?! A tailgate theme is the perfect co-ed shower idea if the parents-to-be just want a simple low-key celebration. Grill out with hamburgers, hot dogs, and cold drinks for a memorable time. Be sure to add the couple's favorite team decor to the event too!
Who do you invite?
Creating the guest list for any event can be a challenge. Especially when you want to keep things small and intimate. Baby showers are usually smaller in comparison to other celebrations. A co-ed baby shower may be a bit tricky as you have more people to consider.
The key is for the parents-to-be to decide on who they want to invite to their event. It's helpful to have a general number of guests in mind and see if that number works with your budget. Make it a priority to include your closest family and friends first and the baby's godparents.
Co-ed baby shower invitation
Once you've decided on the theme and the guest list, it's time to make or buy the invitations! As always, collaboration is key, so pick out or design your baby shower invitation together.
Make sure to mail invitations 4-6 weeks in advance so guests have plenty of time to RSVP.
The wording will be a bit different as you'll probably be inviting couples or even an entire household. Here is some suggested wording to consider for your invitations:
"It's almost time to welcome our new bundle of joy into the world, so please join us in celebrating yet another milestone in our lives."
"Baby ______ will soon be joining our family, and we would love to have you and _____ at our coed baby shower to celebrate this upcoming joyous event."
"Come and celebrate the pending arrival of baby _____ with the soon-to-be-parents!"
Co-ed baby shower venue ideas
As with any event, the venue should fit the theme. Of course, you can always dress up any location to fit your theme, but having the party in a place that matches the theme's vibe means fewer decorations for you to worry about.
Your home or a friend's or family member's home
Park or backyard
Restaurant
Neighborhood clubhouse or community center
Banquet hall
Rooftop
Beach or lake
Golf club
Co-ed baby shower food and drink ideas
I always recommend keeping the menu simple. Prepare some finger foods that guests can simply grab and enjoy. This way, they can still socialize and take part in the celebration. And as always, be mindful of your theme! You'll never go wrong with veggie and food platters, mini sandwiches, canapes, fruit kabobs, pigs in a blanket, meatballs, deviled eggs, and cheese and crackers.
Here are some things you should consider for your menu:
Decide whether or not you want to serve alcohol to your guests. For an all-adult soiree, a festive punch or a themed or featured drink would be great. You can also prepare some mocktails for the moms and kids to enjoy. Always make sure to have water bottles, juice, or soda too!
Remember to ask your friends and family if there are any allergies or things you should avoid before starting to plan the menu.
Co-ed baby shower cake ideas
The cake that you'll serve to guests should be a statement piece or the centerpiece of your dessert table. It can be gender-specific, gender-neutral, or theme-oriented. If you want inspiration on the cutest cakes ever, check out these gorgeous baby shower cakes!
Co-ed baby shower games
Ok, now on to the fun part – the games! Since you'll most likely have couples on your guest list, planning baby shower games should be easy! If you need some fun ideas, check out 15 of the best baby shower game ideas. Here are some of our favorite games to play at a co-ed baby shower:
Game prizes
So now that you have both men and women at your baby shower, you can't just hand out traditional stuff like hand creams, nail polish sets, and bath bombs. You need to have something that the guys will like too. Check out these game gift ideas:
Candy
Cookies
Potted plants
Gift cards
Wine/champagne bottles
Personalized mugs or drinking glasses
Shower activities
Even though you're having a co-ed shower, you can still do the same activities like fun games and opening presents. You can even add a fun photobooth to capture memories and silly photos of the event.
Co-ed baby shower gifts
Setting up a baby registry is a great way to ensure that you get exactly what you need to welcome your baby in the next few weeks. Also, you might want to include some items for both expectant parents – don't leave the dad-to-be out!
Co-ed baby shower favor ideas
It's always a nice gesture for the guest of honor to send everyone home with a nice baby shower favor as a token of appreciation for helping celebrate this special time in your lives. It doesn't have to be expensive or extravagant. It can be as simple as these ideas:
Tea or coffee favor
Personalized mugs or glasses
Keychain or bottle opener
Box of goodies (chocolates, cookies, nuts, etc.)
A small bottle of wine or champagne
A co-ed baby shower is a perfect way to include the father-to-be, his friends, and male family members in celebrating the new baby. There are tons of great themes, food, games, and activities that are perfect for everyone to enjoy, so it feels more like a celebration and not a traditional baby shower. We hope this guide helps you plan the ultimate co-ed baby shower for your friends and family!
Are you planning a co-ed baby shower? Let us know all about it in the comments!