How to throw a baby naming party
There are a million different reasons to celebrate the birth of a baby. From traditional baby showers and gender reveal parties to co-ed showers, sip and see parties, and baby naming parties, there's something to suit every couple and how they want to celebrate the arrival of their new baby.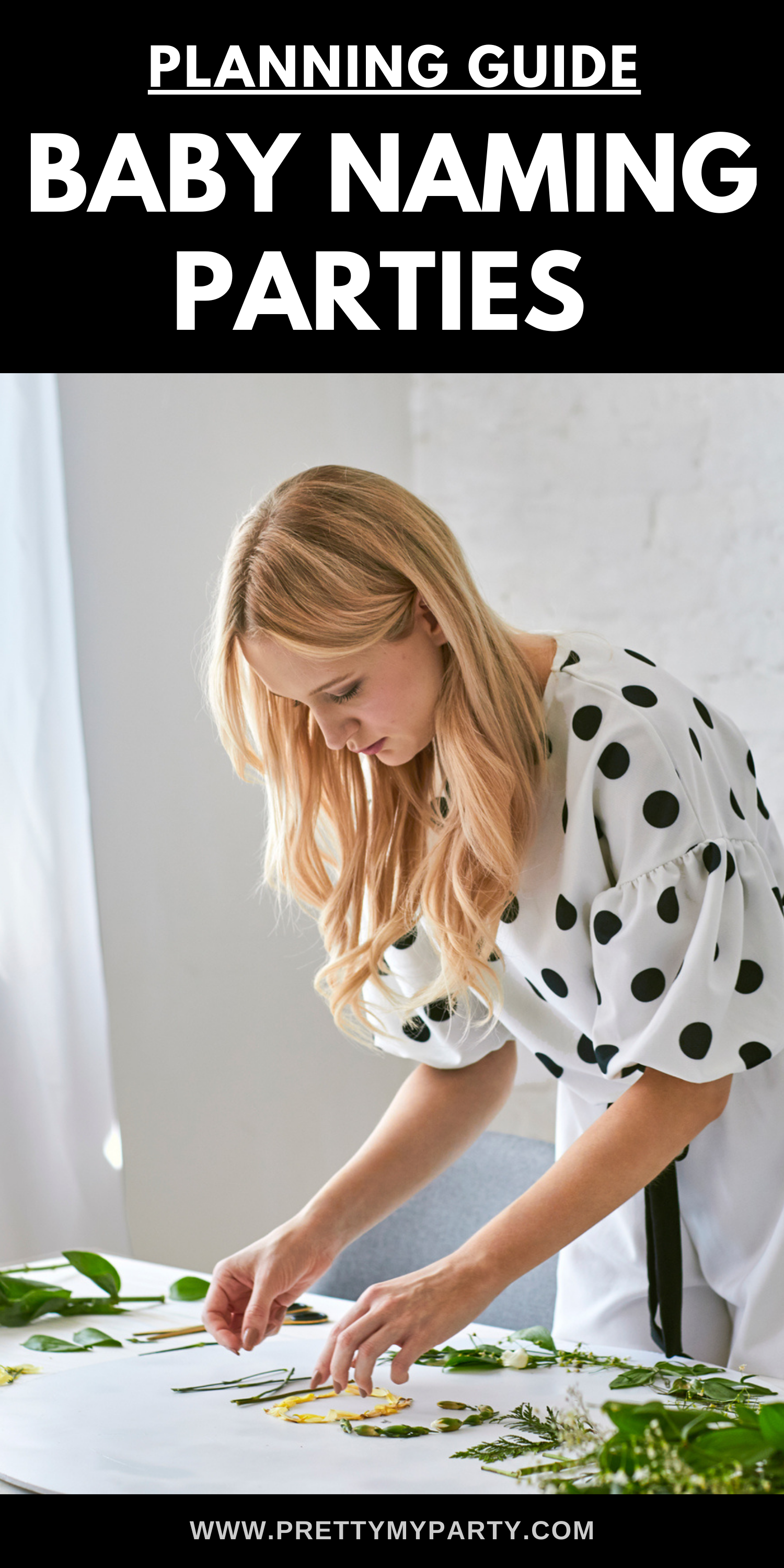 What is a baby naming party?
A baby naming party, also known as a naming ceremony or a baby dedication, is a special event to celebrate a child's birth and officially announce and celebrate their name. It can be a non-religious alternative to a traditional christening or baptism.
The celebration varies depending on cultural or personal preferences. It can be a formal or informal gathering at the parent's home, a venue, or outdoors.
The party may include rituals or activities that symbolize the name's significance and the parent's hopes and wishes for the child.
The celebration can also involve readings, speeches, blessings, or lighting candles. Parents may also share the reasons behind the child's name and explain its cultural, historical, or personal significance.
Baby naming parties are also a great way for family and friends to celebrate the baby's arrival and participate in helping you choose a baby boy name or baby girl name! What about combining a gender reveal and a baby naming party into one event?!
What is a Jewish baby naming ceremony?
Jewish babies receive a Hebrew name after they're born. For baby boys, this is usually done during the Bris (also known as Brit Milah), which is a Jewish circumcision ceremony that takes place on the eighth day of the baby's life.
Jewish baby girls are typically given their Hebrew name at a baby naming ceremony (also known as Brit Bat), which can be scheduled at any time. However, most parents choose to have the naming ceremony within the first few months of the baby's birth.
The baby naming ceremony is a meaningful and important event in the Jewish religion. It's a special time for the parents to introduce their child to the Jewish community and to give the child a Hebrew name that will be used throughout their life.
Tips for planning a baby naming party
Planning a baby naming party is a fun and exciting time for the parents-to-be, relatives, and friends. Here are some tips to help you plan a memorable baby naming party:
Determine the purpose: Decide if the party will primarily focus on the baby's name announcement or include other things like games, food, and decorations.
Set a date and time: Choose a date and time that works for you and your loved ones. Consider whether you want a small intimate gathering or a larger celebration.
Select a theme: Choosing a theme for the party can make the event more fun and memorable. It could be as simple as choosing a specific color palette or more detailed with a baby theme like "storybook characters" or "nursery rhymes.
Choose a venue: Decide whether you want to host the party at your home, a relative's house, a park, or a rented event space. Consider the number of guests and your theme when choosing a venue.
Create a guest list: The guest list may vary depending on personal preference, budget, venue, and cultural traditions. When considering your guest list, start with immediate family, godparents, close friends, extended family, neighbors, and co-workers.
Send invitations: Design and send out invitations to your guests, including all the details, like the date, time, venue, and any special instructions or requests. You can send traditional paper invitations or digital invites.
Decorations: Decorate the venue according to your theme. Consider decorating with balloons, banners, table centerpieces, and signage to create a memorable event.
Food and drinks: Determine whether you want a sit-down meal, a buffet, or a simple setup like finger foods and snacks. Consider dietary restrictions and preferences when planning the menu. Don't forget to add a cake, cupcakes, or cookies to the dessert menu!
Name suggestions: Ask your guests to come prepared with name suggestions for the baby. Give them paper and pens to write down their ideas. You can also set up a baby name suggestion box where guests can drop their written suggestions.
Name voting: Set up a voting station with a list of the top baby name suggestions. Have guests vote for their favorite names and tally the results at the end of the party. This party activity adds an element of excitement and anticipation to the event.
Name games: Organize interactive name-related games and activities to entertain guests. For example, you could have a "Guess the Meaning" game, where guests have to match baby names with their meanings or origins. Another option is to play a "Baby Name Scrabble" game, where guests create new names using Scrabble tiles.
Name announcement: At some point during the party, reveal the baby's name in a fun and creative way. You can do this by unveiling a name banner or opening a gift box with the baby's name inside. Prepare a special moment to announce the baby's name. You can also do a speech, toast, or cute presentation. Make it personal and heartfelt.
Photography and videography: Arrange for someone to capture photographs or videos of the event. You can hire a professional photographer or videographer or have a family member or friend take pictures during the event.
Gifts: Bringing a gift to a baby naming party is a thoughtful gesture to celebrate the special occasion. While it's not required, many people bring a gift to show their love and support for the family and to honor the new baby.
Favors: Give your guests a small keepsake or party favor to take home as a reminder of the special occasion. It could be a personalized keychain, a mini photo frame with the baby's ultrasound picture, or a small bag of candies with a customized label or tag.
A baby naming party or ceremony is a personal and meaningful event. Enjoy the planning process, and don't hesitate to add personal touches that reflect your style, values, beliefs, and cultural traditions.
Are you planning a baby naming party or ceremony? Let us know in the comments!