How to throw a baby sprinkle
Learn everything about how to throw a baby sprinkle with these tips and ideas to celebrate a second, third or fourth baby!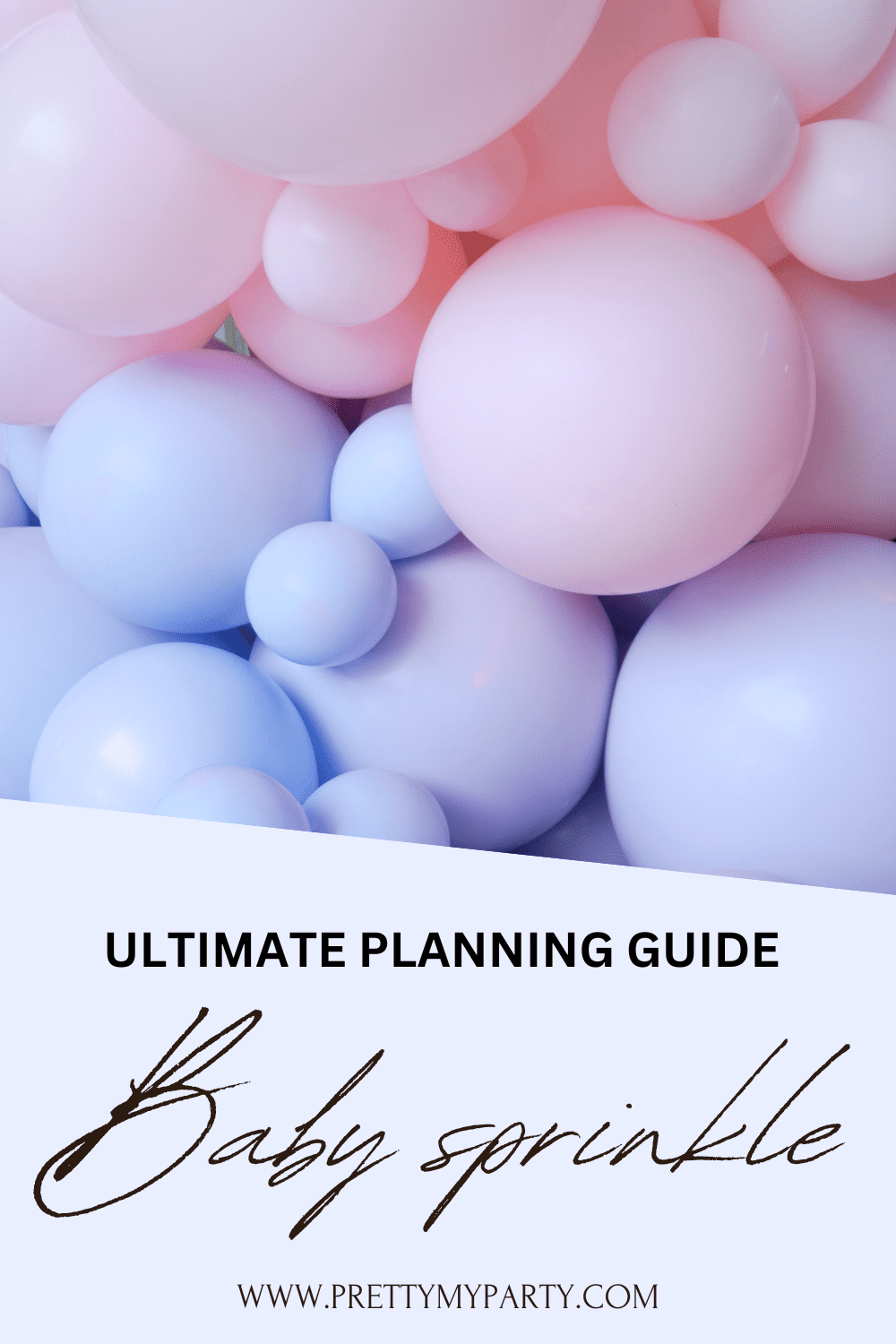 When you're expecting your second (or third child) and want to celebrate the coming of your new bundle of joy, it's time to throw an awesome baby sprinkle! While a baby shower celebrates the arrival of your firstborn, a sprinkle focuses on you and your growing family.
This article will give you all the important information you need about how to throw a baby sprinkle. You can also check out our Best Baby Sprinkle Ideas to help you plan all the fun details – from decorations and DIYs to desserts and cakes; you'll find everything you need to throw the best baby sprinkle on the block!
What is a baby sprinkle?
You're probably more familiar with baby showers by attending or celebrating one. Baby sprinkles have the same concept as showers – to celebrate the arrival of a precious child and shower the mother-to-be.
However, while showers are for the firstborn, sprinkles are given for siblings and are considered a more intimate, casual affair, thus the term "sprinkle."
Baby sprinkle vs. shower: What's the difference?
Traditional baby showers have all the bells and whistles that go into hosting big celebrations – games, formal decorations, and an extensive guest list. This is because the parents-to-be are eager to share their new baby excitement with their family and friends!
Guests gift the parents-to-be with generous, bigger-ticket items they need once the little one arrives, like a crib, car seat, stroller or travel system, baby tub, bassinet, rocking chair, etc.
Baby sprinkles, however, are low-key events with fewer guests, so it doesn't require as much preparation as a shower.
Since many parents still have plenty of baby items and essentials from their first baby, the gifts for a sprinkle are more baby essentials like diapers, formula, wipes, onesies, and baby toys.
While low-key and simple means less work for the hosts, it doesn't mean sprinkles should be less Instagram-worthy. Intimate parties like these are great opportunities to amp up your creativity!
When should I have a baby sprinkle?
Since there's less preparation needed and it's a more relaxed event, you can be more flexible with the date of your sprinkle. You can celebrate a baby sprinkle as early as the sixth month of pregnancy or even a month before your due date.
Who hosts the sprinkle and who's invited?
Typically, the parents-to-be host the baby sprinkle. However, close family members or friends of the expecting family might want to host the event.
This usually happens when parents are busy taking care of their kids and don't have time to plan and organize a celebration.
The guest list for a baby sprinkle is kept relatively small – 10 to 20 guests are ideal. So make sure to include your immediate family members, godparents, and close friends.
This type of celebration is great because the older siblings will be there to celebrate too! Sprinkles are a special time to focus on your expanding family.
How long does a baby sprinkle last?
Baby sprinkles last about 2-3 hours. You spend time with your guests mingling, eating, and opening presents for the new baby.
You can plan a few games to make the event fun and interactive, or keep the party simple and spend time chatting and catching up with your guests.
How to throw a baby sprinkle shower
Now that you know more about baby sprinkles, let's get to the exciting part! How to throw a one-of-a-kind, memorable baby sprinkle!
Planning a baby sprinkle involves making the guest list, selecting a location, sending invitations, choosing a theme, buying decorations, preparing food for guests, etc. So, let's get started!
Plan the guest list
The purpose of a baby sprinkle is to celebrate your new bundle of joy with those closest to you, so it's okay to be selective about who you want to be there.
Unlike baby showers, where you invite extended family members, neighbors, and co-workers, a baby sprinkle can be small with just your close circle of family and friends.
Another good idea for your baby sprinkle is to invite kids the same age as your older children to keep them company during the festivities.
If you're planning the sprinkle for a friend or family member, get their input on who they would like to invite.
Budget and location are some things to consider when creating your guest list.
Select the location
Since baby sprinkles are typically smaller gatherings, many people host the event at home. Depending on the season and weather, you can have it indoors or outdoors.
If having it at home is not an option, you can reserve a small event room or host it at a local restaurant.
Choose a theme
Now, on to the fun part – selecting the theme for your sprinkle! Themes help set the tone for your event and make everything more cohesive.
Let your creativity and imagination run wild. There are many fun themes to choose from, including our favorite, a "Sprinkled with love" ice cream and sprinkles theme.
Here are more popular baby sprinkle themes:
Cloud rainshower
Baby brunch
Send the invitations
Once you have the guest list, location, and theme finalized, it's time to send out the invitations! If you're into digital design, you can make digital invitations, or if you love a good craft or DIY, you can make homemade invitations.
You can also buy some fun, ready-made baby sprinkle invitations online. Make sure to send your invitations at least three weeks before the event to give your guests enough notice.
Select decorations
Once you have your theme, it's time to select party supplies and decorations to dress up your venue. You'll choose plates, napkins, cups, table covers, banners, backdrops, centerpieces, cake toppers, favors, signs, flowers, balloons, etc.
You can add so many things to your sprinkle to make it fun, stylish, and unforgettable.
It's important to choose items that go well with your theme and colors. Don't be afraid to get creative and make things yourself too! There's nothing better than fun, personalized DIY decorations.
Plan the baby sprinkle menu
If you're planning a small event, stick to finger foods, light snacks, and appetizers. There's no need to prepare a full-course meal for a baby sprinkle.
Some fun ideas to add to the menu are a charcuterie board or a fun party platter.
For light snacks, go for sandwiches, sliders, or salads. Always keep your theme in mind when selecting your menu. As a courtesy to your guests, let them know the menu options beforehand so they know what to expect.
What do you do at a baby sprinkle?
There's no strict plan or timeline for a baby sprinkle since it's a small, laid-back event. If you want to add some fun to the party, you can plan a baby sprinkle game or some fun icebreakers.
Check out these fun baby shower games for ideas to keep your guests entertained. Also, set time aside for the mom-to-be to open gifts.
Involve older siblings
Make your baby sprinkle special by involving the brothers and sisters in the planning. You can let them choose a theme, games, activities, or desserts. Get them a special big brother or sister T-shirt to show off their soon-to-be new status!
Making siblings feel special at the event is important because a new baby is a big life change for them.
What should you give for party favors?
Party favors are a nice way of showing appreciation to your guests for coming to your event. Favors don't have to be extravagant or expensive.
It can be a simple token like a succulent plant, bath bombs, candy, or scented candles. You can also bake cookies or cupcakes for favors and hand them out at the end of the sprinkle.
What is the proper etiquette for gifts?
Unlike baby showers, where guests select something from a baby registry, baby sprinkle gifts can be simple, everyday baby essentials for the expectant mom and new baby.
If you're attending a baby sprinkle, consider these baby sprinkle gift ideas:
Should I create a registry for a baby sprinkle?
Creating a baby registry for your baby sprinkle is completely up to you. If you have a list of things you're eyeing up and want to make it easier for guests, I say go for it!
Now that you're familiar with baby sprinkles and the difference between a traditional baby shower and the planning and details that go into the celebration, you're well on your way to hosting the best sprinkle ever!
What theme are you planning for your baby sprinkle? Let us know in the comments below!