Summer Traveling Themed Bridal Shower
Everyone is sure to get carried away at this fun Summer Traveling Themed Bridal Shower!
A Summer Traveling Themed Bridal Shower was the perfect way to celebrate this couple's impending nuptials, since travel is a big love of theirs during their time off. It seemed like a natural fit to have traveling as part of the theme for their big day! The bride is a senior event coordinator at the venue they held their shower at, Elliston Vineyards, so she knew exactly what she wanted for the shower to be celebrated in style!
The bride's sister did a great job planning this fun travel-themed bridal shower. Lots of pastels, along with white, magenta, mint and gold were used, along with many small travel signs and decor items. Pictures of the couple were also brought in and placed around the venue, most of when they have traveled together. We just love all of the travel-themed decor, much of which came from the bride's mother's home.
One of the bride's friends also created fun signs to place around the venue. Signs said "Baggage Claim" for the party favor table, "In-Flight Drinks" for the bar area, and "Luggage Drop-Off" for the gift table. So cute!
There was also a sweet guestbook on the main table, where a small vintage luggage piece was set, along with fun mini champagne bottles with luggage tags. What a fun party favor for all of the guests to take home with them. Guests were also able to take custom travel-themed cookies, home, as well, which everyone took advantage of!
The bride's grandma is an avid gardener, so the family decided it would be fun to pick flowers from her garden and arrange them for centerpieces for the guest tables. What a special addition and a great way to honor her family and spend time together before the big day prepping fun floral arrangements.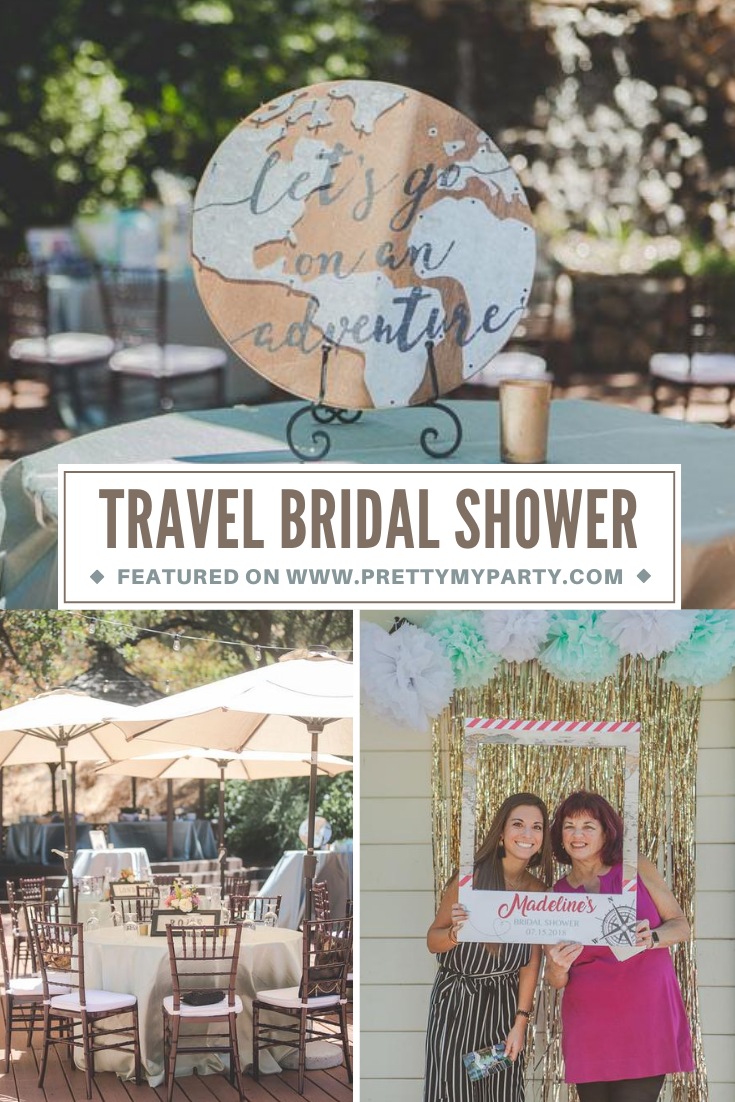 Summer Traveling Themed Bridal Shower Ideas
Gorgeous travel-themed decorations, including vintage travel suitcases and fun printables to highlight the adventure theme
Perfect menu for outdoor summer themed food ideas, including salads, charcuterie board and light luncheon fare
Beautiful chalkboard sign welcoming guests to the travel theme bridal shower
Fun bridal shower invitations, along with matching thank-you cards that the guests were able to take home
Along with thank-you cards, adorable party favors were available for guests to take, including mini champagne bottles with travel tags and custom travel-themed cookies
Travel theme bridal shower decor was the perfect mix of vintage and modern, with DIY travel themed printables and location signs on guest tables and important areas of the shower
Hand-picked wildflower floral centerpieces were created by the bride's grandma from her own garden
Fun bridal shower games and activities were available for the guests to enjoy, including printables for advice from the guests to the happy couple
A gorgeous drinks area was available with wine and custom cocktails
A fun photo booth was set up with a cute backdrop and props for everyone to enjoy throughout the day
The summer outdoor bridal shower had a fun guestbook idea, with a DIY area where guests could write their names on a sign that could be utilized in the couple's home in the future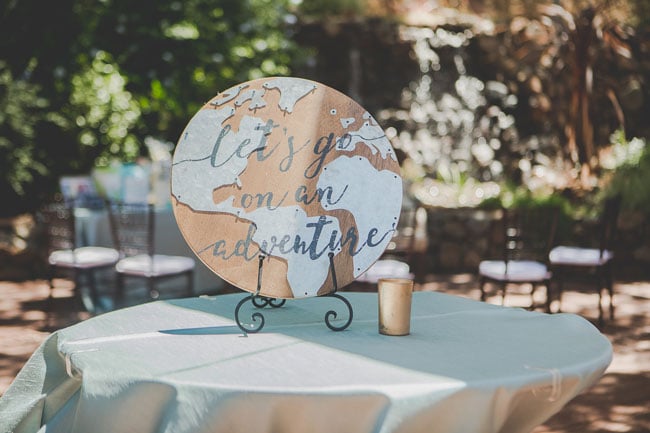 A Summer Traveling Themed Bridal Shower was the perfect way for this couple to celebrate their big day with friends and family before their wedding. We just loved all of the travel pictures that were found around the venue of the couple, who clearly have a wonderful sense of adventure. And with it being held during the summer, it was a gorgeous day to be outside and enjoy some lighter fare that the guests were able to dig into.
Our favorite detail? It's hard to pick just one, but we really love the main table where guests were able to pick up their party favors. These included mini bottles of champagne, with fun travel tags that were attached, along with custom cookies that were individually wrapped. The part we loved the most was that these items were placed in a vintage suitcase, which was the perfect decor item for the main area guests congregated around. We also really love all of the great signage and printables that were found around the travel-themed bridal shower, as well. Everything turned out gorgeous and even the couple's dog got to get in on the action. Adorable!
See more bridal shower ideas here:
What are your favorite details from this Summer Traveling Themed Bridal Shower? Let us know in the comments below!
For more bridal shower ideas, follow us on Instagram @prettymyparty and Pinterest and join us in our private Facebook group.
Party Vendors
Planner/Stylist: The Bride's Sister