Beach Bridal Shower Brunch
The romantic vibes of this Beach Bridal Shower Brunch will have everyone enjoying the whimsical details!
This Beach Bridal Shower Brunch is absolutely gorgeous and we love every single detail! The coast of Maine is often thought of as rocky and rugged, so Aulette Events wanted to showcase the romantic vibes of the sandy seacoast at Ocean Park. What better way to celebrate than with a beautiful beachside bridal brunch?! The bride-to-be wanted a day together with her besties that was a little more fanciful than just throwing down a blanket and a cooler and calling it a day. And she absolutely succeeded!
The friends spent the morning noshing on muffins, pancakes and fruit on a gorgeous whitewashed farm table with plush chairs and a billowing table setting. We just adore the mix and match table settings of vintage china, which matched the beachy vibe and artisan food.
Invitations from The Chatty Press were hand lettered and letterpress printed as a sweet keepsake for each of the ladies to remember this special day. Stem & Vine also did a fantastic job of creating gorgeous floral centerpieces that matched the seascape vibe perfectly. Just look at the table placements with flowers, candlesticks and the table runner. It's all breathtaking!
The ladies felt like they had their own private beach, and giggled away they morning alongside the crashing sounds of New England Waves. Thanks to Alexandra Makeup Artistry and Hair That Moves the bride-to-be also felt like a supermodel on her special day. What a gorgeous hairstyle for a day at the beach!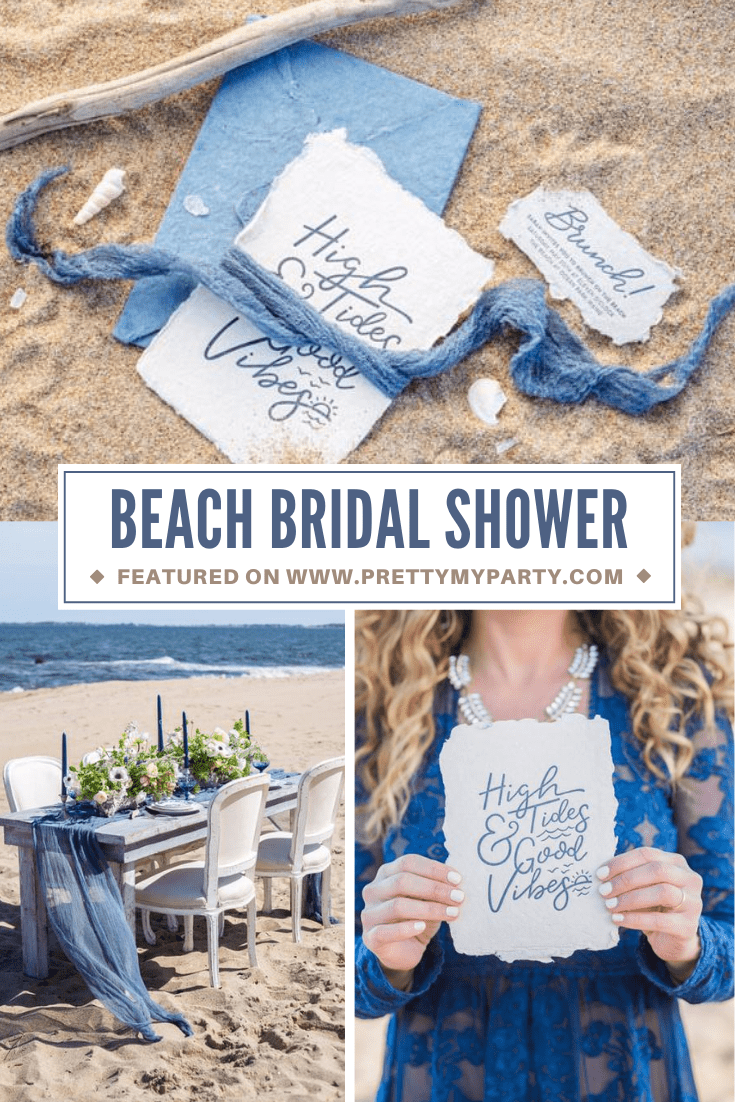 Beach Bridal Shower Brunch Ideas
Amazing weathered farmhouse table was the centerpiece of this beach themed bridal shower
Gorgeous hand-lettered invitations were created and printed with the intention of being fun keepsakes for the friends
Matching menu details were created as printables for each place setting
Vintage china table settings were displayed with blue hues and personalized place settings created on small driftwood pieces
Incredible floral centerpieces were created with additional tapered blue candles on the table to help create the romantic beach bridal shower
A small mimosa bar was set out on the brunch table for the women to enjoy drinks together with champagne, fruit and juices
Breakfast food with the highlight of this brunch, with fruit, pancakes, muffins, a cheese tray, along with additional artisan food ideas
Beach themed bridal shower decorations were found around the shower, with fishing ropes, nettings, and seashells strategically placed
Rustic beach decorations helped to build on the nautical theme with billowing blue table runners and fabric blowing in the wind
The bride-to-be wore a gorgeous white outfit, with a specialty hair style that highlighted her big day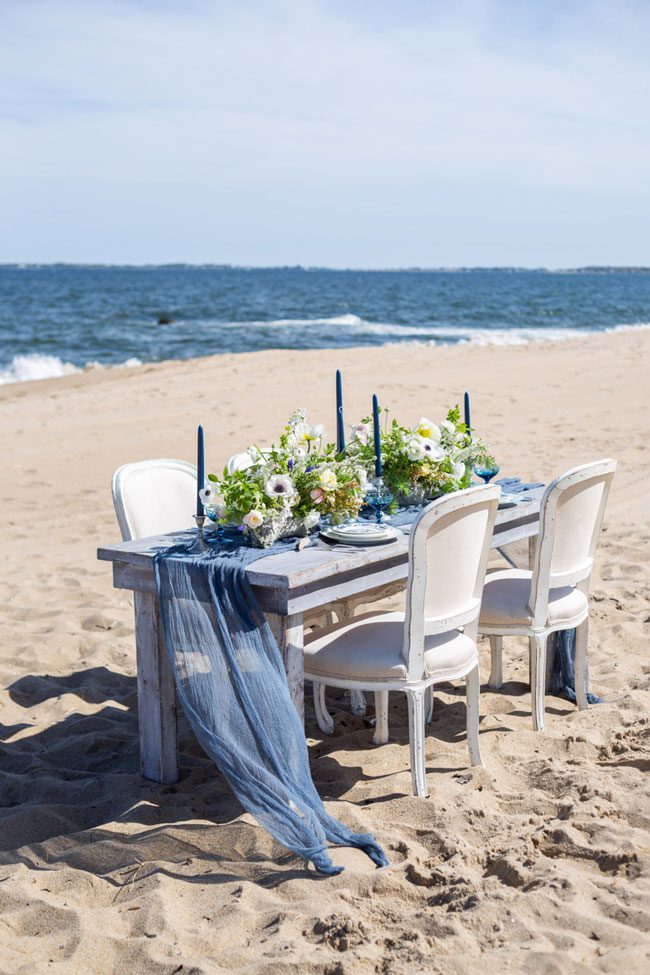 Nothing beats time spent outside with loved ones, especially when it is for something as important as celebrating one of their upcoming weddings! We love everything about this small Beach Bridal Shower Brunch. The colors are perfect for the seaside and everything feels so free and open. Our favorite detail is the gorgeous place settings, which had custom menu printables placed on each plate. The vintage china was absolutely beautiful and the blue hue of the china and glasses really brought out the blue of the ocean. And how about that super romantic, billowy table runner and sweet tapered blue candles that were found on the table? And those amazing driftwood place settings that had all of the ladies' names on them? Exquisite!
In addition, the brunch left nothing out, with delicious food and a true artisan menu that all of the ladies enjoyed. We just love all of the ocean decor, as well as the fun and flirty dresses that the ladies wore. It made everything feel so classy and gorgeous, with a high-end feel in addition to the sweet hairstyle that the bride-to-be sported. We bed she felt like the bride that day at her wedding, instead of just a bride-to-be at her bridal shower! What absolute perfection!
See more bridal shower ideas here:
What are your favorite details from this Beach Bridal Shower Brunch? Let us know in the comments below!
For more fun party ideas, follow us on Instagram @prettymyparty and Pinterest and join us in our private Facebook group.
Party Vendors