Tractor Themed Birthday Party
This Tractor Themed Birthday Party will show everyone that girls really do know how to have more fun!
Who could ask for a better birthday celebration than this fun Tractor Themed Birthday Party? Fairy Godmother – A Wedding & Event Company planned the perfect colorful occasion that was full of laughter and smiles, as the kids raced around the race track on their 4-wheelers with their colorfully painted faces, thanks to Fabulous Faces by Nallely Face Painting. We can clearly see that the birthday girl loved the face painting!
The color palette for this bright and special tractor party included yellow, orange, red, blue and forest green – basically every color of the rainbow – and it was gorgeous! Real life tractors were on-hand for all of the kids to enjoy, with fun printables created to tell the kids about each individual machine. What a great way for the kids to learn about different tractor machinery and what it is used for!
Fun and bright birthday party invitations were created by Matinae Design Studio, along with a large free-standing welcome sign that all of the kids loved when they walked into the celebration. And how about all of the amazing balloons?! Paradise Balloon Designs did an incredible job with all of the balloons that were found around the event. There was a large gift table that had a fun balloon backdrop on it, along with an incredible balloon canopy that was found in the main area by the race track.
Speaking of races, just check out these fun quads that were available for the kids to race on! A fun track was set up with brightly painted tires and traffic cones and all of the kids were able to enjoy themselves and let loose on the track. Everyone had a blast and we're sure all of the adults wished that they could get in on the fun, too!
Everyone was able to take home fun goody bags filled with tractor books and treats, which of course, was a big hit. Overall, this awesome Tractor Themed Birthday Party was a great theme with fun activities and decor!
Tractor Birthday Party Ideas
Bright colors were the mainstay of this great girl tractor birthday party with red, yellow, blue, green and orange found in much of the decor
Great invitations were sent out that all of the kids were pumped up for
A bright and welcoming sign was displayed at the front entrance for everyone to see when they came in
Matching bright-colored signs were created for all of the farm and tractor equipment, so the kids could clearly see what they were looking at
Tableclothes with brightly colored trucks were found on all of the guest tables, with toy trucks and tractor toys serving as the centerpieces, holding disposable silverware and a giant balloon
Amazing balloon displays were found on the gift table, serving as an incredible backdrop, along with a balloon installation that served as a canopy over the quad races
Activities and games were incredible, with 4-wheeler races taking the cake with brightly painted tires being used as safety precautions
A face-painting station with lots of cute ideas was the highlight for the birthday girl, with her deciding on a sweet unicorn face
Tractor themed party favor bags were available with tractor books and candy bags for all of the little guests to enjoy
Tractor birthday party decorations included items from lots of construction equipment and printables with pictures
A sweet dessert table with lots of yummy desserts was available, with an incredible backdrop and balloon installation
Desserts included construction and tractor themed cookies, cupcakes and fun food items with cute paper tents displaying names
An amazing tractor theme dessert table has to include a pretty cake for the birthday girl
A kid-friendly menu was created with different food ideas that appealed to kids and their parents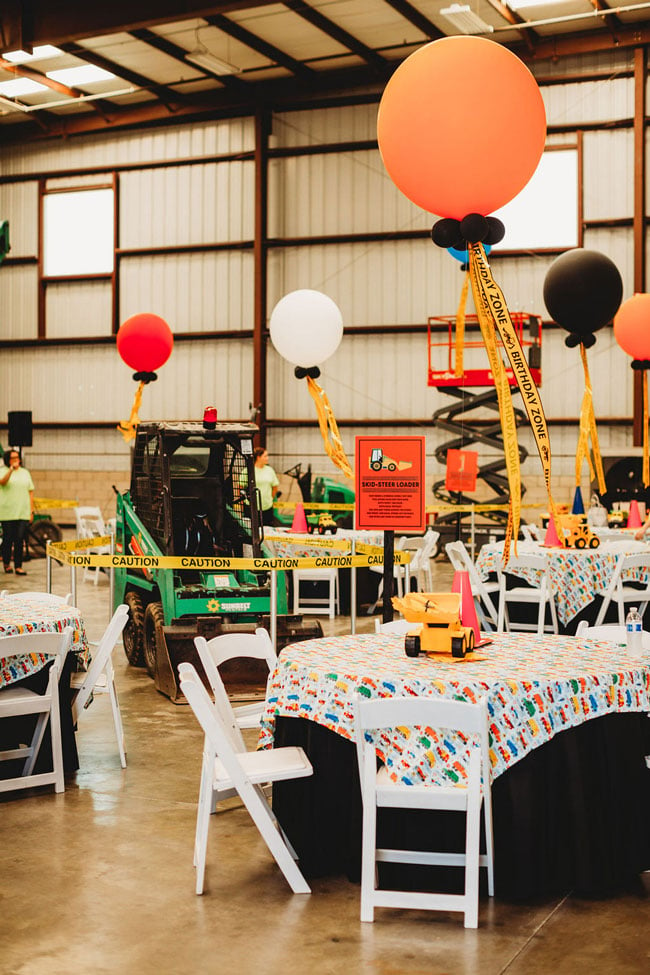 Who says all of the tractor and 4-wheeler fun has to be for boys only? Not this little girl and she is clearly thrilled to be having her very own Tractor Themed Party for her birthday. We just love all of the bright colors that were found all over the event, along with the bright balloons, printables and decor. It was clear this was going to be a fun birthday party for a very special girl!
But our favorite detail has to be the actual tractor equipment that was ready to be seen, along with the small quads that were available for the races the kids were able to enjoy. We bet that was such a fun treat and activity that the kids wanted to do over and over again. We don't blame them! And of course, everything was kept safe with safety tape and fun, brightly painted tires to soften the crashes. There was even a plane for the kids to look over! What great ideas for a fun theme!
See more birthday party ideas here:
What are your favorite details from this Tractor Themed Birthday Party? Let us know in the comments below!
For more fun party ideas, follow us on Instagram @prettymyparty and Pinterest and join us in our private Facebook group.
Party Vendors