A Girly Pink Bridal Shower is the best way to celebrate with special friends with a fun and glamorous theme!
How fun is this Girly Pink Bridal Shower? It's the perfect mix of glam and luxury, while keeping things light with the pink, gold and white color palette. Posh PR did an incredible job designing the space to be all things fun, girly and bridal! Everyone who walked into this Girly Pink Bridal Shower at the Quirk Hotel (especially the bride-to-be!) was wide-eyed with awe at the gorgeous decor and amazing theme.
The best part of the entire bridal shower, however, was the fact that it was a surprise thrown by the bride-to-be's mom. Hope Taylor Photography was in on the secret and was ready to photograph all of the details when the bride-to-be walked in, but it was definitely hard to keep things a secret for so many months prior, knowing how amazing the day was going to be!
The bride-to-be's reaction was priceless when she finally arrived and walked into her bridal shower. There were tears all around and it was such a special day with amazing details and decorations.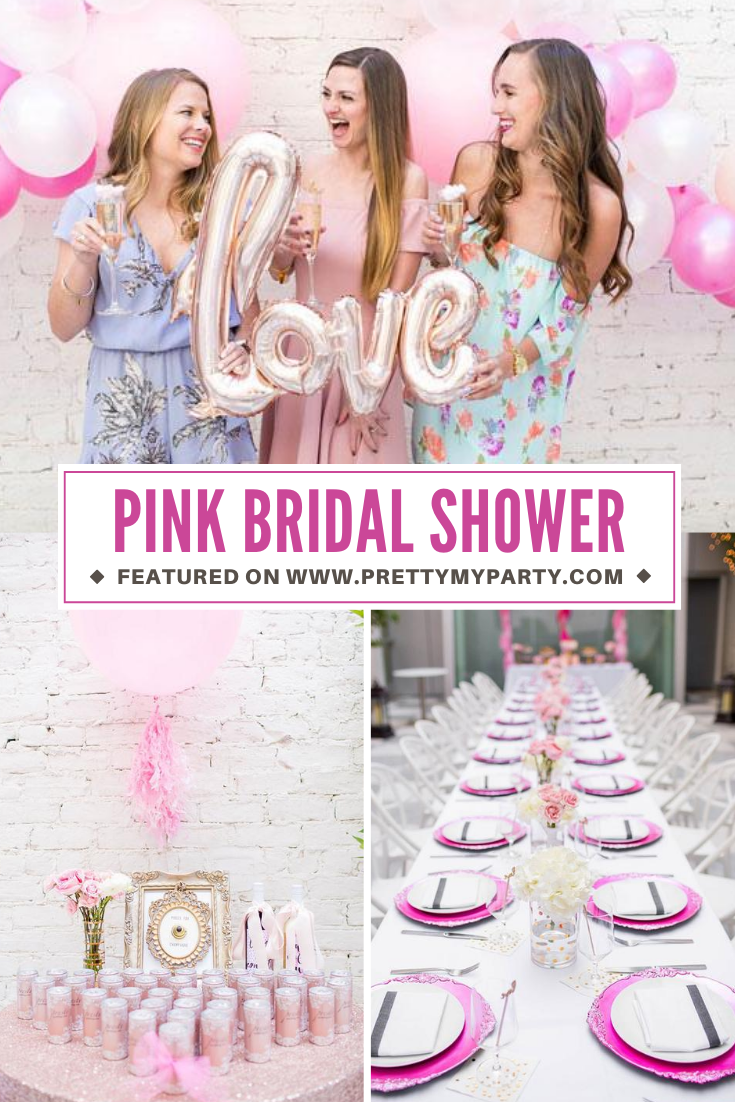 Girly Pink Bridal Shower Ideas
Fun sparkling wine table with sparkling pink tablecloth for guests to grab, enjoy and take home as a party favor
Champagne station with fun signs to greet guests
Gorgeous pink invitations were sent out, but since the shower was a surprise, it was imperative to keep the bride-to-be in the dark
Girly bridal shower drink station, with personalized wine bottle labels
Amazing pink and gold decorations, including vases with flowers and gold frames that held different printables
Pink themed bridal shower included gorgeous balloon installations, which doubled as a fun photo booth for guests to enjoy
Guest table place settings included pink chargers with plates and personalized napkins with floral centerpieces
Sweet dessert table with lots of pink themed goodies, including cookies, cupcakes and mini cakes that each guest was able to sample
A special cotton candy maker rounded out the desserts, with fun pink cotton candy handmade for guests to enjoy
Fun games and activities were planned with the ladies to help the bride-to-be celebrate her special day
The bride-to-be wore the perfect pink outfit, even though it was a surprise shower
Pink and gold bridal shower decorations were found throughout the event on the dessert table, drink station and guest tables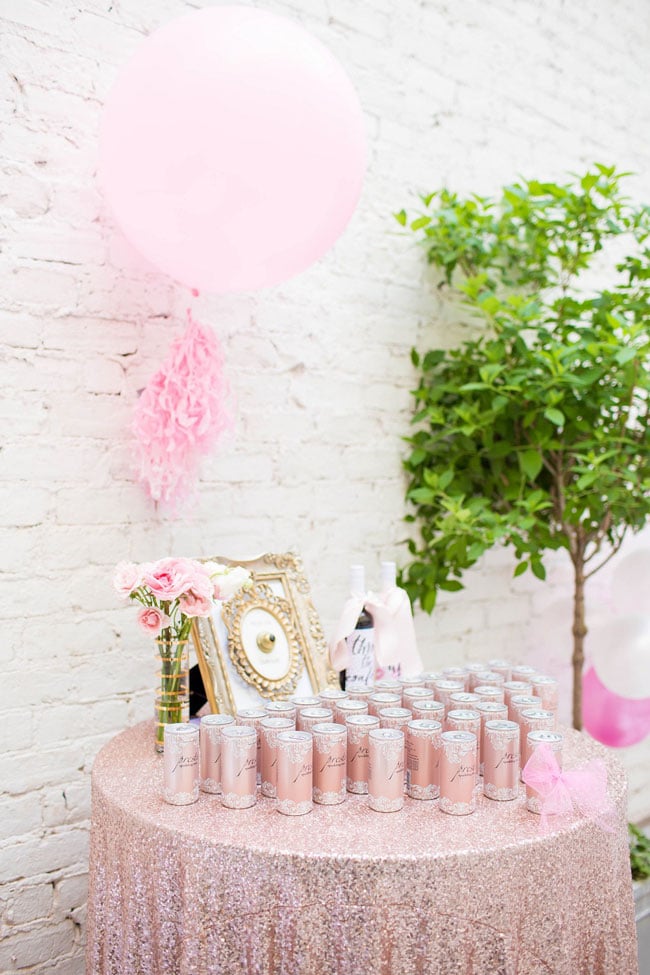 It's hard to pick just one amazing detail that is our favorite from this sweet Girly Pink Bridal Shower, because everything turned out so fantastic! But, we do love the fun champagne table, where everyone was able to take their own individual servings of champagne home with them. How cute are those cans? Not to mention, the personalized wine bottle labels that were created, as well. We just love it!
We also love all of the stunning bridal shower decorations around the event. The guest tables were absolutely breathtaking with gorgeous florals set up as centerpieces, along with the fun and flirty pink place settings that stole the show. And how about that balloon wall that was set up for everyone to take pictures in front of? It looks like the bride-to-be and her friends and family had a blast getting together to celebrate her upcoming marriage. Who wouldn't want to start out all of the wedding party fun with a celebration like this?!
See more bridal shower ideas here:
What are your favorite details from this Girly Pink Bridal Shower? Let us know in the comments below!
For more fun bridal shower ideas, follow us on Instagram @prettymyparty and Pinterest and join us in our private Facebook group.
Party Vendors