18 First Birthday Party Ideas For Boys
If you're searching for 1st birthday party ideas for boy, you're in the right place! Check out these super adorable boy birthday themes!
These 18 First Birthday Party Ideas For Boys will have any family counting down the days until their baby boy's first birthday! When it comes to 1st birthday ideas, it can seem a little overwhelming when a parent starts dreaming about the upcoming party. But these 1st birthday boy themes will give you the inspiration you need to get started on your party planning!
1st birthday party ideas for boys
18 First Birthday Party Ideas For Boys
These unique first birthday party ideas for boys will make all of those first year sleepless nights worth it! It is such an exciting time, preparing to celebrate the big milestone of the first year of life. Who wouldn't want to celebrate that sweet little baby boy that has been the light of your life over the past year?!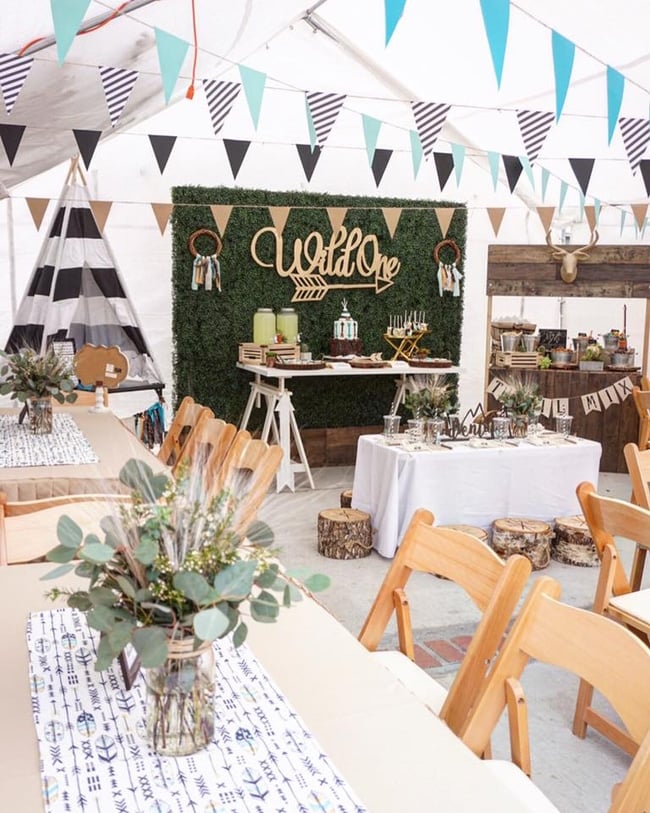 This great Wild One 1st birthday boy theme is a perfect theme to use if you're not looking for something overly "baby." One year old birthday party themes don't have to make everyone feel like they just stepped on board the baby train, and this great theme is perfect to make all of the young and old feel welcomed!
We love the natural elements found in this party, along with the fun color scheme that emphasizes the celebration of your sweet baby boy!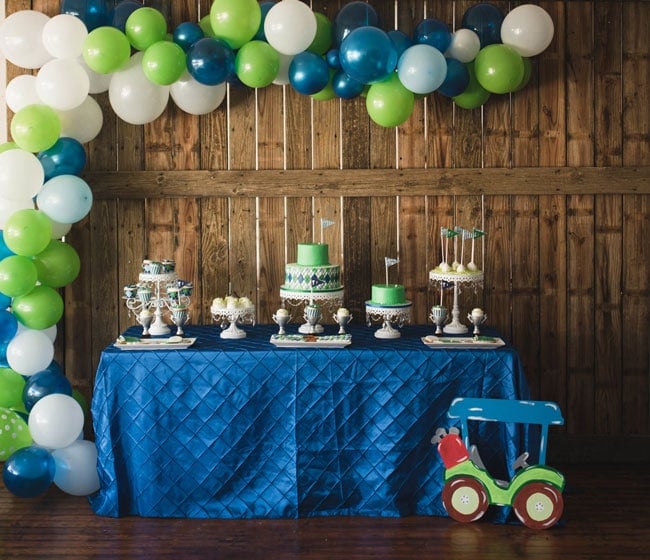 If you have a parent who is a Golf lover, this might be a great option for a unique first birthday party idea! The balloon backdrop is absolutely spectacular and we love the green and blue color scheme found around the event. What an amazing dessert table and when you take a peek at all of the other golf ideas that this party has, you'll wonder why nobody threw YOU a golf-themed birthday party yet!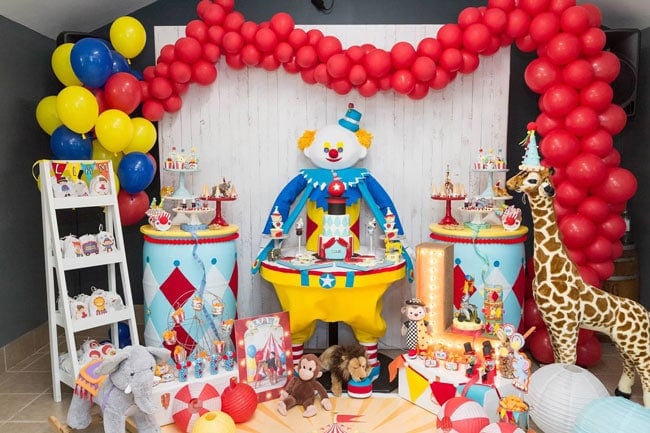 Who doesn't love a great first birthday Circus theme?! With all of the stuffed animals and fun clowns, everyone will have a great time celebrating your little birthday boy! What a fun, colorful and festive first birthday theme!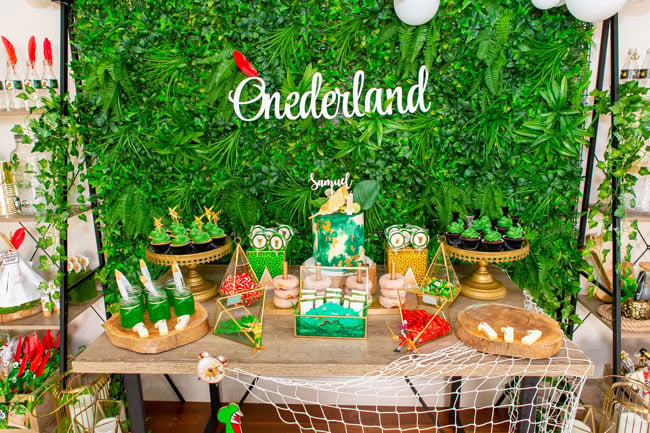 Your little one may not be able to appreciate it yet, but this Peter Pan in Onederland party will mesmerize all of your birthday party guests! All of the amazing details in this event are great for a baby boy's first birthday party and we absolutely adore this awesome greenery backdrop. What an amazing one year old birthday party theme!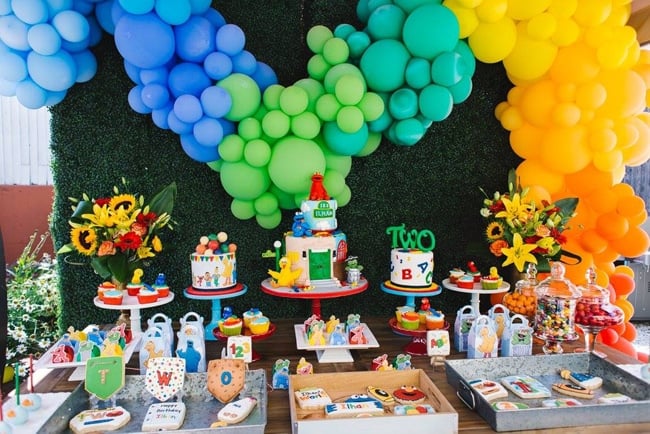 Your little guy will squeal with delight at this Sesame Street first birthday party theme! They will love the fact that they recognize a couple of those sweet characters that are sure to land on the tables around their fun birthday event. They'll even be able to look at their letters and numbers to start learning. What an amazing opportunity at a first birthday party!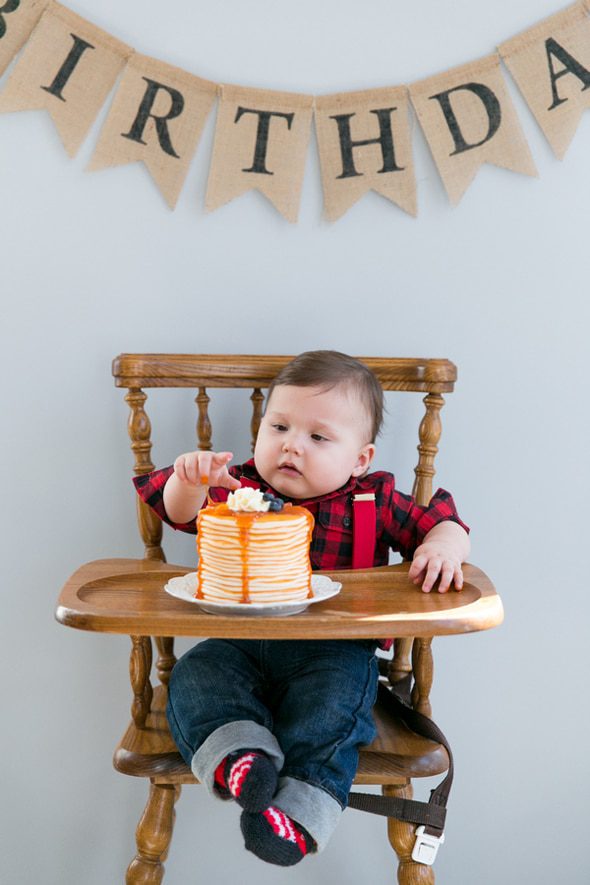 Who doesn't love a sweet Little Lumberjack?! What a fun idea to have a stack of pancakes that they can munch on, rather than a special cake that we all know just ends up mostly on the floor, anyways! This is a great party theme for boys that the whole family will have fun at!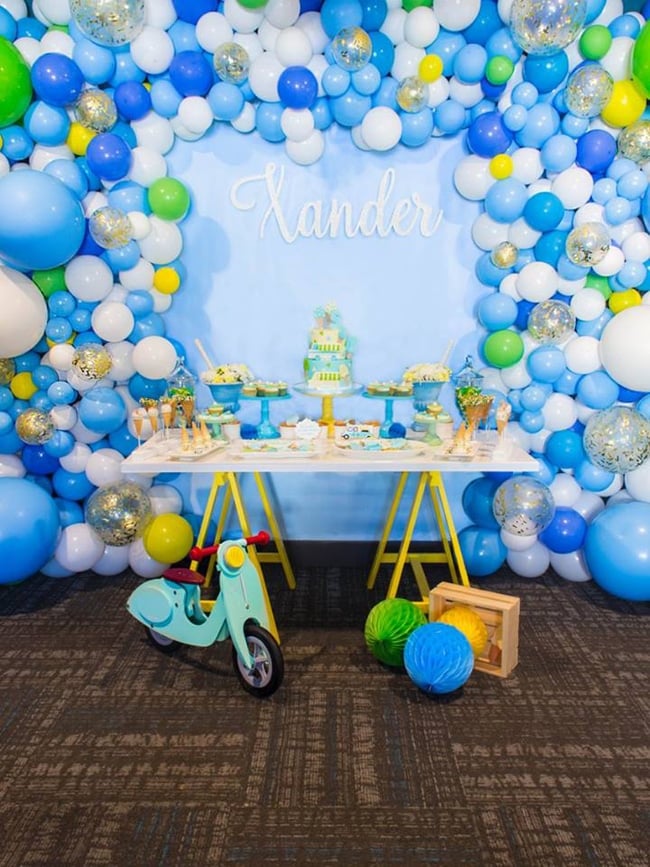 Do you have a little guy who has a summer birthday? Perhaps a fun Ice Cream party might have everyone cool down for the day! Any first birthday celebration that incorporates a fun balloon wall like the party above will be a great time for everyone! Doesn't this just ooze fun? What a great 1st birthday party idea for boys!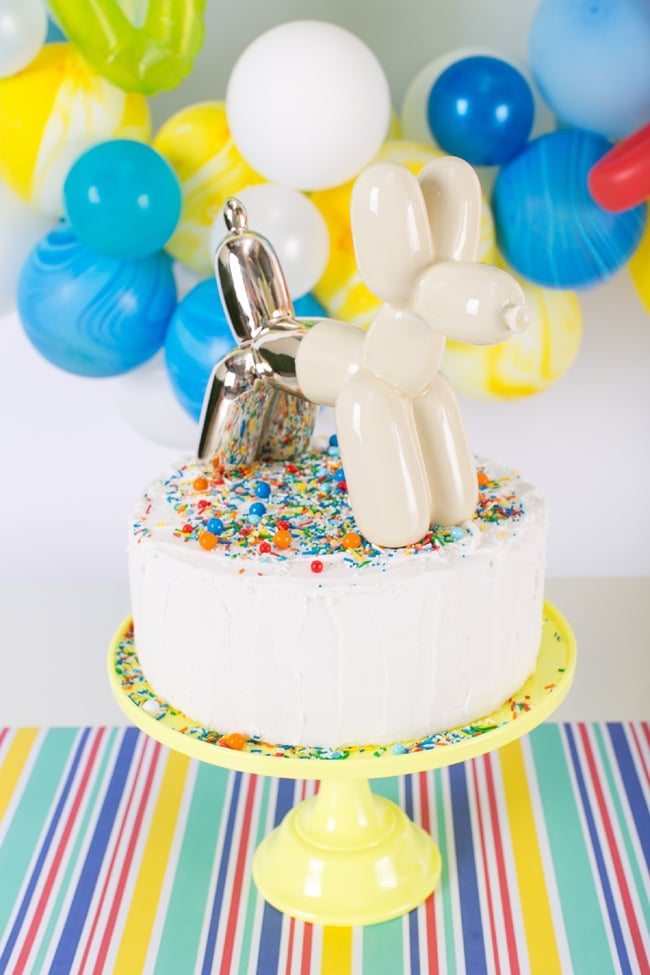 This unique Balloon Animals birthday party is a great way to incorporate not only fun decorations, but an activity that can be used to keep all of those little party guests occupied, as well! If you have someone who knows how to create fun balloon animals, or you're looking into hiring a professional, than this is a great theme to incorporate for your first birthday boy!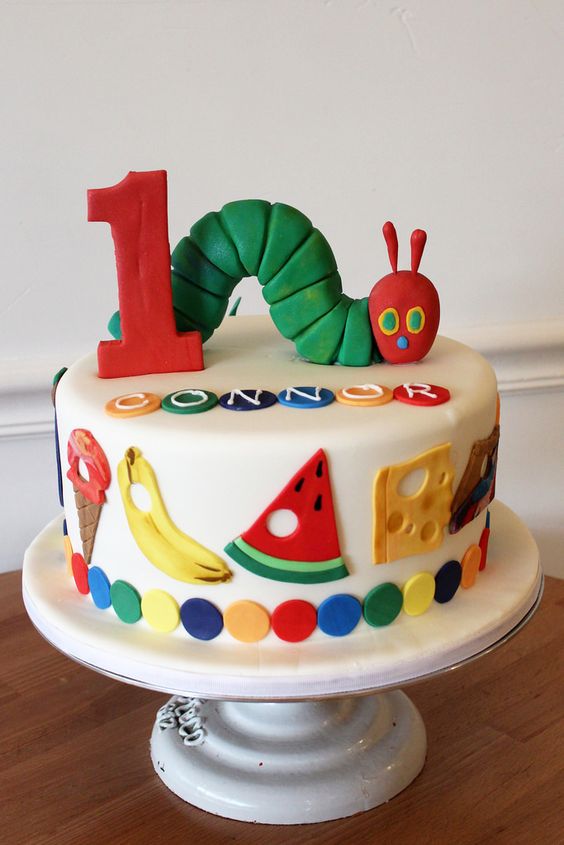 The Very Hungry Caterpillar is a great way to add a familiar element to a big day for your little guy and to make them feel special. It can be overwhelming to be thrust in the middle of all of the chaos and madness that can surround a first birthday party. While everyone else may think it's the most fun day ever, your little one may feel a little overwhelmed, so this familiar hungry caterpillar theme will help them relax and have fun, too!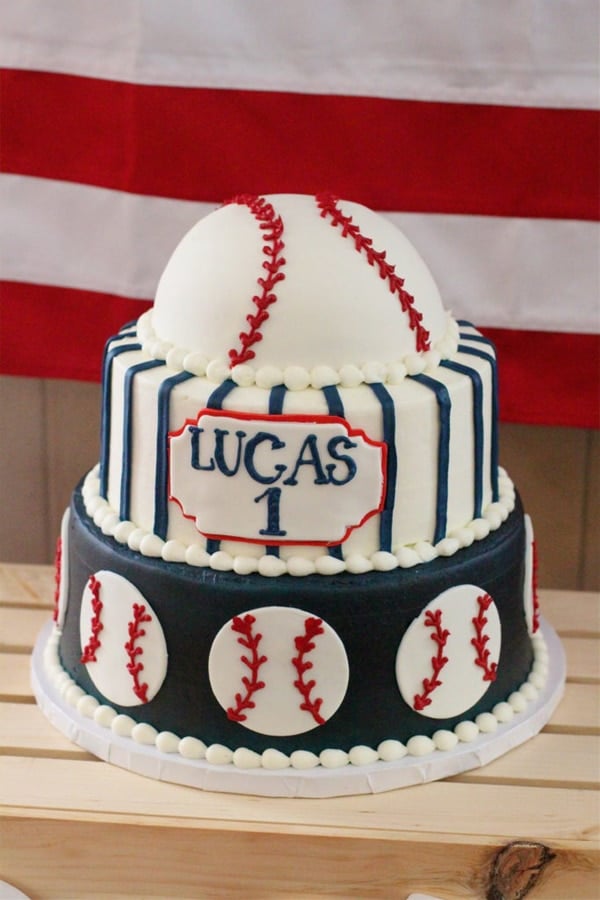 Give your slugger the Baseball themed first birthday party that they'll admire in pictures as they grow! Every little guy has to have a baseball party at some point in their childhood, so why not make it the big first birthday theme?! So cute!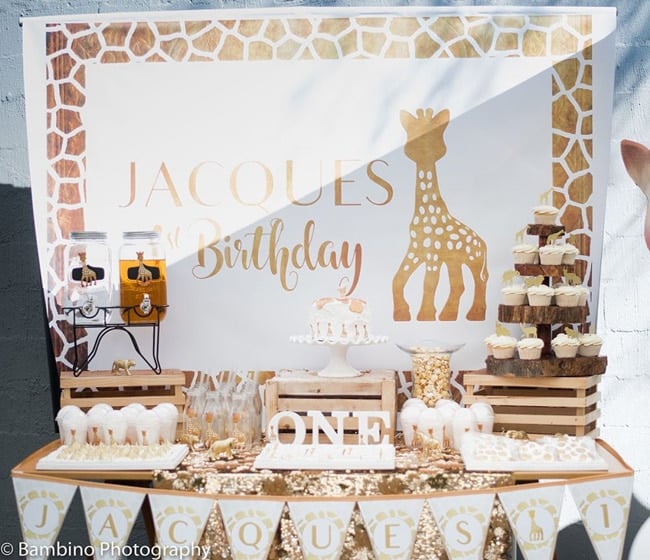 Sophie the Giraffe is a unique 1st birthday party theme for boys that anyone would love to be invited to! Everything is gorgeous and this beautiful desert table will have everyone coming up for more! What a great sophisticated event that isn't just about all of the little ones in attendance.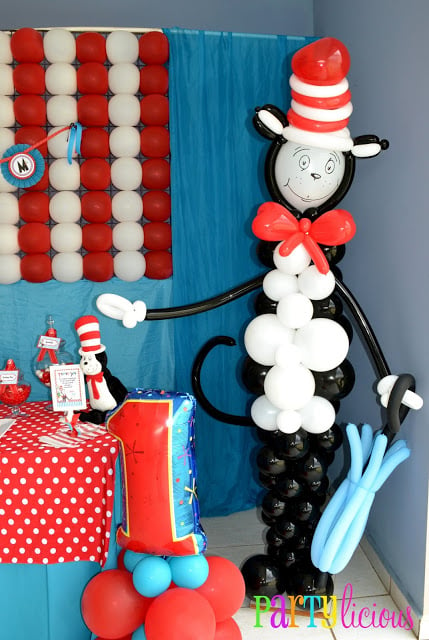 Dr. Seuss is the epitome of first birthday themes for any gender! Can you imagine the joy on all of the birthday party guests' faces when they walk in and see a balloon-created Cat in the Hat?! How amazing! There are so many different Dr. Seuss ideas that you will have plenty of inspiration to create the first birthday celebration of your dreams for your little guy!
First birthday party ideas for boys wouldn't be complete without an option for Mickey Mouse to be the center of attention! Who doesn't love a great Disney-themed first birthday party? We just love this fun Mickey Mouse cake that any little guy would be lucky enough to have for their first birthday!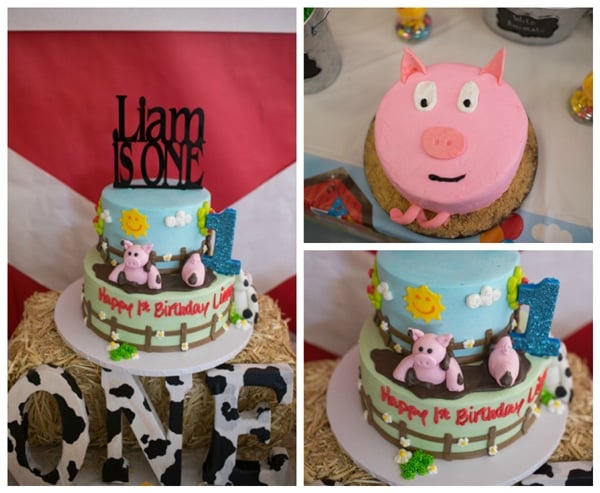 Farm Animals are always a hit with little boys, so why not throw them a first birthday party that will knock their socks off, complete with cows, pigs, horses, and any other farm animal they love! Decorations for this theme are so much fun, with hay bales found around the event, along with the chance to dress your little guy up as the cutest little cowboy around!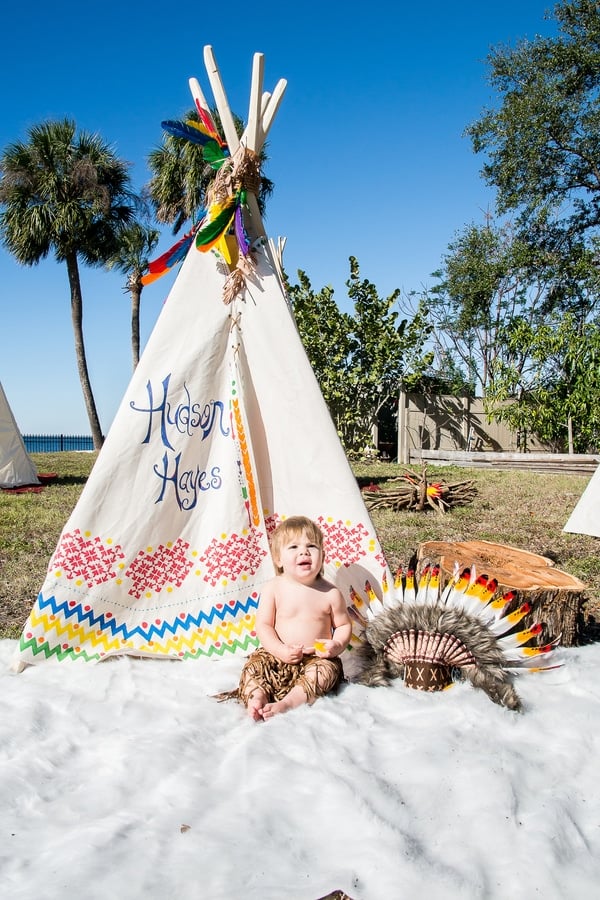 Teepee Indians are always a fun addition to a first birthday party. What kids don't love walking into an event to find giant teepees that they can play in all day?!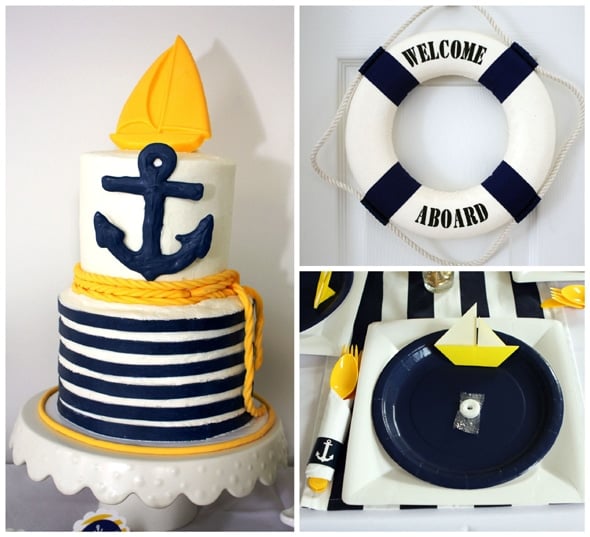 A Nautical birthday is a great first birthday party idea for boys! There are so many fun and practical decorating ideas that you can use for your first birthday theme, and your little guy will be the cutest in his little sailor hat!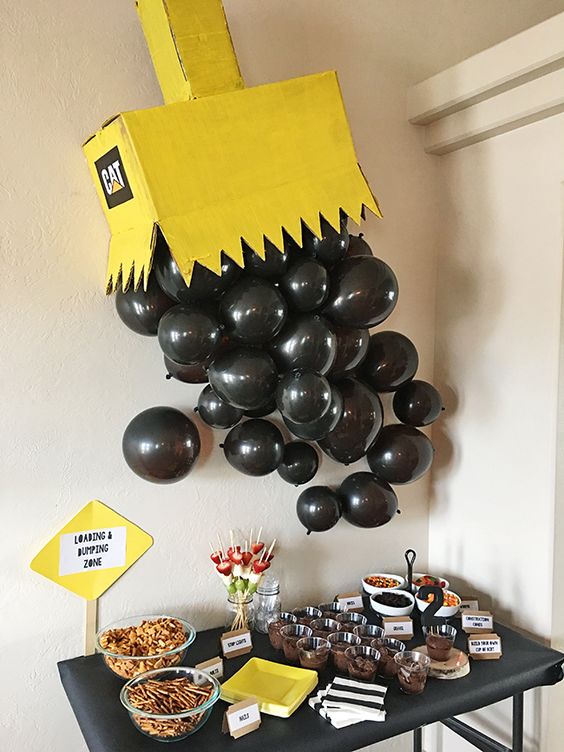 We know how much little boys love Construction equipment, so this is a great way to introduce all of those fun construction trucks to your little guy! Many construction parties use actual toy dump trucks or other construction equipment to hold the different food or supplies that may be used at the party. Genius!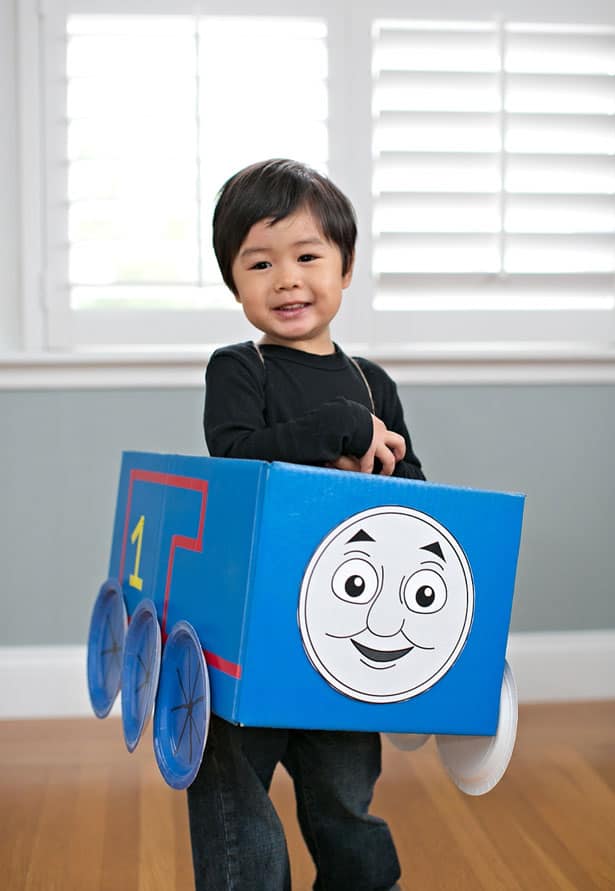 Trains are a big hit with little boys, so this Thomas the Train party is a great way to finish up these fun first birthday party ideas for boys! When it comes to first birthday party ideas, trains are always a big hit and nothing is more popular than Thomas the Train!
These First Birthday Party Ideas For Boys will make that special day memorable. Your little guy may not remember it, but you sure will. And isn't the celebration as much for the parents as it is for that new one-year-old?! We think so! You'll be throwing the party of the year in no time with these great baby boy birthday themes. Enjoy!
For more party ideas, follow us on Instagram @prettymyparty and Pinterest and join us in our private Facebook group.