Golf Themed 1st Birthday Party
This little guy's Golf Themed 1st Birthday Party is so cute, we want to have one for ourselves! What gorgeous colors and style!
We are absolutely in love with this Golf Themed Birthday Party! The colors, the styling, the decorations and the desserts … What's not to love?! Everything is fun and just screams first birthday celebration, and we couldn't be more excited to share it with you!
Golf Party Supplies and Decorations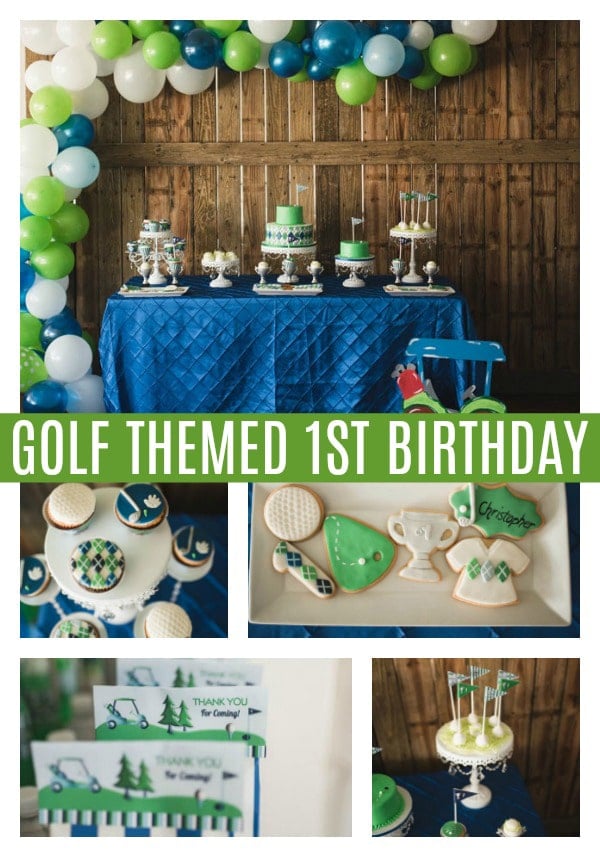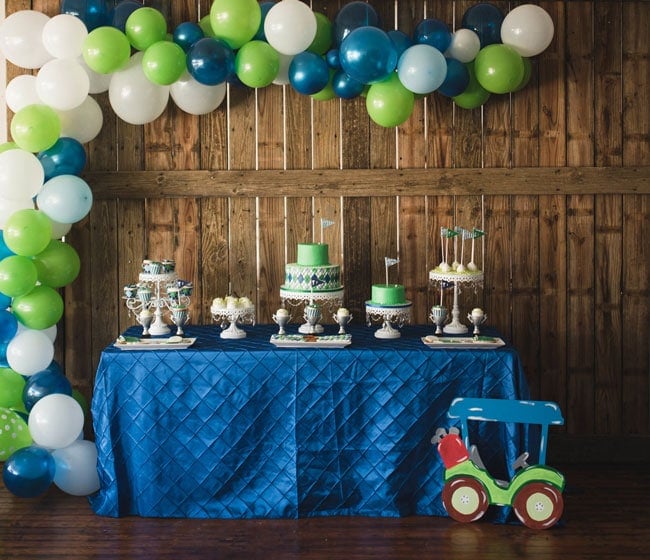 This Golf themed 1st birthday was outstanding! Luxe Studio did an amazing job with the concept and venue and we just love the color scheme that was used for decorations, supplies, and the overall theme!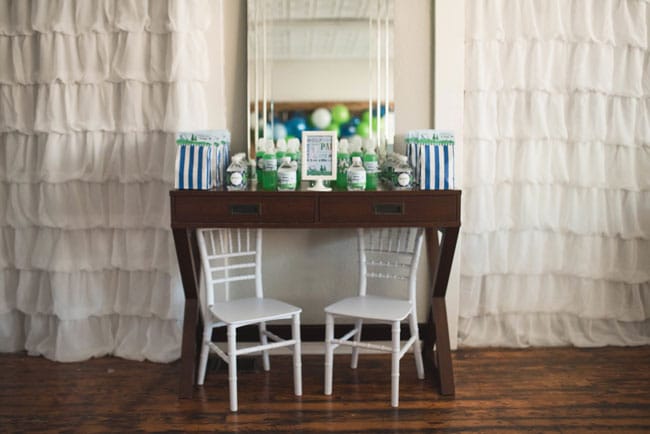 We love the drinking station that was available for all of the littles at the Golf Themed 1st Birthday Party. With signage that indicated what the table was for, along with Golf Party Decorations that were located on the table, it was a fun and easy way to get drinks out and ready for all of the party guests!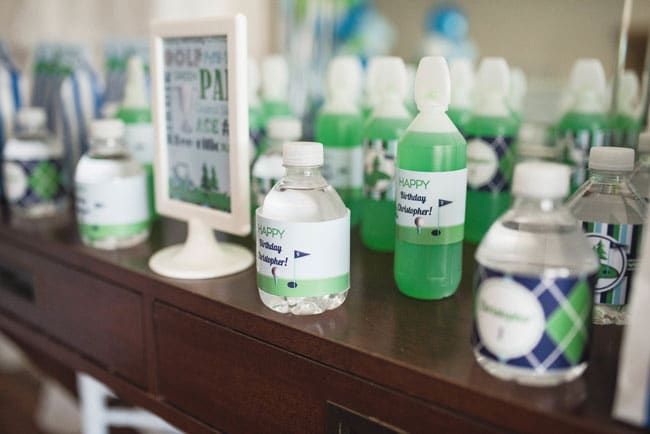 We love the personalized water bottle wrappers! This is one lucky little birthday boy to have such amazing birthday party decorations at this special celebration! When you're looking for Kids Golf Party Ideas, look no further than this amazing party!
Decorations on the dinner tables were absolutely incredible! From the balloon centerpieces that were available, to the fun toy golf items that were included on different tables, everything was perfectly placed and so exciting to look at!
Signage on the tables for the 1st birthday party theme was fun, as well, with the signs displaying information for the golf themed "Par-Tee" that was taking place!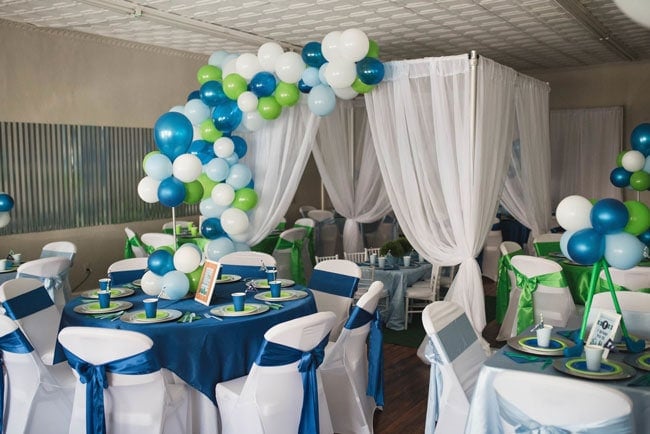 The venue was absolutely perfect for a party of this size. Golf Party Balloons were found everywhere throughout the event. The cascading balloons created such a fun and eye-catching Golf Party Decor that it was one of the main highlights of this birthday party!
We also love the gorgeous chair covers that were used to tie in the different Golf Theme colors, as well! So elegant, yet absolutely fun!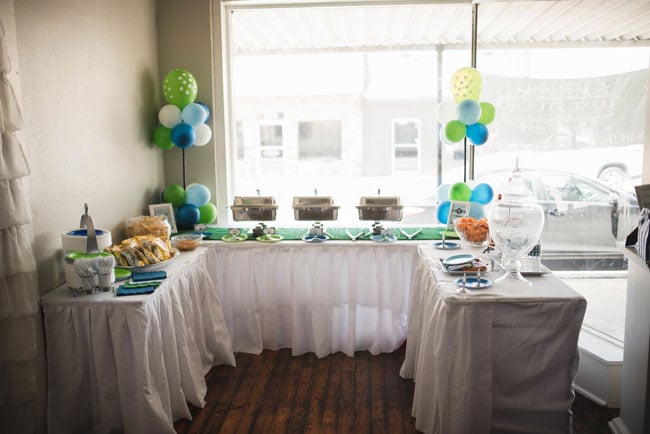 What 1st birthday party would be complete without some Golf Themed Food to add in for all of the guests?! The set-up of the meal was gorgeous and an easy way for guests to grab what they needed and head back to their seats.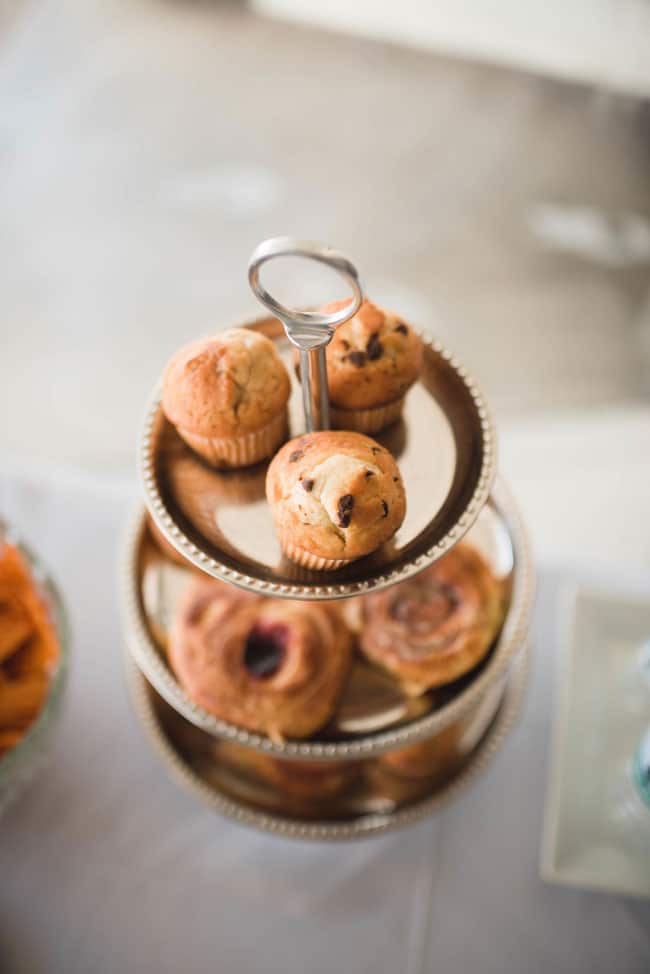 The meal was very kid-friendly for all of the little ones, with some fun additions for the adults, as well. We love how everything was displayed for all of the guests!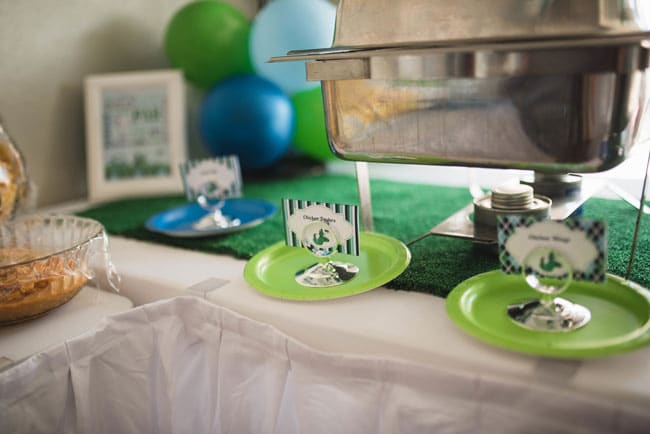 Food labels in front of the larger food displays were used to help everyone see what was available before lifting off the big lids. What a fun way to share the menu and the food tags were absolutely adorable! We love the stripes and plaid that were used in typical "golf fashion" attire!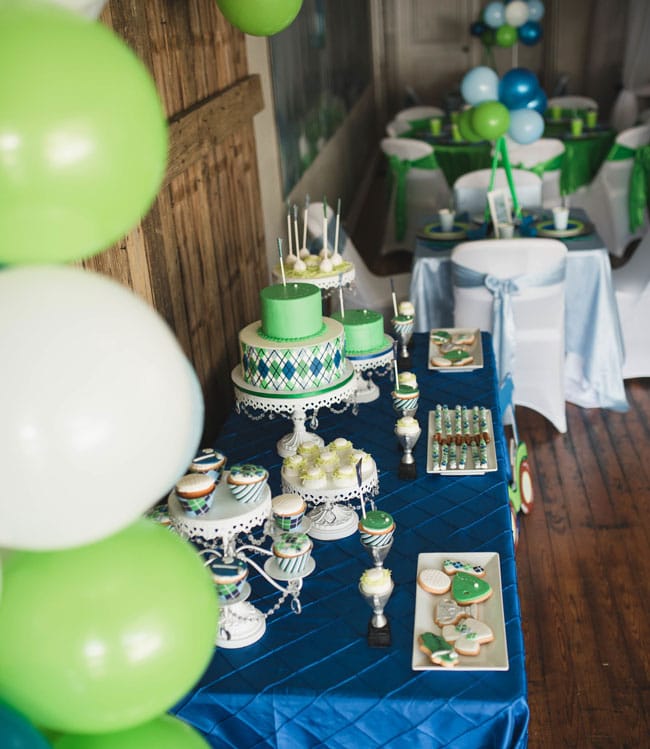 While everyone enjoyed the Golf themed 1st birthday, the dessert table is what most had their eye on all afternoon! And how could you not with how adorable it looked?! Everything looked delicious, and more than once, some of the littles were ready to skip their main meal all together in order to take in the dessert table first!
Just look at that amazing Golf Themed Birthday Cake!
These Golf Themed Cupcakes were a highlight of the event and were delicious, as well! Just look at the amazing details that were created on these cupcakes! We're betting a lot of the golf lovers at this party loved all of the ways that their favorite sport was put on display! Just look at that fun golf ball cupcake! Yum!
Hot Mama's Bakery did an incredible job with all of the golf themed desserts, but the cookies?! That is true talent! They looked almost too gorgeous to eat, but of course, that didn't stop many people from grabbing a cookie and gobbling them up!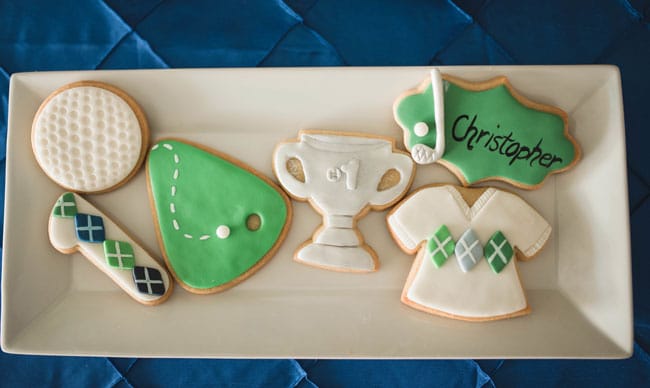 We also love the little flags that were added to some of the different desserts, replicating the flags on the hole of a golf course! Everything was thought of and it truly was a golfer's paradise when it came to this dessert table!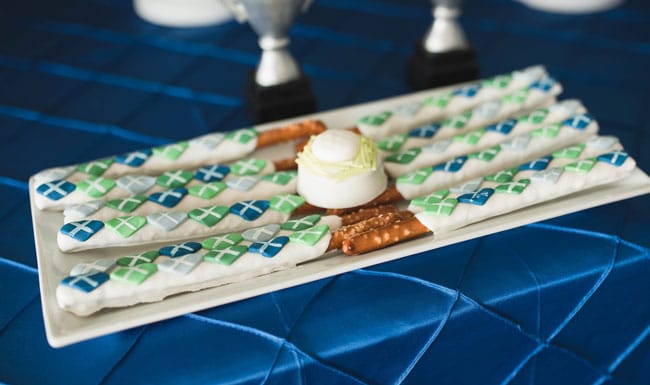 Even the chocolate covered pretzels were decorated with the perfect amount of golf style! Plaid is always a fun pattern to wear on the golf course, and this party took full advantage of using that in this Golf themed 1st birthday! But it's so adorable, we just want to see more, more, more!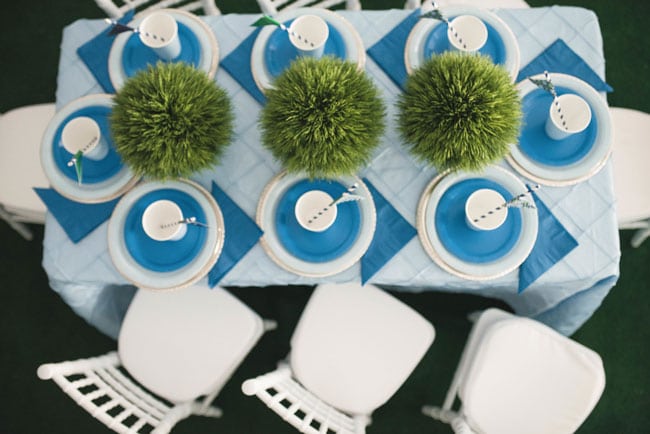 This bird's eye view gives a stunning picture of the Golf Party Decorations that were found on the dinner tables! We love the greenery that was used as centerpieces, which replicated grass that could be found on a golf course! It is truly a visual masterpiece!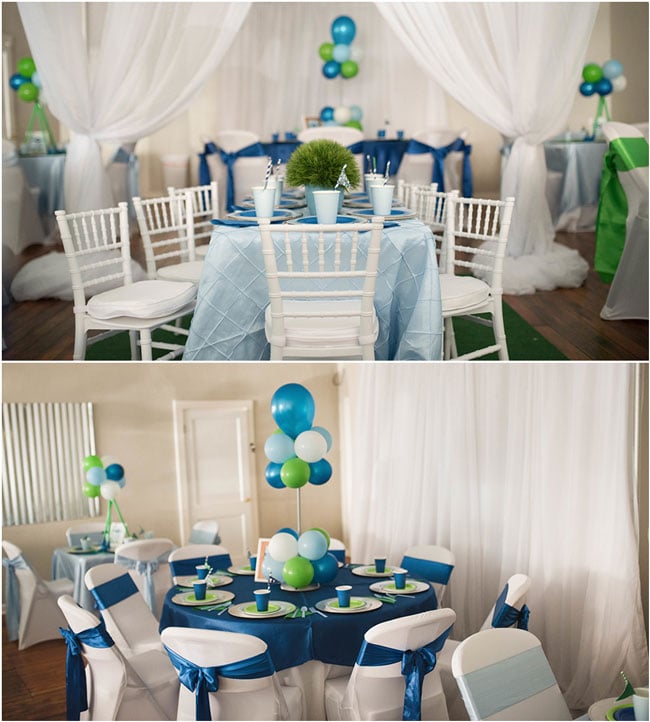 The venue was full of fun and exciting Golf Party Decorations. The balloons truly set up an entirely fun vibe that was utilized throughout the Golf Themed 1st Birthday Party, along with the fun color scheme found in all of the different areas of the venue.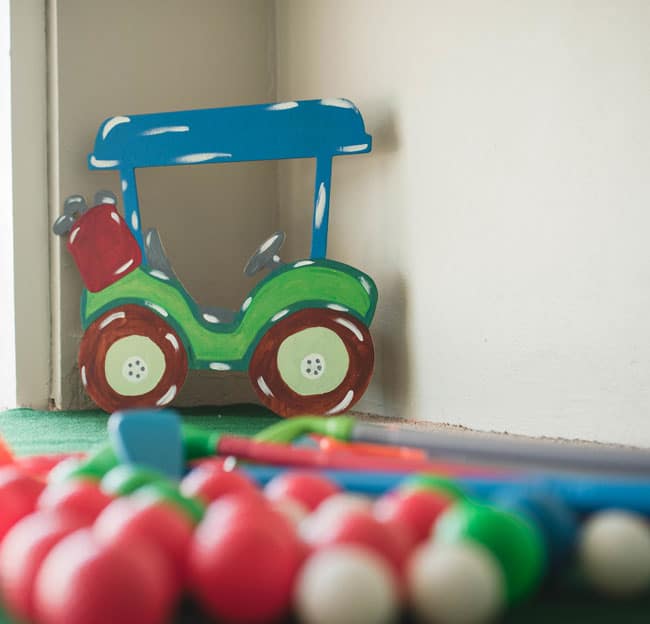 How great are the fun golf cart cutout decorations that were created for the Golf Birthday Party, as well?! These will be fun things to take home to remember just what a wonderful 1st birthday party it truly was.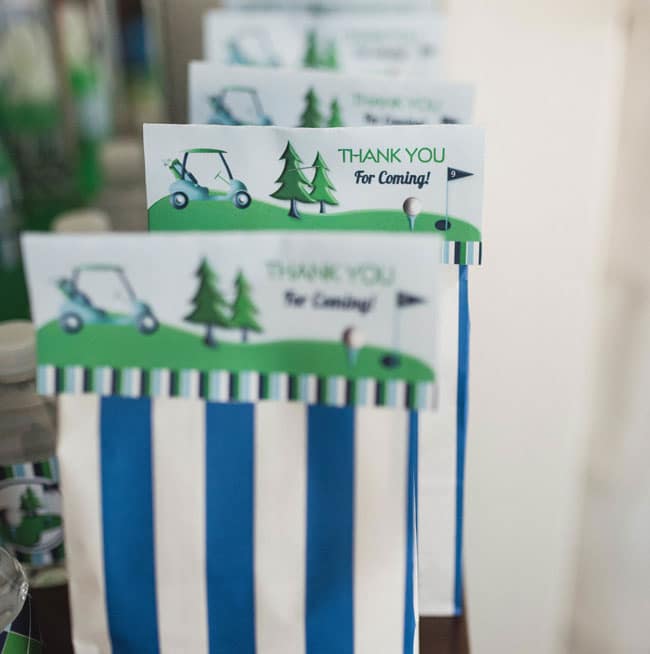 The adorable Golf Favor Bags were ready for all of the littles before they headed home. We love the simplicity, yet absolute perfection that all of the gift bags included! With fun printable items to staple them shut on the top, it brought the entire golf theme together from beginning to end!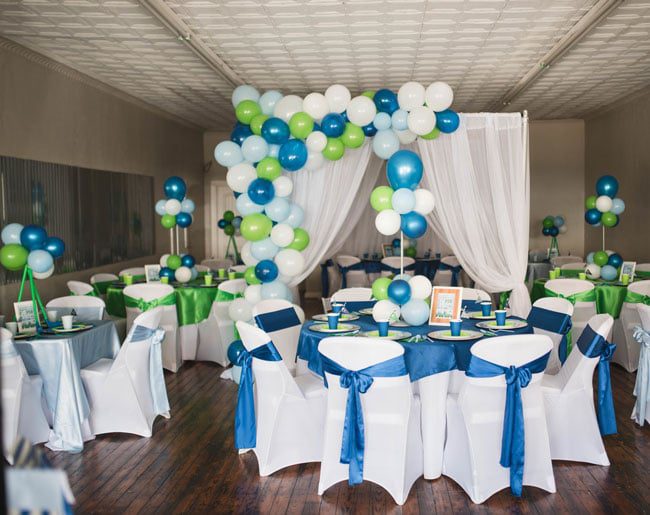 Any little guy would be thrilled to have such a fun Golf Themed 1st Birthday Party for their big day! While the birthday boy may not remember the details of this amazing party, he will be able to enjoy pictures and stories of how amazing the day truly was! What a lucky little birthday boy and those were some special guests to be able to take part in such a perfect party!
What's your favorite details in this Golf Themed 1st Birthday Party? Let us know in the comments below.
For more party ideas, follow us on Instagram @prettymyparty and Pinterest and join us in our private Facebook group.
Vendors & Credits
Pipe, Draping and Balloon Arch: Sharonda Russel
Balloon Centerpieces: LaToya Thompson
Golf Cart Painting: Abigail Smith