Sparkling Unicorn Birthday Party
Any little girl would be on Cloud 9 celebrating this special Sparkling Unicorn Birthday Party!
Unicorn Party Supplies and Decorations:
What an amazing dessert table that was created for this little warrior!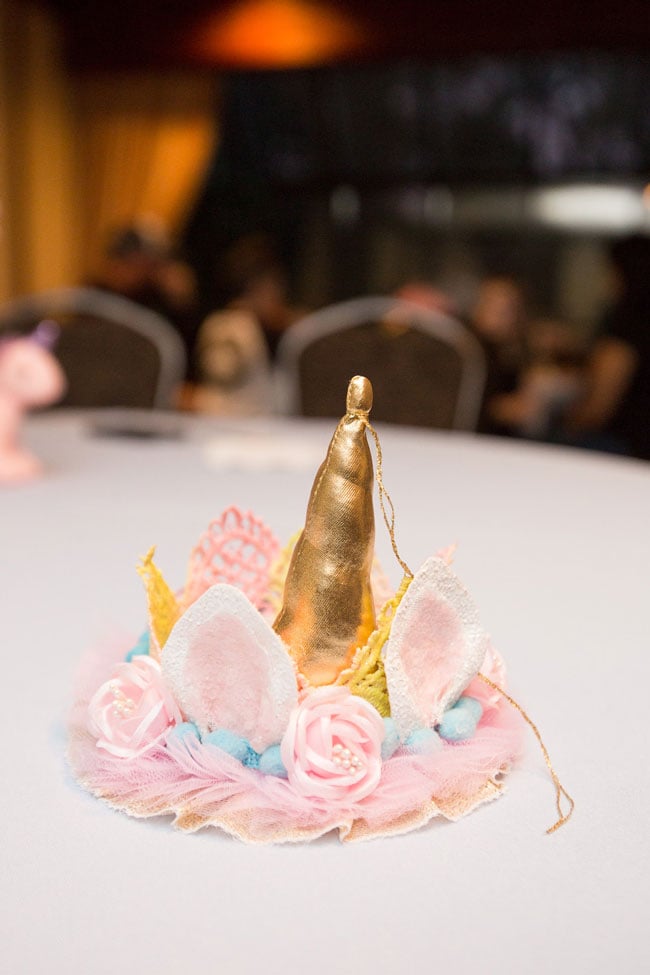 Many different vendors came together to create the design and decor for the unicorn party.
How sweet is this unicorn party decoration that was used as the main unicorn party backdrop on the dessert table?!
There was no doubt this was going to be a fun party when you walk in and see this fun unicorn looking back at you.
Paired with the amazing sparkly gold fabric used in the backdrop, as well, it looked beautiful together!
Unicorn party decoration ideas were so much fun to piece together.
Sweet unicorn stuffed animals were used as centerpieces, along with gorgeous flowers with a fun birthday message printable added in the middle.
We love the easy unicorn party ideas that were incorporated into this birthday girl's special day.
We love the glittery gold first layer, along with the fun gold unicorn horn that tied the color scheme together perfectly.
The unicorn birthday cake was the perfect centerpiece for the dessert table. Treats and snacks were seen everywhere on this unicorn party dessert table and they were absolutely perfect.
The beautiful details of the desserts were great unicorn party decorations, along with all of the fun printables and signage that was found throughout the event.
Three amazing bakeries in the area donated their time and effort to provide the most magical princess treats that anyone could imagine!
White chocolate covered Rice Krispie treats were a big hit, especially with the gorgeous gold straws that were used to serve the treats.
Gorgeous pink cake stands were used as serving trays, too, with crystals adorning the trays that were perfect for a princess!
What's a party without cupcakes, right?! These awesome purple cupcakes were a hit at the Sparkling Unicorn Birthday Party.
How could they not be? The unicorn theme was in full effect with the magical unicorn horns adorning the top of each and every treat.
These special unicorn cupcakes look delicious! The purple frosting also had a hint of glitter sparkles that were used, which made them extra special party food additions. They look amazing!
More treats were found on the dessert table that were some of the coolest unicorn party ideas we've seen.
We love the unique vibe of each of the desserts that were created for this unicorn themed birthday party.
More unique dessert ideas were found at the unicorn party with the fun French palmier cookies that were on hand.
Half of each cookie was dipped in white chocolate, with fun sprinkles used to complete the look.
What great snacks that you know will always be a hit with the kids!
Not only were the unicorn cookies that were found at the celebration super yummy, but they were also mini works of art!
Just look at the details that were incorporated into each and every cookie. They almost look too beautiful to eat!
Who doesn't love a good chocolate-covered apple? By using white chocolate, it fit into the unicorn party theme's color scheme, while being a delicious addition to the dessert table. We just love how sweet these treats look!
All of the dessert place cards that were used at the Sparkling Unicorn Birthday Party were little works of art, as well.
These are fun DIY ideas that could be created for any type of birthday party theme as well.
We love seeing place cards on the dessert table to show everyone what they get to enjoy for the day!
Birthday parties are no fun without cake pops! These fun unicorn cake pops did not disappoint. And how adorable is the sweet mini pink stand that is used to display the treat?!
Harlow even had the most gorgeous gift table possible! We just love the teal tulle that is used as the wrap around the gift table. It screams princess unicorn fun!
She was rocking some fun pastel hair with her own unicorn horn crown! We bet the birthday girl was just loving it!
Unicorn party games were enjoyed by all of the kids, but none more than the birthday girl! She got a little unicorn tattoo that the fairy princess put on herself. How special!
Everyone loved putting the birthday girl front and center with all of the party fun. The little ones played with a large parachute that they had a great time running under and around.
What a fun way to keep the littles active, while involving them in an activity at a birthday party!
Nothing was better than the birthday girl's look of the day. How amazing is this pastel dress that she was sporting, with the sweetest gold shoes possible?
She was definitely the perfect unicorn princess for her big day!
The whole family got to enjoy time together at this amazing Sparkling Unicorn Birthday Party!
What a great time to have family pictures done, than before a birthday party when everyone is looking their best!
All the vendors donated their time and services to throw this beautiful little girl a celebration of life party and it was well worth it.
They all incorporated the coolest unicorn party ideas to give this little beauty a very special day with the ones she loves most.
A unicorn party is always a magical experience and this was no different!
Shop these fun Unicorn Party Supplies:
(Affiliate Links)