Ghouls Night Halloween Party
This pink Ghouls Night Halloween Party is all girly with lots of style, without being too scary!
How amazing is this Ghouls Night Halloween Party by Bev Soh of Hand Lettered Love by Bev?! Halloween is just around the corner and this adorable girls' night Halloween party will be all anyone talks about all year!
If you're not a huge fan of all things scary, you'll be delighted when you see all of the details included in this stylish take on a fun Halloween theme. Straight from Langley, British Columbia in Canada, this Halloween "ghoul's night in" party is pure inspiration genius for your own take on the fun theme.
A color palette of pink, turquoise and black set the tone of this event. The party also included an amazing balloon garland from Little Rose Party Company, who also created an incredible tassel backdrop. The cute tableware provided all of the inspiration for the cake made by Janessa's Custom Cakes, along with the delicious cookies from Sweeter With A Cookie. The invitations made by Creations by Sonia were the perfect compliment to match the whimsical style of this fun night in with friends.
Spider web cupcakes, popcorn and a candy charcuterie board were also available for all of the guests to enjoy. Fun and cheeky custom-made straws, along with hand-lettered pumpkins were the perfect finishing touches to the Halloween party tablescape!
Everything came together perfectly for this fun ghouls night in. We are sure you will love it as much as we do!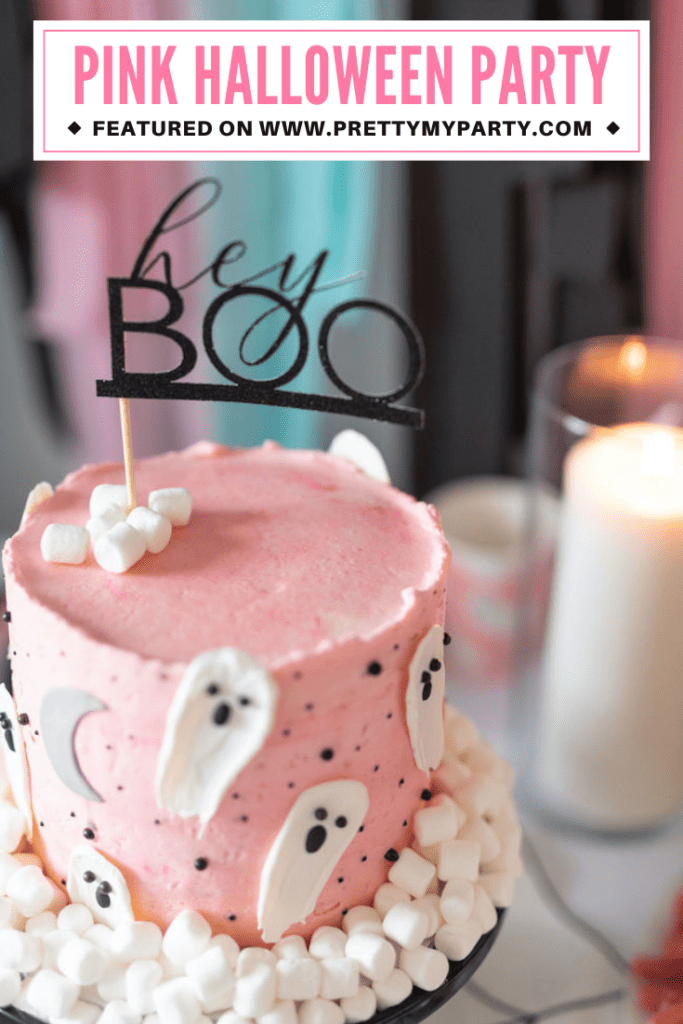 Ghouls Night Halloween Party Ideas
Pretty in pink Halloween party theme for a not so scary halloween party was the perfect way to celebrate for a ghouls night in
Adorable pink ghost halloween cake with the perfect cut-out "Hey Boo" cake topper
Gorgeous dessert table with amazing balloon installation, complete with plastic spiders "crawling" on the balloon garland
Ghouls night in invitations set the tone for the event with a subdued pink printable with matching tableware on the guest tables
Fun straws for the drinks were personalized with tents wrapped around that all had great sayings on them for an adult halloween party with the ladies
The adorable dessert table was stacked with desserts, including cookies, cupcakes, popcorn and an amazing dessert charcuterie board with sugary halloween party food
Customized pink signs with fun calligraphy welcomed guests to the Halloween theme for adults
Fun halloween party ideas included the pumpkins that were painted with creative sayings on them, which were used as centerpieces
A delicious menu with amazing food was available for everyone to enjoy at the Ghouls Night In event
We can't believe how spook-tacular this fun Ghouls Night Halloween Party is! Everything about it is absolutely amazing for a fun and unique girl's night Halloween bash. How fun are all of the special straw tents that were created that everyone got to choose from?
Our favorite detail, however, is the amazing dessert table. Not only do all of the desserts look absolutely incredible, but the balloon installation that was prepared, along with the great dessert table backdrop absolutely make the event! We just love the fun idea about the special painted pumpkins that had Halloween-inspired sayings on them, as well. That would even be a great DIY activity to do with the ladies for them to all take home, too! Hopefully you are lucky enough to go to a fun Ghouls Night In Halloween bash this year, with masks, of course!
What are your favorite details from this Ghouls Night Halloween Party? Let us know in the comments below!
For more fun Halloween party ideas, follow us on Instagram @prettymyparty and Pinterest and join us in our private Facebook group.
Party Vendors
Photography: Sparrow Photography
Planning, calligraphy sign and pumpkins: Hand Lettered Love by Bev
Cookies: Sweeter With A Cookie
Cake topper and Straws: Little Bee Custom Creations
Balloon Garland and Backdrop: Little Rose Party Company
Cake and cupcakes: Janessa's Custom Cakes
Invitation: Creations by Sonia