Candy Coated Circus Birthday
A Candy Coated Circus Birthday in the "Big Top" is all any little animal lover could ask for!
This Candy Coated Circus Birthday is everything! The Party Muse assembled a team of amazing vendors and put together this amazingly yummy styled shoot that anyone would love to celebrate! Style Me Momma also created the perfect whimsical style with a fun and modern twist on the theme!
During COVID, it affected many of these businesses, but it also meant they had extra down time to create. They all have so many gifts and talents to share and it was an amazing way to stay busy and creative during the pandemic. Lockdown doesn't last forever and this fun theme shows that they are all ready to party!
Balloon POP and Events By Emily did an amazing job with the design and decor at the celebration. What child wouldn't love to sit at that guest table, while feeling like they were sitting in the middle of the most fun balloon pit ever! We just love the guest table set-up that was contained for the little ones to enjoy.
And the tables all included mini furniture for the kids to be comfortable at, with fun floral centerpieces found in animal vases. Party Perfect, Lee's Playland and Little Celebrations Rentals did a great job with all of the different pieces that were found around the event. Adorable! With traditional circus colors such as white, yellow, magenta, pink and blue, it was a classic take on a circus themed event.
Graciela's Creations also helped to create an incredible dessert table, with three gorgeous cakes for everyone to choose from. And how about those specialty macarons that were made by Emma's Macarons? They are beautiful. Enjoy the circus!!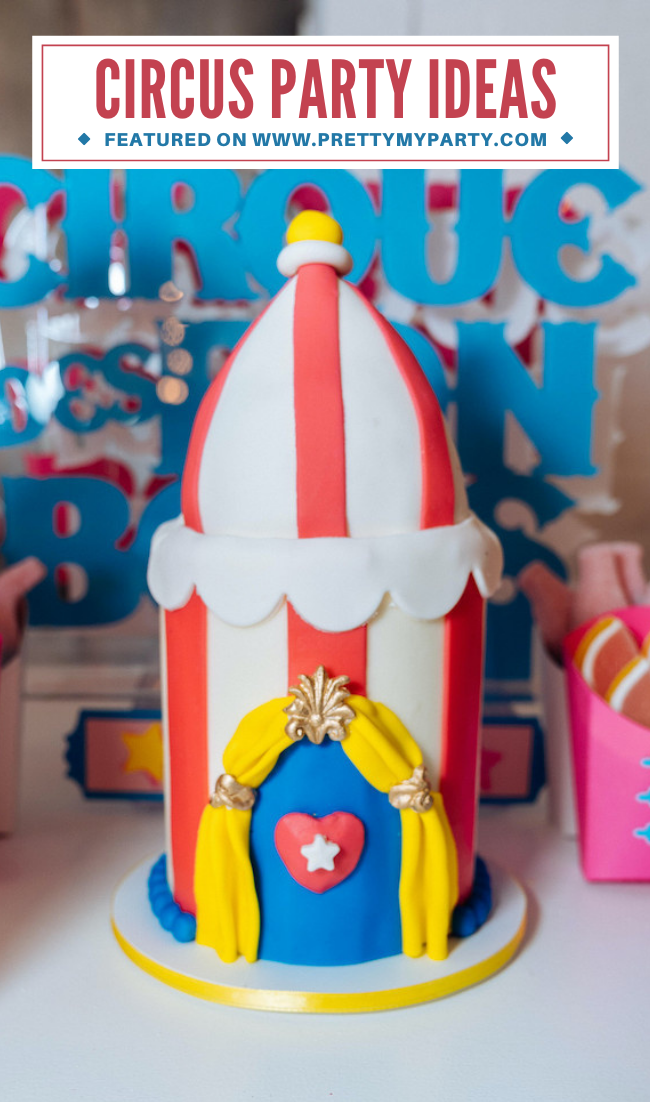 Candy Coated Circus Birthday Ideas
An amazing "balloon ball pit" was created for the circus themed birthday party guest table
Small kid-sized furniture was brought in for the carnival theme with bright and fun colors
Not one, not two, but THREE circus birthday cakes were made for the styled event to provide lots of inspiration, with adorable cake toppers
Circus birthday party ideas included having large plastic exotic animals hanging out by the gorgeous dessert table
Big top party supplies were found in full effect on the guest table, including bright and fun place settings with custom wrapped water bottles
Gorgeous floral centerpieces were found on all of the tables in circus-themed vases
A circus birthday party wouldn't be complete without amazing balloon installations found throughout the event
Desserts were incredible with circus themed macarons, caramel corn and cotton candy available for the guests to enjoy
We love the sweet circus birthday invitations that said "Admit One" to the party, like real circus tickets
Great games and activities were available for the children, including an amazing circus-themed bouncy house
Carnival birthday parties need amazing party favors and this favor box fit the bill, with amazing treats inside
Circus birthday decorations included fun pretzel printables that were included on the back of each guest chair
The kids had fun milk bottles with styled drink twirlers to round out the amazing circus theme birthday supplies
This circus themed birthday party included an amazing menu with lots of circus food available for the kids to enjoy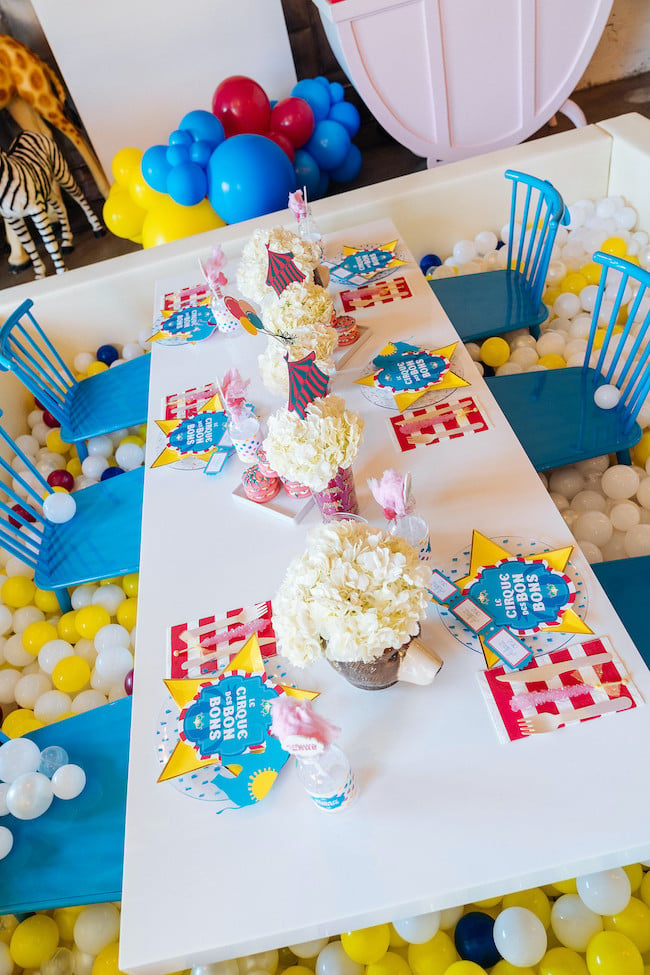 This adorable Candy Coated Circus Birthday styled shoot is the things that kids dream of! We absolutely love the fun and bright circus colors that were eye-popping and exciting! Any little one would just love for this to be their birthday theme. Who wouldn't love exotic animals, a kid-friendly guest table and most important … THREE gorgeous cakes!
Our favorite detail from this fun event is definitely the kid-sized guest table with the balloons that were set in a fall ball pit! What a fun and unique way to add to a birthday experience for a child. The goody-filled party favor boxes were well-received by the kids, too. Who doesn't love to get a whole bunch of goodies from a birthday party, particularly when you get to take home treats?!
What are your favorite details from this Candy Coated Circus Birthday? Let us know in the comments below!
For more fun party themes, follow us on Instagram @prettymyparty and Pinterest and join us in our private Facebook group.
See more birthday party themes here:
Party Vendors
Equipment Rentals: Party Perfect, Lee's Playland and Little Celebrations Rentals
Bakery: Graciela's Creations
Specialty Foods: Emma's Macarons
Videographer: Together Forever Films