Best Sweet 16 Party Ideas and Themes
Planning a Sweet 16 and need some ideas? Check out the best Sweet 16 Party Ideas and Themes, budget-friendly tips, and more!
A Sweet 16 is a special milestone birthday that calls for a fun party with family and friends. However, so many things go into the perfect Sweet 16 party that it can be overwhelming.
From the venue and food to the guest list, entertainment, and decorations, planning a Sweet 16 birthday party can be a big decision.
That's why it's important to have a budget and plan before you start planning all the details.
We're here to help you plan the best Sweet Sixteen party ever, so we'll share the best Sweet 16 party ideas and themes to get you started.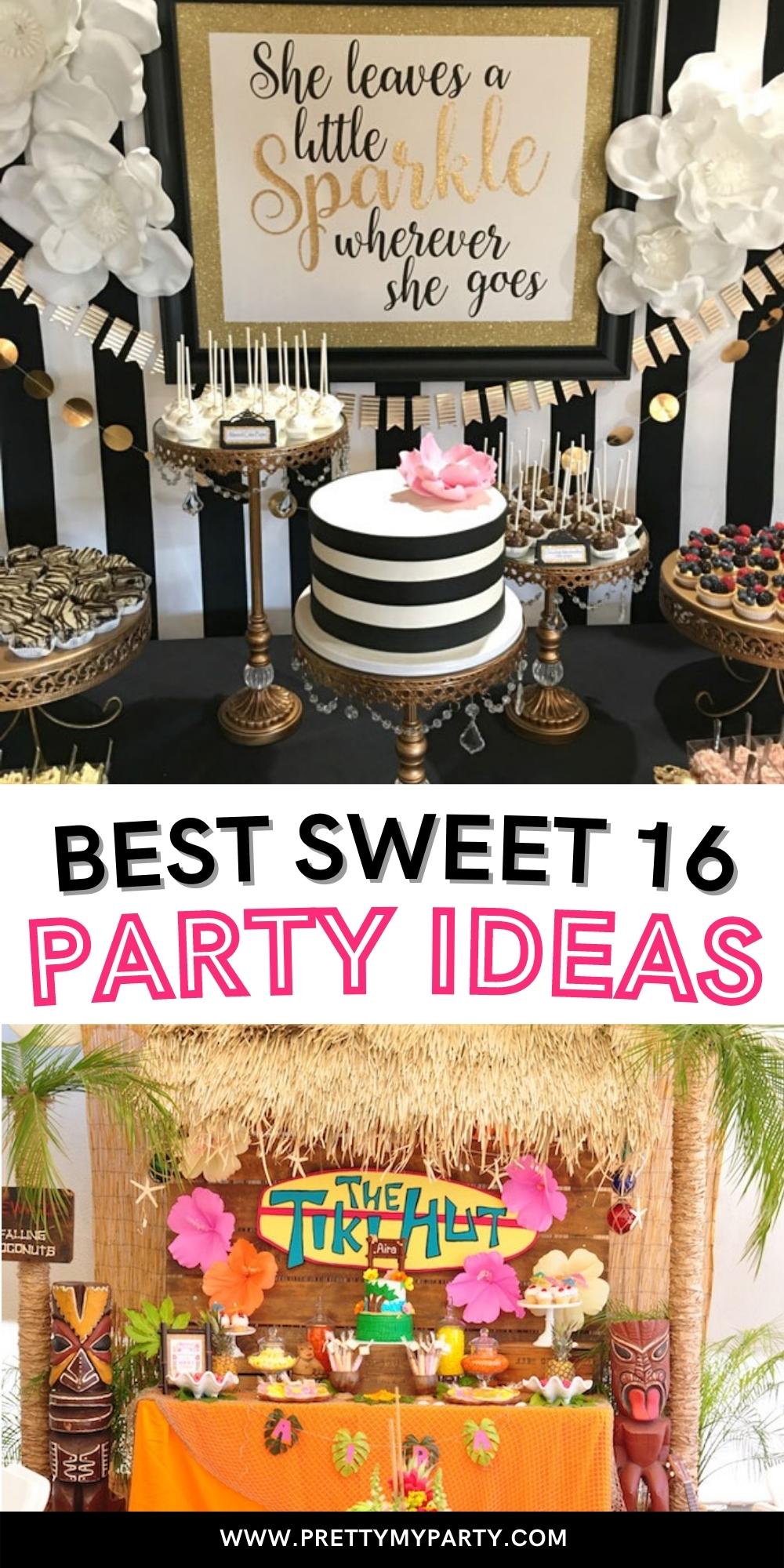 WHAT IS A SWEET 16?
We've all heard of a girl's Sweet Sixteen, but what exactly is it, and how is it celebrated?
A Sweet 16 is a coming-of-age celebration for a girl's 16th birthday.
The party is often a big, elaborate celebration with family and friends and is one of the most important birthdays in a girl's life!
And while this milestone is an important right of passage in adulthood, it doesn't mean that it has to be over the top or break the bank!
With some planning, you can throw an unforgettable Sweet 16 for your daughter with these themes and budget-friendly ideas below!
HOW TO PLAN A SWEET 16 PARTY
Several things go into planning a Sweet 16 party, so we'll break down the basics.
1. Decide on a budget and theme
The theme sets the tone of your entire event and determines your party's colors, decor, food, and budget.
First, talk to your teen about your budget and then decide on a theme so you don't have any unexpected costs and go over your budget.
2. Think about party supplies and décor
Once you have a theme, it's time to get ideas for party supplies and decorations!
Depending on your theme and venue, there are plenty of creative ideas you can do for your event.
But, first, decide what decor is most important and determine if you're going to purchase it or make it yourself.
Decorations and party supplies add up fast and can increase your budget if you're not careful. So start planning early to watch sales and use coupon codes to get the best deals.
Party supplies include plates, napkins, cups, table covers, utensils, etc.
Party decorations include banners, backdrops, signs, party printables, balloons, streamers, centerpieces, and other elements that dress up your event space.
If you're watching your budget, there are tons of DIY party decorations that you can make!
DIY decorations are often what make your party unique and special, so enlist the help of your daughter and her friends to make some of the decor.
3. Plan the menu: Party food, drinks, and desserts
Planning the menu is an important part of any event. First, decide if you want a sit-down dinner, family-style meal, or buffet.
If you have your Sweet 16 party at a large venue or restaurant, work with the manager or event coordinator on your group's menu options and pricing.
If you're hosting the party at home, you can make food or hire a caterer.
Another option if you're hosting the party at home is to ask friends and family to make a dish for the event.
Friends and family are always willing to help out, and this idea will save you time and money.
In addition to the main meal, desserts are a must-have for any Sweet 16!
You can order a birthday cake from a bakery or local baker, buy one from the grocery store, or make one yourself. Your decision depends on your time, skill, and budget.
If you don't want a cake, another option is to do a candy bar or serve cake pops or cupcakes. But again, it's up to your teen what she and her friends will like the most.
4. Plan games, activities, and entertainment
Your daughter will likely have strong opinions on the games, activities, and entertainment for her Sweet 16 party.
In addition, she might have ideas based on what she and her friends like and what they've seen at other parties.
We recommend choosing a few party games everyone will enjoy.
Usually, teens are "too cool" to participate in party games, so don't spend much time on things your teen and her friends won't like.
However, here are some fun ideas that are teen-approved:
Fashion show
While it's not necessarily a game, it's still a fun way to get guests involved in the fun! So it's time to get super creative and plan your own Project Runway!
Set up an area for makeup, accessories, and outfits, create a "catwalk," and let guests strut their stuff!
Add prizes for "most unique," "best dressed," "best walk," etc.!
Lip sync contests or karaoke
Karaoke or lip-syncing could be a hit thanks to reality TV and singing shows!
Get a list of songs together, old-school and new, and have guests choose one to perform for the crowd. It's the perfect way to let everyone's inner diva shine!
Scavenger hunt
Scavenger hunts never go out of style! This activity is a great way to incorporate your theme too. Find some great scavenger hunt ideas here!
The Candle Ceremony
Add something unique and memorable to your event, like The Candle Ceremony.
The idea is to light 16 candles, each representing special people in the birthday girl's life (parents, siblings, grandparents, aunts, uncles, teachers, coaches, or close friends).
The candle ceremony is a great way to celebrate those special relationships in your teen's life.
Father-daughter dance
A father-daughter dance is a special way for a dad and daughter to celebrate their bond.
We love this idea for a Sweet Sixteen birthday party, and it's a sweet prelude to that special wedding dance someday.
If your teen's Sweet Sixteen party is the epitome of a princess ball, a father-daughter dance may be perfect.
Photo booth fun
Today's teens are all about the selfie photo booth idea, so you know this idea will be a hit!
In the age of Instagram, photo booths are on-trend, and there are so many creative ways to make your photo booth Insta-worthy!
So grab some fun props and set up a cool background for those social media photos!
PARTY IDEAS ON A BUDGET
Your teen might have their heart set on having a big, elaborate Sweet 16 party with all of her friends.
That's why it's a good idea to discuss your budget before you start planning to ensure everyone is on the same page.
If your budget is a concern, it's important to eliminate things that aren't a high priority or find alternatives to save money.
With some planning and creativity, you can still have the best party and stick to a budget!
For example, instead of hiring a photographer to capture the event, take photos yourself.
You can also encourage guests to post pictures to social media using a unique event hashtag.
Check out more Sweet 16 budget-friendly tips like this below:
1. Prioritize
After discussing budget options with your teen, make sure they can convey their "wish list" and what they envision having at their Sweet Sixteen party.
For example, maybe they had their heart set on a party at a fancy restaurant, which may be doable if they're willing to keep it intimate with only a few close friends and immediate family.
Or perhaps they would rather have their party at home where they can have a larger guest list and money in the budget to hire a caterer.
So again, it's important to prioritize what you need and want and see what your budget allows.
2. Choose a reasonable theme
Some themes are more budget-friendly than others. For example, does your daughter want a spa day?
Perhaps renting a hotel suite with a few of her besties, then recruiting friends and family to help with DIY "Spa Services" would work instead of getting manicures and pedicures at a fancy spa.
Staying on budget is about getting creative and thinking outside the box!
Another example of a budget-friendly Sweet Sixteen theme is a luau! You don't need a fancy pool or an entire roasted pig to pull off a luau-themed party.
Luau party decor is easy to find, affordable, and you may even know people who have some luau party decor in their closets from a previous party!
3. Get creative with music
Instead of hiring a DJ or band, keep costs down by creating a teen-approved playlist from your phone's iTunes playlist.
Then, connect your phone to a speaker, so your playlist is set for dancing and mingling!
4. Save money on e-invites
In the age of digital invitations, it's acceptable to set up an e-invite for guests! But, of course, you can also make an event on social media and invite your guests.
If your teen is familiar with MTV's "My Sweet Sixteen," they may expect a stretch limo to invite each guest personally.
But we're talking about budget-friendly Sweet 16 ideas, so renting a limo for in-person invites might be quite a stretch!
If e-invites are not your cup of tea, buy a digital party invitation from Etsy and print them on cardstock at home. Digital invitations are more affordable, and if you can print them from a home computer, you'll save some money.
5. Beauty and wardrobe
While your birthday girl will be the center of attention, that doesn't mean you have to spend a small fortune on her Sweet Sixteen dress or outfit!
Cocktail dresses are typically less expensive than ball gowns.
You may even snag a great pre-owned dress! Check out local consignment shops, eBay, Craigslist, or the Facebook Marketplace.
If this idea fails and your teen wants to say yes to a more expensive dress, you can negotiate and sell it after the party to recoup some of the cost.
Another budget-friendly tip is to skip the salon and save money on hair and makeup by asking family or friends to help with your teen's party look.
SWEET 16 PARTY THEMES
When choosing a Sweet 16 party theme, we're sure you'll get a little input from the birthday girl! Below, check out the best Sweet 16 themes that could be perfect for your teen queen!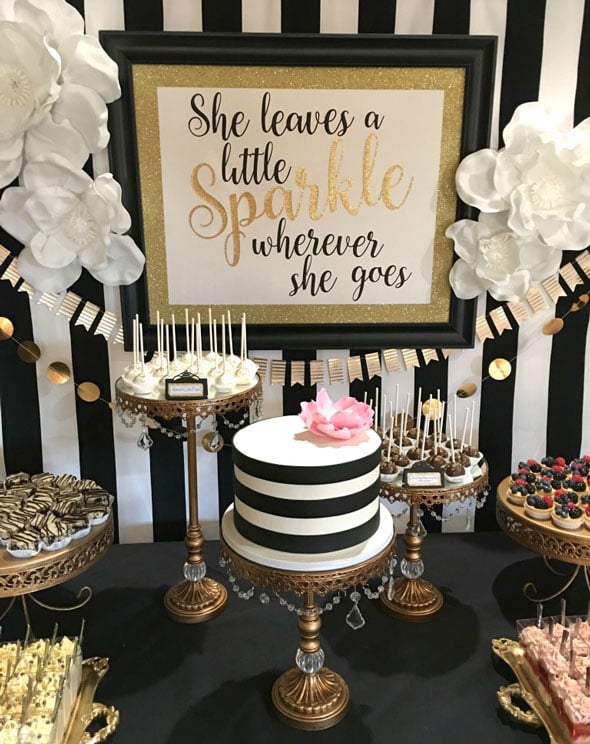 Kate Spade theme
Does your daughter love fashion and designer clothing? Kate Spade theme is a popular party theme for any prepster and might be the perfect theme for your teen's Sweet 16 party!
Here is some fun Kate Spade party decorations and ideas to get you started: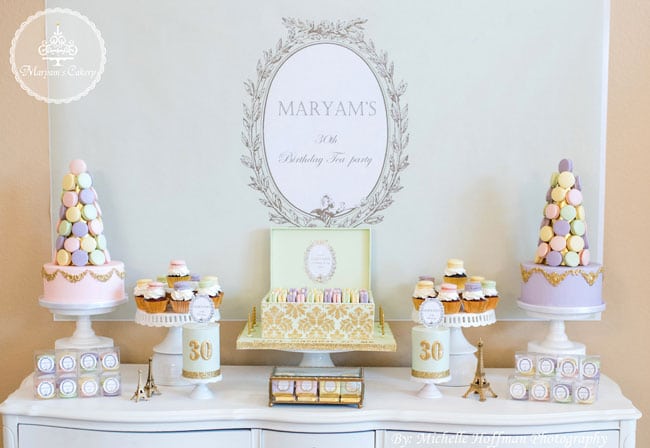 Parisian Tea Party
A Parisian Tea Party theme with Eiffel Tower decor is perfect for any Paris-loving girl! This Sweet 16 theme is girly and sophisticated and will be a hit with guests, young and old.
Get the ball rolling with these pretty Parisian party ideas and products: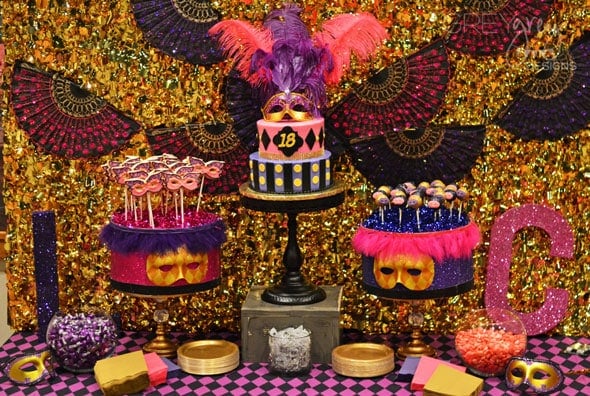 Masquerade Party
A masquerade theme is a big, colorful, over-the-top Sweet 16 theme perfect for a co-ed celebration! If your teen loves mystery masks and glamour, this theme is perfect.
Your daughter and her friends will have the best time picking out the perfect outfit and matching masquerade mask!
Find some gorgeous masquerade party ideas here: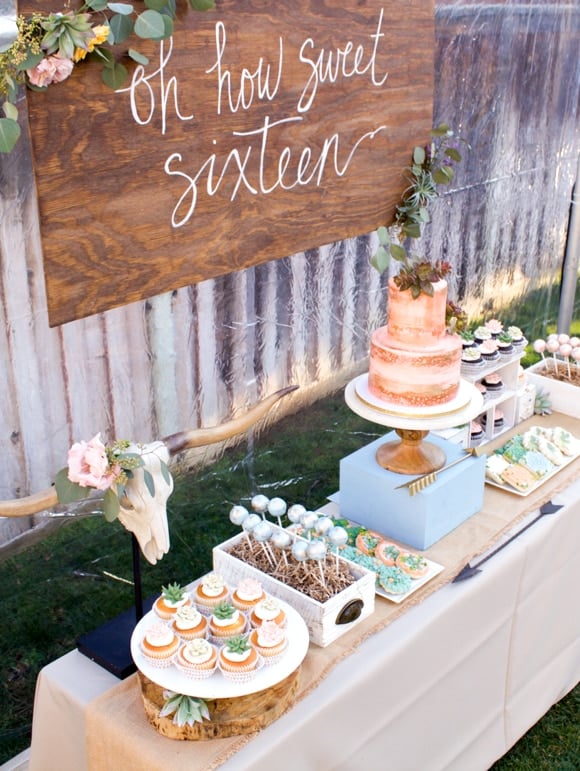 Succulent theme
If your birthday girl is more of a backyard boho beauty, this Sweet 16 Succulent Party theme may win!
It's an excellent theme for a Sweet 16 party at home and is simple yet elegant for your daughter and her best friends.
This theme is perfect if you're looking for something not so over-the-top but on-trend and beautiful!
Add these succulent-themed party decorations to your big event: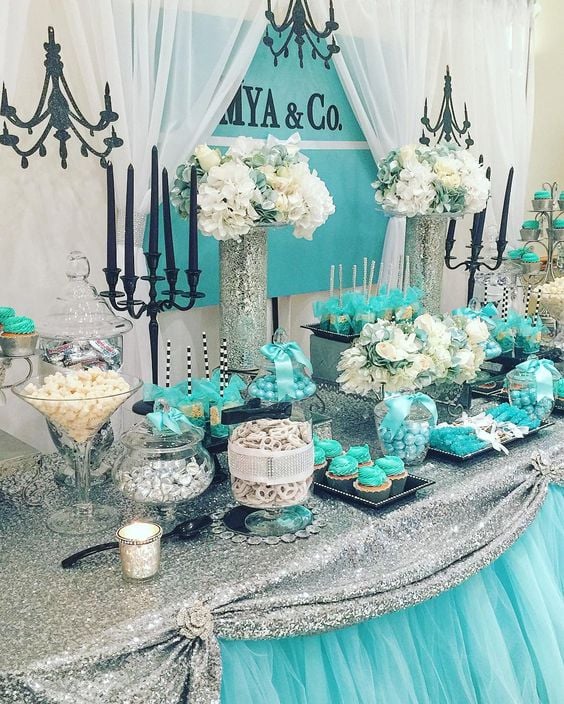 Tiffany & Co.
Do you have a daughter named Tiffany or a teen who loves jewelry? If you do, this Tiffany and Co. theme will be a favorite Sweet 16 theme!
Who doesn't love that pretty Tiffany blue color paired with all things that sparkle?! This theme is perfect for any girly girl who wants a classy affair.
Start planning your Tiffany and Co. party with these ideas: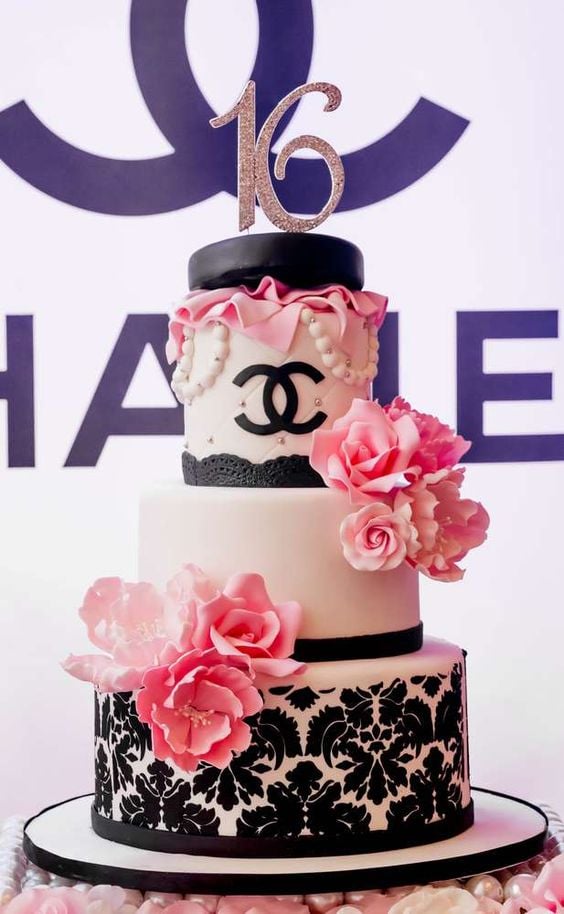 Chanel theme
Because teen girls love designer everything, a Chanel theme is perfect! If your daughter wants a timeless, classic, and elegant event, a Chanel theme is a no-brainer.
In addition, this theme is ideal for a venue with a large ballroom, where you can plan an extravagant, over-the-top celebration. But, of course, you can't go wrong with a Coco Chanel theme for your favorite fashionista!
Plan a posh party with these Chanel party ideas: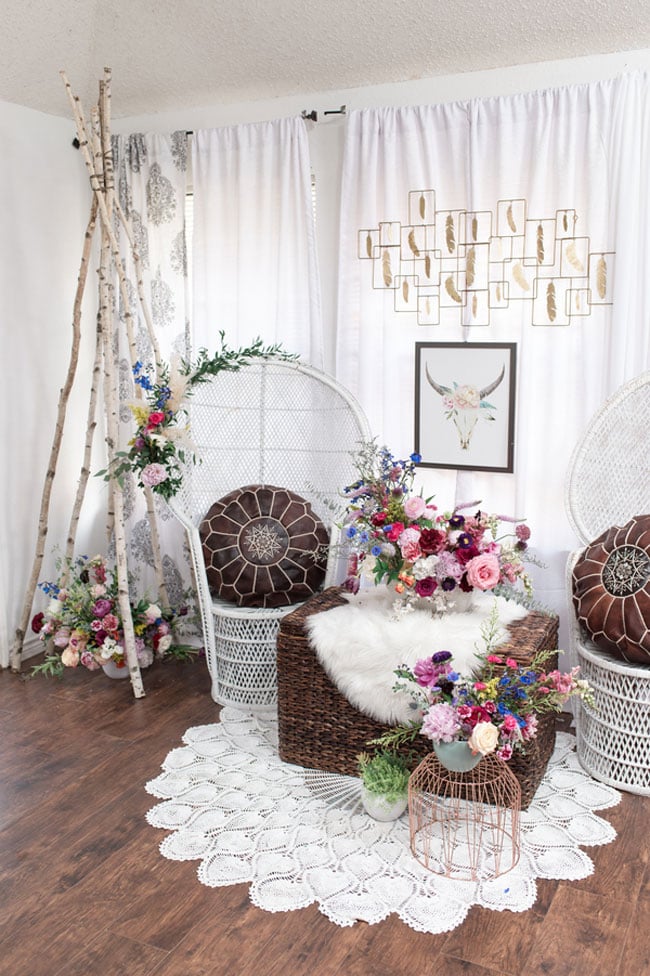 Boho Chic
Boho Chic is another excellent theme for a party at home that doesn't require a large budget.
Plan the perfect boho-inspired event with these ideas: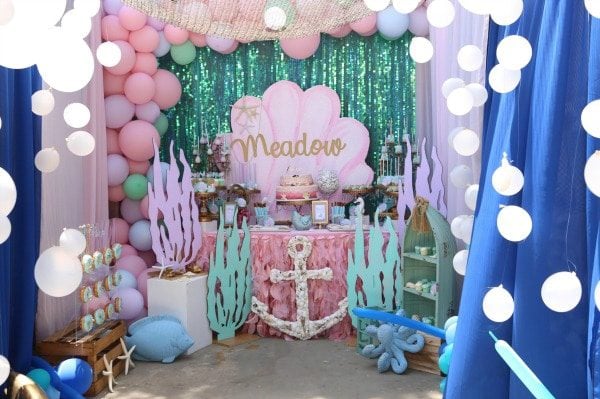 Mermaid
A Mermaid theme can be a fun Sweet 16 theme for your teen without being too babyish.
Plan a magical celebration with these gorgeous mermaid party supplies and decor: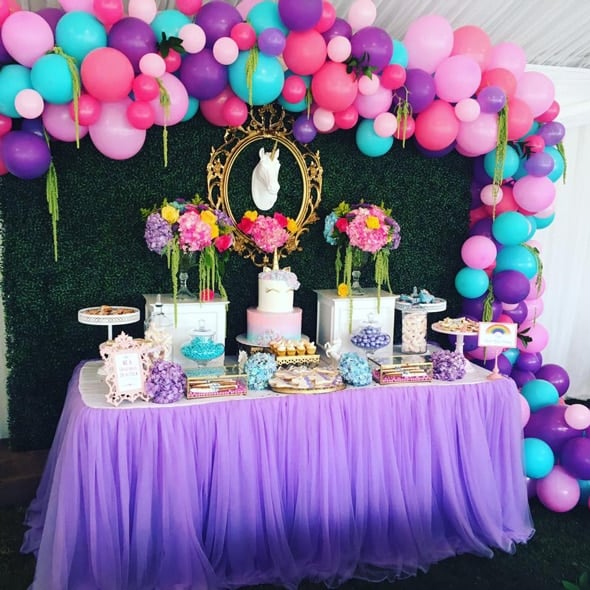 Unicorn
A Unicorn theme is another idea that's not just for younger girls. You can plan a teen-approved unicorn-themed birthday with your teen in mind.
There are many ways you can make this 16th birthday party chic without being too childish.
Plan your teen-approved unicorn party with these great ideas: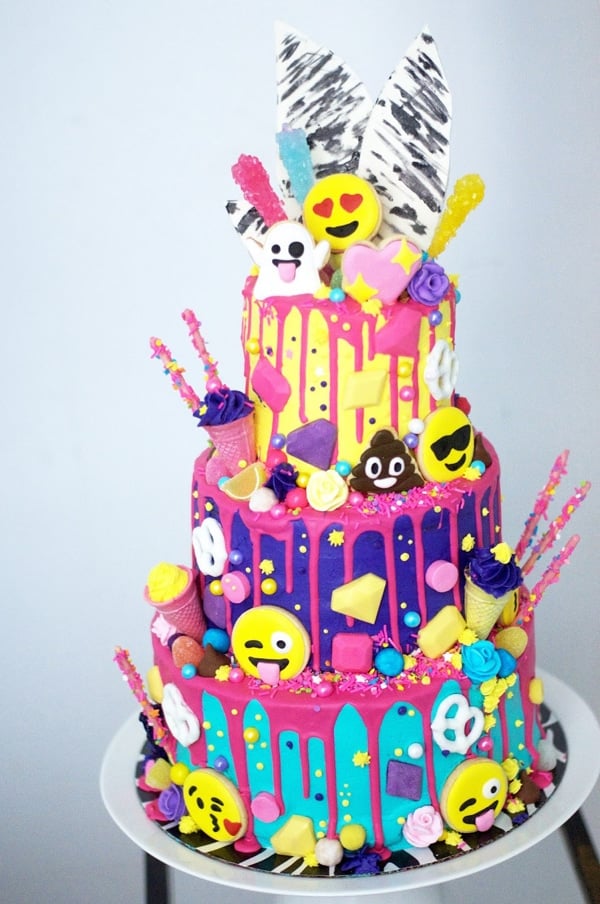 Emoji
This Emoji theme is perfect if you have a technology-obsessed teen who loves a good emoji. This theme is bright, colorful, and fun!
Get creative with these emoji party ideas: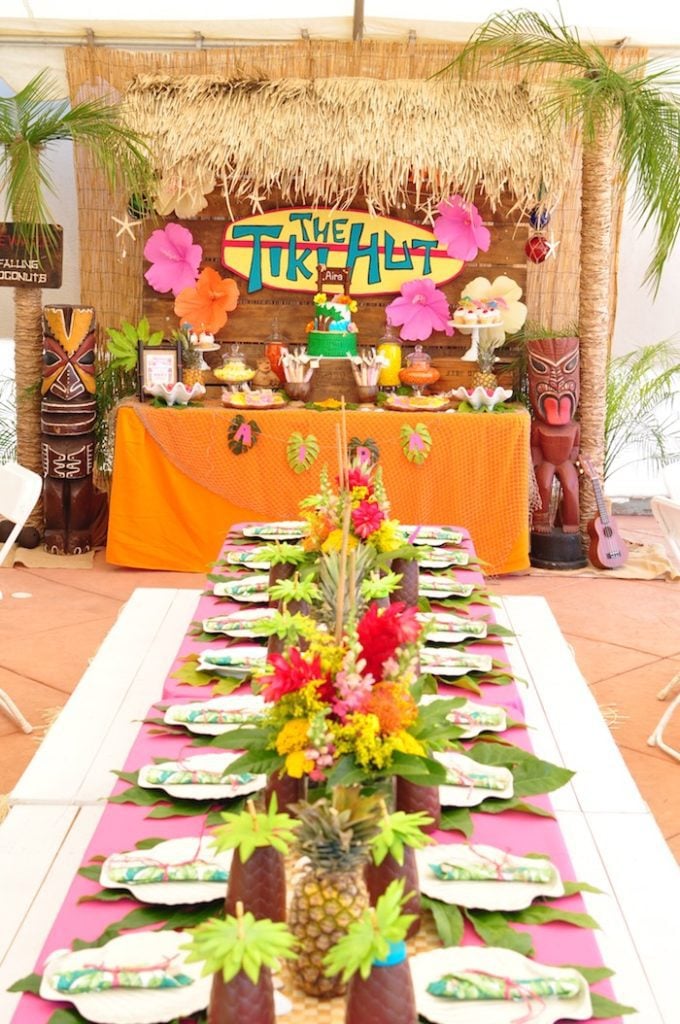 Luau
Who doesn't love a good Luau? Whether you host your party indoors or outdoors, a luau is fun, colorful, festive, and a great sweet 16 party theme!
Take a peek at these different Luau party ideas so you can start planning the ultimate, fun-filled 16th birthday for your daughter!
Check out these fun Luau party supplies here: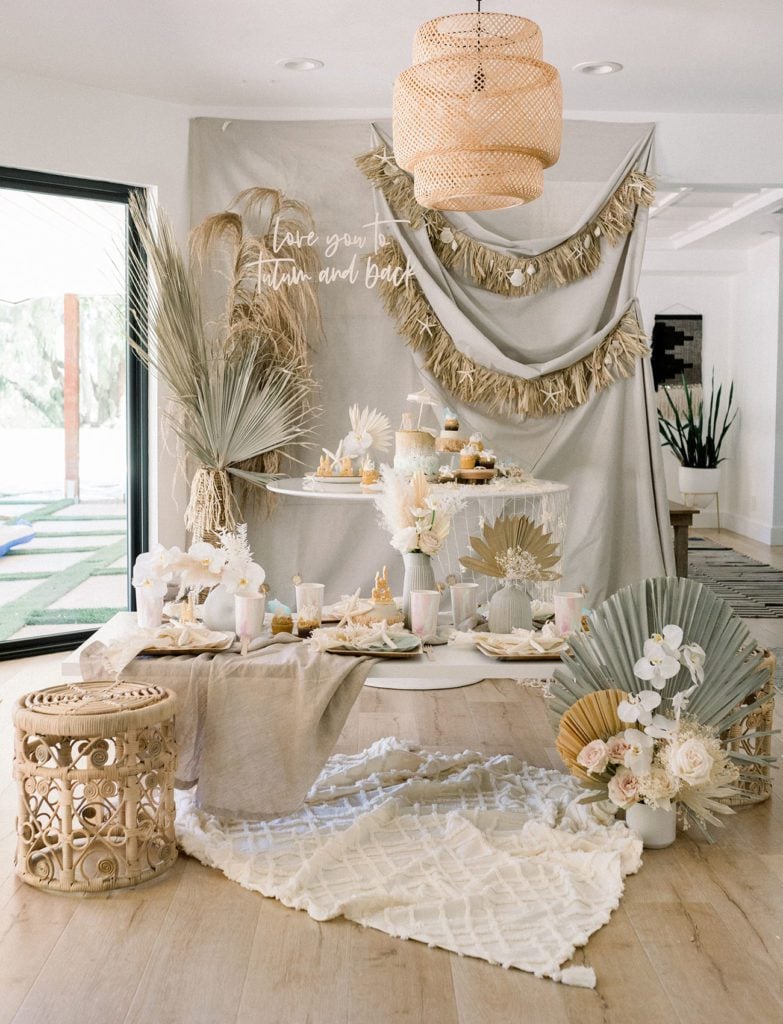 Beach theme
Do you have a summer baby who is turning 16? Does your teen LOVE the beach? If so, a beach theme can be a great party on a budget.
This Beach Themed Sweet Sixteen Party has some great ideas to get you started!
Plan a cool beach-themed party with these party supplies and decorations: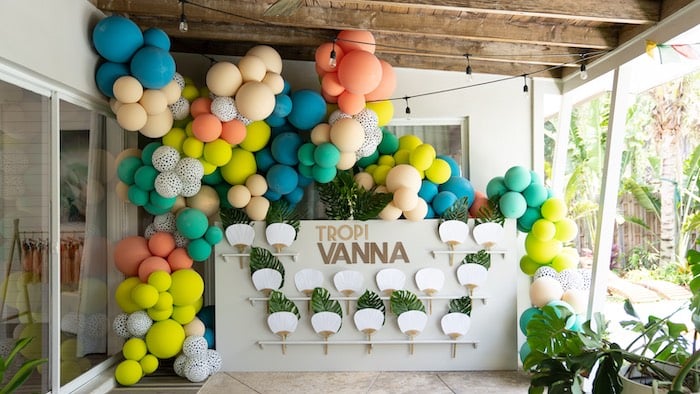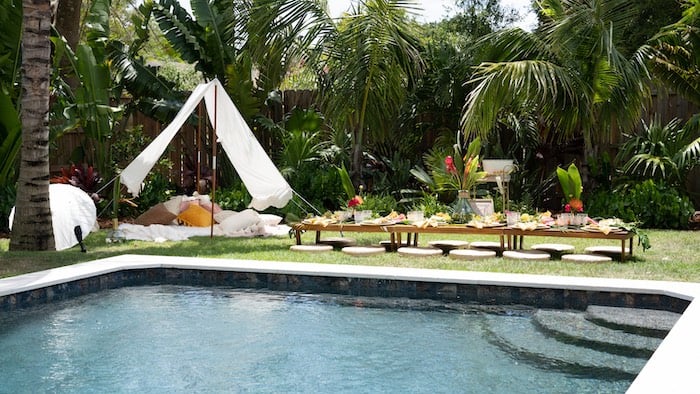 Pool Party
Another fun summer theme is a pool party. Sixteen-year-old girls love catching some sun at the pool in the summer.
If you're lucky enough to have your pool at your home, this is a great theme where you can incorporate some budget-friendly food and decor.
Put together the perfect pool party with these products: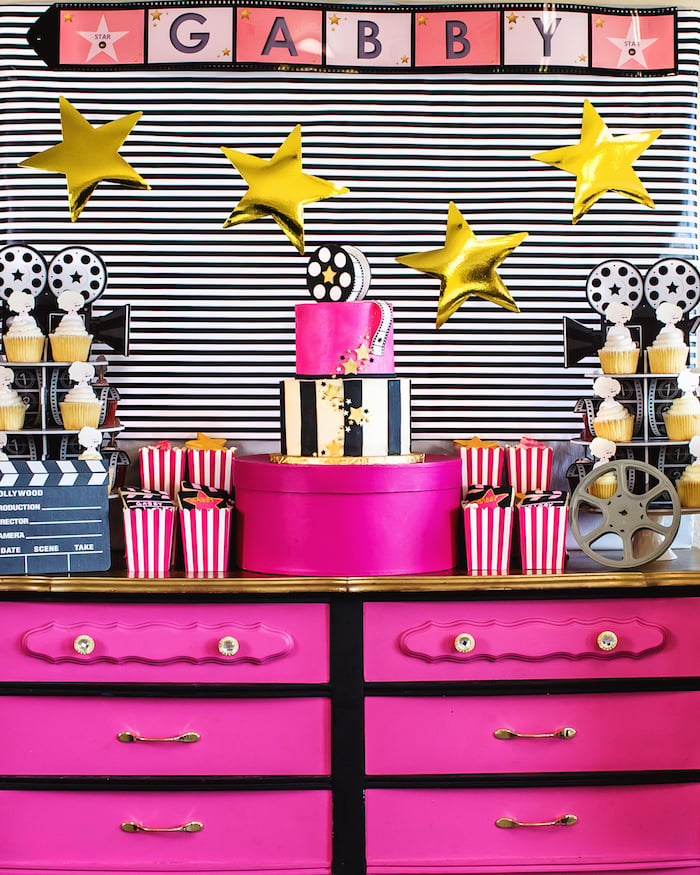 Hollywood theme
Roll out the red carpet for your teen with a star-studded Hollywood party!
If your daughter loves pop culture and celebrities, treat her and her friends to a party fit for a superstar!
Plan a star-studded Hollywood party with these ideas: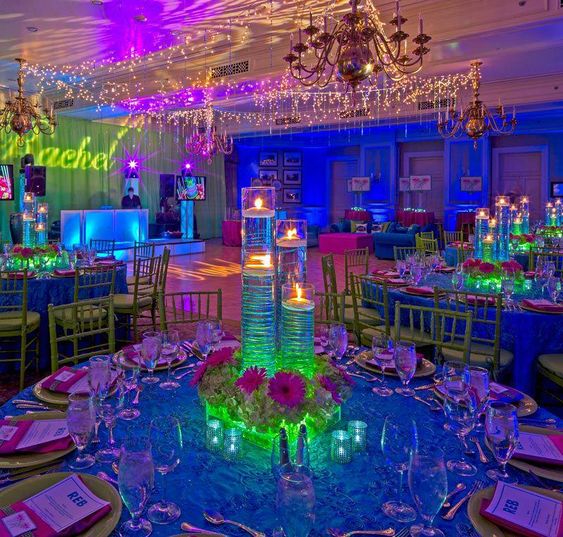 Glow in the Dark
Teens love a fun glow-in-the-dark theme! So hire a DJ and host the best glow dance party for your teen!
This sweet 16 party theme could be budget-friendly, too, with these affordable products: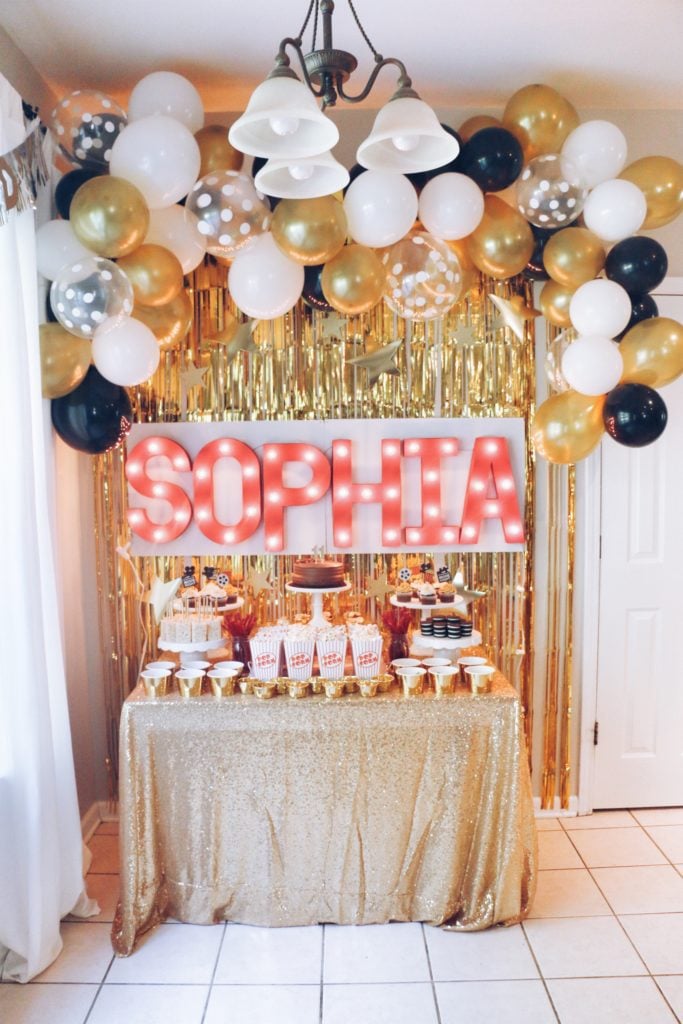 Movie Night
Does your daughter want a low-key night with friends? If so, a movie night is a great idea!
You can host this theme indoors or outdoors with a big projector screen. Then, make it a fun sleepover and serve pizza and snacks!
Add these ideas to your movie night event: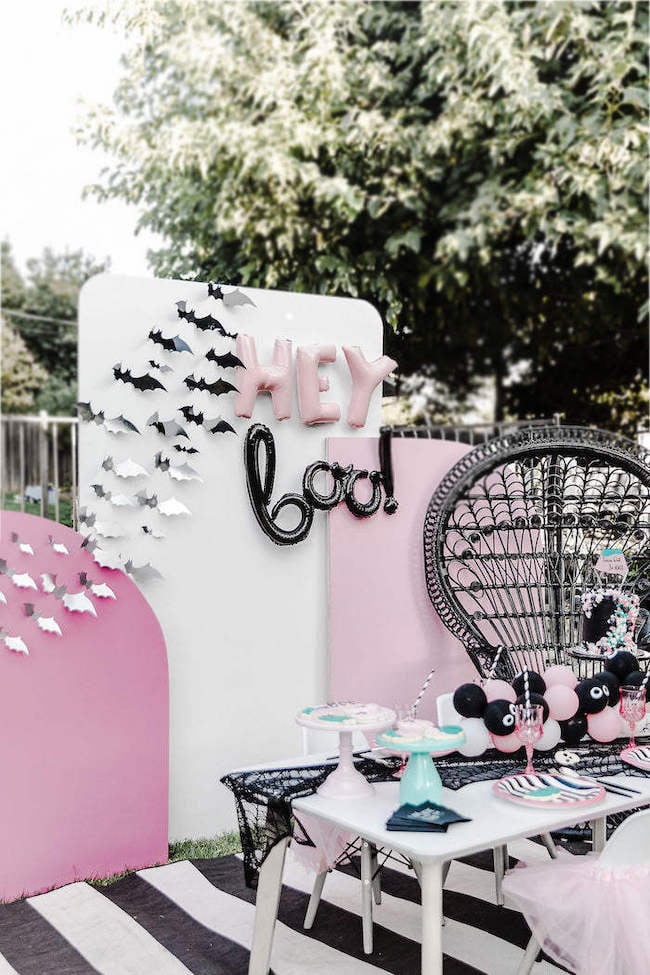 Halloween-inspired or Costume Party
A Halloween party is perfect if your daughter's birthday falls near Halloween!
If your teen loves getting dressed up, host a Halloween-themed Sweet 16 with these ideas: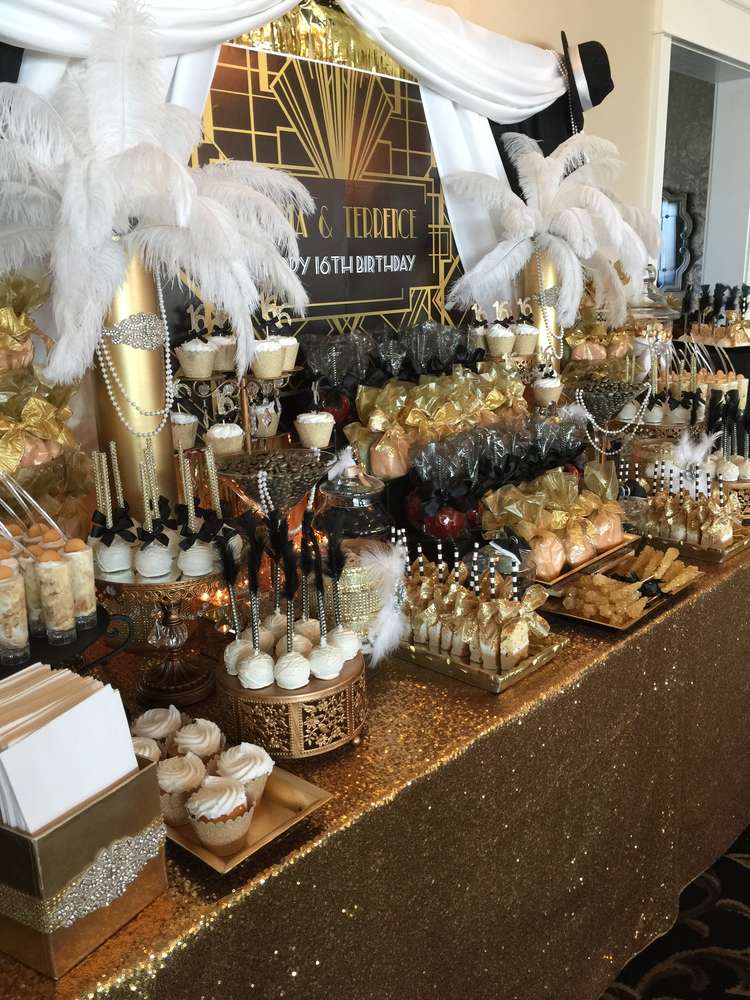 Roaring 20s – Great Gatsby Party
If an extravagant 1920s affair has your teen excited, a Great Gatsby theme is the perfect idea for her Sweet 16!
Plan a fun-filled roaring 1920s celebration with these hand-chosen products: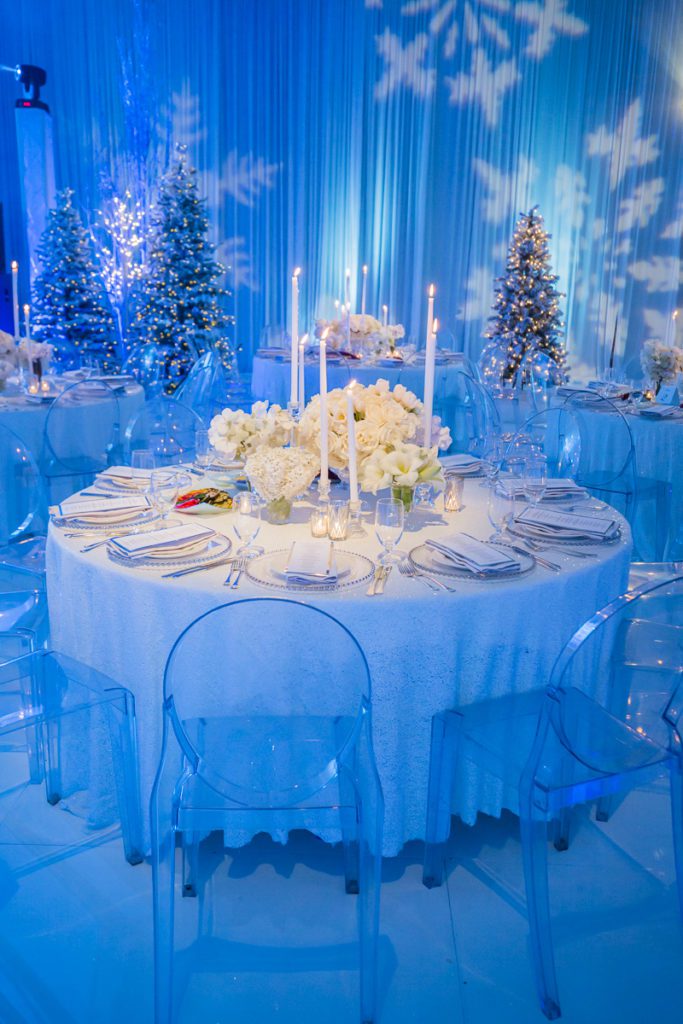 Winter Wonderland
A winter wonderland is a great theme for any winter birthday! Add some blue and white party decor, snowflakes, and glitter for a special night full of winter fun!
See our list of winter wonderland party must-haves:
This ultimate guide to hosting the perfect Sweet 16 will have you well on your way to planning the ideal teen celebration!
A Sweet 16 party is a once-in-a-lifetime event, so make it memorable with these themes, tips, and ideas!
Are you planning a Sweet 16 birthday party? We would love to hear all about it in the comments below!
Follow us on Instagram @prettymyparty and Pinterest for more party ideas, and join the party in our private Facebook group.