Masquerade Birthday Party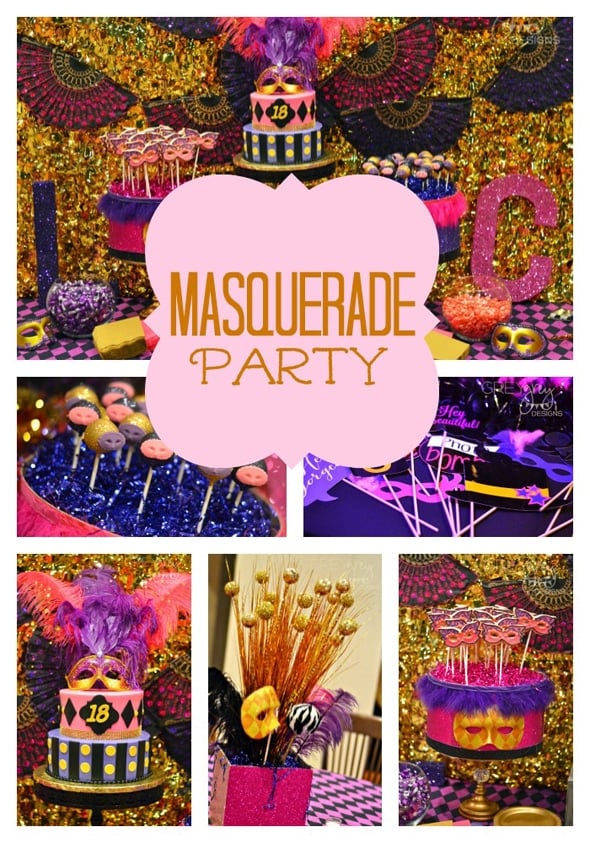 When planning an 18th birthday party for TWIN girls, what could be more unique than a gorgeous and eclectic Masquerade Birthday Party?! WOW! This is one of the more beautifully planned events that has come through our lucky doors and we are so excited to share all of the wonderful details!
GreyGrey Designs was approached to style this event by the girls' grandmother and as soon as they found out, they fell in love with the idea. The theme and color scheme were already a vision in the client's head and it really helped that the twin birthday girls chose a bright and playful color palette to work with! This really gave GreyGrey Designs room to play, without doing a traditional Mardi Gras color scheme.
It was decided quickly to go EXTRA sparkly and girly and go all out since the birthday party was a one-time teenage event that doesn't come around again! To begin, the gorgeous gold floral sheeting from Shindigz.com was used. The texture of this floral sheeting is so great and is typically used a lot on parade floats. It gave an awesome shine and texture for the backdrop that was just perfect! Purple and black harlequin linens from Classic Party Rentals were used and man … talk about a perfect pattern and color combination for this party!
GreyGrey Designs also added super sparkly purple and pink fans from Koyal Wholesale and strung them with clear craft lacing to give them the appearance that they were floating.
The cake was a stunner, done by Mad Lily Cakery. The mask and additional ostrich feathers on top are just PERFECT! Talk about getting it some height and extra appeal!
Autumn Lynn's Chocolate Sins made the beautiful cake pops, along with some chocolate masks. They were displayed in hat boxes that GreyGrey Designs customized with glittered cardstock, masks, and feather trim. What an awesome DIY project! The gorgeous cookies by Whimsy Cookie Co. just HAD to be put on sticks! They looked like the perfect masks! The hat boxes were than placed on gold cake stands that were purchased from Home Goods.
Sparkly mask keychains from Shindigz.com were used for the party favors. How perfect! It was something that their guests could use for a long time and always remember what a fantastic time they had at this Masquerade Birthday Party!
Simply Delicious Catering was called immediately after the event was booked because they were sure to elevate the menu and do an awesome display for all of the guests. They certainly did not disappoint! This is not your regular chocolate fountain! Simply Delicious Catering brought in Dinstuhl's Chocolate to supply this fountain. There were marshmallows, rice krispie treats, strawberries, pretzel rods, and even mini cheesecake bites for the guests to dip. Everyone LOVED it and it was a total hit!
For the savory buffet, the client wanted to make sure it was something easy and teenager-friendly, so of course they decided on a French Fry and Chicken Tenders bar! The fries were served in adorable little cones and guest had their choice of dipping sauces, like ketchup, white cheddar sauce, honey mustard, and BBQ ranch. YUM!
For the centerpieces, GreyGrey Designs did several different things. Two were the glittered boxes, stuffed with gold Christmas decor, ostrich feathers, feathered balls, and masks. Gorgeous! A third table used a cylindrical glittered hat box with the feather balls and masks used to top it off.
And to top the party off, a photo booth was rented! GreyGrey Designs made all of the cute props on their Silhouette. The birthday girls made some special requests on what they wanted, and of course, there had to be feather boas! All of the guests had a wonderful time and there was no better way to send these girls off into adulthood than with this fabulous Masquerade Birthday Party. It was simply outstanding!
Credits & Resources

Shop our favorite Masquerade Party Decor and Gifts:

Sign up for a 30-day free trial of Amazon Prime and get free 2-day shipping on your Masquerade party products!