Valentine's Day Picnic Party
What better way to celebrate Valentine's Day than with a fun Valentine's Day Picnic Party with friends?!
What a fun Valentine's Day Picnic Party! This floral teepee boho celebration includes a great picnic made on pallets that everyone had a great time enjoying. This is such a unique idea to celebrate Valentine's Day with the girls!
Rusty Chic Decor did a beautiful job creating a color way of coral, light pink and gold, along with beautiful rugs and pillows that filled the room. A beautiful yarn tassel garland was also created by Rusty Chic Decor, that was a gorgeous compliment to the teepee that was set up in the room. What a whimsical addition that paired perfectly with the DIY boho dried floral swag.
Heart balloons were scattered around the venue, along with a fun DIY plastic fringe garland that was created and paired with a heart and "Be Mine" banners for a perfect backdrop.
The white painted pallet table was dressed with a sequin ombre table runner, with cutlery from Ellie And Piper. Light pink heart confetti along with gorgeous florals and sweet treats were also set up around the guest table, which was so gorgeous. All of the place settings also had adorable lip napkins from Oh Happy Day, pink and coral plates, ombre cups from The Party Darling and the chic cutlery.
Each guest received a heart goodie bag at their seat, which included yummy red velvet cupcakes with acrylic heart toppers and gummy bears. What a gorgeous celebration that anyone would love, young or old. We love it!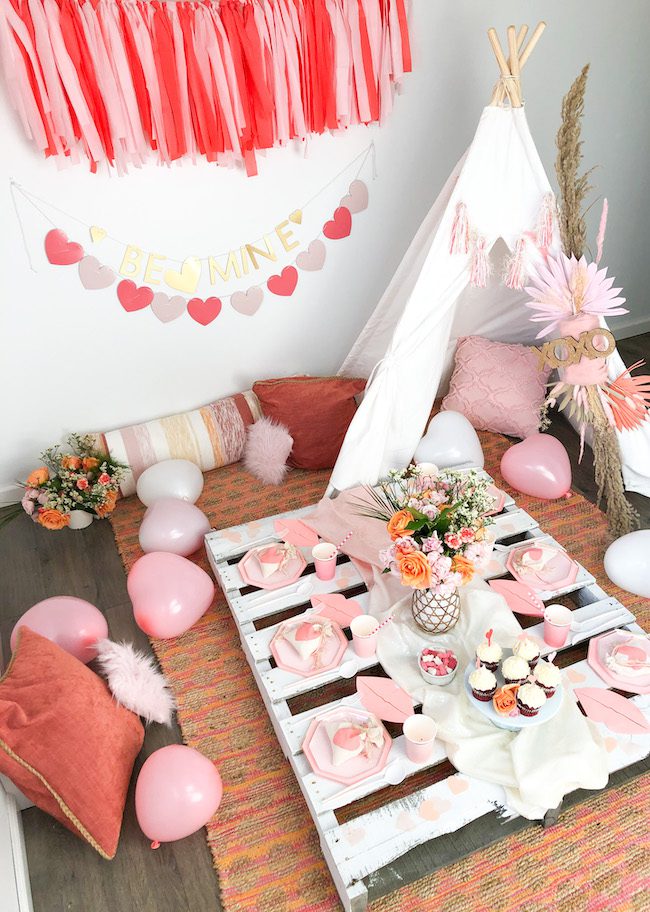 Valentine's Day Picnic Party Ideas
Gorgeous DIY Valentine's Day decorations included beautiful dried florals and perfectly styled fringe garland
This teepee tent picnic included comfy pillows and rugs for everyone to sit on
The Valentine's Day party theme featured a color palette of pinks, white and red with gorgeous florals to set off the lovely color tones
Sweet heart balloons were inflated and spread throughout the venue for a fun and whimsical vibe
Chic floral centerpieces were found on the pallet table, along with a fun white table runner that was bunched up to complement the comfy vibe
Valentine's Day desserts included delicious cupcakes with fun heart cupcake toppers that everyone couldn't wait to dig into
The fun "Be Mine" backdrop with a heart banner was the perfect set-up for anyone to take some Instagram-worthy pictures
Valentine's Day party favors included a heart goodie bag filled with yummy treats for everyone to enjoy
What a fun way to celebrate Valentine's Day! We just love the chic pallet that serves as the table for this fun get together. It's such a whimsical way to have friends gather around a table and gives off the perfect boho vibe for this special day. Paired with the comfortable rugs, pillows and the sweet teepee, it just calls for a great day of R&R with the girls.
All of the details were perfectly laid out, but our favorite is definitely the pallet table! What a great idea to paint it to fit the theme, along with the fun decor that was laid out for all of the place settings. We really adore the idea of everyone sitting comfortably around the table to enjoy sweets and Valentine's Day treats! We also really love the teepee that was set up with pillows and rugs. It just beckons you to relax and spend some time with the ones you love. This Valentine's Day Picnic Party is the perfect low-key way to celebrate with those closest to you!
What are your favorite details from this Valentine's Day Picnic Party? Let us know in the comments below!
For more fabulous holiday party ideas, follow us on Instagram @prettymyparty and Pinterest and join us in our private Facebook group.
See more Valentine's Day Party Ideas here:
Party Vendors