Construction Themed Birthday Celebration
Dig into this awesome Construction Themed Birthday Celebration!
This Construction Themed Birthday Celebration bulldozed right into the heart of all of the guests! From a real bulldozer to hard hats, along with deliciously crafted and themed treats, every detail hit the nail right on the head. Everyone really 'dug' it!
Everything for this construction birthday party was perfectly designed and styled, thanks to Stunning & Brilliant Events. Talk about turning a family's backyard into a construction paradise! The amazing marquee lettering from Alpha-Lit Letters really made the backyard come alive with special wording by the pool to invite everyone to have fun at this great birthday celebration.
Moe's Southwest Grill created an amazing fajita bar that everyone loved digging into. What a great luncheon theme with wonderful balloon installations from Coastal Balloon Creations lining up the tables and entrances. Everything for this fun construction party was perfectly styled with amazing rentals to round out the birthday theme from EventWorks.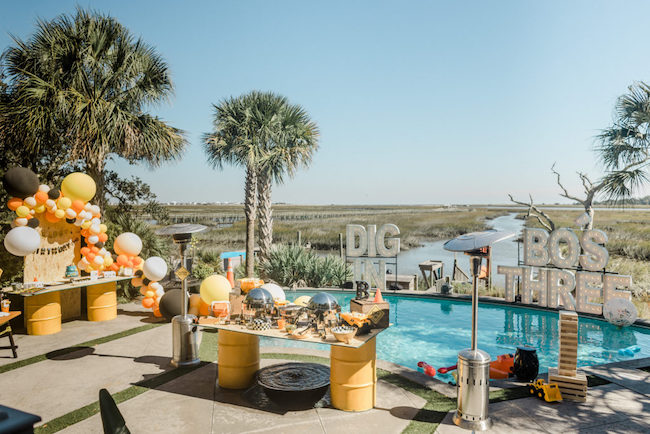 Construction Themed Party Ideas
This fun construction birthday party had the perfect table anchors with construction barrels holding up the wooden tables for guests
The dessert table was highlighted by the great construction birthday cake that was front and center with a construction truck cake topper
How cute are the birthday signs, decked out with construction tape and bright orange to highlight the way for all of the guests
Beautiful construction themed birthday balloons highlighted the dessert table with bright orange, yellow and white colors
Real construction equipment was set up in the backyard for all of the little birthday guests to climb on and enjoy
A gorgeous construction theme party backdrop with a fun birthday banner was found on the dessert table
The dessert table included delicious construction themed cookies, suckers, Rice Krispie treats, and more for everyone to dig into
The construction birthday party food included an incredible fajita bar menu, along with tacos and nachos.
Incredible marquee lettering was set up by the backyard pool, which encouraged everyone to "Dig In" for the birthday boy's fun luncheon
A sweet kids table was set up with fun place settings that included personalized napkins, cups and plates
The kids table for the construction truck birthday party also included fun activity centerpieces with crayons
Coloring sheets and other fun things to keep the kids entertained during lunch were also on the tables
Construction birthday party supplies were also found on the adult tables with fun pumpkin decorations serving as centerpieces
Construction themed party favors included personalized "lunch boxes" for the guests that were filled with yummy treats
Amazing construction birthday party printables were found throughout the construction themed birthday party that fit in with all of the fun decorations perfectly
Fun construction birthday party activities and games were set up for all of the guests to enjoy, including the fun swimming pool that everyone got to swim in later in the day
The birthday boy wore a great construction themed outfit, complete with a bright orange vest
The construction themed drink containers were a big hit with personalized cups, along with fun construction cone sippy cups with a straw for the kids to enjoy
How adorable is this Construction Themed Birthday Celebration?!?! Any little boy would be absolutely thrilled to walk into their birthday party to find REAL construction equipment lined up in the backyard. What a treat! Add to it an amazing dessert table and adorable construction themed decorations? This little boy had everything he needed for a good birthday!
The birthday party was created with no detail spared and it is obvious in the pictures that everything came together perfectly. It's so hard to pick just one favorite detail, since they all look so gorgeous when they are put together. Everything from the dessert table, the fajita bar and of course, all of the great construction themed decor made this party perfect. You can just tell on the birthday boy's face that this was the party of his dreams and it's easy to see why! What a fun way to celebrate a sweet 3-year-old!
What are your favorite details from this Construction Themed Birthday Celebration? Let us know in the comments below!
For more birthday party ideas, follow us on Instagram @prettymyparty and Pinterest and join us in our private Facebook group.
See more Construction Themed Birthday Ideas here:
Party Vendors