Totally Epic 80s Theme Party Ideas
Who's getting ready to celebrate the 80s with an epic 80s Theme Party?! These 80s party ideas are sure to make your event totally amazing!
We don't know about you, but this was by far the best decade ever! Who wouldn't want to celebrate this fun party theme with some totally rad neon decorations?!
Ahhh… the 80s. Big hair, rolled up pants, neon clothes, and great movies and music. It's no wonder that so many people want to relive the fun of their youth by throwing an 80s theme party! If you're set on planning a totally bodacious 80s party, you are going to be the hit of your circle of friends for years to come!
80s Theme Party
Take a peek at these amazing 80s party ideas. From fun mixed tapes to ideas for an amazing 80s party outfit, these ideas have you covered! Just wait until you see the far out 80s cake! All of these 80s decorations really take me back to such a simpler time in life. It's amazing to see how much technology has progressed today and how many amazing things we have, but man … the 80s were where it was at!
It's time to travel back in time and rock the big hair for an epic 80s theme party. And whatever you do, make sure disco balls and black lights are part of your amazing event! Because those things were totally bad to the bone! So don't be a poser. Get all of the tips and ideas you need to throw your own 80s theme party that will blow your friends away!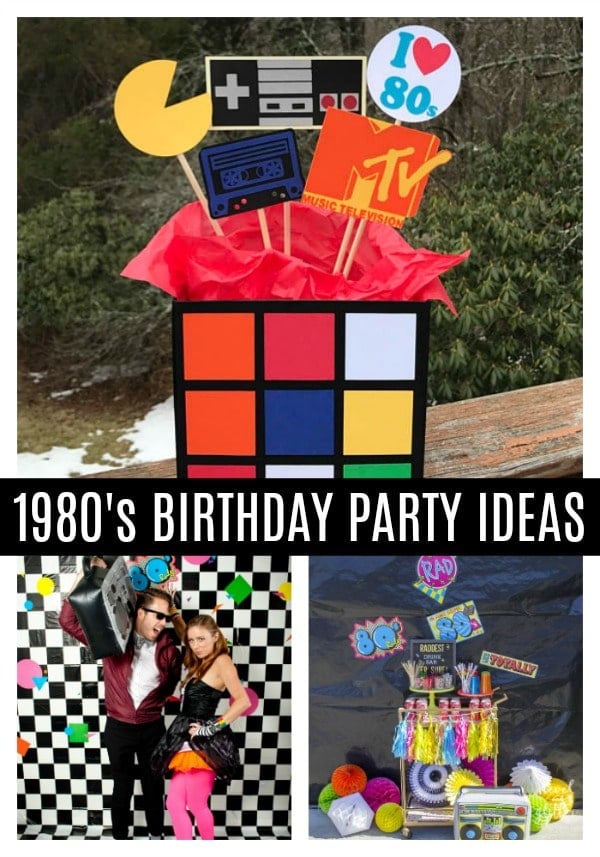 80s Party Decorations
These amazing 80s party decorations are going to liven up your event in no time. Like, it's totally tubular, dude! Just seeing the pictures for these decorations gets me all kinds of excited to throw my own 80s theme party!
If you're lucky enough, maybe you have a child who has embraced the decades of yesterday and you can talk them into having an 80s theme birthday party! One can only hope that we are instilling positive pop culture trends into their lives like what the 80s gave to us! It may be an era before their time, but that doesn't mean it's a time that is forgotten!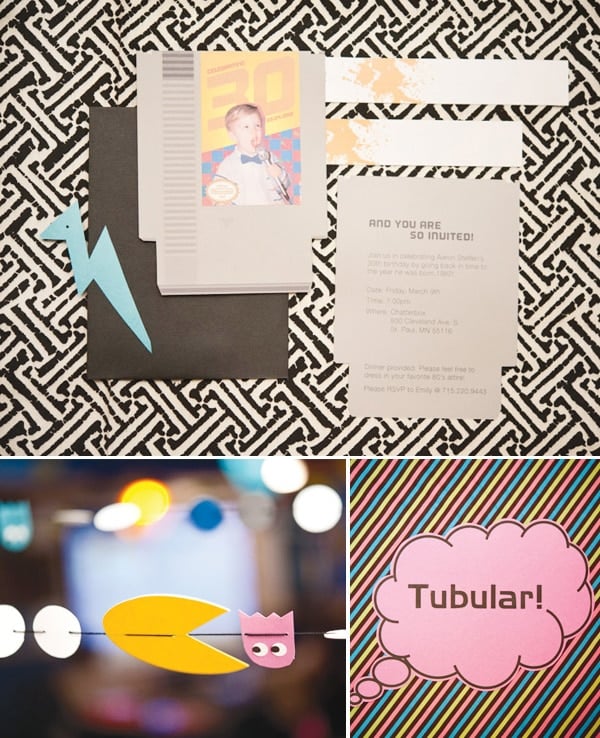 Any good party starts with a great 80s theme party invitation and decorations. We love the decorations that have all of those great 80s words we all know and love. How did we ever talk like that all of the time?! And check out the Pac-Man garland! That is an absolute must for your 80s party decorations!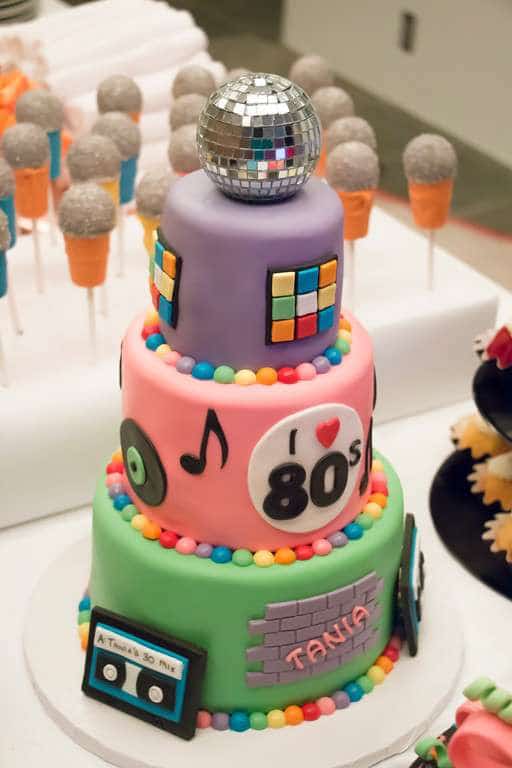 This 80s birthday cake is absolutely EVERYTHING that was amazing about the 80s! Of course, an 80s cake has a disco ball on top! We love the cassette tapes too, which takes us right back to our youth. And of course, who doesn't love a good Rubik's Cube reminder! It's totally stellar!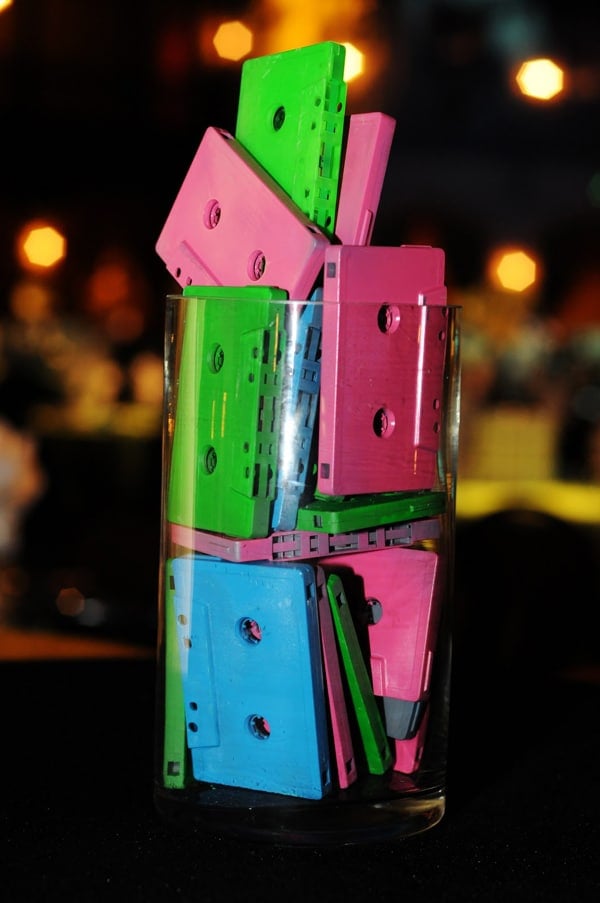 Speaking of cassette tapes, these spray-painted cassette tapes take us right back to the good old days of mixed tapes. Who didn't love sitting by their boom box, waiting for their favorite song to play so you could quick hit record?! Hopefully you had enough room on the side of your tape before the song was over!
And neon decorations are totally what needs to be found at an 80s theme party. It's the best of both worlds with these totally awesome 80s party decorations! The brighter the neon, the better!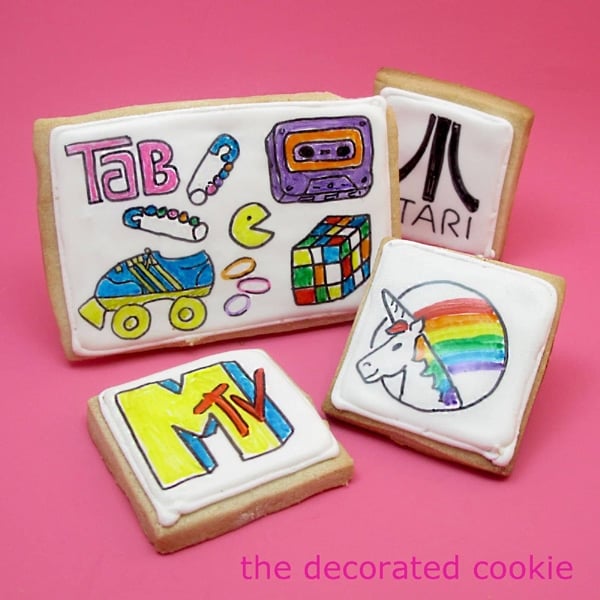 80s cookies are a great 80s party food to include in your theme party. Talk about a blast from the past when you see the MTV logo, along with Atari! Who needed a PlayStation when you had a good old Nintendo or Atari. I'll take the Original Super Mario Brothers game any day!
Of course, many other 80s favorites are showcased on these totally 80s cookies! You may just want to keep one for yourself and tuck it away in the freezer so you can always look back and remember all of the great 80s items that were available back then!
I love that these are cookies with safe edible markers that you can have your guests decorate themselves. How original and they make great 80s party favors that everyone will have a good time reminiscing about as they draw. So go ahead, have everyone decorate away!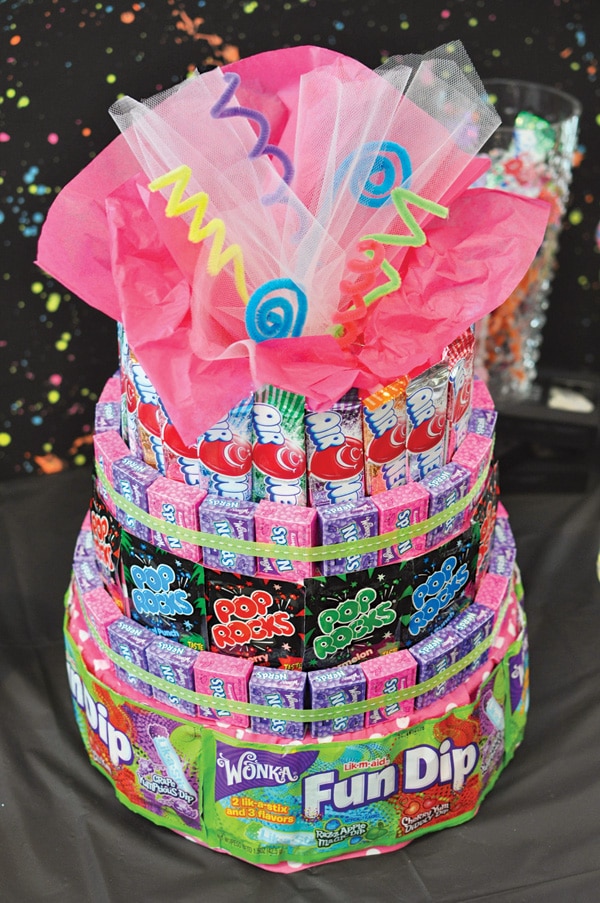 It doesn't get much better than this far out, totally awesome 80s candy cake! I used to rock the Nerds when I was younger, along with that bodacious Fun Dip! I don't know about you, but in my part of the country, Pop Rocks are making a big comeback and I couldn't be more thrilled to share this totally overblown treat with my own kids.
If you're going to serve some awesome 80s party food, there is nothing better than this! I love the great neon colors that are used for the cake topper, too. How original. They look great, dude! All of your favorite 80s candy items all rolled up into one totally awesome cake!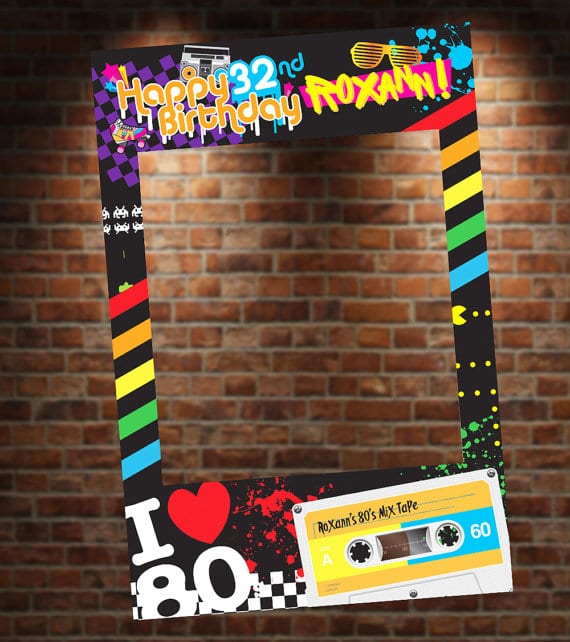 Who wouldn't want to show off their totally awesome 80s party outfit at this amazing 80s Theme Photo Booth?! No matter what the 80s theme party is for, you can personalize your photo booth decor to match your guest-of-honor. Or, maybe you're just throwing an 80s theme party because you love the decade. And who could blame you?! But the big question should be…
What to Wear to an 80s Party
Don't be scared! Now is the time to be silly and let your inner Maverick come to life! Whether you go with the always awesome Top Gun look, or you go with the some fingerless gloves and animal prints, you'll make it work! Because let's face it. When it comes to the 80's, pretty much anything goes!
And don't forget to tight roll your jeans! And AquaNet your hair! And get yourself a hair band t-shirt to wear. Or maybe you could crimp your hair, too! So many great ideas with only one 80s theme party to go to. This is why you're going to have to talk someone else into having another 80s theme party. One party is just not enough for all of these outstanding ideas!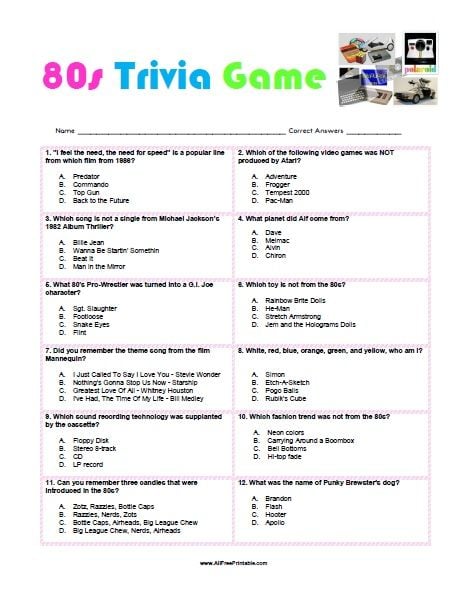 This Free 80s Trivia Game Printable is a great way to get everyone involved in some outrageous 80s party games! Just looking at this free printable gets me all excited for some 80s party songs that you can have playing in the background! Because yes… the 80s was the best decade for fun music!
Another thing this trivia game reminded me of? Punky Brewster! If you're looking for some fashion advice for the 80s theme party, look no further than the amazing styling of Punky Brewster. She has the best 80s fashion tips for you!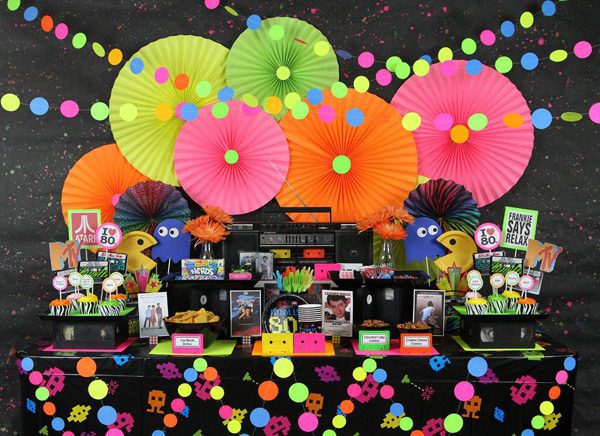 This might be the best 80s Theme Party Table ever! No 80s theme party is complete without a little Ferris Bueller reference, or many of the other amazing 80s songs, movies and TV shows I see referenced on this table! Can I just take this home with me? Think anyone would think it was a strange decoration to keep up all year?!
That amazing 80s backdrop is absolutely everything. Neon is what totally made the 80s and this just makes me, like, totally stoked! I love how the colors stand out against the black background, as well. It's perfect!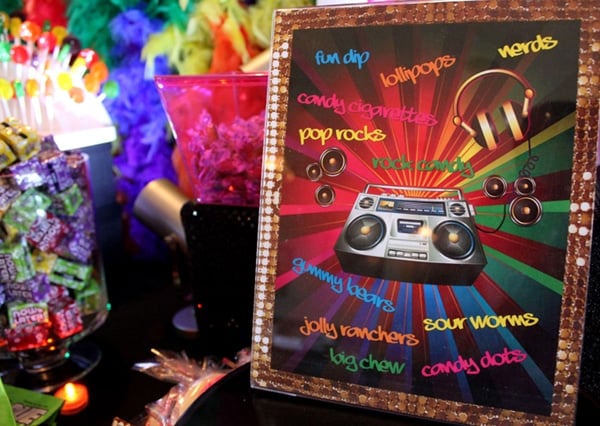 When you break out that fun 80s cake that we saw above with all of the different types of candy on it, you better have this totally awesome 80s Theme Candy Bar Sign, too! Having a candy bar seems all kinds of right for a fun 80s theme party and this will be the highlight of the table.
Ahhhh… a boom box! I can't even tell you how many times I carried that around with me as a kid. Because you just HAD to hear your favorite song on the radio and if you missed it, you might have to wait HOURS to hear it again! Duh! It wasn't like today where you could just keep it repeating automatically on your ipod. Ahhh, the good old days…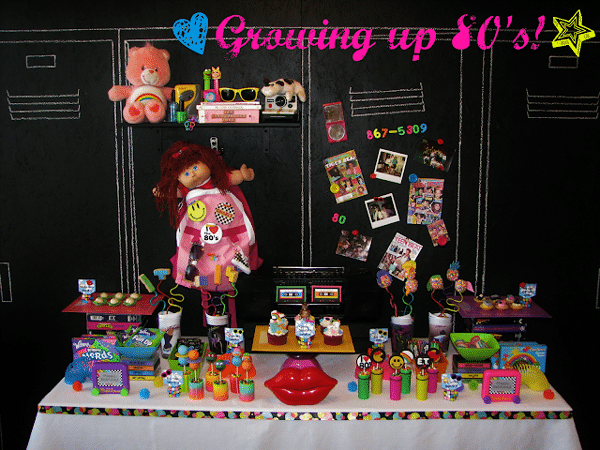 Cabbage Patch Kids and Care Bears? Oh my! This Totally 80s Party Table is absolutely amazing with all of the fun 80s references that it shows. What a great way to reminisce about such a fun and carefree time for so many of us "old folks". I love how they created a few photo collages, too. What a great way to personalize your 80s theme party!
It may just be time to talk your kids into have an 80s theme party so you can introduce the next generation to the finer things in life! They might even get a big laugh out of it when they hear how old-fashioned technology was way back then! And if you're like me, they've already found your old Cabbage Patch Kids from "back in the day".
What a fun 80s Drink Station to make sure all of your party guests stay nice and hydrated! Of course, you have to have bright, neon decorations surrounding your drink station! And that fun 80s backdrop? It's like, totally rad!
Great ideas to include on your drink station? Tab soda, of course! Or perhaps some Tang or Fresca would wet your whistle instead? Whatever you include, make sure you don't miss some fun Capri Suns. While they may still be popular today, we invented those fun drink pouches!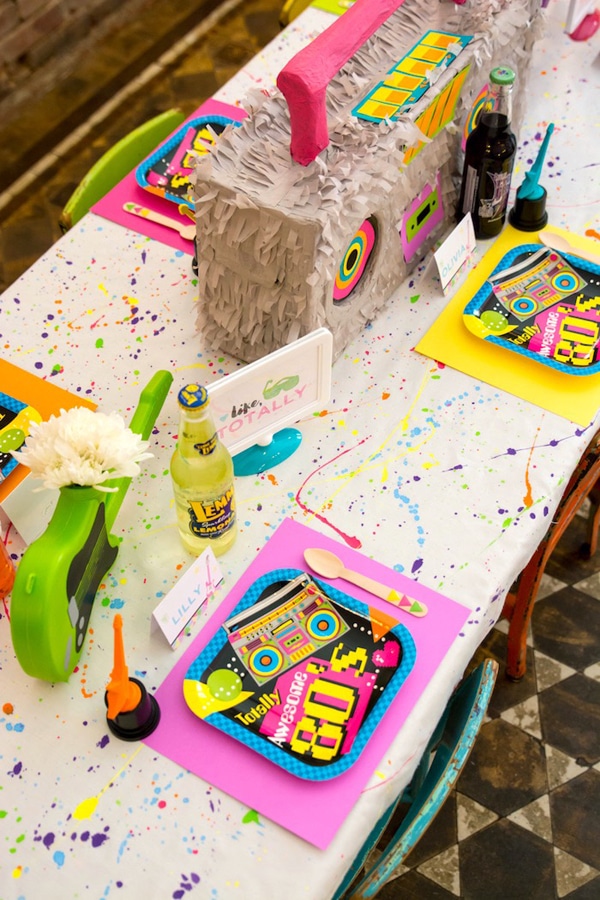 Who wouldn't want to sit down at an 80s birthday party and see this great 80s theme party table decor waiting for them?! Those plates are absolutely amazing and the boom box centerpiece that doubles as a piñata? Gnarly!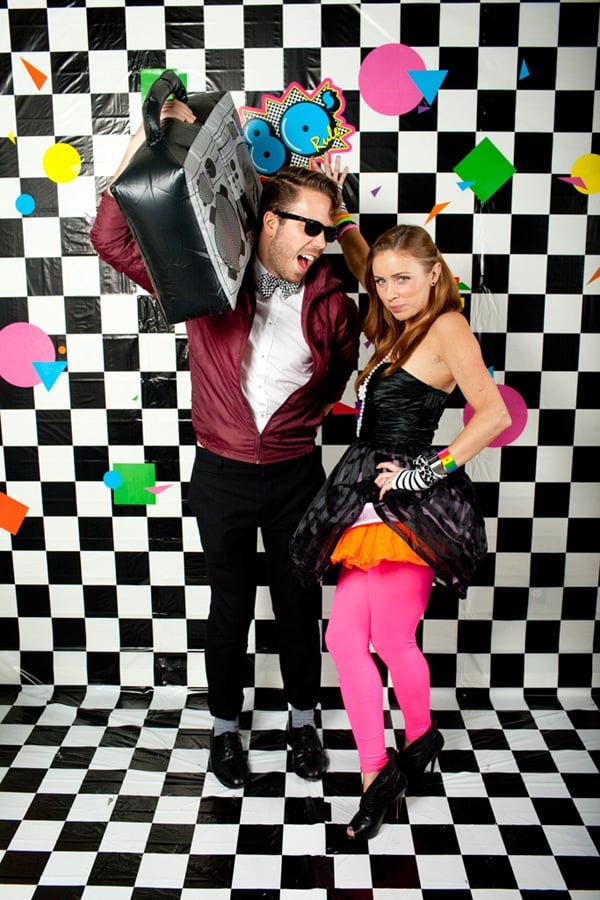 Another great 80s Photo Booth Idea is this one! It's just another reason for you to document the amazing 80s theme party outfits that you put together! While so many of the 80s trends are coming back in style, always head over to your local Goodwill or thrift store first. Because that's where the really good 80s outfits will be! Trust me!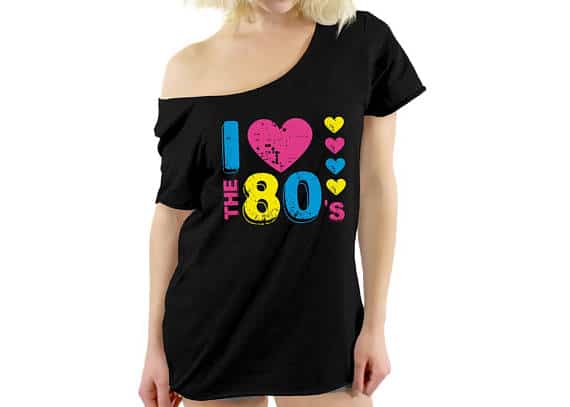 Who says you have to get this I Love the 80s Shirt only for the 80s theme party?! If I get this, I may just wear it to my normal events all year long! School drop off? Check! Soccer practice? Check! Dance recitals? Check! Because I really, really, really did love the 80s!
And who doesn't remember the off-the-shoulder oversized shirt phenomenon?! This has to be part of your 80s party outfit for sure!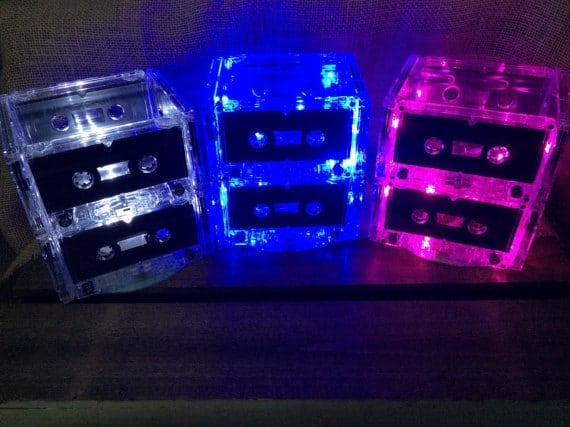 Want to slow things down a little? Try these Light Up Cassette Tape Centerpieces to set the mood for your 80s theme party! Can you imagine these lighting up the roller skating rink when you were a kid? As you hoped against hope that the boy of your dreams would ask you to skate around the rink with him? Swoon! Don't worry, though. I know you were totally chill.
In the meantime, these would be great centerpieces for the tables at your 80s theme party, or great 80s decorations to have hanging around the venue, too. It's the perfect addition for a little "mood lighting" to rock out to those amazing 80s rock ballads!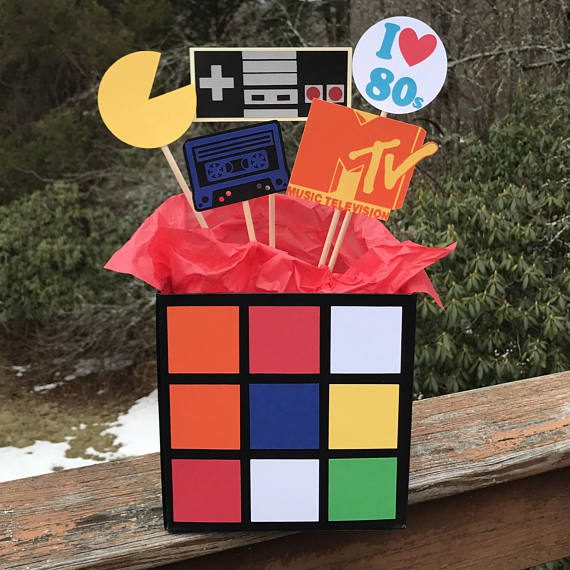 Still need some 80s party decor that can be used at your totally 80s party? Take a peek at these totally gnarly 80s Party Centerpiece sets! This is a great DIY project to get started on and it looks super easy! And yes, if I'm sitting at a table that has this, I will be stealing one to take home to my house at the end of the night. Just sayin'.
Voila! Just like that you are going to have a hit 80s theme party on your hands. And hopefully, you inspired other friends to throw another one in the future so you can relive your youth all over again! So fun!
What's your favorite Totally Epic 80s Theme Party Ideas here? Let us know which ones you will be using at your 80s party!
For more party ideas, follow us on Instagram @prettymyparty and Pinterest and join us in our private Facebook group.