Everyone is going to be ready for an action-packed day at this fun Super Smash Bros Party!
This epic Super Smash Bros Party includes a jaw-dropping birthday cake, dessert table, backdrop, party supplies, party favors, and more! What more could any child want at their birthday celebration?!
Trendy Events did an amazing job styling this fun party. Just look at the amazing dessert table backdrop with the cool characters that were front and center on the fun printable!
The backdrop was also highlighted with a fun balloon arch installation with the red and blue main color scheme as the focal point. The dessert table also had a great printable front and center to highlight additional Super Smash Bros characters, as well. So fun!
One of the highlights of this great theme is the amazing cake created by C+M Master Cake Designers. It is so life-like it almost makes all of the characters come to life, especially since Mario is popping out as the cake topper! Wow!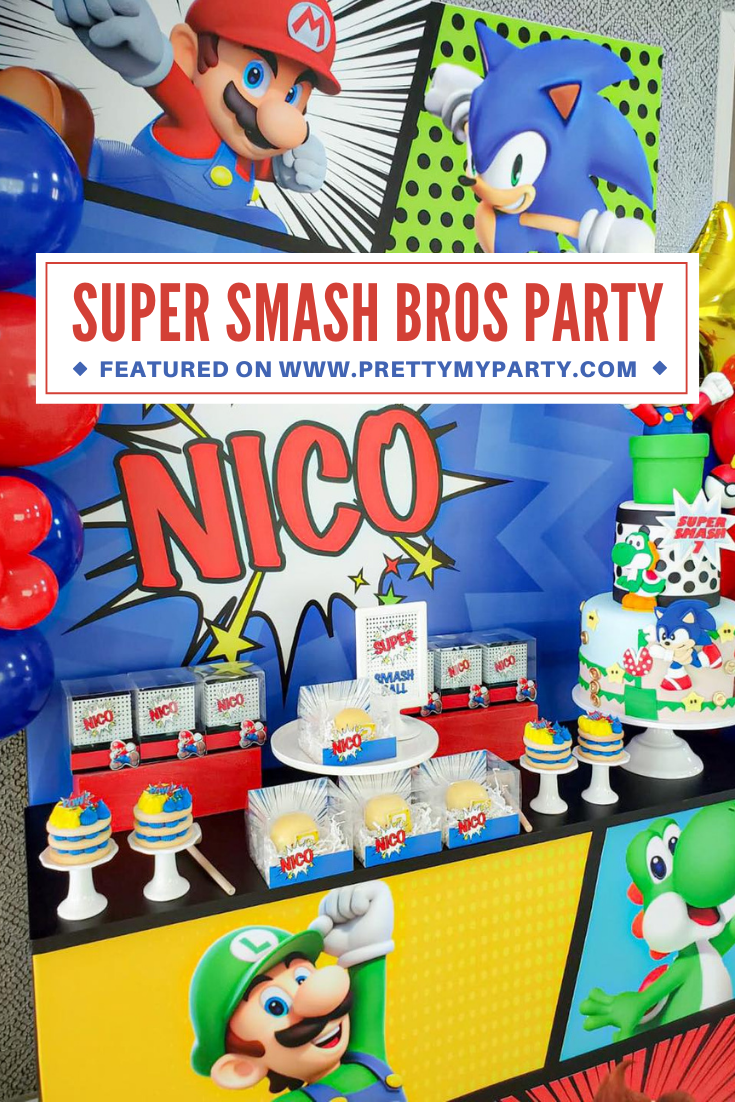 Super Smash Bros Party Ideas
The third-party character party backdrop is a major highlight of this amazing Super Smash Bros party theme
An incredible Super Smash Bros themed birthday cake has all of the character details highlighted, along with a Super Mario cake topper
Super Smash Bros birthday party decorations included amazing signs and party printables for the dessert table, party favors, and party supplies around the party
An incredible balloon installation with the red and blue color scheme complimented the dessert table perfectly
We just love the Super Smash Bros party ball party favors for the kids
An amazing dessert table was set up which highlighted the cake, party favors, mini cakes, and other yummy desserts
A large banner was front and center of the dessert table, which complimented the backdrop perfectly
Delicious food was on the menu for this amazing kids' birthday adventure, along with fun games and activities for all of the party guests
This Super Smash Bros Party is popping with fun, color, and amazing details! Any little gamer is going to be amped up the second they walk in and see this epic set-up for them to enjoy. Every little piece of this celebration is top-notch!
The jaw-dropping cake has to be our favorite detail of this event. It's absolutely incredible! From the character detail on the multiple tiers to the amazing Mario cake topper, it is definitely one to remember. Even Pokemon is making an epic appearance by popping out of the side of the cake. AMAZING!
We also love, love, love everything about the awesome Super Mario theme backdrop and balloon arch that is a major showstopper. All of these details are great on their own, but add them all up together and it is next-level! We bet this was one excited kid walking in to enjoy their birthday celebration. How could they not be?!
What are your favorite details from this Super Smash Bros Party Celebration? Let us know in the comments below!
For more birthday party ideas for kids, follow us on Instagram @prettymyparty and Pinterest and join us in our private Facebook group.
See more Cool Birthday Party Themes here:
Party Vendors
Party Styling: Trendy Events
Cake: C+M Master Cake Designers