Teen Girl TikTok Birthday Party
This Teen Girl TikTok Birthday Party styled by House of Fete is every teenager's dream party! What could be more fun than celebrating your birthday with a cool TikTok party?!
We all know how popular TikTok challenges are among today's teens, so it's only fitting to throw a chic party like this one with fun colors and trendy decor.
House of Fete did an amazing job creating this concept for the birthday girl and her friends.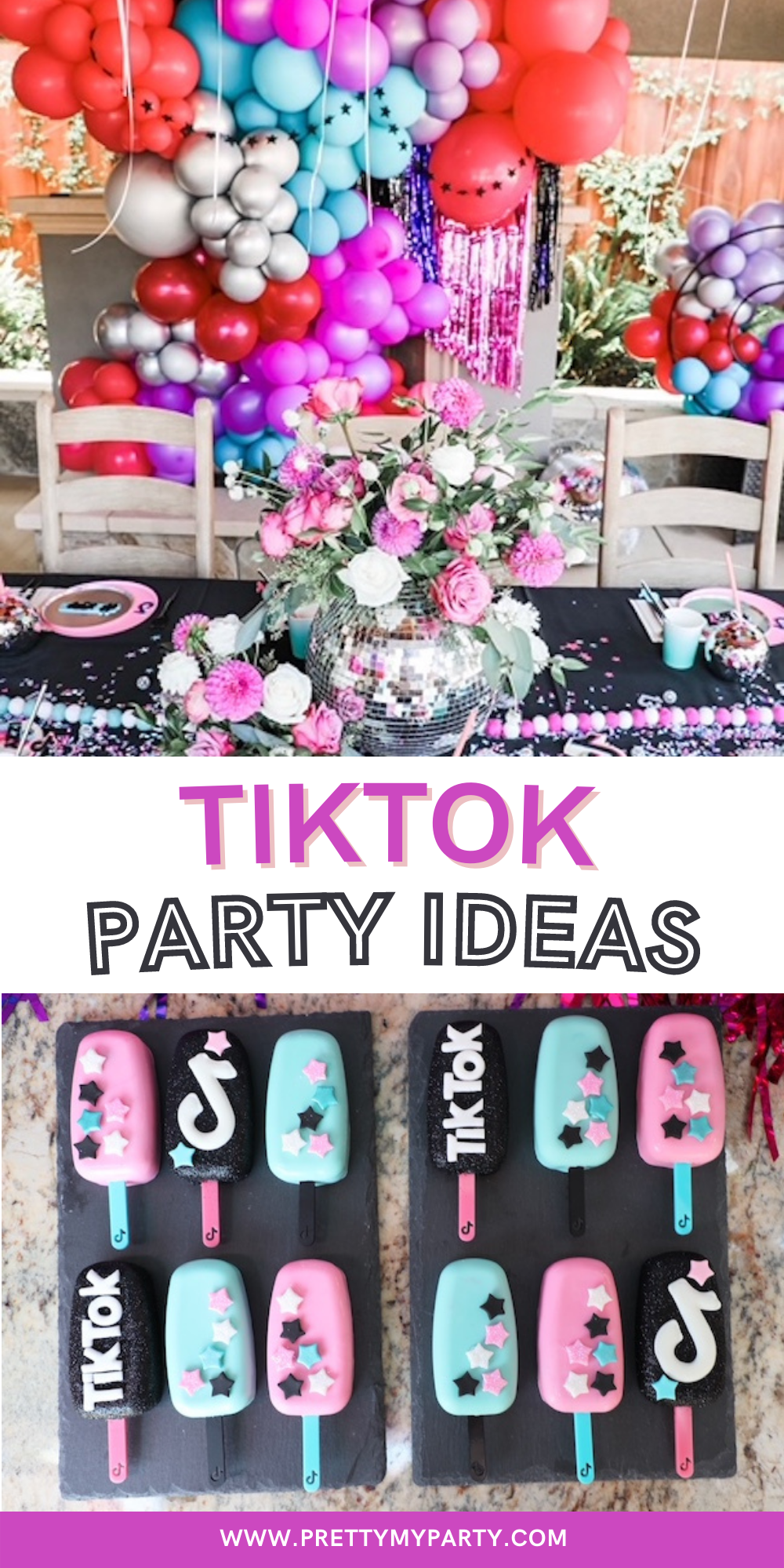 TikTok Party Ideas
Custom, die-cut confetti with tiny TikTok Ts and 13
Teal and pink plates topped with an iridescent plate and adorned with a #name plate
Disco ball cups with custom confetti that had every girl's names inside, and a nameplate necklace
The party menu was based on the popular TikTok Song "Chicken and Macaroni"
Fun disco ball punch bowl
Amazing TikTok Birthday Cake
Awesome TikTok cookies cand cakesicles
Chic balloon garland featuring the party colors
Gorgeous flowers with disco ball vase as a centerpiece
TikTok Party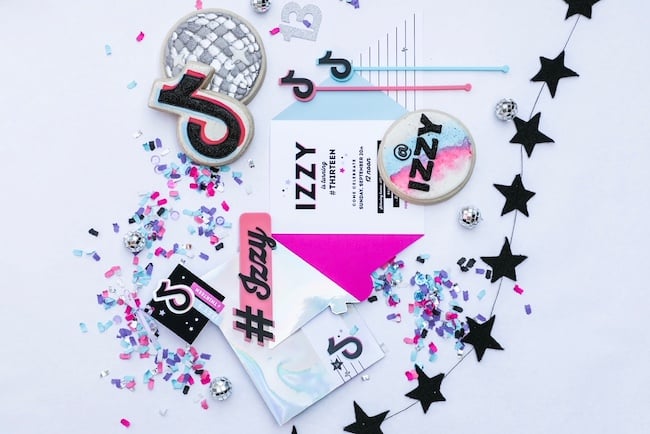 Party decorations
It's all about the TikTok party decor and this party certainly didn't disappoint!
Even though the party was held at the birthday girl's home, this family went all-out with the party supplies and decorations!
An amazing tablescape was created, complete with florals provided by the talented LC Floral Design.
How about that gorgeous flower centerpiece in a disco ball vase?! It matched the disco ball beverage cups perfectly!
The table was sprinkled with custom die-cut confetti, which was SO fun. The confetti was specifically created with tiny TikTok T's and the number 13 for the birthday girl. Those tiny details really do make the party fabulous!
Teal and pink plates from Design & Unwind were used for the place settings, with an iridescent plate adorned with a #name plate.
Each seat got a party favor, which was a HUGE hit among the party guests! Amazing disco ball cups with custom confetti from Festive Fetti had each girl's name inside, along with a nameplate necklace.
Since the guest list was smaller, it was easy to go all out with the details and the guests absolutely loved it!
Itsy Bitsy Parties and Ellie & Piper Co did an amazing job providing the perfect paper goods and party supplies, respectively, for this amazing TikTok birthday party!
Another great Etsy find was the perfect garland that was found throughout the party, provided by Pearl and Jane.
TikTok themed party food
Of course, being the daughter of the host, Danville Cheese, the food was beyond amazing! The menu was based on the popular song, "Chicken and Macaroni."
They took the lyrics and ran with them! Hot dogs, bologna, chicken fingers, and macaroni were served, and it all looked amazing! And the menus created by Poptarts and Peonies were a perfect addition.
And check out the amazing TikTok birthday cake! The cake and cookies from The Sugar Bug were the real showstoppers, as they sat on the bar next to the disco ball punch bowl. So fun!
The Creative Collective Co did an amazing job creating the perfect balloon arch over the pool, along with an incredible backdrop that was on display for everyone to enjoy.
We're sure a few videos of all the amazing party details made it on TikTok!
There was even a fun area set up with a chair and balloons for the birthday girl and her friends to sit and make their own TikTok videos!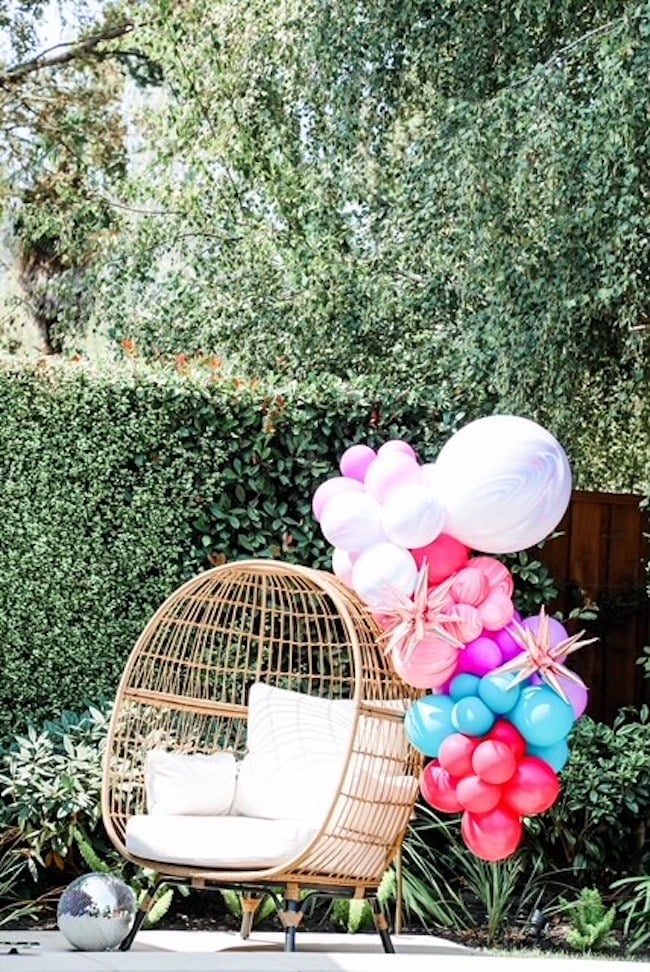 Every detail was absolutely perfect for this TikTok party. Becoming a teenager doesn't happen every day and this Teen Girl TikTok Birthday Party was a great way to usher in a new era!
Be sure to follow us on Instagram @prettymyparty and Pinterest for more fabulous party ideas, and join us in our private Facebook group.
See also:
10 Best Teen Or Tween Party Themes
Shop these party products:
Party vendors