Free Easter Scavenger Hunt Printables
These free Easter scavenger hunt printables include 8 clues and a note from the Easter Bunny. Plus grab a free Happy Easter banner, cupcake toppers, and food labels to host a fun Easter party for the kids!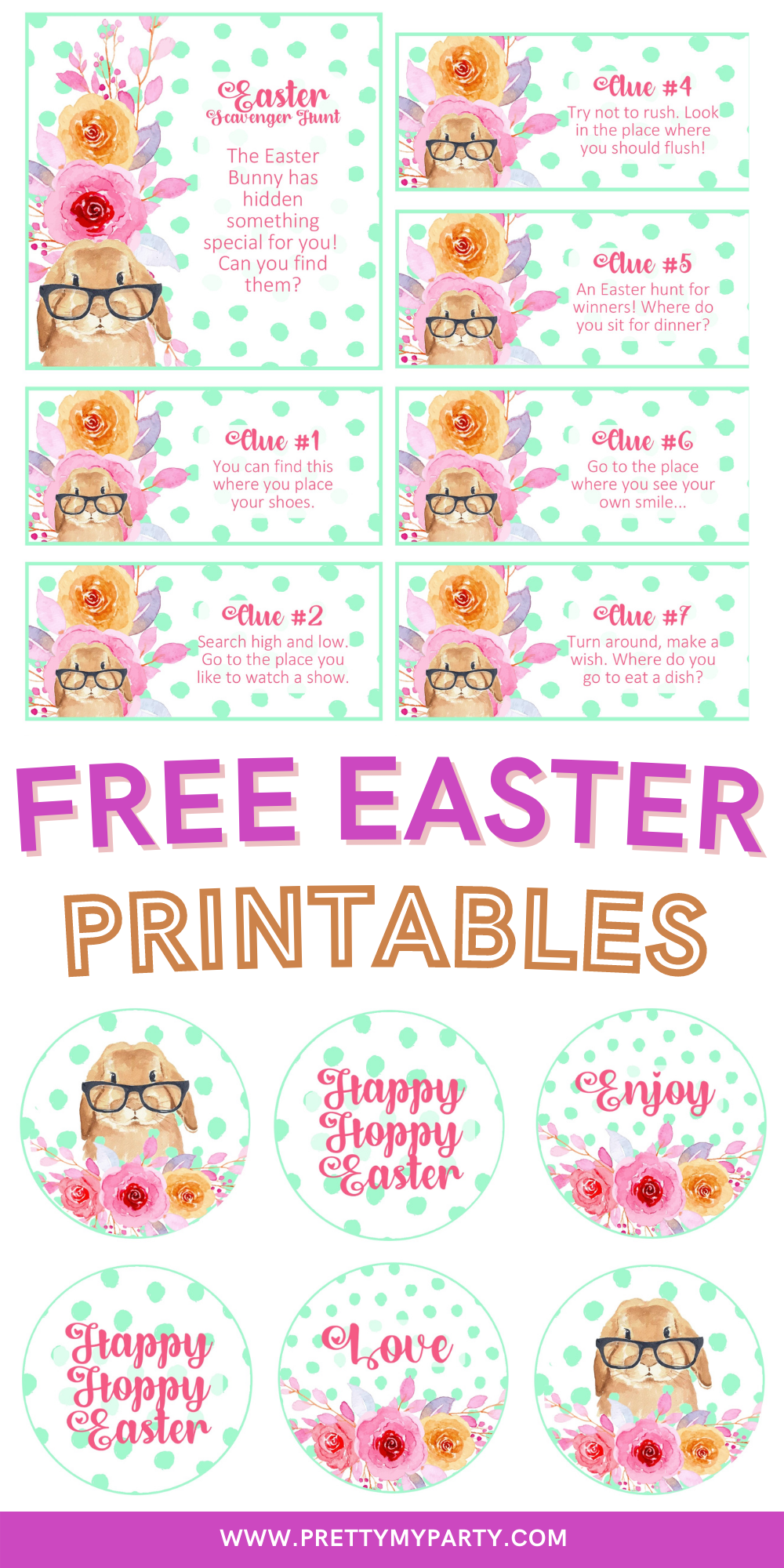 Easter is the perfect time for family fun and there's no better way to do that than with some Easter games and activities like a fun scavenger hunt!
Scavenger hunts are perfect for all ages from toddlers to teens and the memories created with family will last a lifetime!
So, if you're on the hunt for some Easter activities the whole family will enjoy, just save and use these free printables for an exciting Easter treasure hunt and party!
Free Printable Easter Scavenger Hunt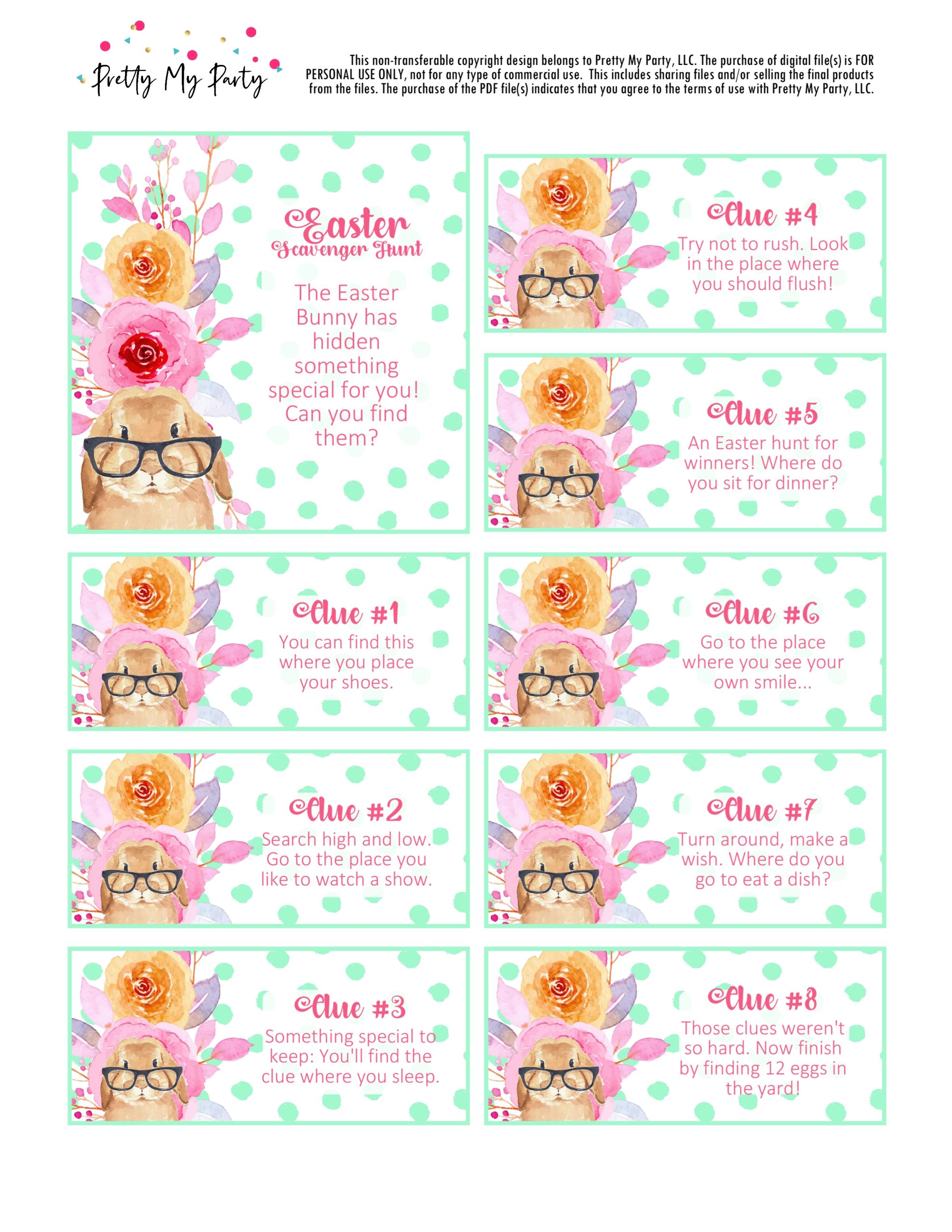 Easter scavenger hunt clues
The Easter bunny's clues will lead the way to fun prizes on Easter day!
Plan a fun-filled Easter scavenger hunt at home or in your backyard with clues that lead to baskets full of candy, treats, toys, plastic Easter eggs, a chocolate bunny, chocolate eggs, crafts, and more!
The whole family will have a blast with these free printable clues.
How does a scavenger hunt work?
A scavenger hunt or treasure hunt is an exciting game that can be played in several ways by individuals or teams. The idea behind a scavenger hunt is to seek and find a list of items.
Some people have a checklist of items that players have to check off and others have clue cards with riddles that lead them to the next clue until they find the ultimate prize.
Many families incorporate a scavenger hunt as part of their Easter egg hunts on Easter morning. The Easter bunny can hide the kids' Easter baskets and strategically place the clue cards that will send them on a journey to find some Easter goodies!
Easter scavenger hunt setup
How do you set up a scavenger hunt? First, download and print the Easter bunny note and clue cards. Next, hide the clue cards inside plastic eggs and then hide the Easter eggs. Assign each child a specific Easter egg color, so there's no confusion. The kids will have a blast finding each clue along the way!
Scavenger hunt prize ideas
There are lots of fun ideas you can incorporate into your Easter scavenger hunt. Some prize ideas include:
Celebrate with an Easter Party
Plan a fun party with these free Easter printables! Once you've completed your Easter scavenger hunt, celebrate with a fun Easter party!
Save and print these free Easter printables including a banner, cupcake toppers, and food labels. Set up a kids' table with Easter party supplies and decorations and serve delicious food and desserts.
Check out these Easter party products:
Happy Easter Banner
Add this Happy Easter banner to your Easter celebration! Just right click, save and print on cardstock paper. Then use a hole punch and string to assemble the banner.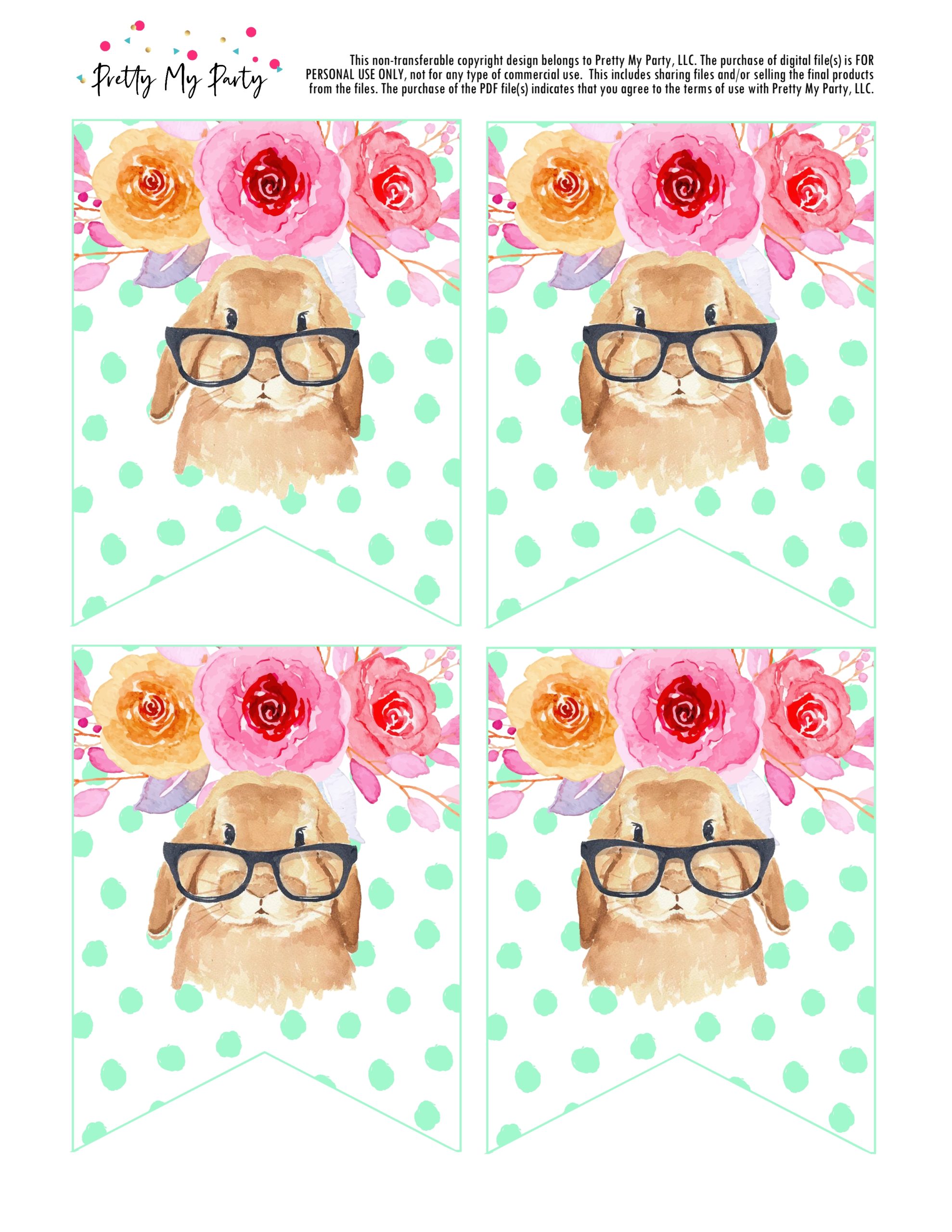 Easter Food Labels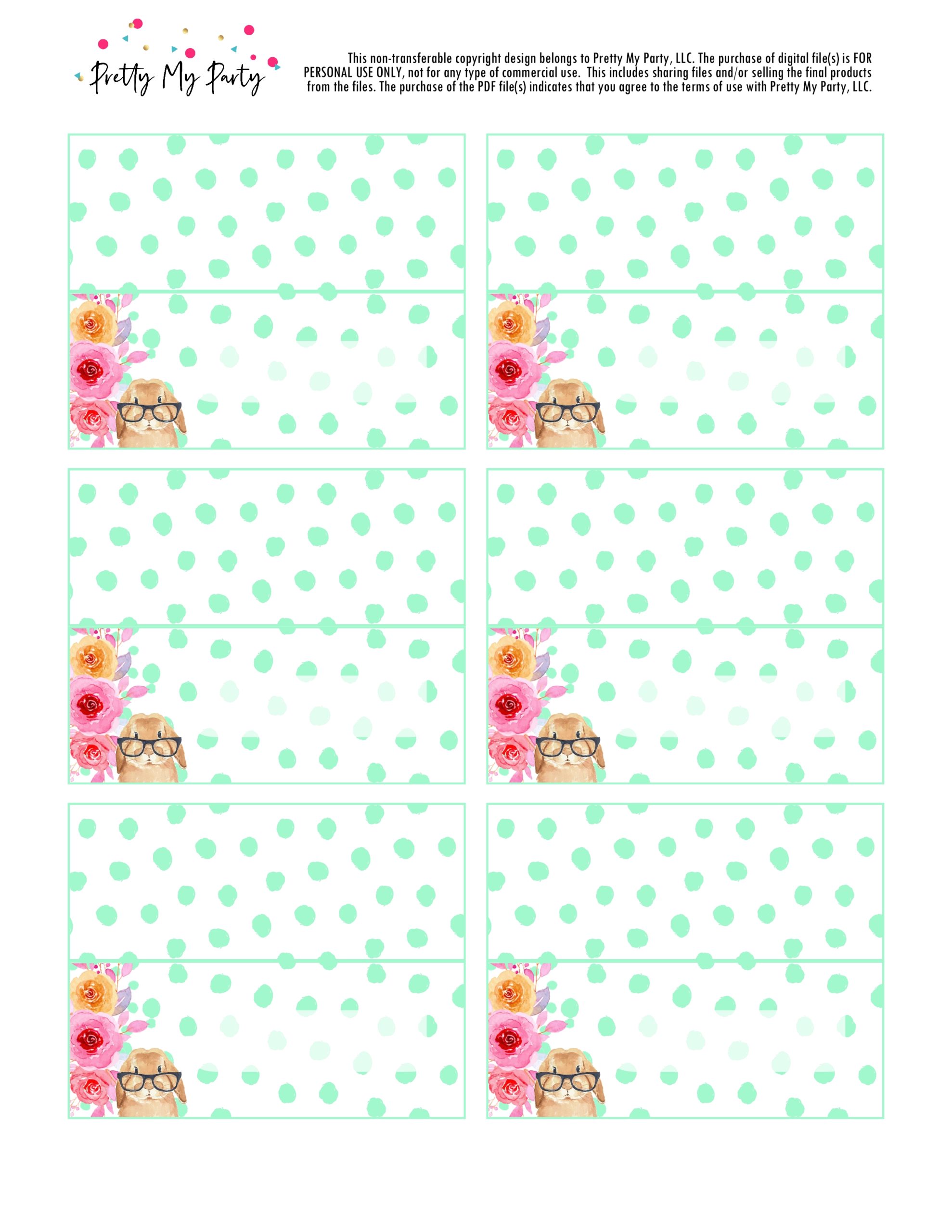 Right click, save and print these adorable Easter food labels for your Easter party or celebration.
Easter cupcake toppers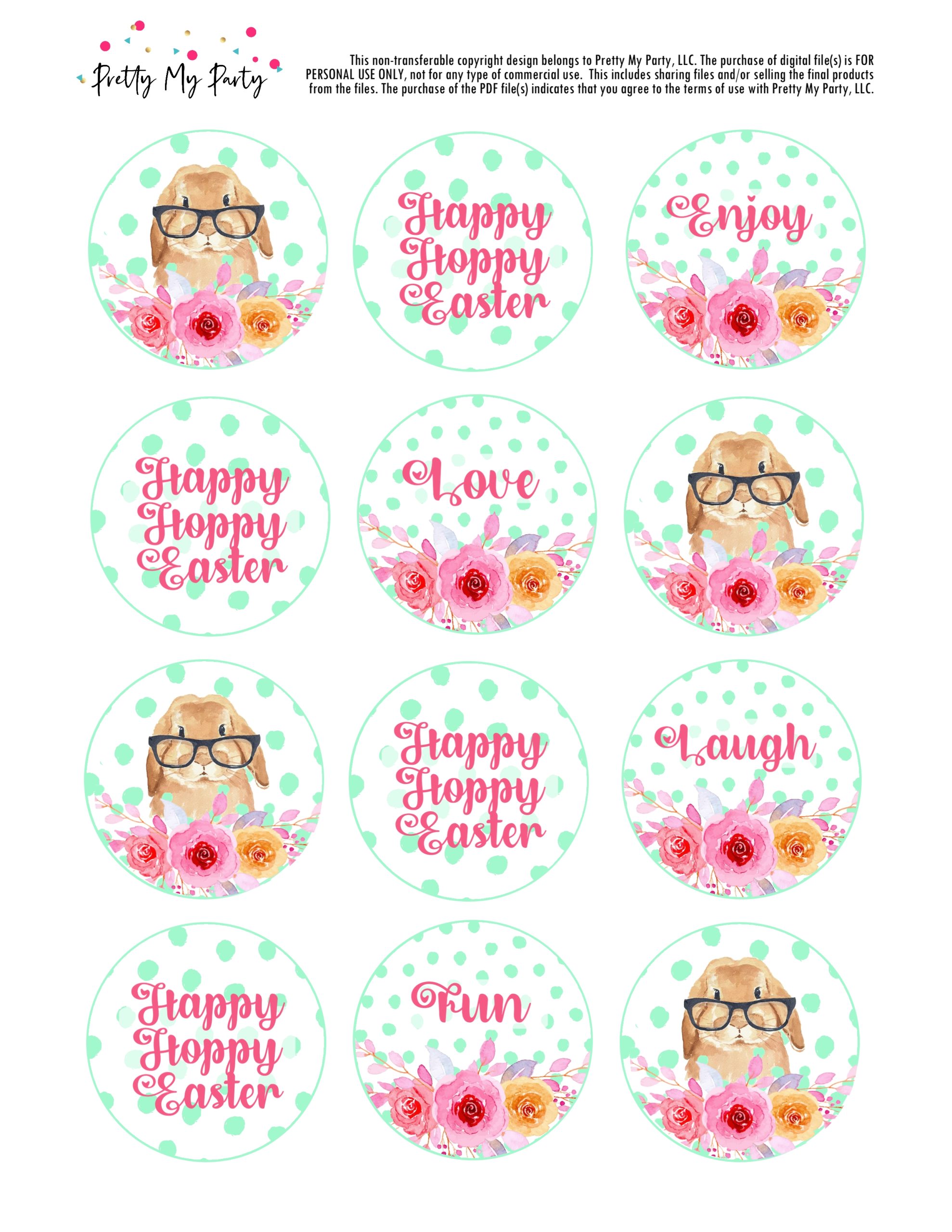 Just right click, save and print these cute toppers and add them to your cupcakes or Easter desserts!
If you would like these printable designs customized as a full party kit, please email
Perfect Packages Parties
at
letsparty@perfectpackagesparties.com
or via
Instagram
and use the code "PMP20" to benefit from this offer for just $20.
We would love to see how you use these free Easter printables. Just tag @prettymyparty on Instagram for a chance to be featured.