13 Awesome DIY Hula Hoop Wreaths
Jumbo wreaths made with hula hoops are the hottest trend right now for weddings, parties and photo shoots. These DIY hula hoop wreaths are the perfect, eye-catching decoration for any event. If you've been wondering how to make a DIY hula hoop wreath, check out some of our favorites below for inspiration.
Here at Pretty My Party, we're always on the hunt for the newest party and wedding trends like DIY Balloon Garlands and the super trendy Donut Wall Displays. But we've come across another trend that we're totally swooning over right now – DIY Hula Hoop Wreaths! Are you looking for something different that will be the focal point of your entire event? If you are, these 13 Awesome DIY Hula Hoop Wreaths will have all of your guests talking!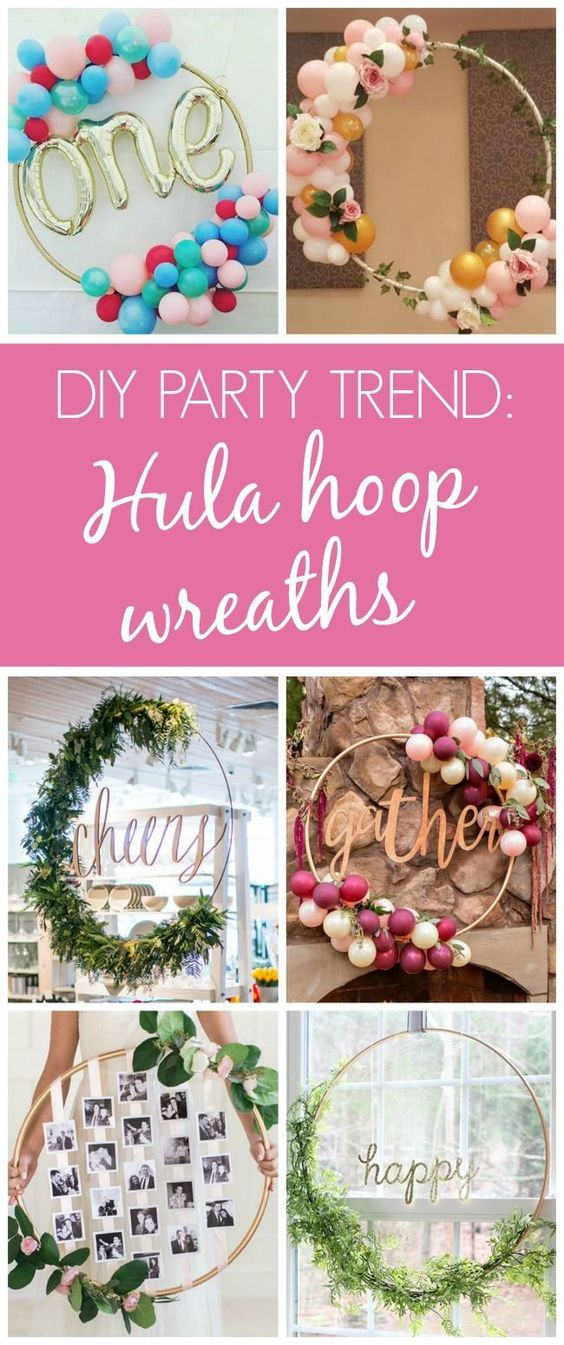 These hula hoop wreaths are easy to make and can be used for bridal showers, baby showers, weddings, birthday parties, and more! We especially love the hula hoop wreaths for weddings because, just like wedding rings, they are circular, which represents your love – like the circle, has no end.
We also love how versatile the hula hoop wreaths can be depending on the type of event your having. Of course, you can dress them up for weddings and bridal showers, but you could also add balloons and make it more fun for birthday parties or baby showers. Plus, you and your guests will have a blast taking photos in front of your hula hoop wreath decoration! It certainly makes the perfect photo backdrop! Talk about Insta-worthy!
All you need to make one of these DIY Hula Hoop Wreaths is a hula hoop, balloons or flowers, and any other added decor you choose!

We're seriously crushing over the colors on this gorgeous "Gather" hula hoop wreath that was featured at a Friendsgiving Dinner Party hosted by One Stylish Party. Doesn't it look perfect hanging over the fireplace?

The Little Balloonery is a creative balloon styling service that created this first birthday balloon hula hoop wreath. This would make the perfect dessert table backdrop for your little one's birthday party! We absolutely love this hula hoop party decor trend for birthday parties. Add some balloons like this one to keep it fun and festive.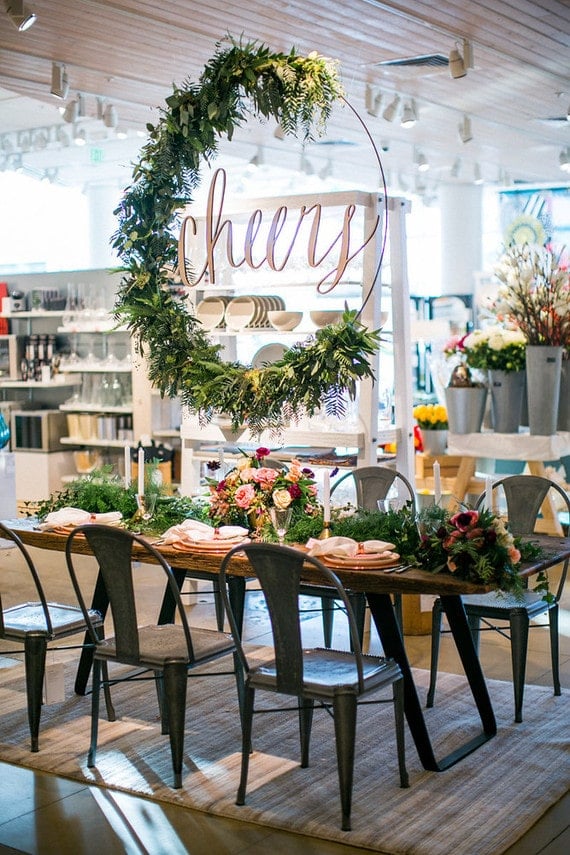 This large "Cheers" hula hoop wreath looks great hung over a gorgeous tablescape. This would look fabulous for a bridal shower or wedding!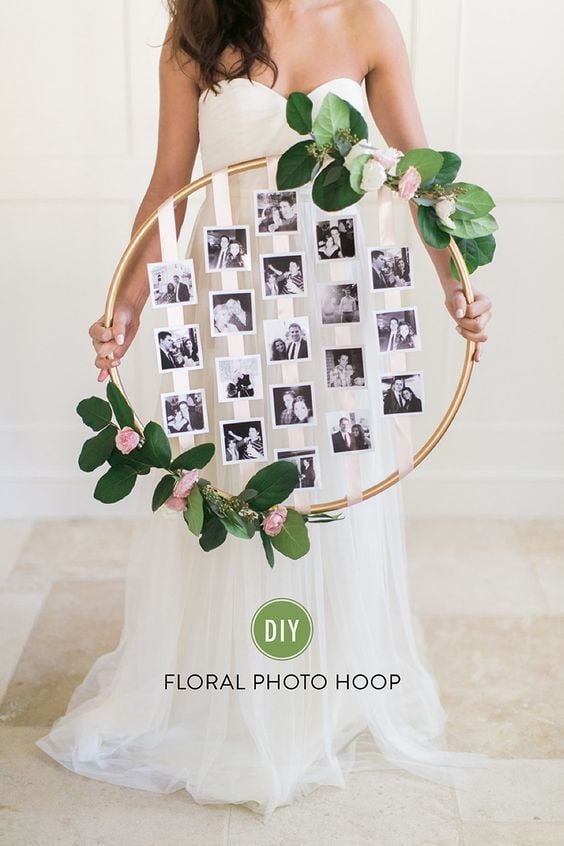 We love how DIY Weddings came up with this unique spin on the hula hoop wreath. They use it as a photo display for a wedding. This could also work for a first birthday party or anniversary party!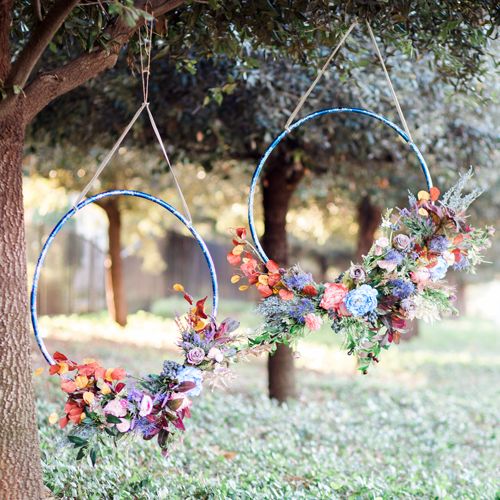 AFloral shows you step-by-step how to make one of these beautiful hanging hula hoop wreaths with flowers. Perfect for an outdoor ceremony, the bride and groom can say I Do in a whimsical setting like this one.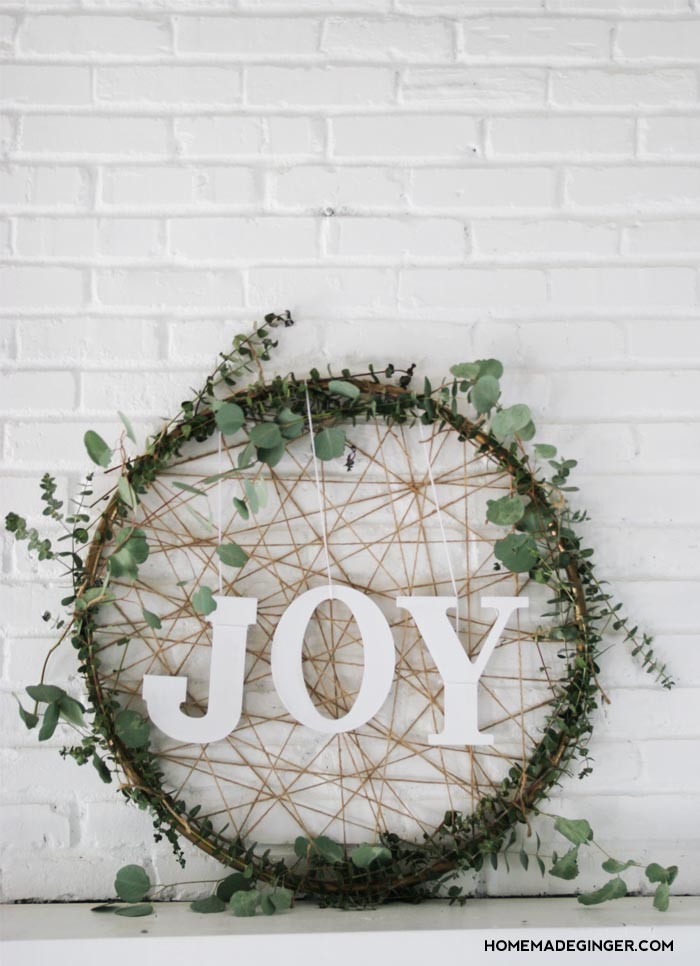 Homemade Ginger made this Giant Christmas "Joy" Wreath as a focal point on her fireplace mantel. This just goes to show these wreaths can work for any holiday or event!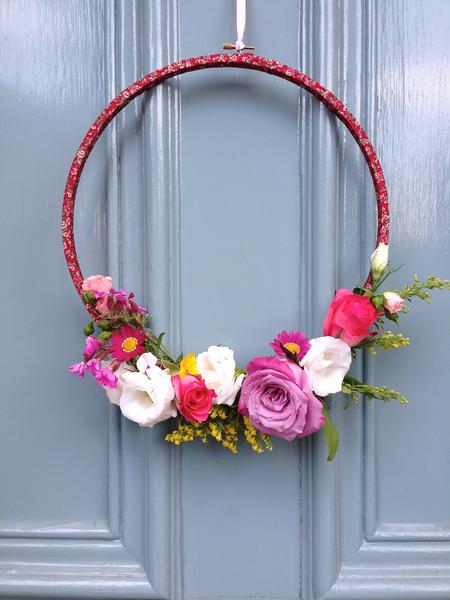 Check out this tutorial from The People Shop to make your own floral hula hoop wreath for your home or next event.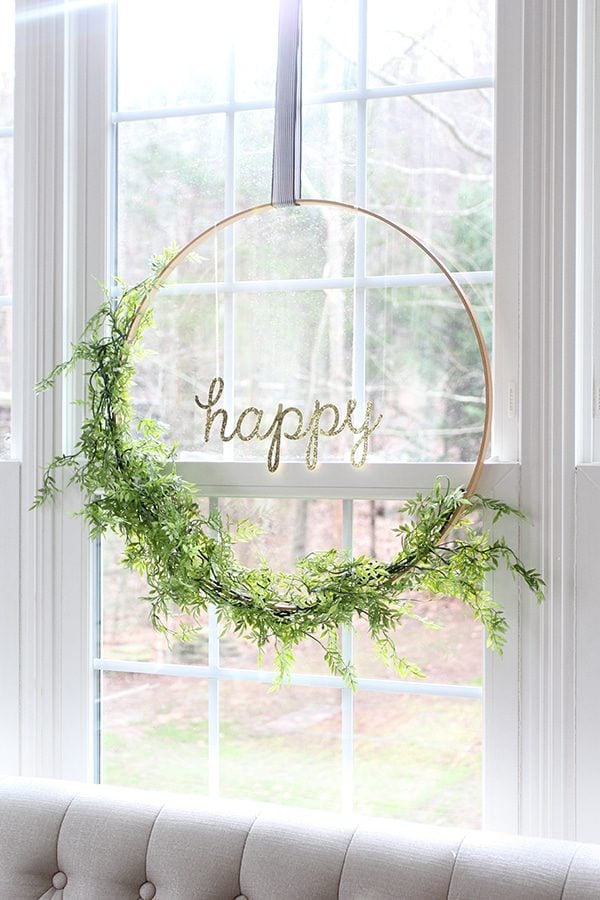 Less Than Perfect Life of Bliss created this "Happy" hula hoop wreath decorated with greenery. Suspended by ribbon in front of a window, this wreath makes the perfect home decor, as well.
Designed Perfectly Events styled this lovely NYE wedding shoot, complete with hanging hula hoop wreaths! Added floral and greenery make this scene whimsical for a wedding.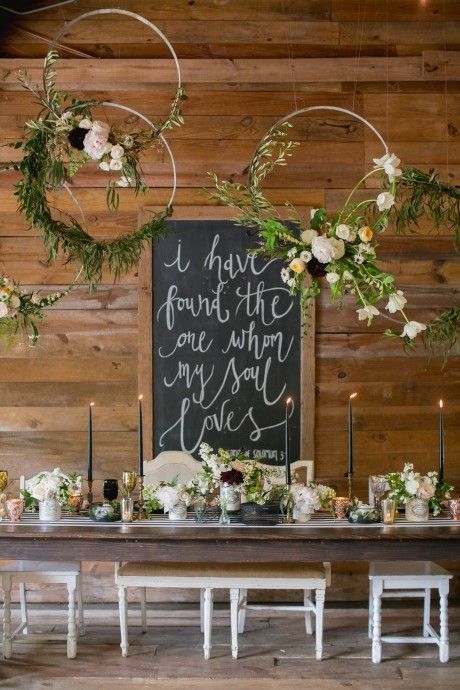 These gorgeous hanging floral hula hoop wreaths seen on Weddings Unveiled give this rustic wedding reception a pretty boho vibe.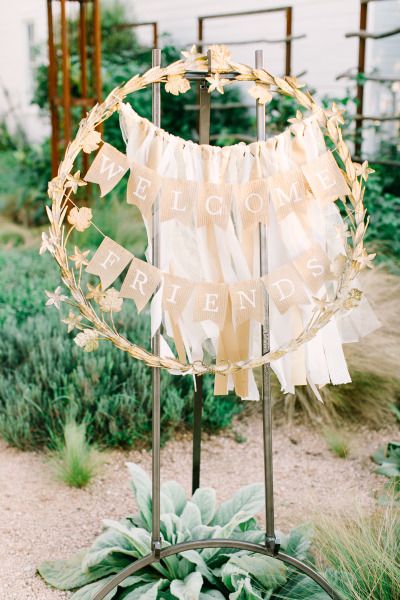 This outdoor Texas wedding on Style Me Pretty features a welcome wreath for friends and family. Yet another creative way to incorporate this design trend into your wedding.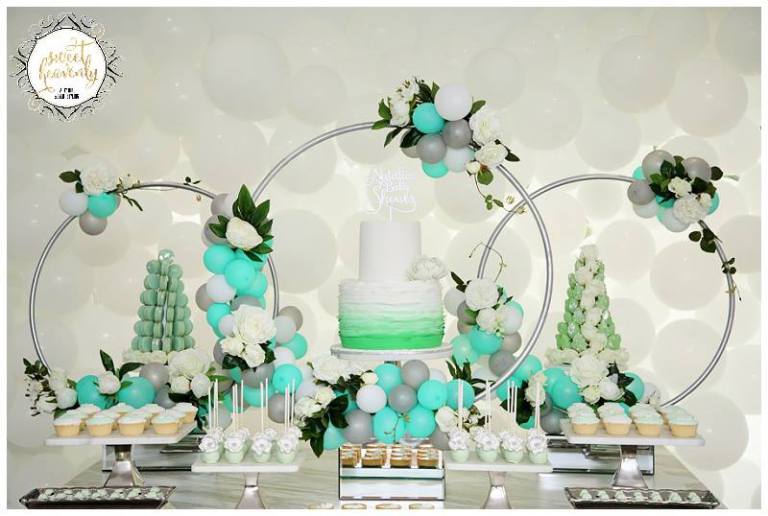 Sweet Heavenly Events & Party Hire is on trend with these three hula hoop wreaths incorporated into their dessert table design. How creative and stylish do they look? LOVE!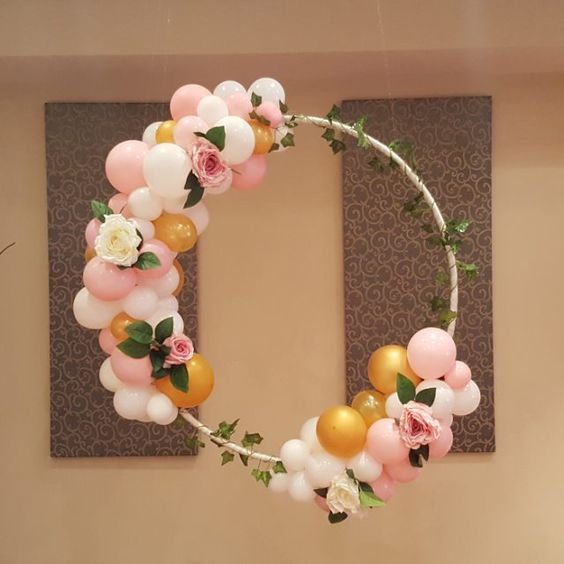 Floating Designs put together this pretty pink, gold and white hula hoop wreath, which hung from the ceiling. Imagine this as a party decoration at your event? It's definitely an eye-catcher.
Depending on the occasion, you can make a floral wreath to match your wedding decor, a balloon wreath for a first birthday, baby showers, bridal showers, etc. The possibilities are endless. What do you think of this DIY Hula Hoop Wreath trend? Which of these 13 Awesome DIY Hula Hoop Wreaths are your favorite? Let us know in the comments below!
For more party ideas and trends, follow us on Instagram @prettymyparty and Pinterest and join us in our private Facebook group.
Check out these gorgeous features on Pretty My Party:
SaveSave
SaveSaveSaveSave
SaveSave
SaveSave