Safari Hot Air Balloon Party
Fly away with us and this jaw-dropping Safari Hot Air Balloon Party styled by Khim Cruz.
This incredible event was held as a double celebration for Sakura's 5th birthday and Kenji's dedication.
The minute guests walked into the venue they were blown away by the giant safari animals like giraffes, zebras, and elephants.
Pastel hot air balloons hung from the ceiling with thousands of balloons filling the space to look like clouds.
Party tables were decorated with gorgeous floral arrangements, safari animals, and beautiful tableware. Some of the table centerpieces were decorated with hot air balloons filled with flowers.
Every detail from the floor to the ceiling was amazing and made you feel like you were in a whimsical world in the clouds. This even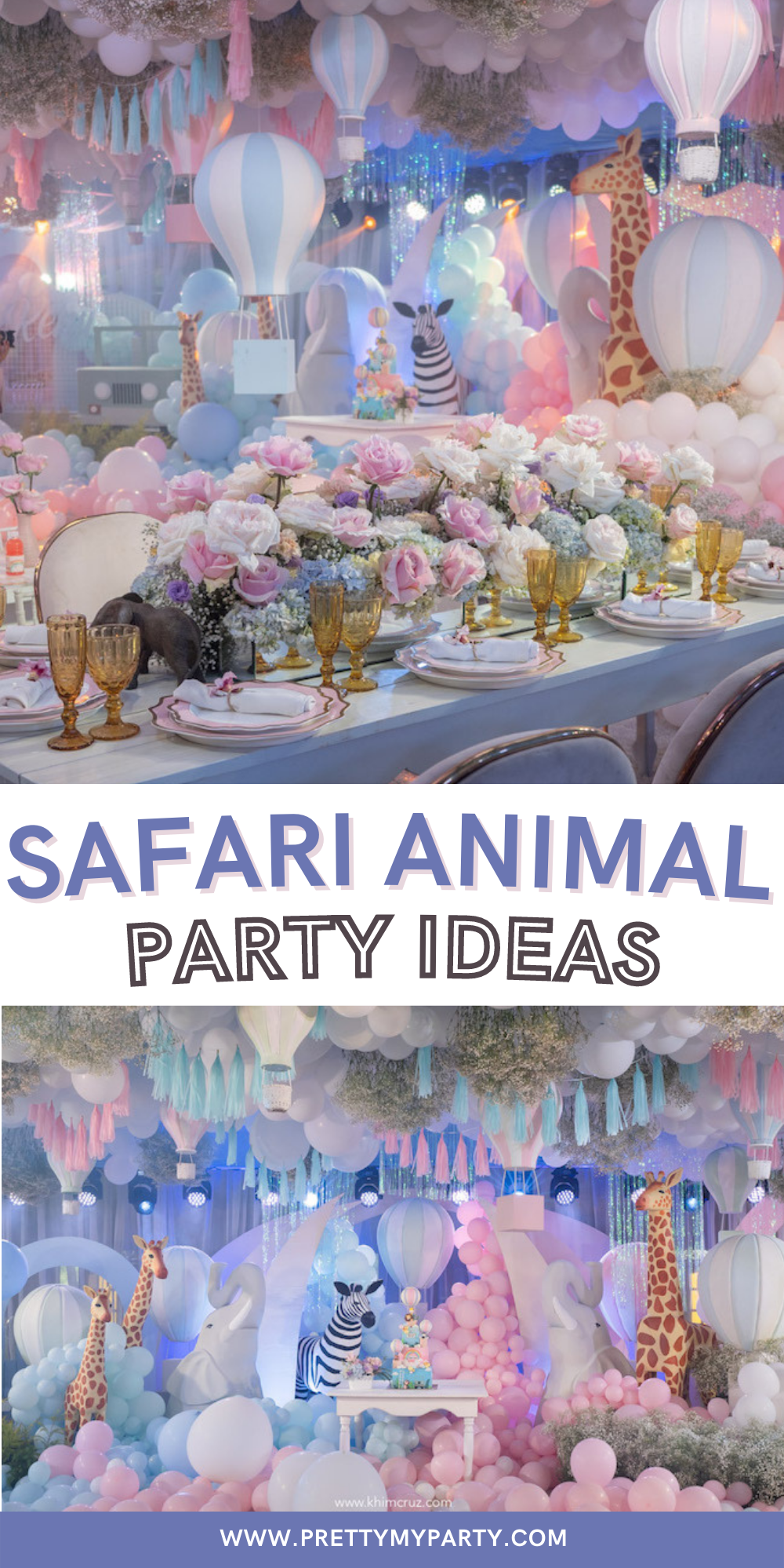 Safari Hot Air Balloon Party Ideas
Giant safari animals and jeep decorations
Amazing safari hot air balloon cake
Pastel hot air balloon decor
Pastel blue, pink, and white balloons decorated the entire venue
Pastel blue and pink tassel decor strung from the ceiling
Flowers, balloons, and hot air balloons hung from the ceiling
Gorgeous tableware and florals on party tables
Hot air balloons filled with flowers as table centerpieces
What an incredible joint celebration for two lucky kiddos. Guests were blown away the moment they walked into this gorgeous hot air balloon safari celebration. Our favorite details are the giant safari animals surrounded by balloons.
What are your favorite details from this Safari Hot Air Balloon Party? Let us know in the comments below.
Love the party ideas on Pretty My Party? Follow us on Instagram @prettymyparty and Pinterest for more fabulous party inspiration, and join us for all things party in our Facebook group.
Shop these safari hot air balloon party supplies:
Party vendors
Event Design: Khim Cruz
Event Organizer: Creative Kings Event Supplier
Cake: Xandrea's Cakes
Furniture & Cutleries: The Banquet Co.
Lights: S.R. Audio Lights and Sounds
Venue: Malagos Garden Resort