This incredible Cars Land Themed Party from Trendy Events, Puerto Rico will literally take you to all of the fun spots in Radiator Springs from Wheel Well Motor Court to Flo's V8 Cafe, as well as Tow Mater Towing and Salvage and Luigi's Casa Della Tires! A fun time to be had by all!
Ka-Chow! Welcome to Samuelito's 3rd birthday party! Samuelito had a blast at his Cars Land Themed Birthday Party. From the delicious personal pizzas to the exquisite birthday cake, every detail of this Cars Land-themed birthday party was phenomenal!
If you're looking for a Disney Cars Land Birthday Party, look no further! This event is filled with details that will bring a smile to every child's face.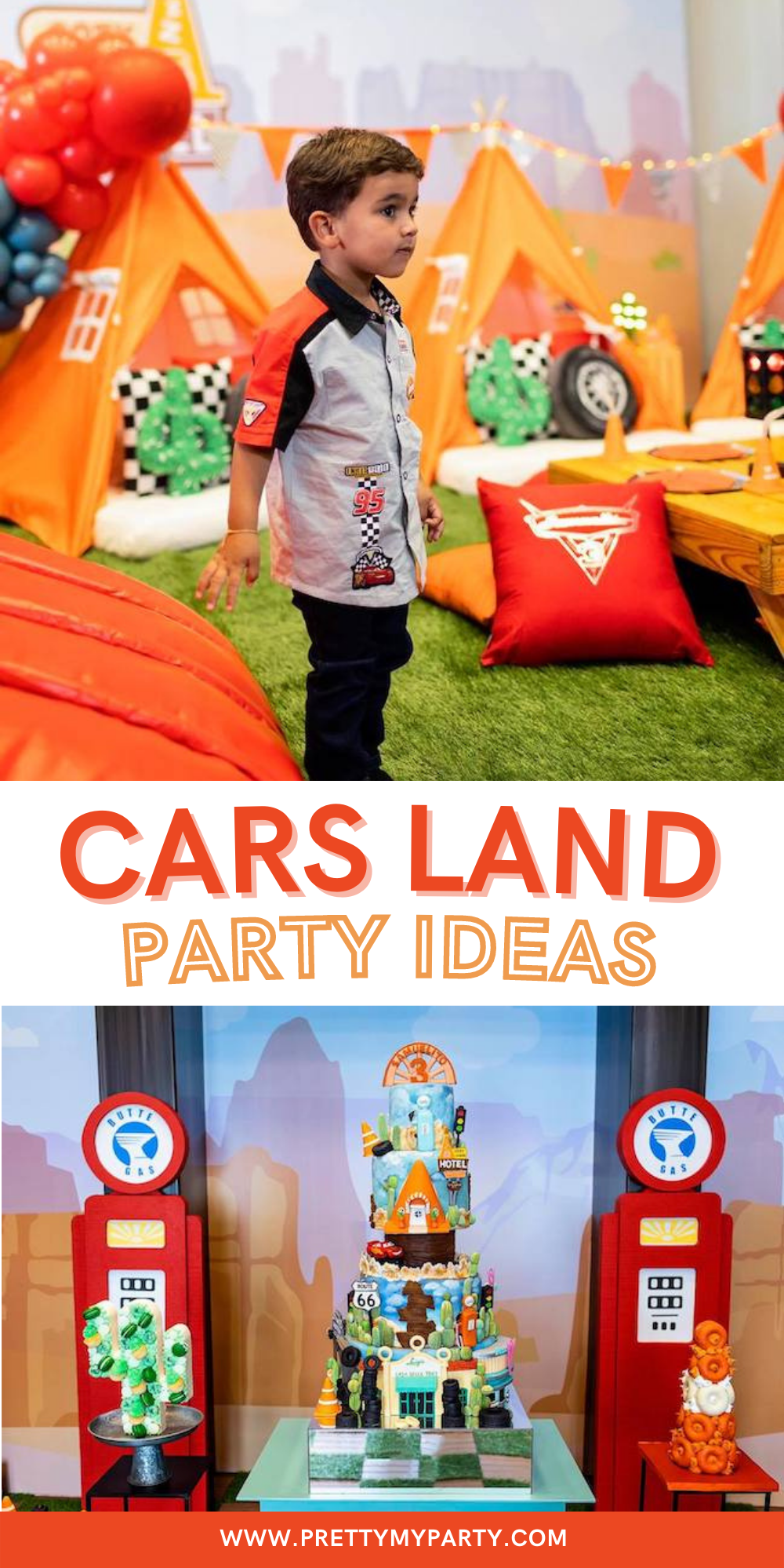 Cars Land Party Ideas
Radiator Springs backdrops and decor
Teepee tents at the Cozy Cone Hotel
Cars-themed bounce house
Balloon garland in Cars theme colors
TV or projector for viewing the movie and playing a Cars video game
Cars themed party favors
Cars costumes – car-stumes
Giant Cars coloring poster
Cars theme cake, cupcakes, and other treats
Cars Land Party Decorations
This Cars-inspired party features backdrops, props, decor, red, blue, and yellow balloon garlands, and more. All of the decorations came together to make Radiator Springs come to life!
The Radiator Springs backdrop with amazing details was front and center for everyone to enjoy. The kids were so excited to see the Tow Mater Towing and Salvage backdrop to the left and Luigi's Casa Della Tires to the right, both filled with fun treats for all to enjoy!
The decor did not stop there; every single attraction in Radiator Springs was filled with the appropriate backdrops and props, making this a true Cars experience.
Cars Land Party Food
Flo's V8 Cafe was served buffet style, where guests were able to choose from several appetizer options, a nice macaroni or potato salad, and finish off with a gourmet burger.
The kids enjoyed a personalized pizza and a fountain drink of choice.
All of the tableware was personalized with the birthday boy's name. Guests were able to sit at tables with checkered flag tablecloths and the kids had their own small picnic table with cactus and cone centerpieces.
Heading over to the Wheel Well Motor Court, guests wished Samuelito a happy birthday and cut the cake. The talented C+M Master Cake Designers crafted the amazing 5-layer Cars-themed cake.
Every detail on the cake was masterfully designed and arranged. Picture clear blue skies on Route 66 filled with cacti, small car tires, cones, traffic lights, and a few gas stations.
The major venues from Cars were present throughout the cake; Flo's V8 Cafe, Tow Mater Towing and Salvage, and Luigi's Casa Della Tires. The cake also featured Lightning McQueen, of course!
Cars Land Party Entertainment
The roadsters were able to rest their heads or eat their meals at the Cozy Cone Motel, where they sat in a tent or at the picnic table to watch the movie while munching on some popcorn or cotton candy. The checkered or Cars themed pillows made the Cozy Cone Motel that much more…cozy!
The children absolutely loved the arts and crafts portion of the party, which included making slime with the help of the crew, and coloring the giant Cars poster. They were also able to change into car-stumes, which were personalized with the birthday boy's name.
The kids also enjoyed racing their virtual cars at Radiator Springs Racers. The little racers also had a blast in the Cars-themed bounce house.
The photos of this Cars Land Party don't do it justice! The experience was one Samuelito and his friends and family will never forget!
What are your favorite details from this Cars Land Themed Party? Let us know in the comments below.
Love the party ideas on Pretty My Party? Follow us on Instagram @prettymyparty and Pinterest for more fabulous party inspiration, and join us for all things party in our Facebook group.
Shop these Cars party supplies:
Party vendors
Event Design: Trendy Events
Venue: La Concha Resort
Cake: C+M Master Cake Designers
Photos: Nicole Pierce Photography