When you have not one, but TWO, little people to celebrate a birthday for, it can be hard to find the perfect theme! That's why this Mermaid and Pirate Party is great for twins!
This Mermaid and Pirate theme is a fun way to celebrate two gender birthdays at the same time! It was a pleasure styling this event space because it was my first combined birthday party. We had an amazing team of vendors that transformed the Atlantis Banquet Hall in East Los Angeles into something truly amazing for all the guests in attendance, glamour mermaid and Pirates of the Caribbean, said From The Heart Events!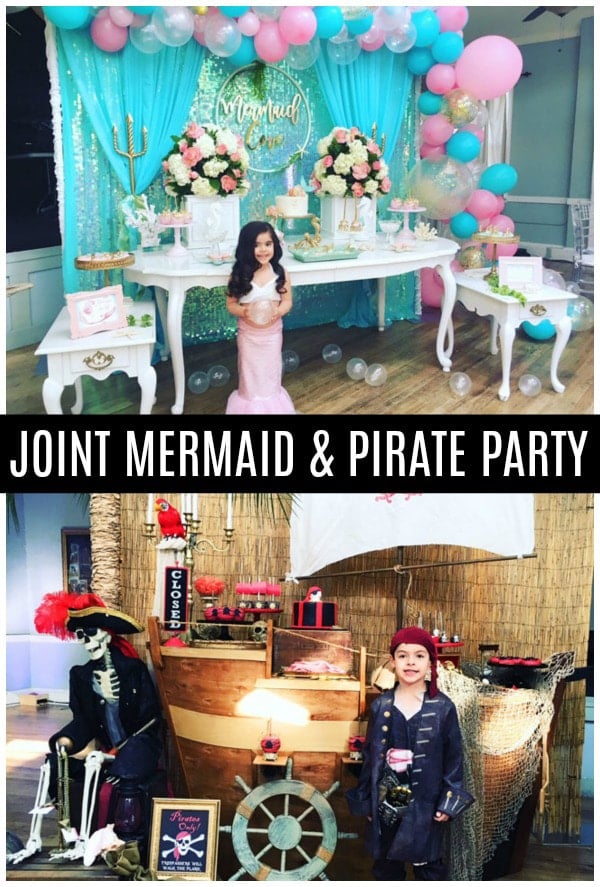 Mermaid and Pirate Party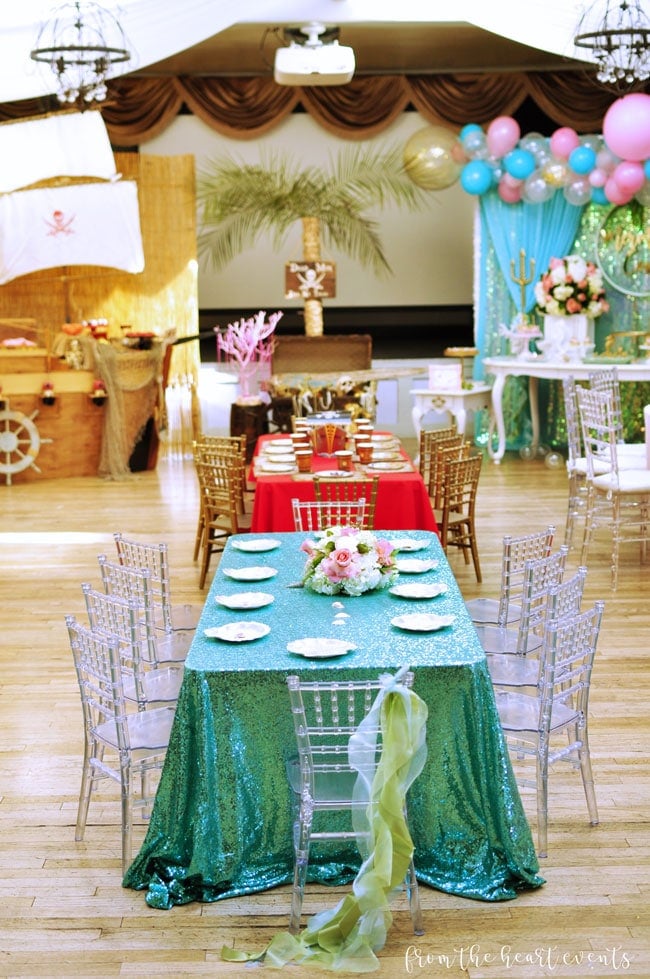 Just look at this cute Mermaid and Pirate Party set up by From The Heart Events! We love everything about this event and the attention to detail is simply amazing! Just look at that sweet "mermaid tail" that is flowing from the chair? Incredible!
Mermaid and pirate party supplies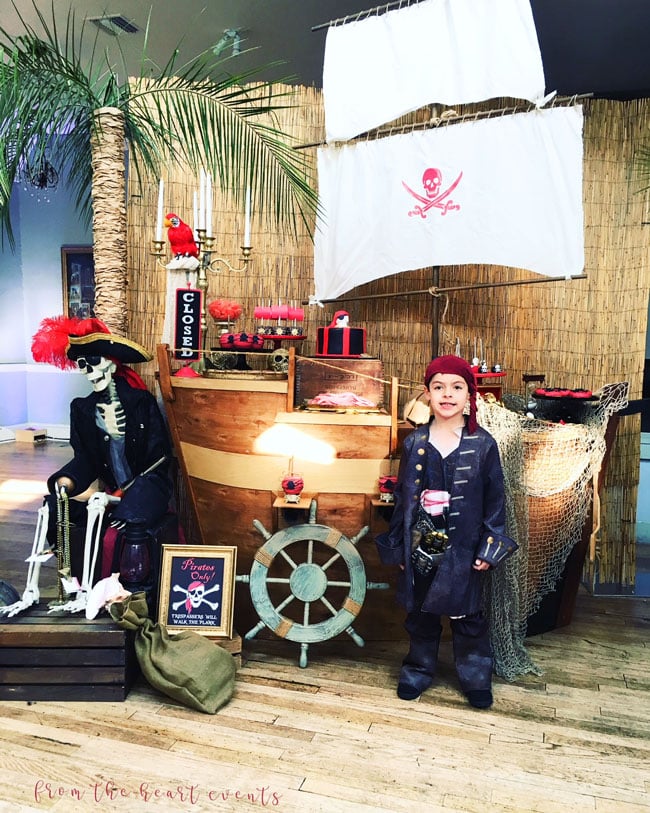 Not much could beat this day for this little Pirate lover! Joint birthday party ideas for siblings is no easy feat, so the fact that this was pulled off so seamlessly, with every detail being stunning, is just amazing! Look at how happy that little birthday boy is!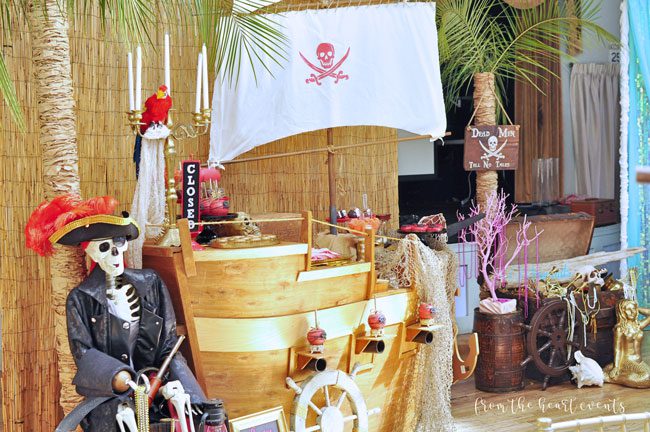 Nothing says pirate party more than a pirate ship! Fabuless Events & Weddings provided this incredible pirate ship prop and all of the kids went nuts over it! What a great presentation for this little guy's big day!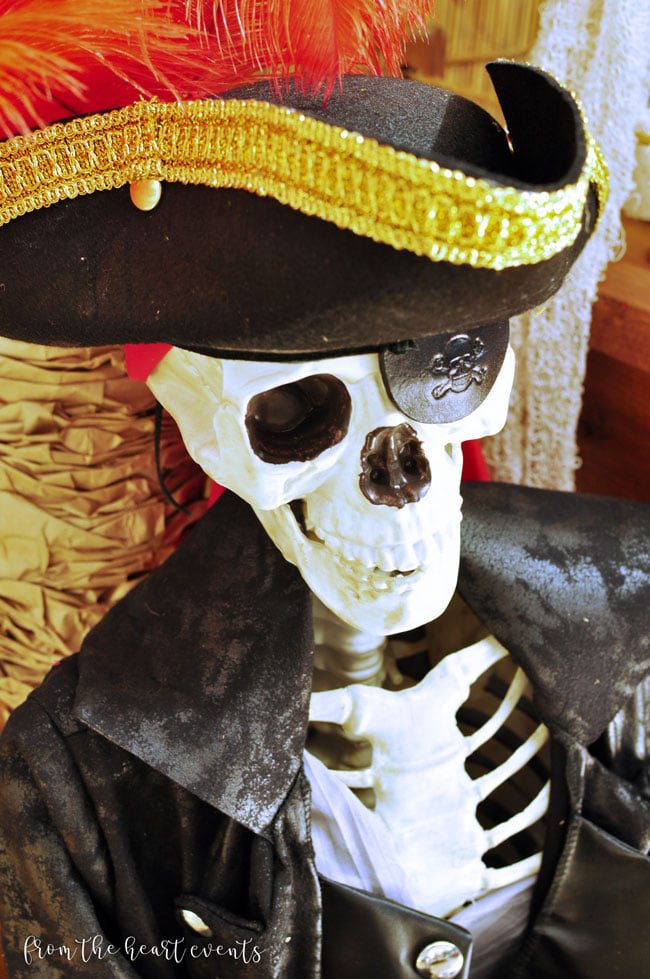 Of course, there had to be a scary pirate ready to greet all of the birthday guests! This spooky guy did the trick and everyone was ooo'ing and aaah'ing over him during the Mermaid and Pirate Birthday Party!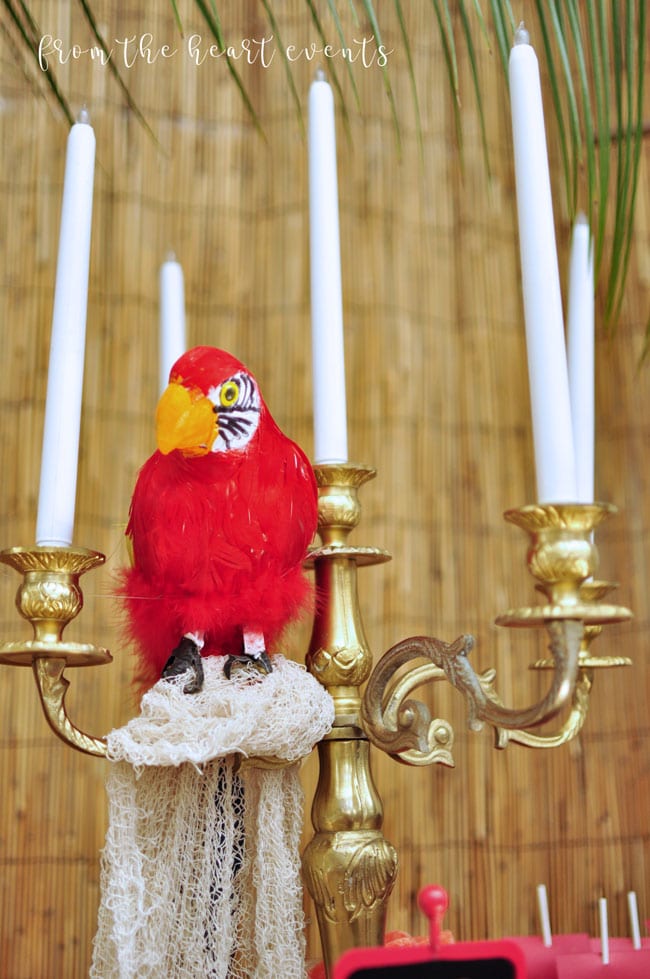 And don't forget this little guy! Every good pirate needs his first made, a trusty parrot!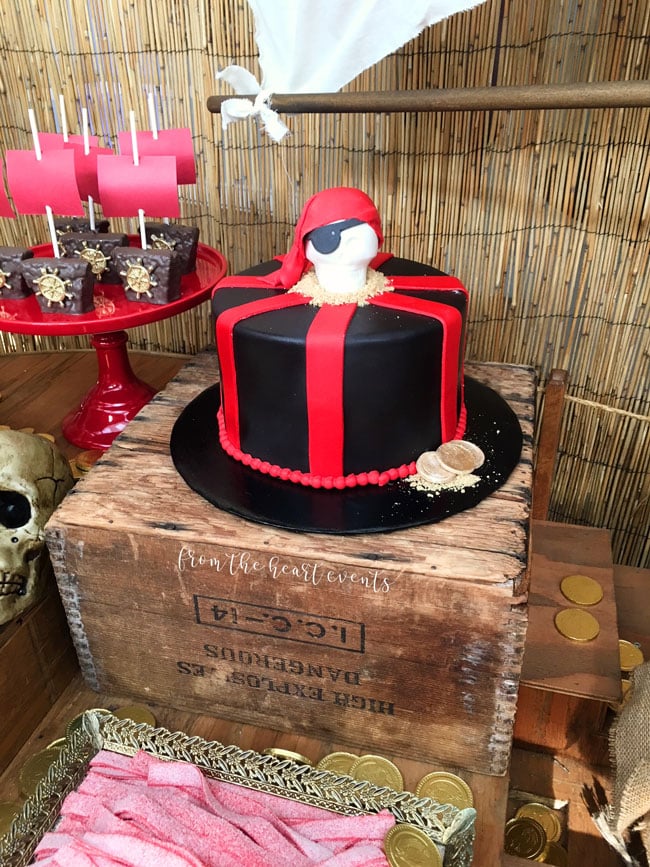 This great pirate cake was created by It's Bella's Cakes and the birthday boy couldn't wait to dig in! We love the simplicity, yet it is a little scary with that pirate skull on top! It's a perfect creation!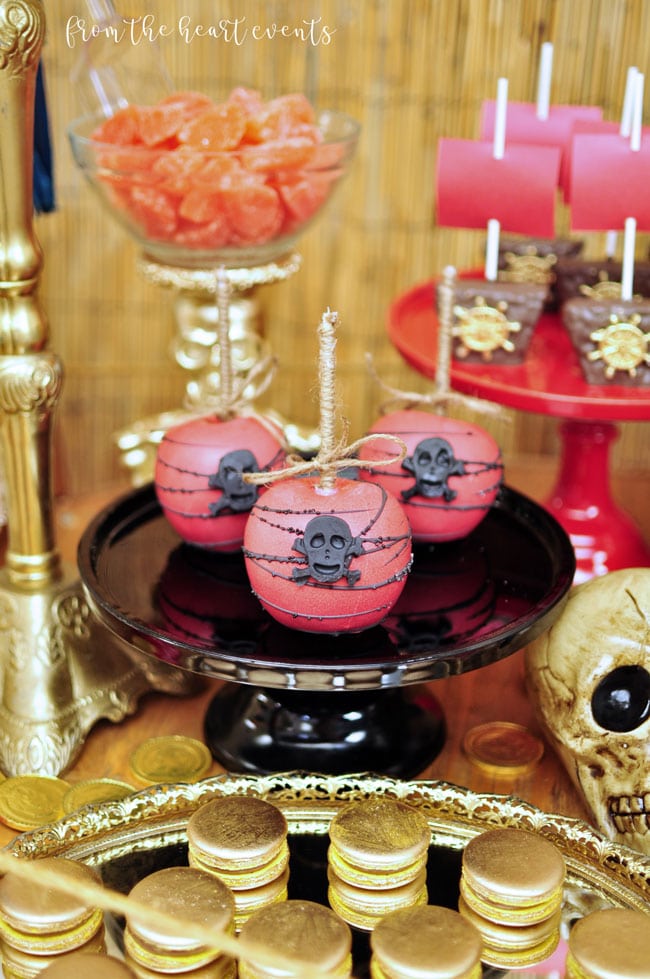 Melody's Sweet Shop did a perfect job for many of the sweet treats that were found at this Mermaid and Pirate Party. From amazing cake pops to cute "pirate ship" treats, nothing was left behind!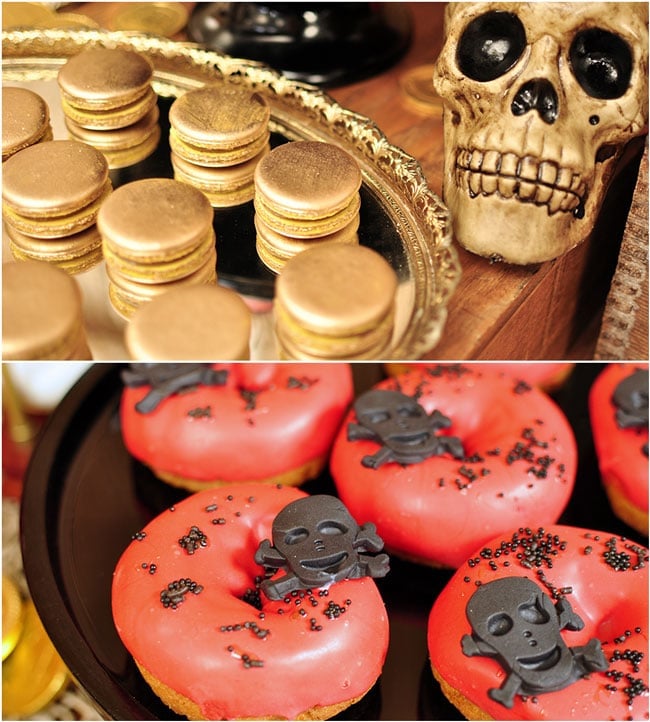 Sweet Stuph did a great job with the macaroons for the pirate and mermaid side of the desserts! The pirate ones are perfectly situated like gold doubloons. It's the perfect loot for all of the birthday guests to "steal"!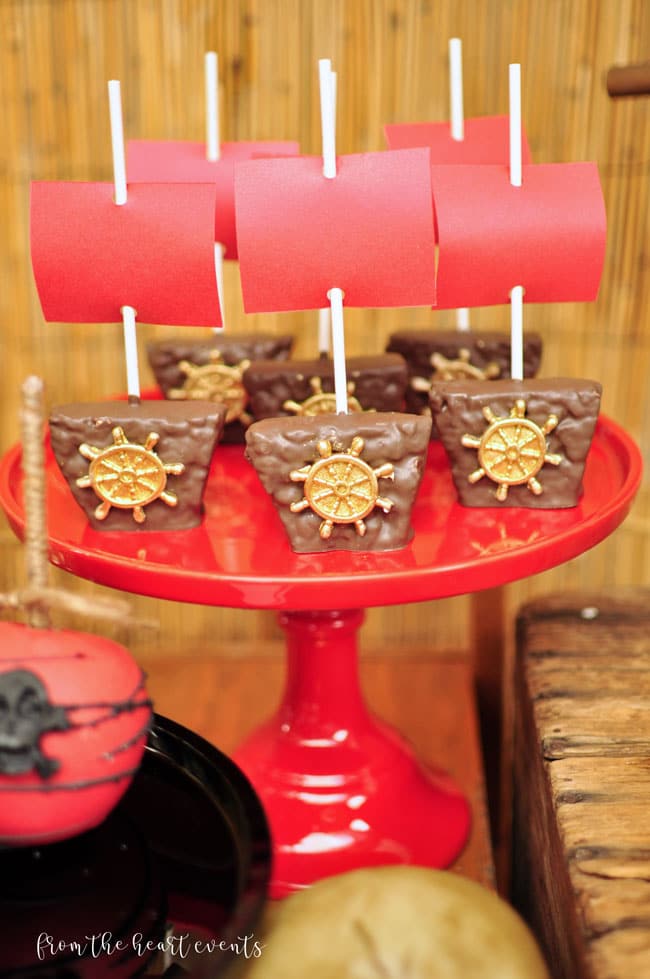 These chocolate covered Rice Krispie treat "pirate ships" were a huge hit for the birthday boy. They are almost too much fun to eat, but that sure didn't stop everyone!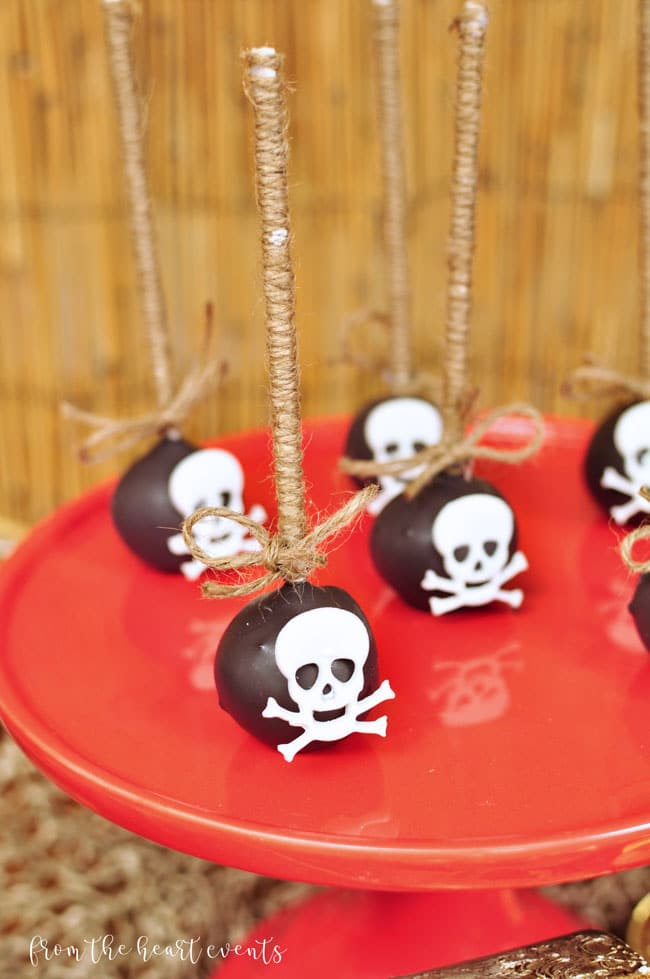 Not only are these cake pops perfectly created with the skull and cross bones on them, but we just love the twine that was used on the cake pop stick. What a great idea to create that rustic and worn look – just perfect for a pirate birthday party!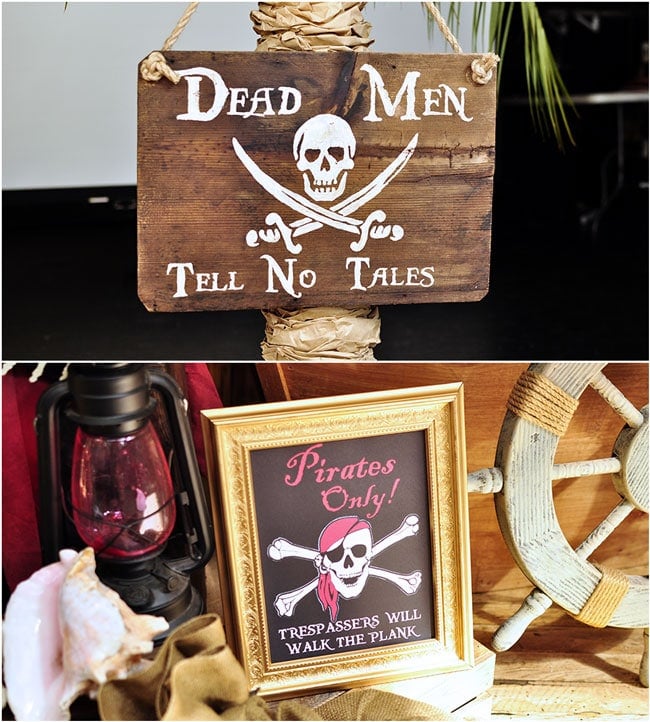 Signs placed around the Mermaid and Pirate Party were perfect! From the rustic wooden signs, to the great printed signs with pirate gold frames, they were the perfect decorations around the joint birthday party!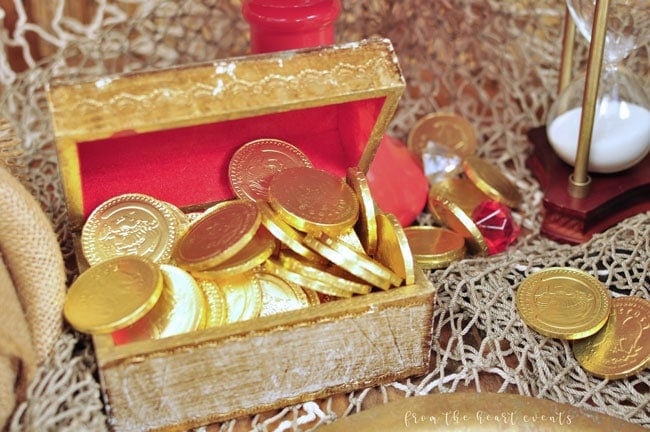 Of course, there had to be plenty of gold coins used as decorations! Even if they were chocolate covered, instead of the real deal, all of the party guests were excited to "steal" a little extra loot for their goody bags!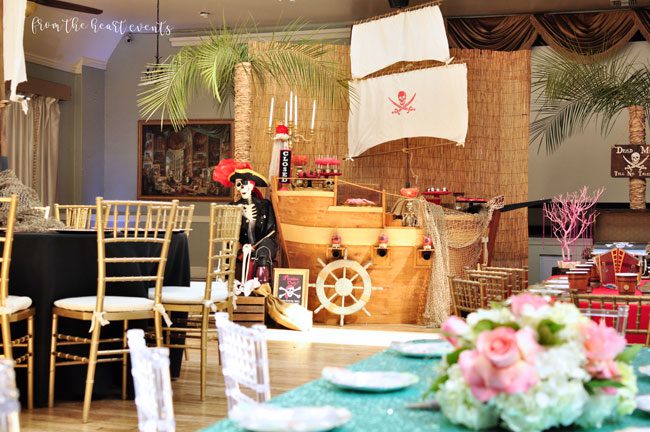 Alvarez Party Rental did a great job with the kids table set up around the Mermaid and Pirate Party! From fun flowers for the mermaid tables, to shipwrecked decorations for the pirate tables, everything looked picture-perfect!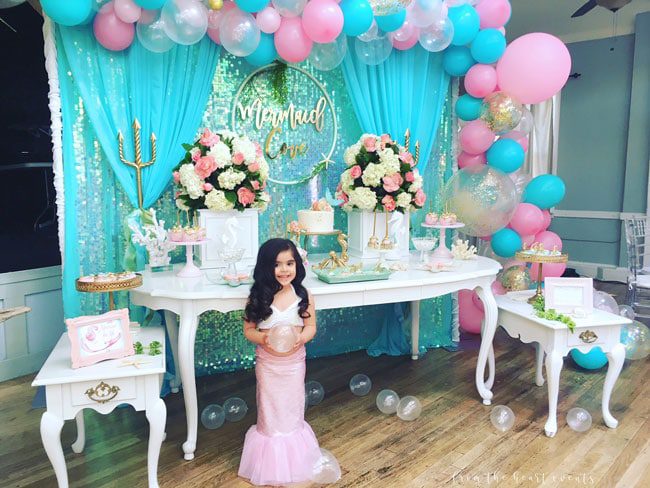 And then it was time for the sweet girl's mermaid party adventure! First of all, how amazing is this birthday girl's outfit?! We love the mermaid theme and she looks like the most beautiful little mermaid in all of the land!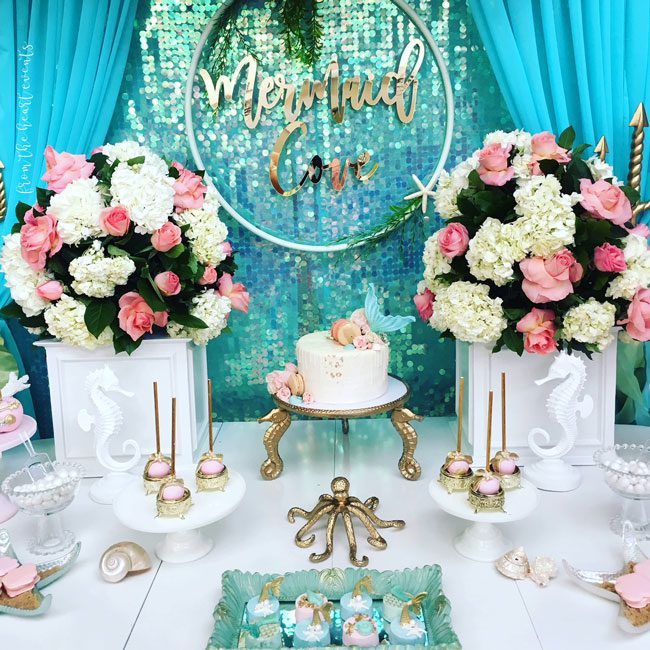 Just look at this amazing dessert tablescape for the mermaid birthday party! It is absolutely exquisite and we adore the cake stand and gold decorations that held some of the desserts. It was absolutely perfect for a little mermaid!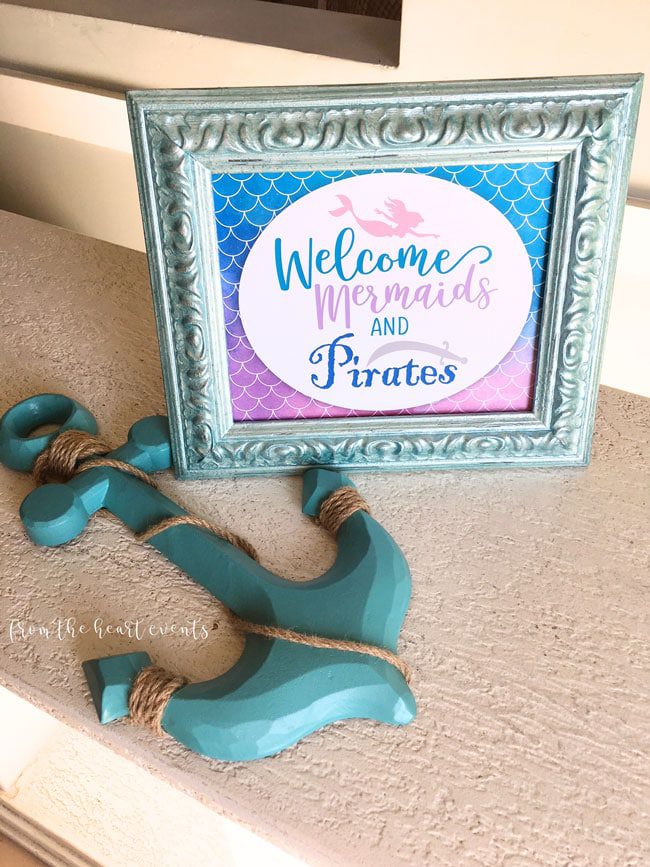 More gorgeous signs were made available for the mermaid birthday party section of the party! And look at this perfect blue anchor that was used as decor? Perfect!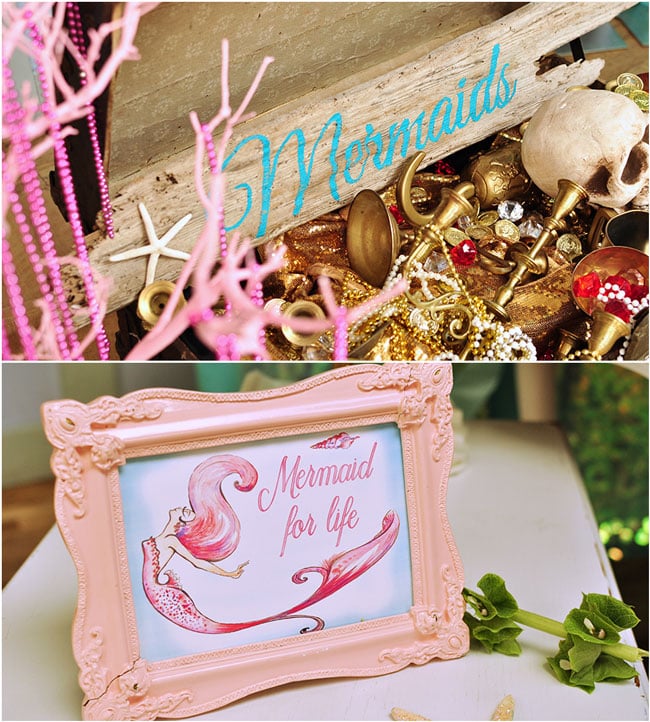 We love the driftwood feel of some of the signage that was available at the mermaid birthday party. It is the exact way you would expect a mermaid to be living her life under the sea!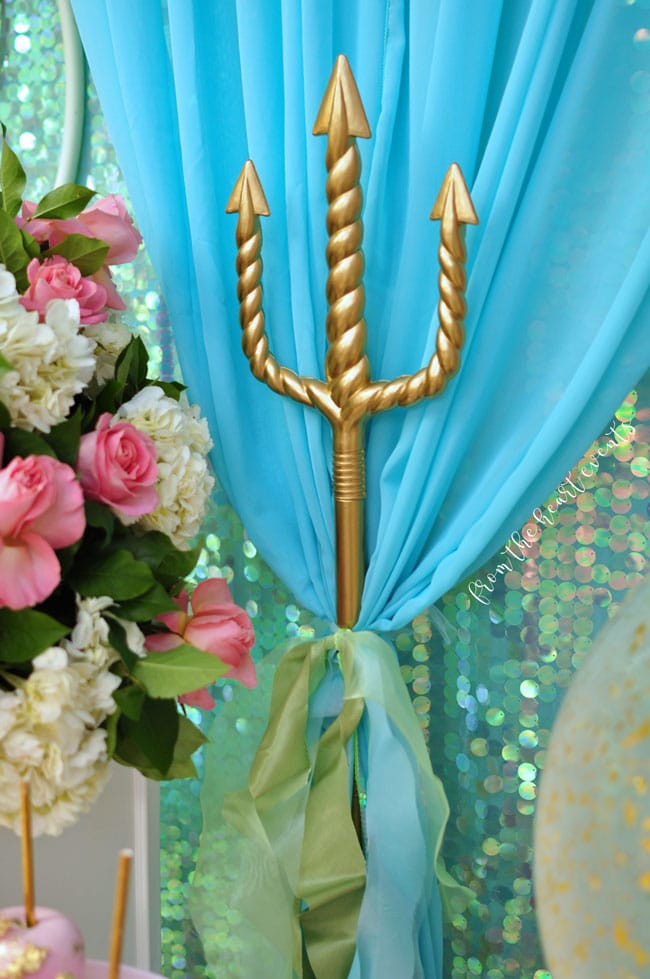 Mermaid and pirate party supplies were found everywhere around the event, even with these amazing decorations! The feel of the fabric just looks like ocean waves moving to and fro.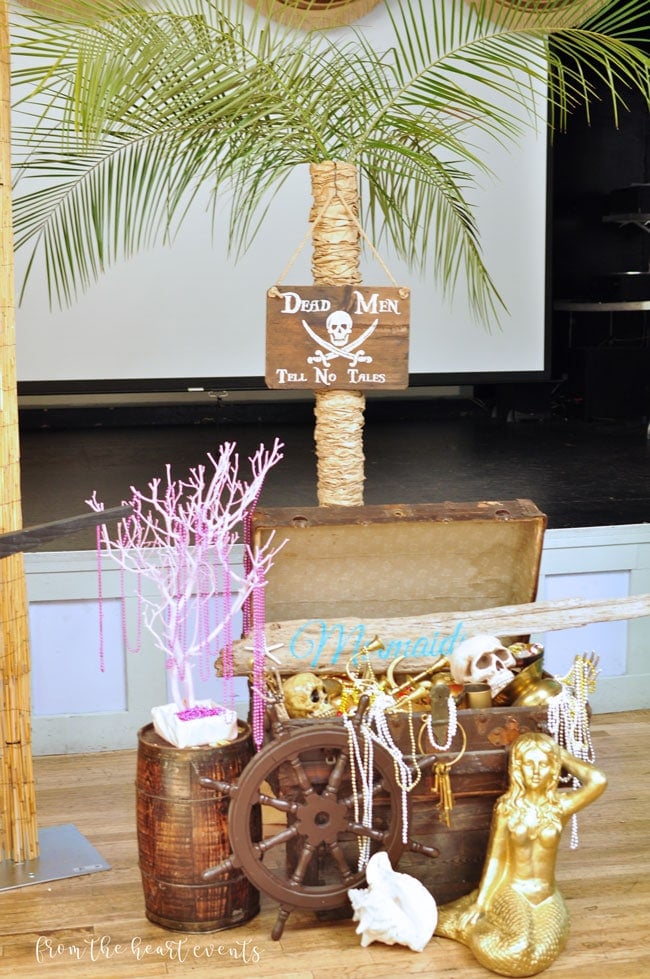 Just look at all of the treasures that were found under the sea! Even a gold mermaid was available to watch over all of the booty, so nobody would get any funny ideas!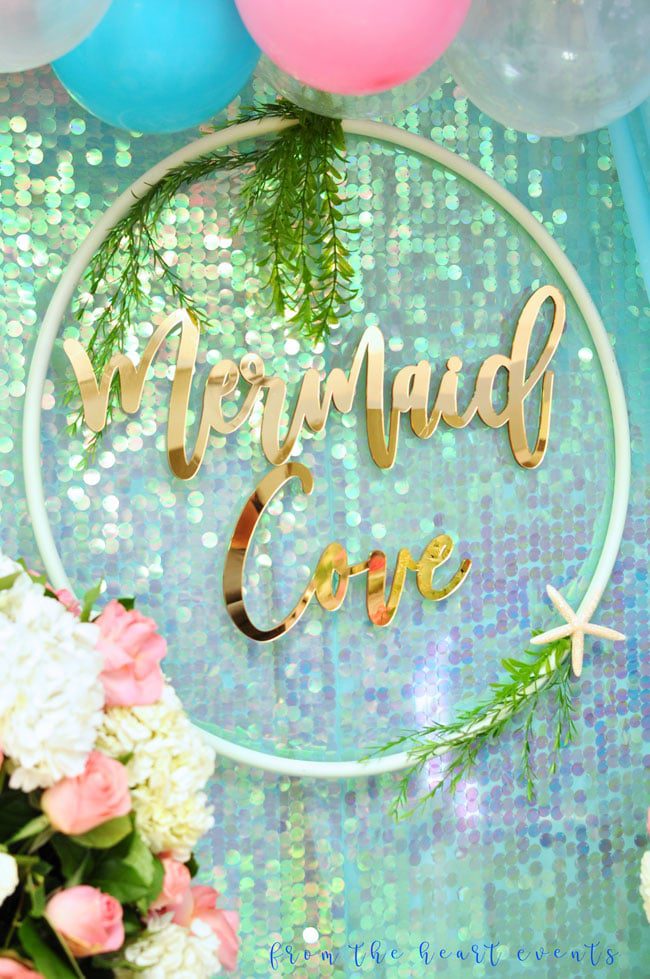 Glittery and Stylish Events created the amazing mirrored acrylic lettering that was used for the mermaid signs at the party. What great letters and it completely mirrored the events of the day, as the mermaid section of the party truly did feel like a little "cove"!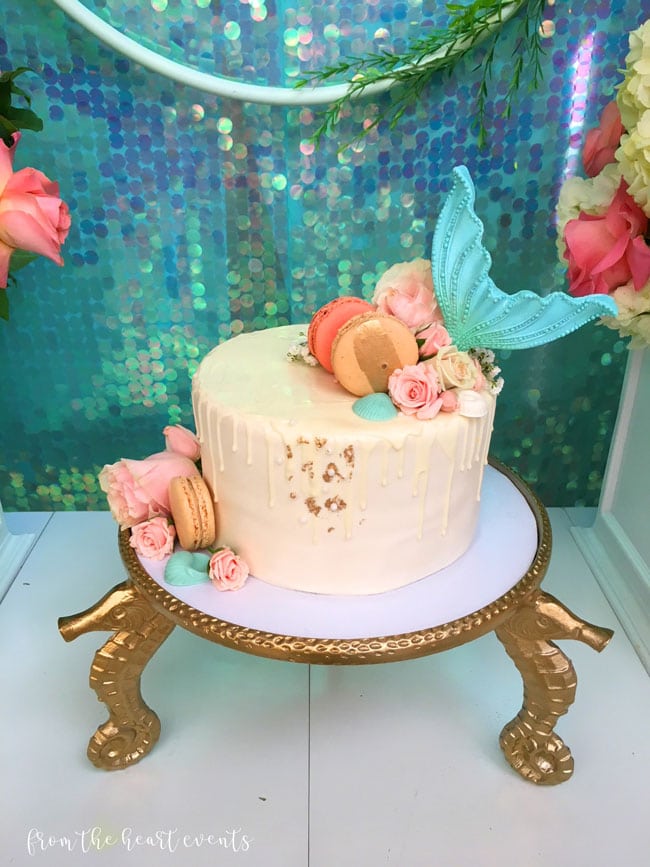 It's Bella's Cakes created another amazing cake for the mermaid birthday girl! She absolutely loved everything about this fancy cake and was so proud to show it off to all of her friends!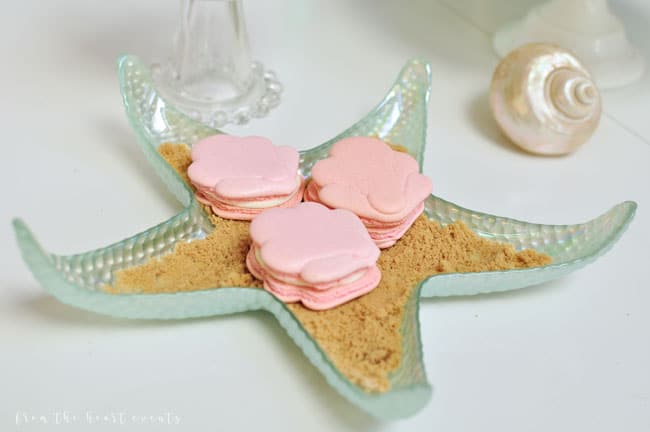 More macaroons were available to party guests in this cute star fish serving platter! Ground up some graham crackers, and it totally looks like seashells found on the sand! So creative!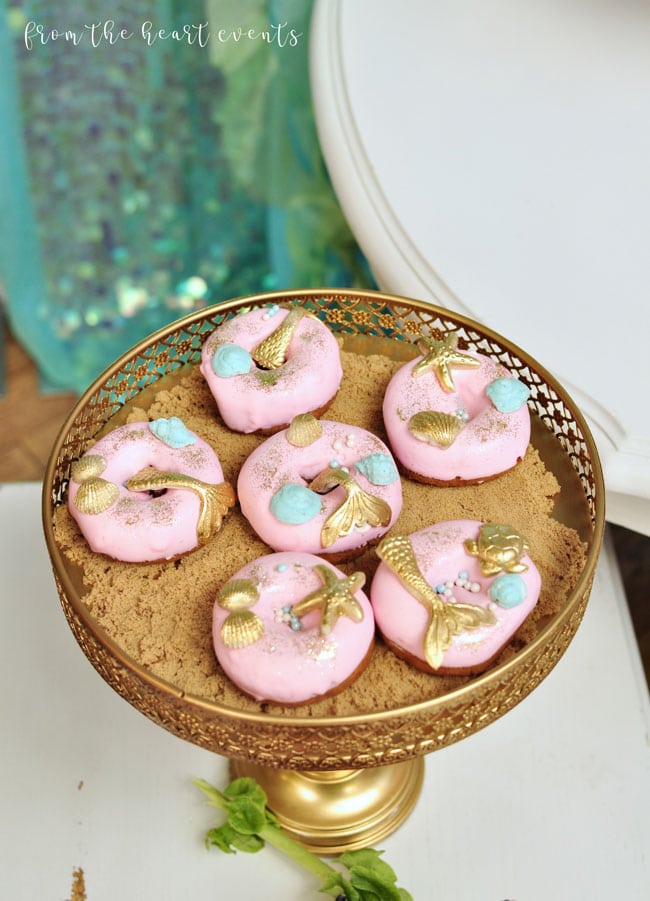 The way the desserts were decorated looks just like a bounty you could find on the beach. Bejeweled and bedazzled, everything looked perfect!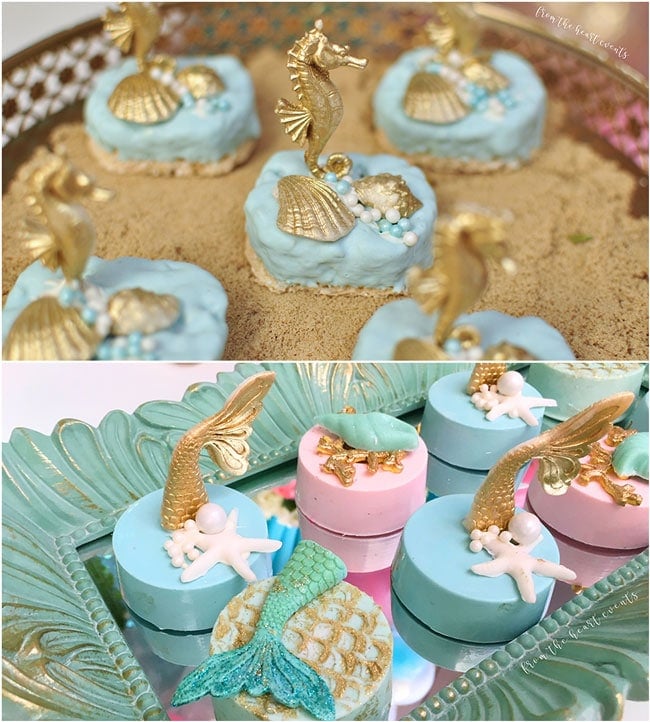 How amazing to have these mermaid tails available to decorate different cakes and Rice Krispie treats! Everything was so inviting and the perfect addition for a mermaid birthday party!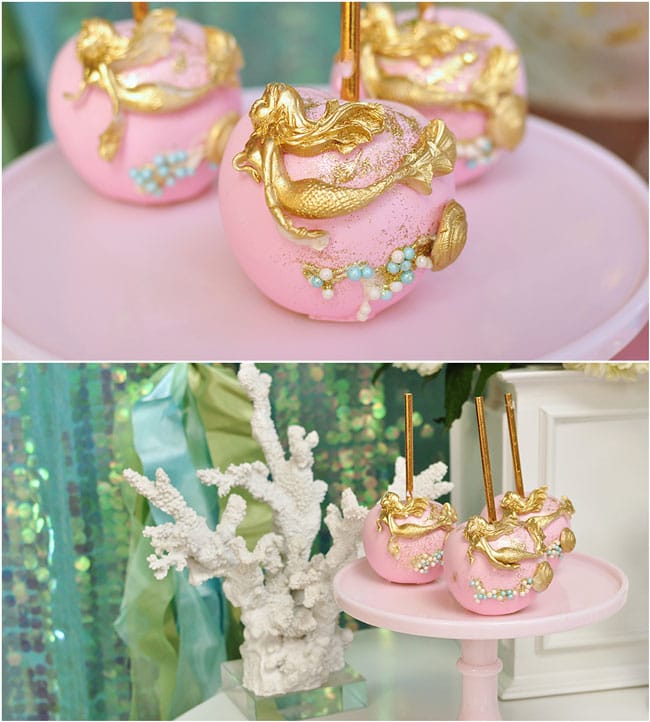 Even the cake pops looked too perfect to eat! With golden mermaids and sticks, they look like they cost a million bucks, instead of being a fun edible treat for all of the birthday guests! WOW!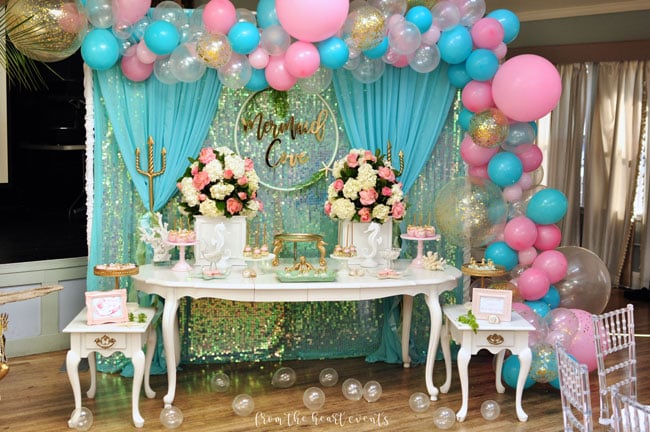 Ocotlan Party Rentals created the perfect balloon garland for the mermaid birthday party. We're not sure what could have made this Mermaid and Pirate Party more exquisite, because everything was absolutely divine! What lucky little siblings to have the perfect birthday event to celebrate their birthdays together!
Vendors & Credits
Cakes – It's Bella's Cakes
Sweets – Melody's Sweet Shop