Shiver Me Timbers, A Pirate Birthday Party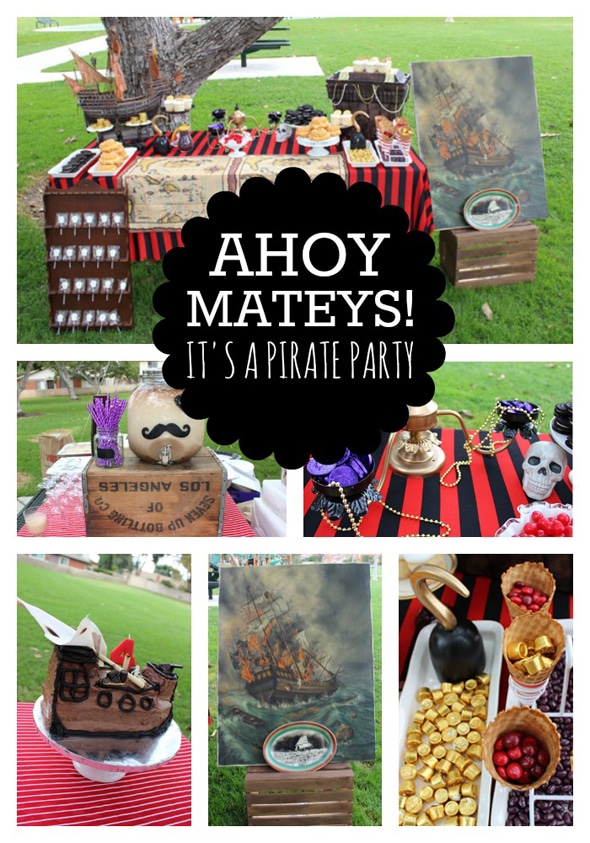 What little boy isn't obsessed with pirates? This little birthday boy sure was! He loves ALL things pirates and requested a pirate bash for him and his "crew"! So, Shiver Me Timbers, A Pirate Birthday Party was born!
Party Envy By Charlene styled the entire event, along with taking care of everything that needed to be done for this party! The color scheme for the event was red, purple, black and white, and there were awesome pirate "relics" from thrift boutiques that were wonderful additions to the theme!
The pirate ship antiques that were acquired were absolutely perfect! And all of the wonderful pirate flags and pennants that were hung around the party really turned the entire atmosphere into one of pirate splendor for all of the guests and the birthday boy. It was magical!
The party was filled with lots of treats, including a pirate themed display of desserts. The dessert table had chocolate gold doubloons, candy to match the theme, donuts, and yummy cookies!
Look at that great homemade pirate ship cake! Delicious!
The details of this dessert table were absolutely fantastic! Nothing was forgotten and the great red and black tablecloth, along with the maps so the pirate would always know where he was going, were perfect additions to the decor that was found at this great party!
There was a "plank" for the kids to walk over (beware of the crocodile!), a pirate ship piñata, and a pirate tent to take photos.
There was also a wonderful table set up for all of the kiddos to make their own art at the birthday party and decorate a big banner that was ready for them to create. How cute! And the awesome chalkboard display and signs were great details to add to the birthday party. This birthday boy was in pirate heaven!
The kids table was set up with the colors of the party and the birthday boy had his very own special "pirate" chair for him to sit in! What a big boy!
Look at these fun details at the kids table! Everyone loved the crossbones plates and the table was so festive and vibrant that you couldn't help but be excited to sit down and enjoy the day's events!
The drink dispenser was pirate Horchata, the birthday boy's favorite beverage! Party favors were pirate backpack bags with pirate hats and skull and crossbones necklaces. These little guests got to take home lots of pirate booty for their next pirate adventure!
What a wonderful party for this little birthday lad! We're sure he'll never forget this day and will always look back on it with the fun memories any little guy would have from his dream party!
Credits & Resources
Shop our favorite pirate themed party decor and gifts:
Sign up for a 30-day free trial of Amazon Prime and get free 2-day shipping on your Pirate Party products!