23 Creative Art Themed Party Ideas
WATCH THE CREATIVITY OF YOUR CHILDREN AND THEIR FRIENDS COME TO LIFE WITH THESE AMAZING KIDS PAINTING PARTY IDEAS!
Is your child super artsy? Do you always find them at their art desk creating, painting, drawing, and coloring?! If so, a paint themed party is the perfect birthday theme for your little Van Gogh, Dali, or Da Vinci! An art themed birthday party is a wonderful way to indulge your little artist's love and talent for art, and it makes for great interactive fun for their friends too.
If you're not sure how to throw a kid's art themed party, get some inspiration from these 23 Creative Art Themed Party Ideas! You will find awesome and super creative ideas for birthday cakes, party favors, party supplies, invitations, decorations, and more!
Paint Party Supplies and Decorations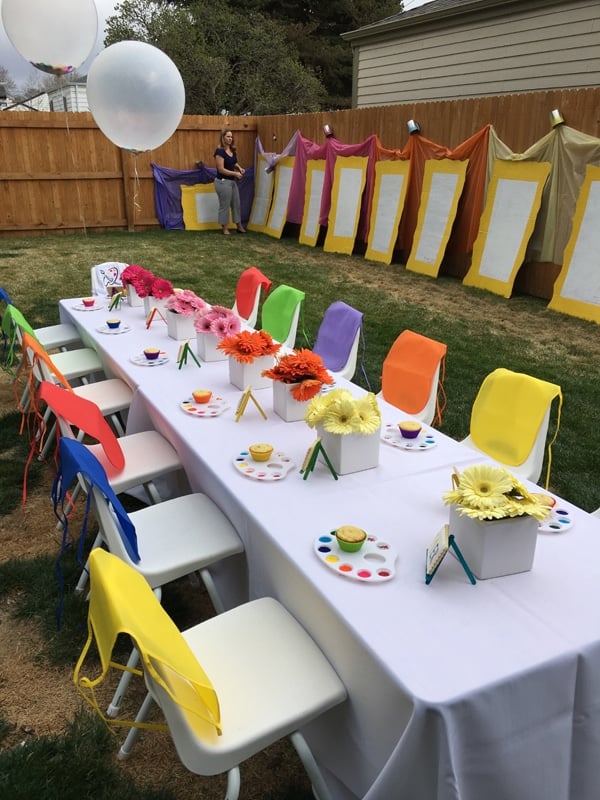 Paint Party Idea #1: How AMAZING is this Kids Backyard Art Party Setup?! Each child can pick their own art station and colorful apron based on their favorite color! The cute little multi-colored flowers on the table definitely add to the overall appeal of this gorgeous setup! Your little artist and his or her friends will surely have lots of fun with their Little Artist Party!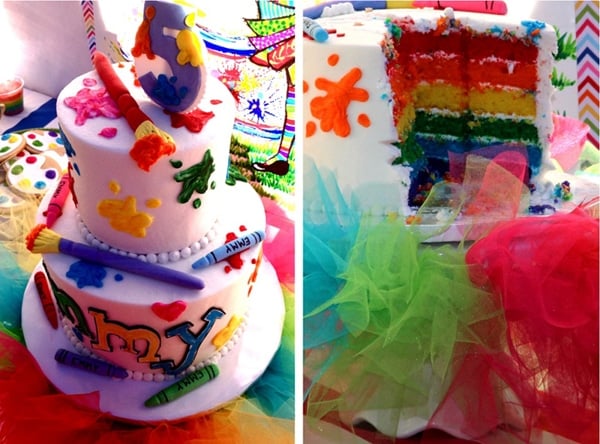 Paint Party Idea #2: A fun surprise awaits inside of this adorable Rainbow Art Party Cake that features crayons, paint and paint brushes! The scattered paint splatters and the rainbow tulle decor make this quirky cake even more amazing.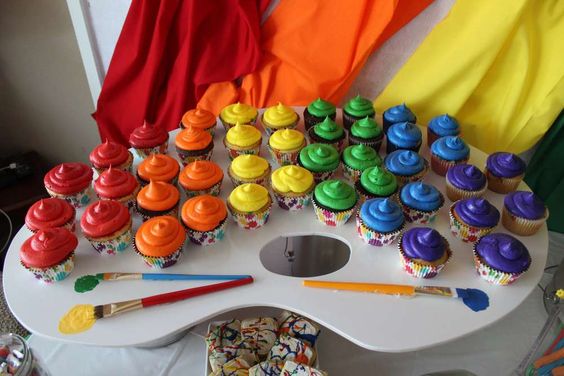 Paint Party Idea #3: How clever are these Rainbow Art Party Cupcakes?! From the cute rainbow-colored icing to the creative artist's palette plating, this dessert table centerpiece will definitely be the center of attention in your kids painting party.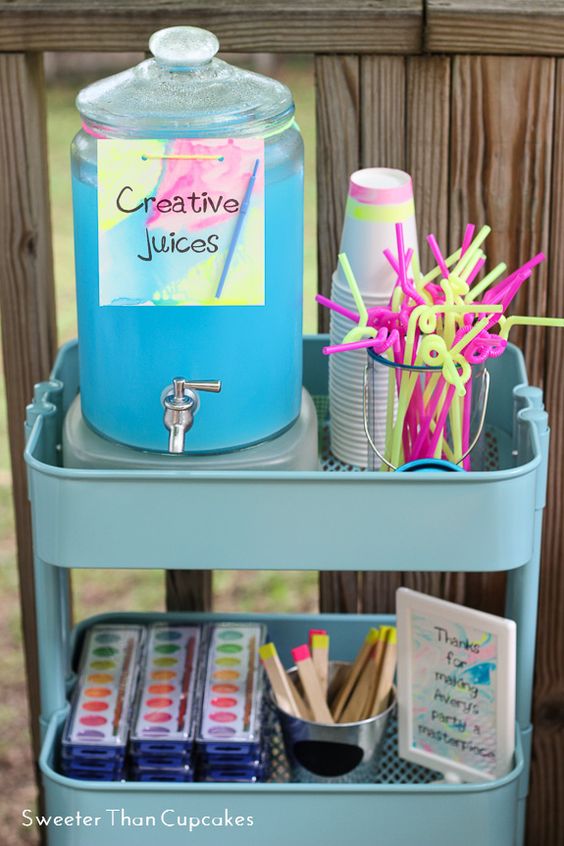 Paint Party Idea #4: This "Creative Juices" Beverage Station is such a cute idea for your child's art party! The little ones will have lots of fun refilling their creative juices whenever they go for a drink at your awesome painting birthday party!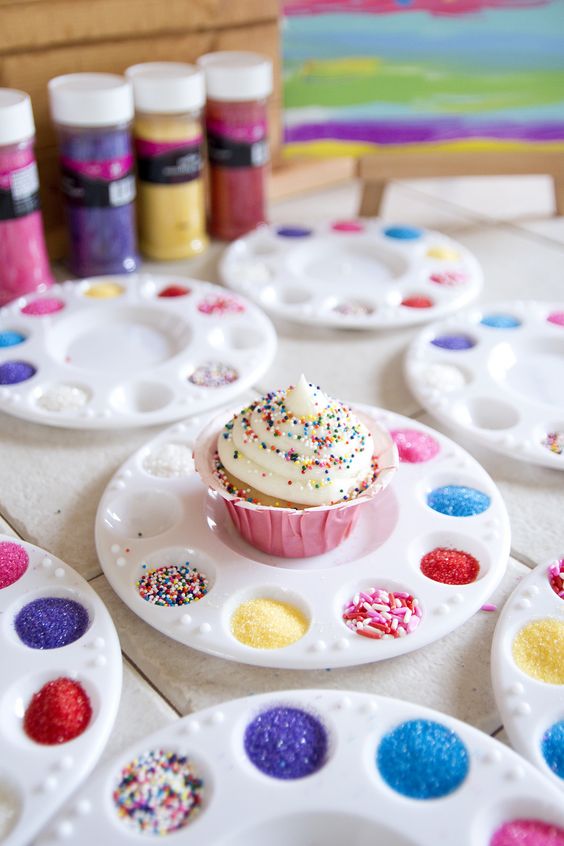 Paint Party Idea #5: What better way to be creative in a painting party at home than to let the kids have fun decorating their own cupcakes? Every art themed party needs a Little Artist Cupcake Decorating Station!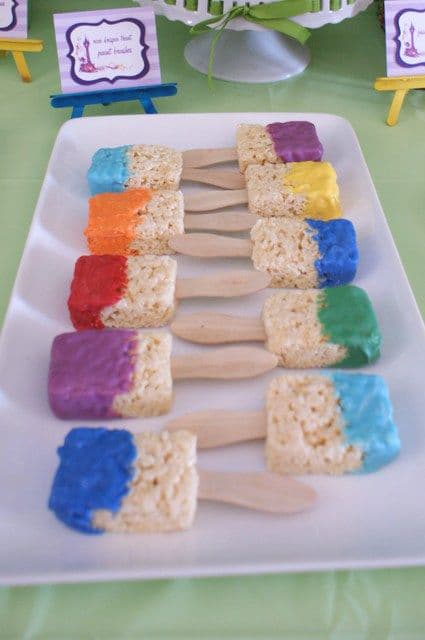 Paint Party Idea #6: Looking for quick and easy art party ideas for your dessert table? These Rice Krispie Paint Brushes are super easy to make and are the perfect treat for an art party!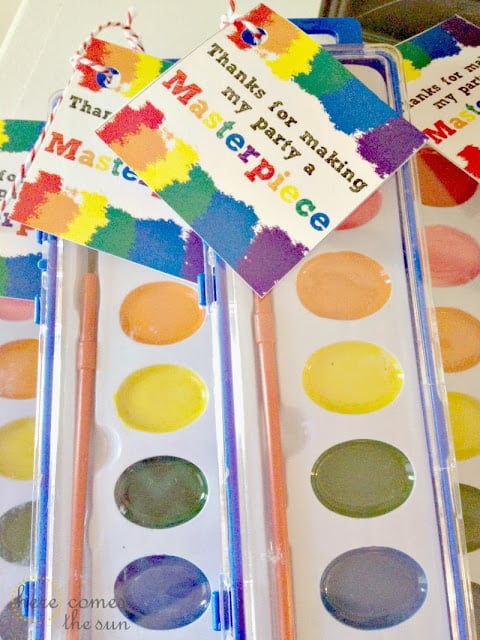 Paint Party Idea #7: These Watercolor Party Favors are a no-brainer for an art party. Attach a cute tag like the one above for the perfect take-home! You can find many affordable watercolor sets like these ones from the Dollar Store or regular craft stores, so they are super convenient and gentle on the wallet!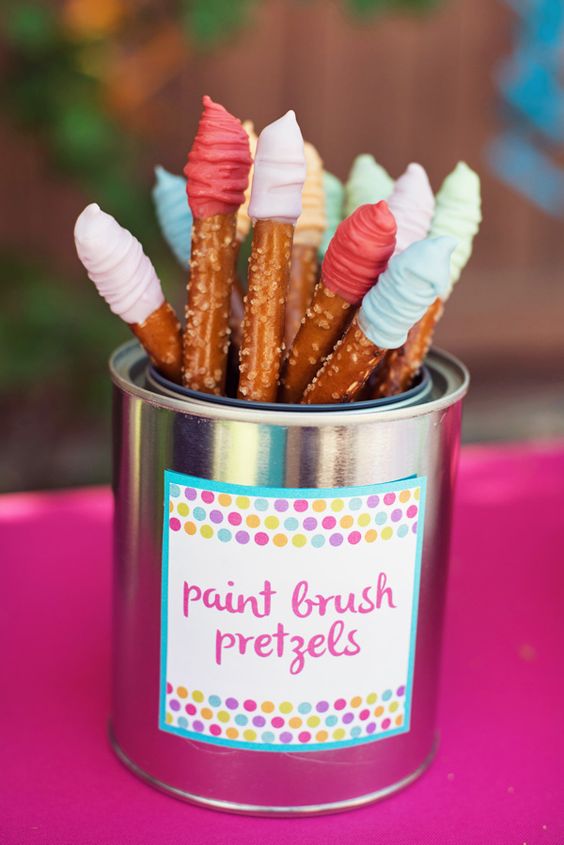 Paint Party Idea #8: Get ready for more creative use of yummy food coming your way! These Paint Brush Pretzels are another cute and easy idea for your party! They're a great snack for the kids on the go who love running around from one activity to another too!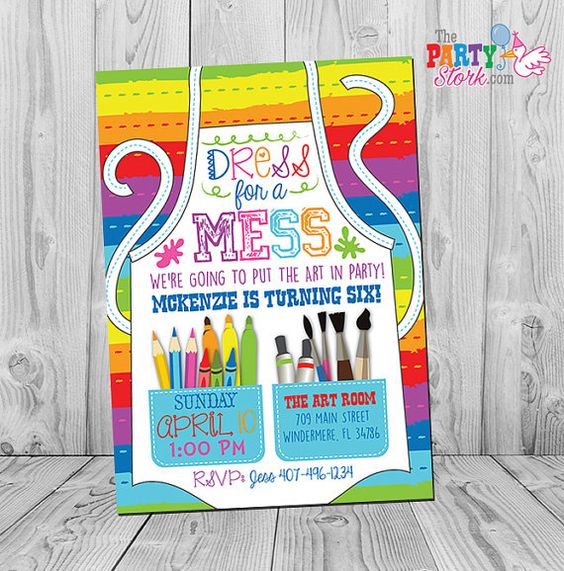 Paint Party Idea #9: We LOVE this "Dress for a Mess" Art Party Invitation! Let your party guests know beforehand that they're going to have a ton of fun making a mess at your canvas painting party and they're definitely going to be super excited to attend!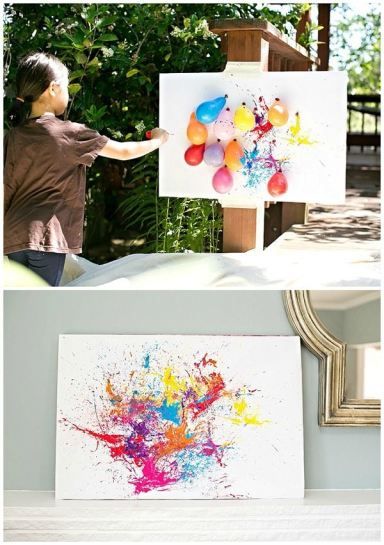 Paint Party Idea #10: If you're looking for something different for your party, try this Dart Balloon Painting Idea. It will make for a super fun party game and awesome paint party favors all in one!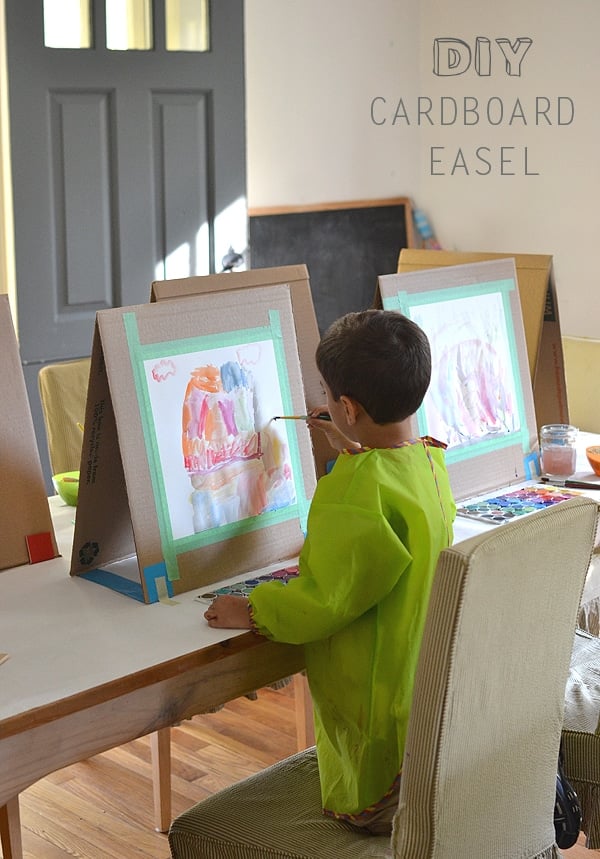 Paint Party Idea #11: Who says you need to drop some major cash on expensive easels for your paint night for kids? Check out how to make this DIY Cardboard Easel for your art party.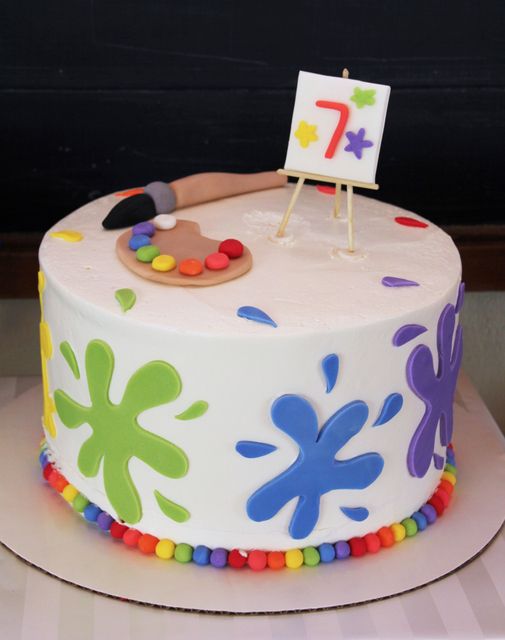 Paint Party Idea #12: This sweet Art Birthday Cake features an easel with the guest of honor's age… how cute! The cute rainbow buttons at the bottom make it super festive too and one of the best painting birthday party ideas around.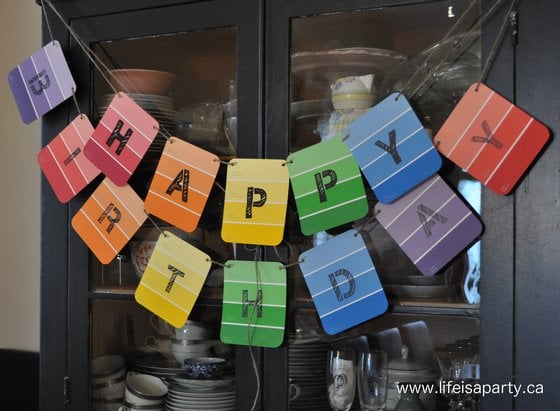 Paint Party Idea #13: Grab some color samples from your local paint store to make this clever DIY Paint Sample Birthday Banner! It's super cute and can work for all ages, so if you need cool paint party ideas for tweens, then you're going to love this one!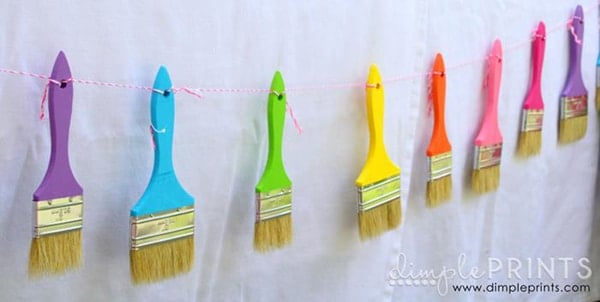 Paint Party Idea #14: Don't know where to get some awesome paint party supplies or paint party decorations? You don't have to look far away. This Colorful Paint Brush Garland makes a great party decoration and you can get them at your local paint or crafts store!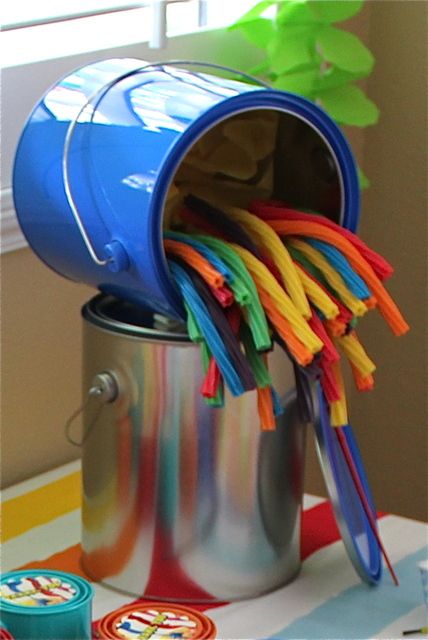 Paint Party Idea #15: This Clever Art Party Decoration features colorful licorice made to look like paint coming out of the paint can… GENIUS! Add this clever idea to your dessert or candy table and the kids will eat them up!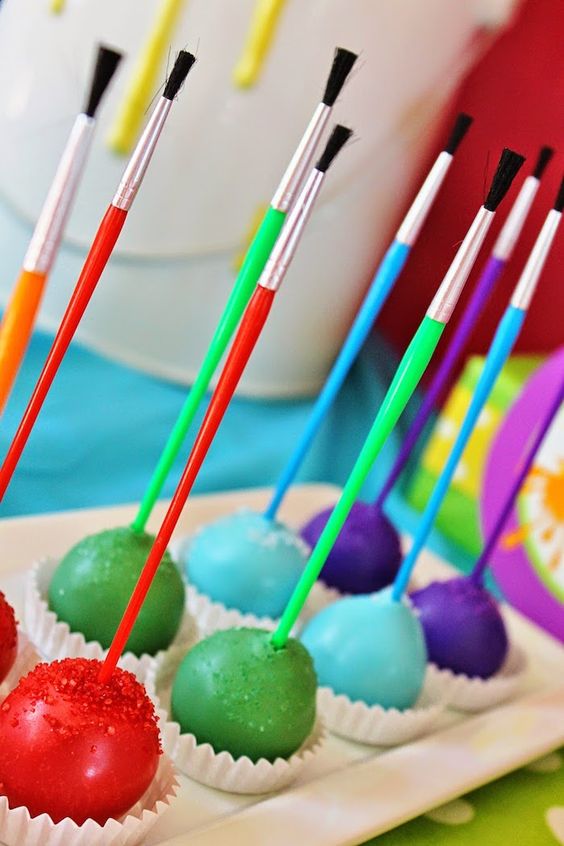 Party Idea #16: These Paint Brush Cake Pops are perfect to add to the sweets table. What a clever use of the painting – art theme!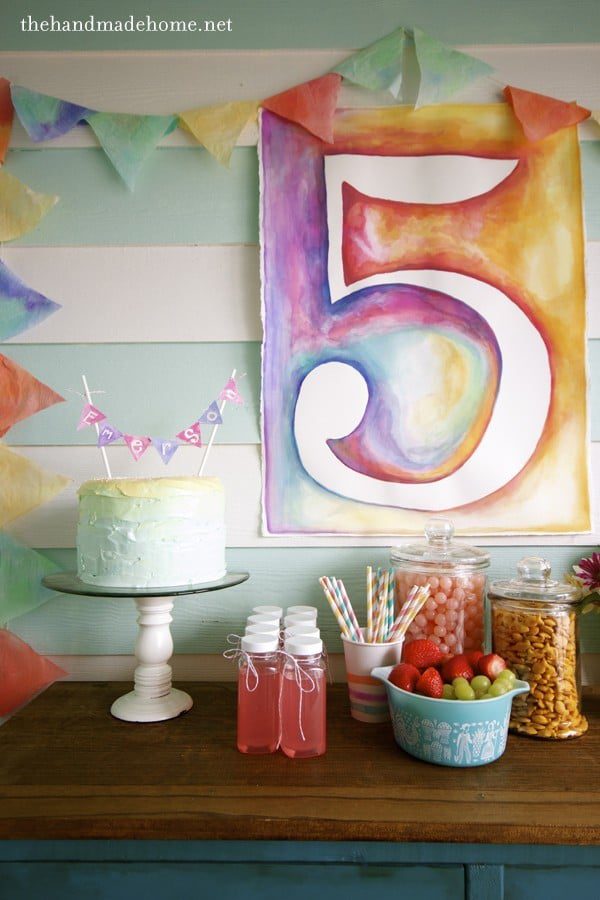 Paint Party Idea #17: How pretty are these Watercolor Art Party Decorations?! You can make them yourself or enlist your little artist to help make them! Nothing says art party like a watercolor cake topper, bunting and number sign!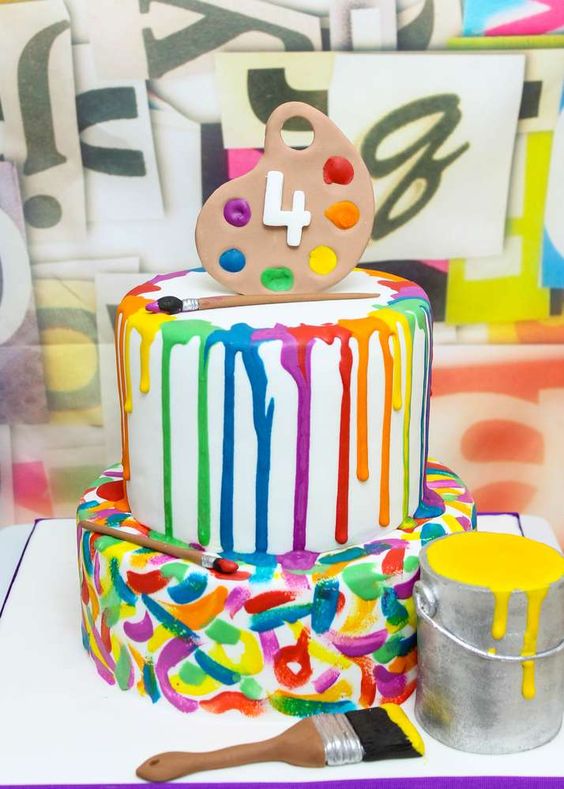 Paint Party Idea #18: This vibrantly colorful Little Artist Birthday Cake would make a great centerpiece on your dessert table! We love the paint palette cake topper, can of paint and paint brush details too!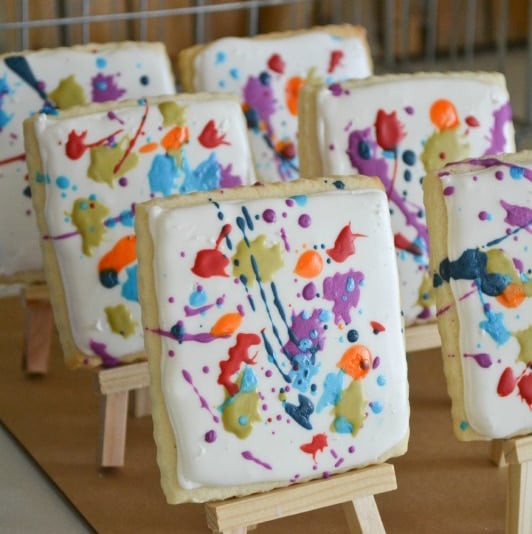 Paint Party Idea #19: These Art Easel Party Cookies are just too PERFECT for this theme. These cute little sugar cookies with abstract art on tiny easels are almost too good to eat. What a great party idea!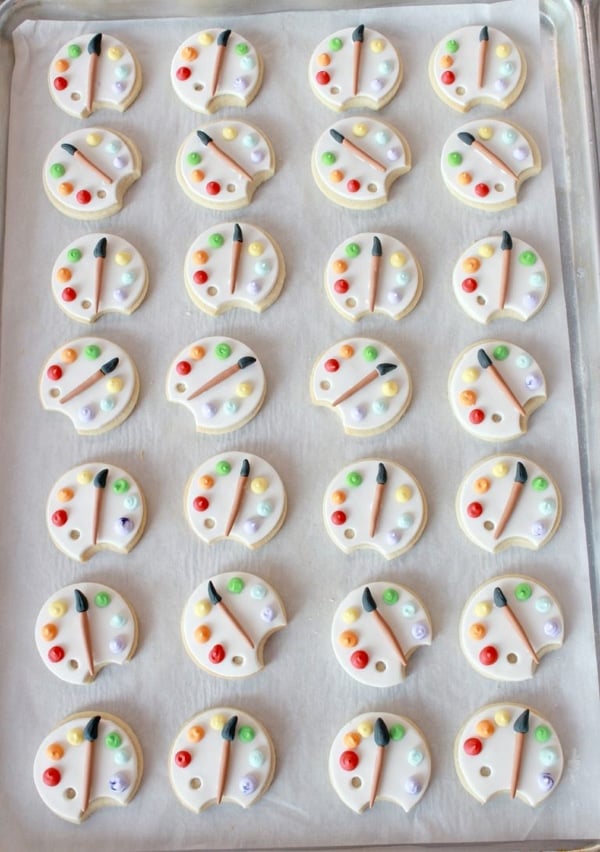 Paint Party Idea #20: Learn how you can make these cute cookies for your party with this Artist Palette Cookie Tutorial. These delicately decorated sugar cookies are definitely one of the most classy paint party themed desserts around.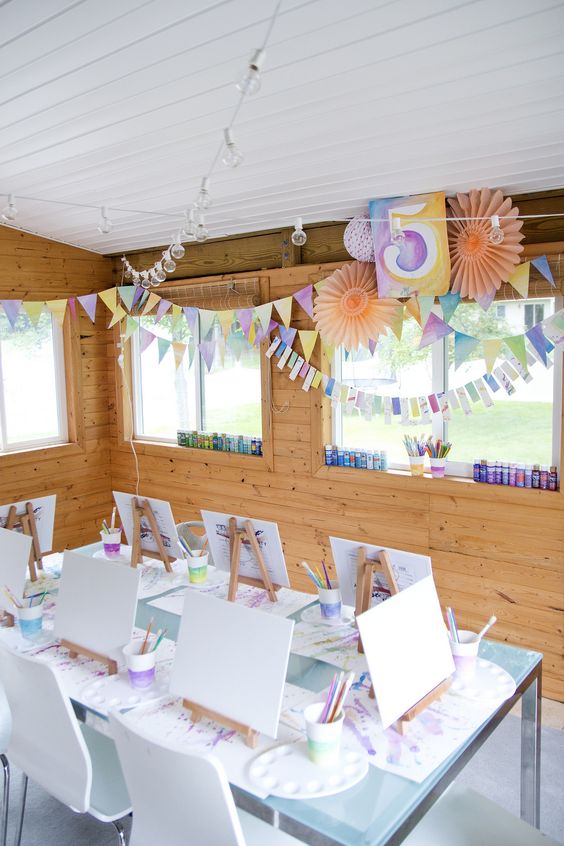 Paint Party Idea #21: For a light and airy art party, go with a watercolor and pastels theme like this one. We love this party setup with this Watercolor Artist Party Table and Decorations.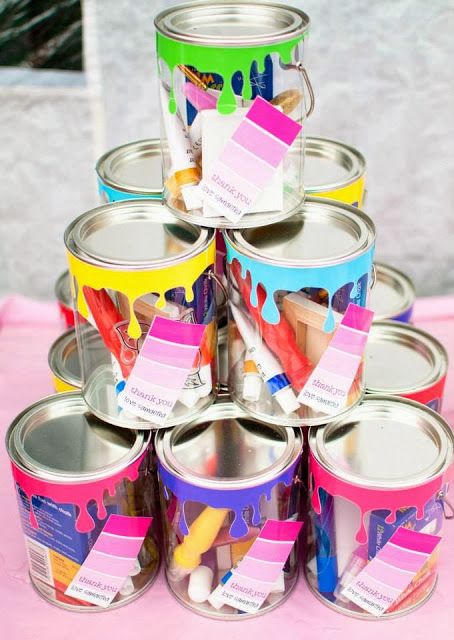 Paint Party Idea #22: How creative is this Paint Can Party Favor idea?! There's even paint swatch favor tags included! LOVE! If you're still in need of party favors for your art party, you can't go wrong with these ones.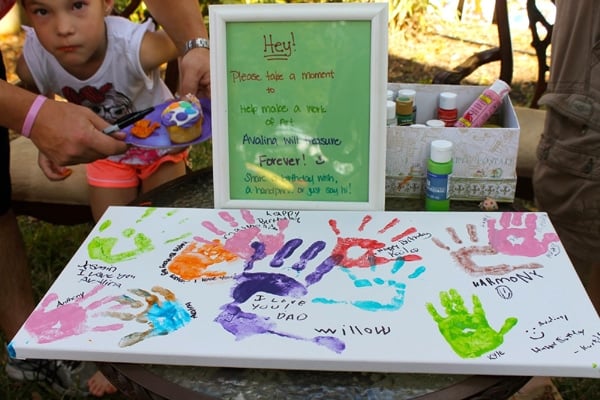 Paint Party Idea #23: This Little Artist Guest Book Idea is a great memento to keep for years to come. Your little artist will surely love looking back at the fun times during his awesome kids painting party.
Which of these 23 Art Themed Party Ideas are your favorites? Let us know in the comments below!
For more party ideas, follow us on Instagram @prettymyparty and Pinterest and join us in our private Facebook group.
SaveSave
SaveSave
SaveSave
SaveSave