35 Free Halloween Printables
If you're looking for Halloween printables, you've come to the right place! Grab one of these Free Halloween Printables to add to your Halloween fun!
Halloween is the perfect time to throw a party! There are so many fun things you can do, whether it be kid-friendly, spooky, a costume party, and more!
Free Halloween printables are awesome! From invitations to door signs, they're great to use not just for Halloween parties in the home but also in school and in other venues that you're hosting the Halloween party at.
And so we've curated this super helpful list of Halloween printables that you and your kids will like. These will not only help your kids have a blast during Halloween, they will also encourage your kiddos to develop their crafting and coloring skills!
What's more, some of the Halloween printables in this list are designed to keep your kids busy, busy, busy. Why? Because coloring and crafting are fun activities that will keep them occupied and entertained at the same time. Plus, it's so easy. Just print them out and hand them over to your kids. Don't forget to give them some Halloween-inspired snacks while they're at it.
Are you ready?! Come and check out our list of favorite 35 free Halloween printables that you can use for your home, haunted house or any Halloween party!
Halloween Printables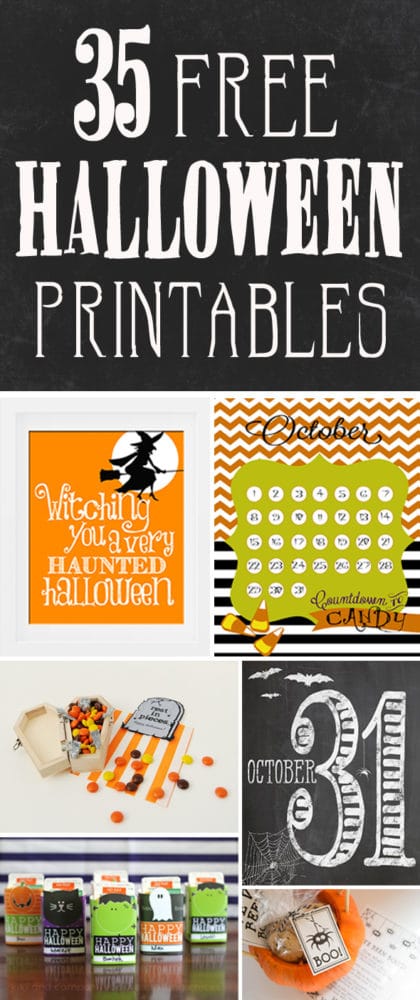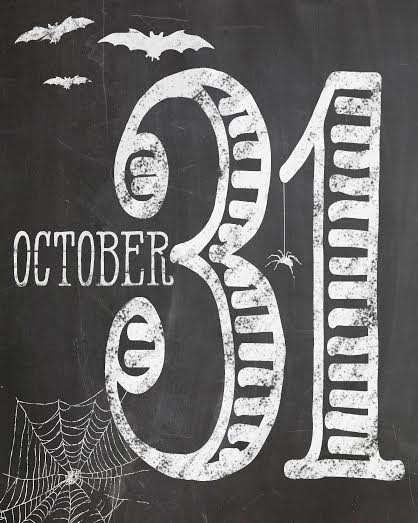 Halloween Printable #1: This October 31 Sign would make an excellent addition to your Halloween decorations. Just print it out, put it in a frame and put it on a table together with a couple of candelabras and some pumpkins. Easy peasy!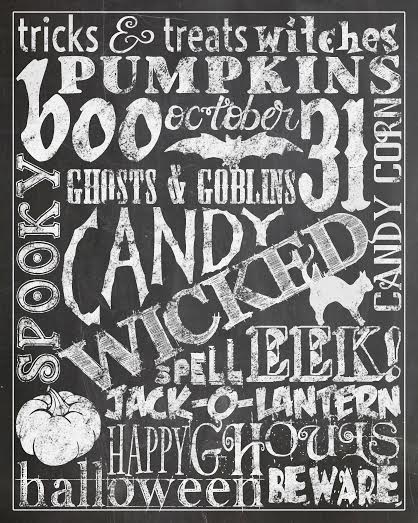 Halloween Printable #2: Another great sign to decorate your home with. This black and white Subway Art Halloween sign would perfectly complement a vintage-themed Halloween party.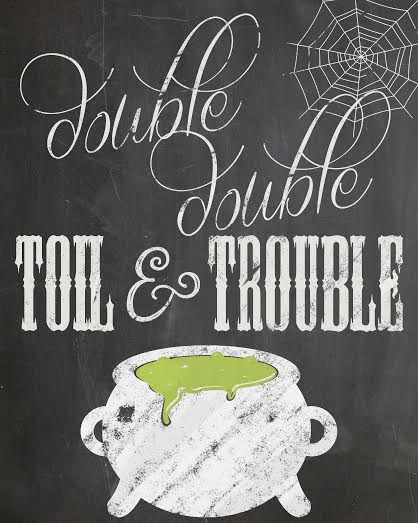 Halloween Printable #3: How frightfully delightful is this Toil and Trouble Sign? Use it as a decor or place it as a sign on your refreshments table. You can even use it as an invitation. Just post the party details on the other side.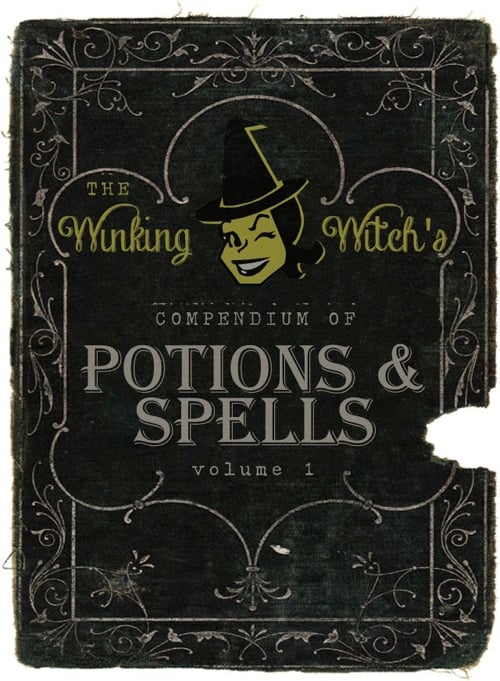 Halloween Printable #4: If you're looking for free vintage Halloween printables, we've got the right one for you. Get in on the fun with this vintage retro themed Halloween Spell Book Printable.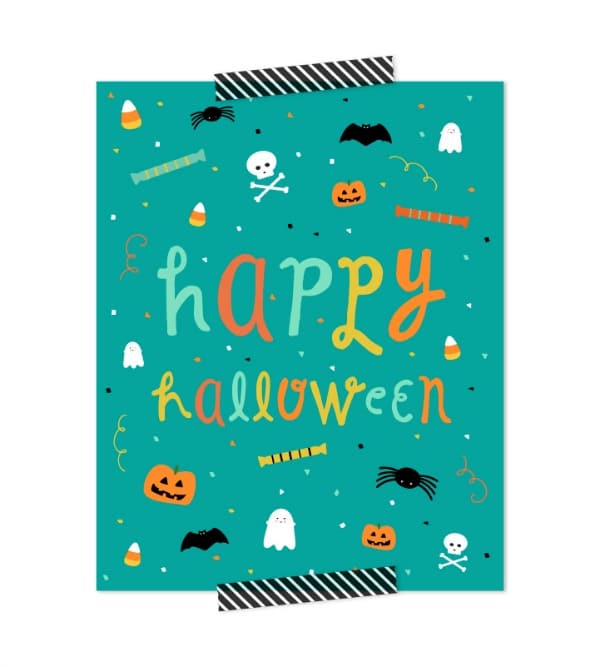 Halloween Printable #5: If you're searching for something that's a bit more contemporary, check out this super cute Kid's Halloween Sign. It would make the perfect door sign, don't you think?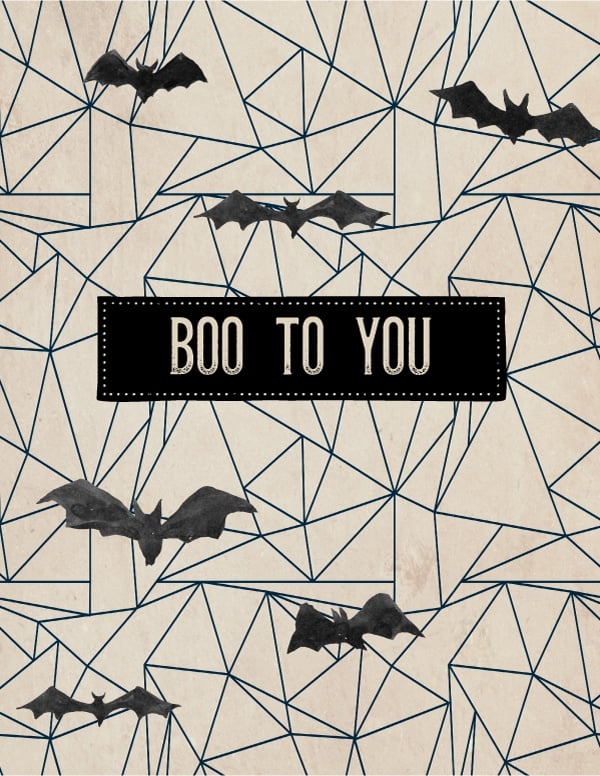 Halloween Printable #6: Check out this spooktacular Boo To You Printable. It's a must if you're on the lookout for free printable Halloween invitations.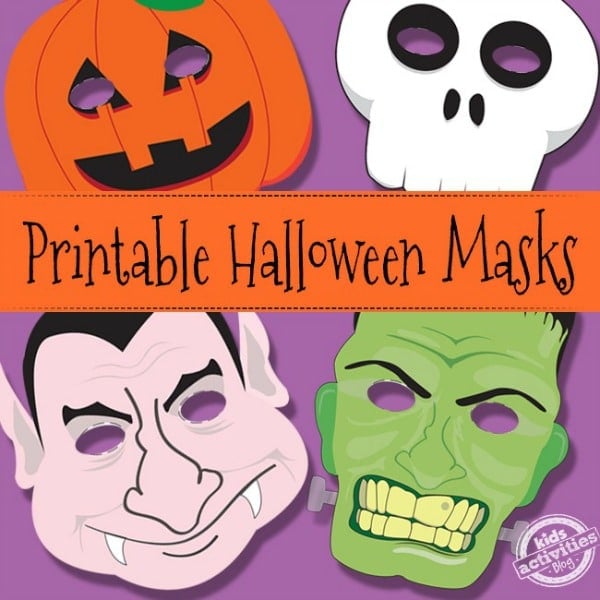 Halloween Printable #7: What's a Halloween party without some party masks? These Kid's Halloween Masks featuring Dracula and Frankenstein should perfectly complement your kids' costumes!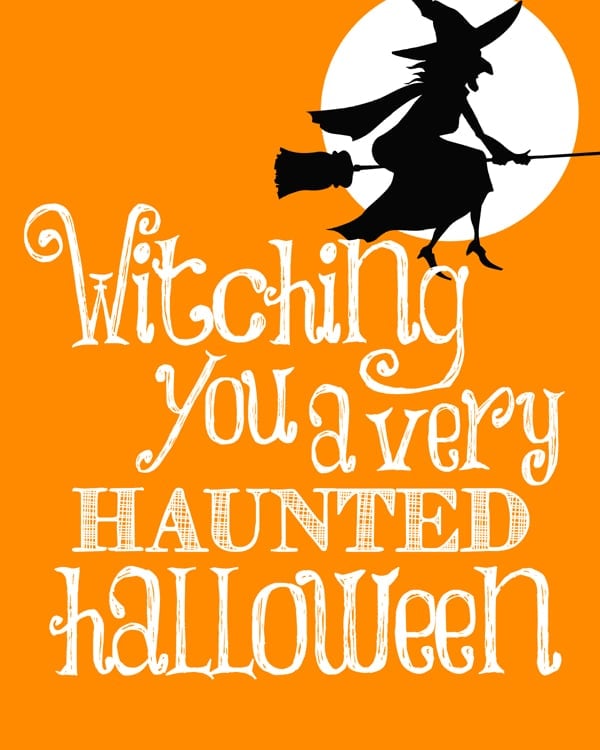 Halloween Printable #8: Now here's a cute Halloween Witching Sign that your kids can give to friends and loved ones. Pair it up with a pumpkin basket full of goodies and they should make for the perfect giveaways, too!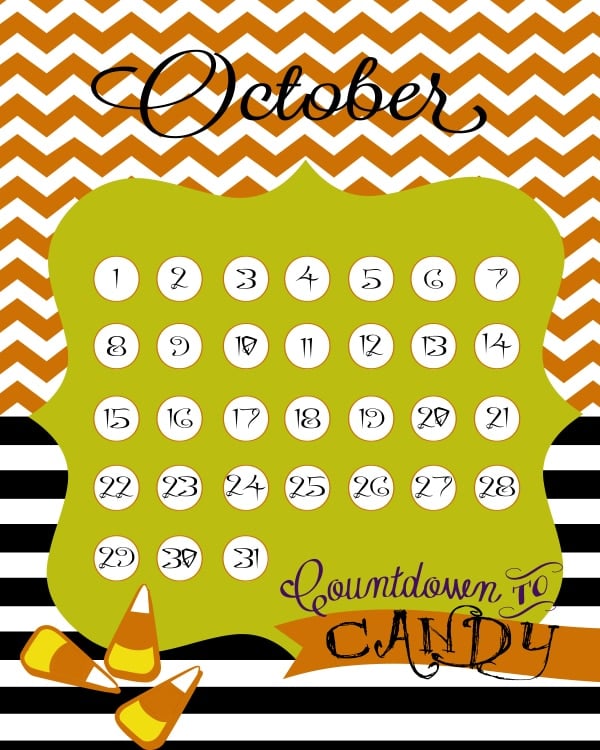 Halloween Printable #9: For the kids who simply can't wait for Halloween, build up their excitement with this free Halloween Countdown printable. Frame it or clip it on the fridge, just make sure to place it where everyone can see!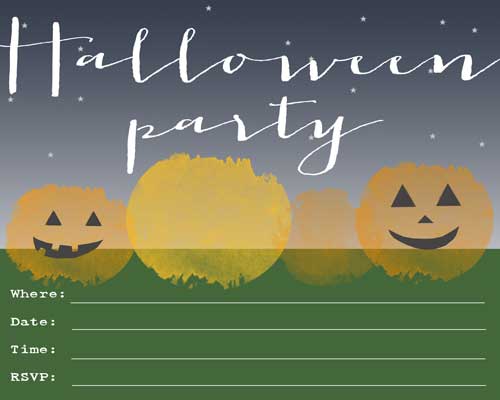 Halloween Printable #10: On the lookout for a Free Halloween Party Invitation? This cute invite should do the trick!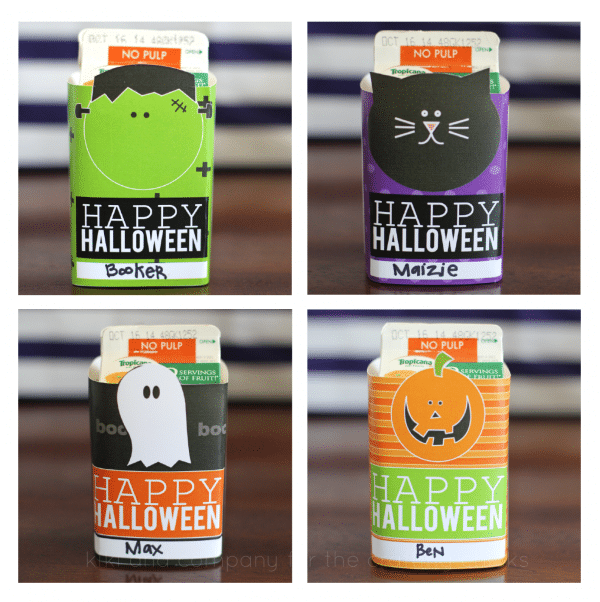 Halloween Printable #11: Whether your kids are in preschool or elementary school, they're sure to love this idea! Dress up your plain old juices with these oh so fun Juice Box Covers!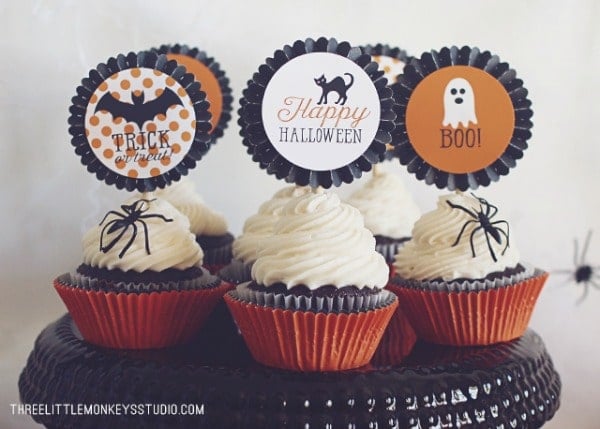 Halloween Printable #12: What's a Halloween party without some spooky yet yummy treats? Make those cupcakes fancy with these ultra-fab Circle Decorations.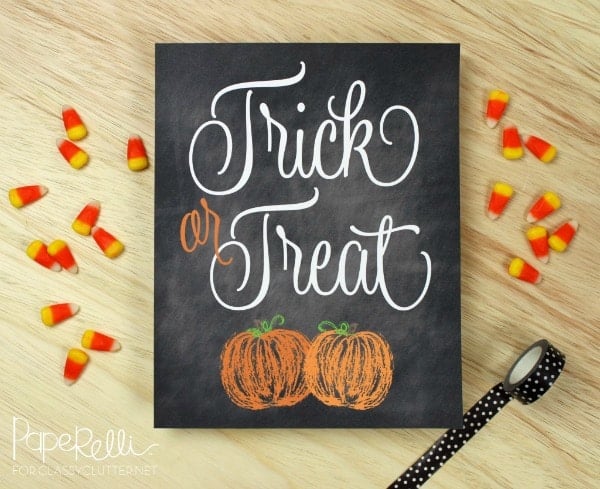 Halloween Printable #13: There's nothing like a Trick or Treat during Halloween! So get everyone in on the fun with a Halloween Countdown, Sign and Game!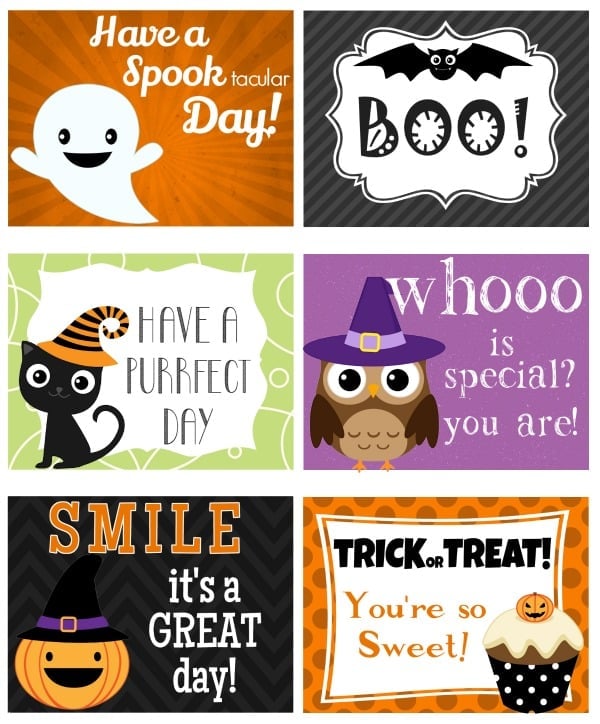 Halloween Printable #14: Make your kids' lunch extra special with these Halloween-inspired Lunch Box Notes! Your kids are sure to love finding these little surprises inside their lunchbox.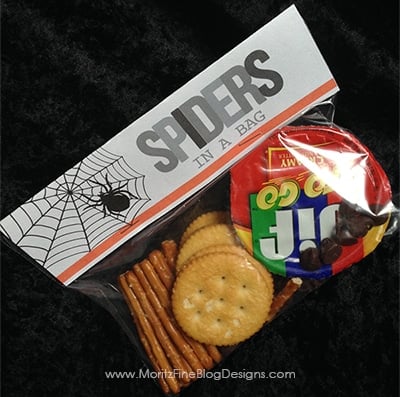 Halloween Printable #15: This Spider Treat Bag Topper Printable would be a delightful way to dress your kids' lunch. This would also make an awesome Halloween party favor!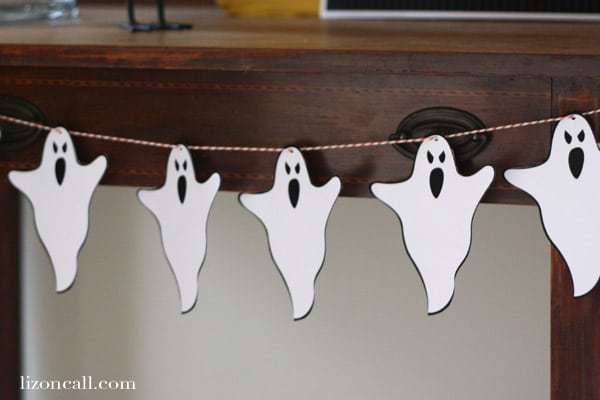 Halloween Printable #16: If you're looking for Halloween decor that's easy to DIY, then this Ghost Banner is for you. It's super easy and fun to do that you and your kids will have a blast making it!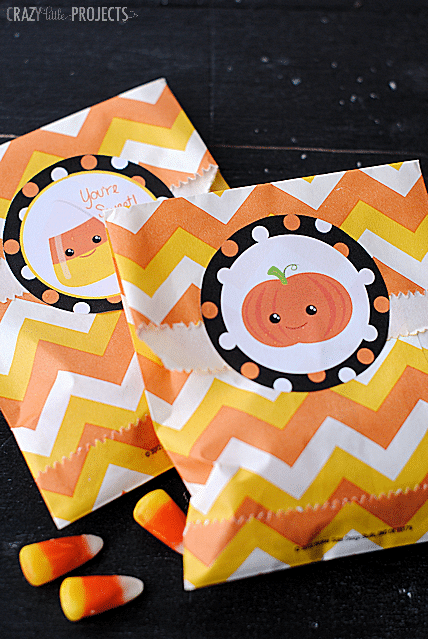 Halloween Printable #17: How adorable are these Halloween Stickers? These would make such awesome additions to your trick or treat bags!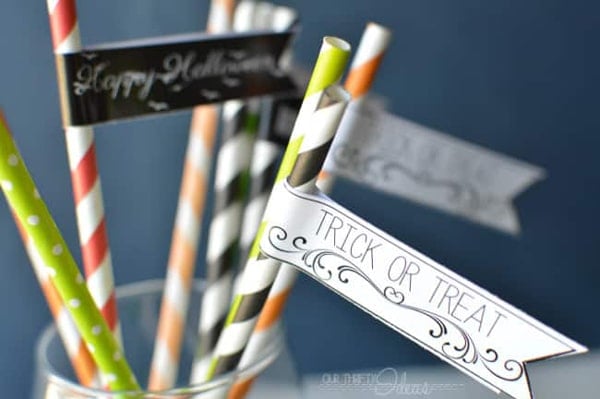 Halloween Printable #18: It's the details that make a Halloween party special. Decorate your Halloween drinks with these fabulous Straw Flags!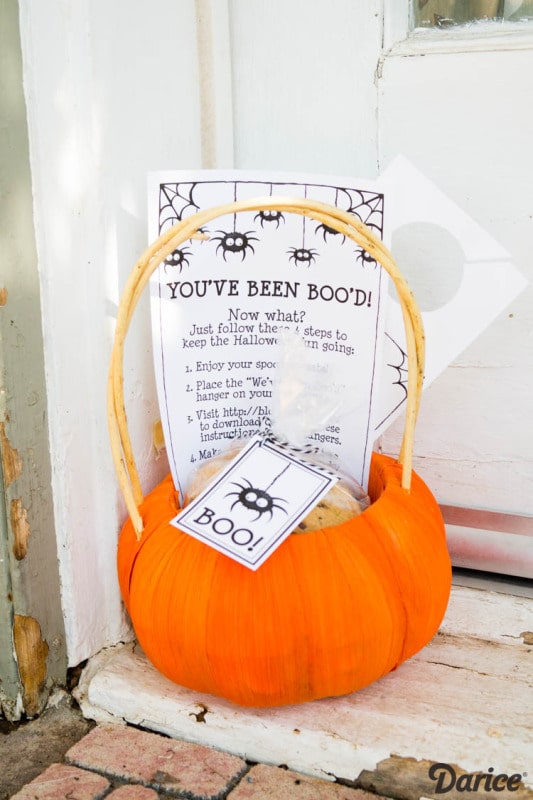 Halloween Printable #19: To spread the Halloween fun, why not dress up your giveaways with these You've Been Booed Printables?! These free printables would look totally awesome with your goody bags.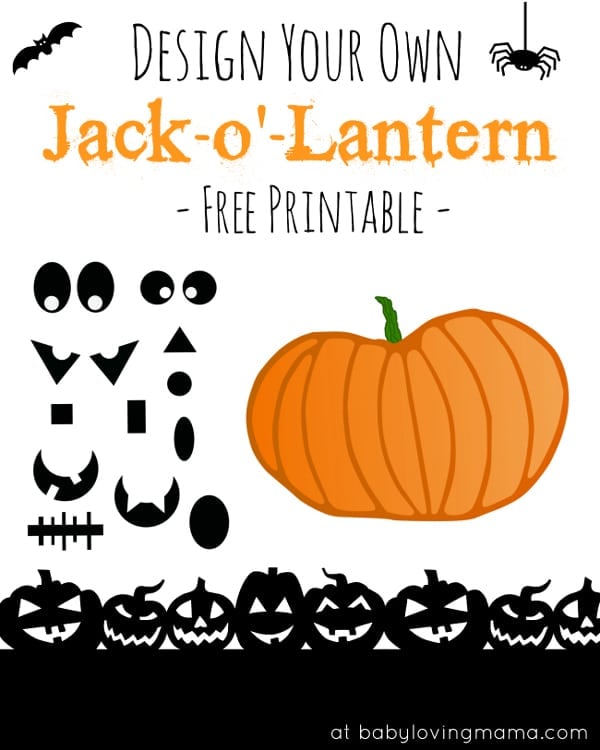 Halloween Printable #20: Have your kids design their own Jack-O-Lantern with these free Design Your Own Jack-O-Lantern printables! These designs can also double as Halloween decor. Just print, post them on a cardstock and hang them from the ceiling!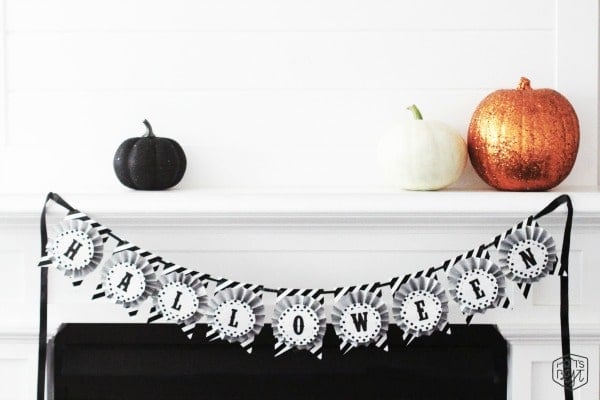 Halloween Printable #21: Looking for something to DIY? Make this easy-to-make DIY Halloween Banner to dress up your walls, mantle, or entry area.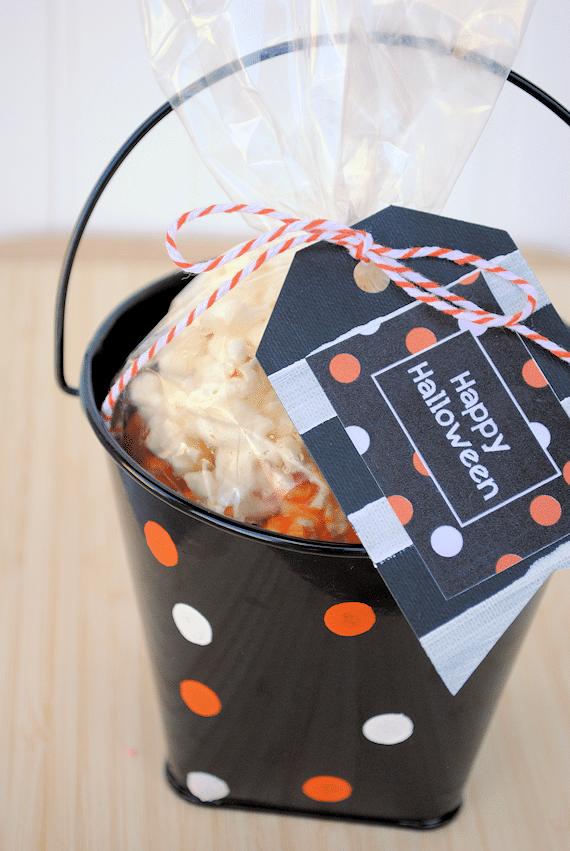 Halloween Printable #22: How adorable are these Gift Tags? Every kid in the neighborhood would line up to get these little goody buckets. Alternatively, you can also change the colors to black and red or back and purple.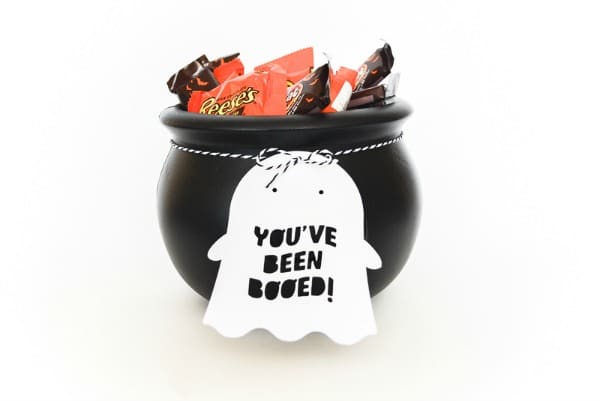 Halloween Printable #23: Booing your neighbors? Why not gift them with a goody bag with this adorable You've Been Booed free printable sign! Your neighbors are sure to love Halloween even more.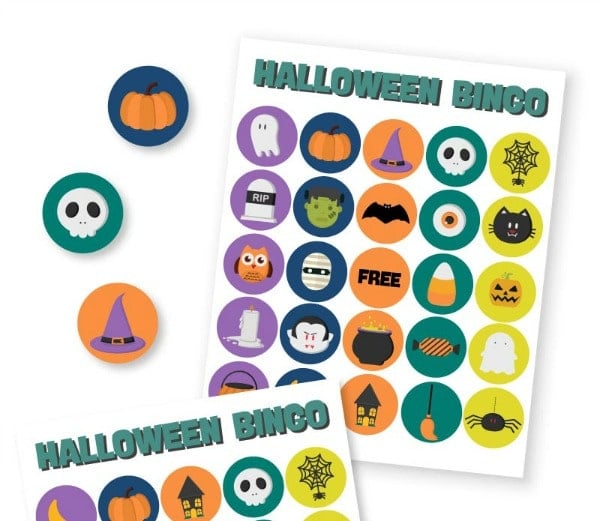 Halloween Printable #24: This Bingo For Kids game would make a fun and fabulous Halloween activity for the kids! Just print it out, put on some spooky music and play away!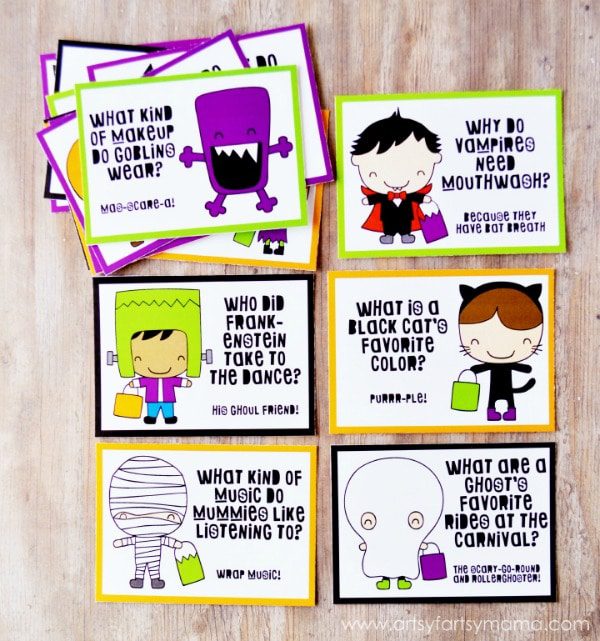 Halloween Printable #25: What's better than having some Lunchbox Jokes to celebrate the Halloween season! Brighten up your kid's day with these delightful jokes that they can share with their friends.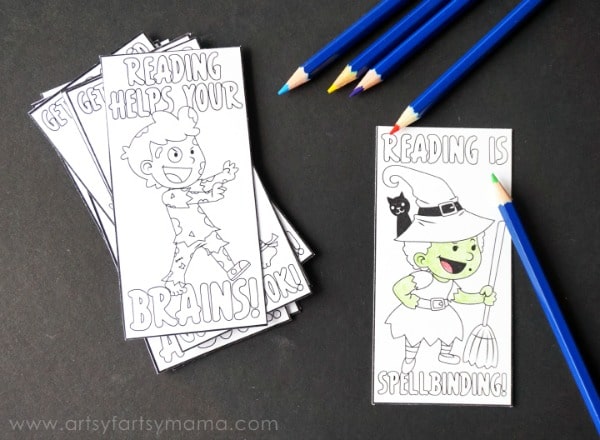 Halloween Printable #26: These super cute Bookmarks are so easy to make. Just print them on card stock and have the kids color them. They'll have a blast!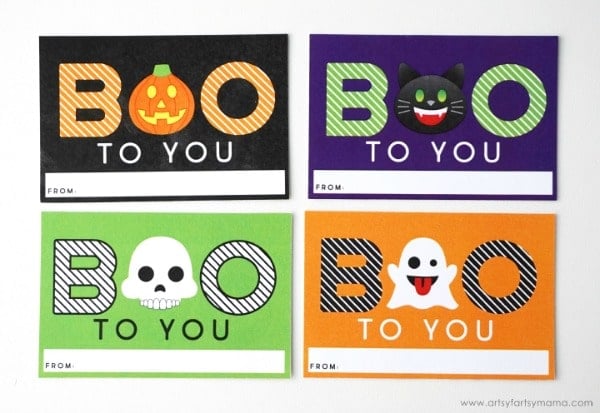 Halloween Printable #27: Download these free printable Emoji Gift Tags and use them to label your pumpkin bags and party favors. These cards are sure to make all the little trick-or-treaters smile.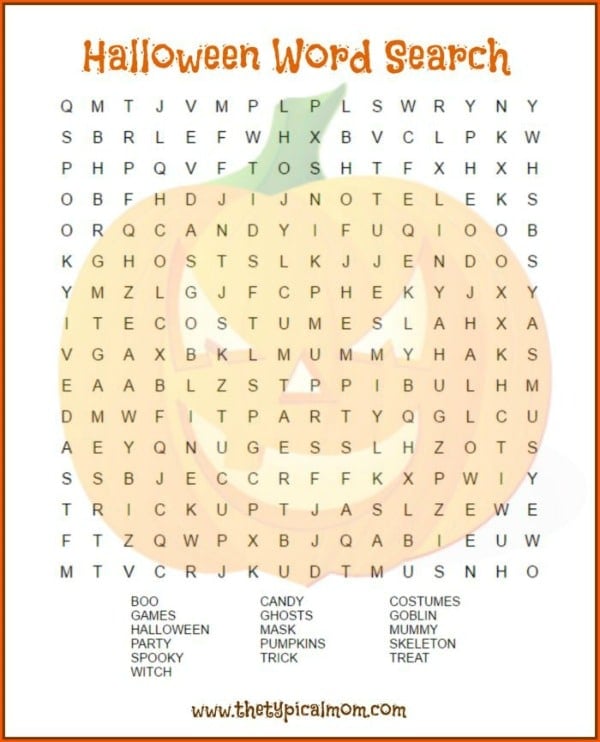 Halloween Printable #28: Who doesn't love a Word Search Game? It's such a fun activity that everyone would enjoy. Make sure to give some prizes to the kid who finishes first!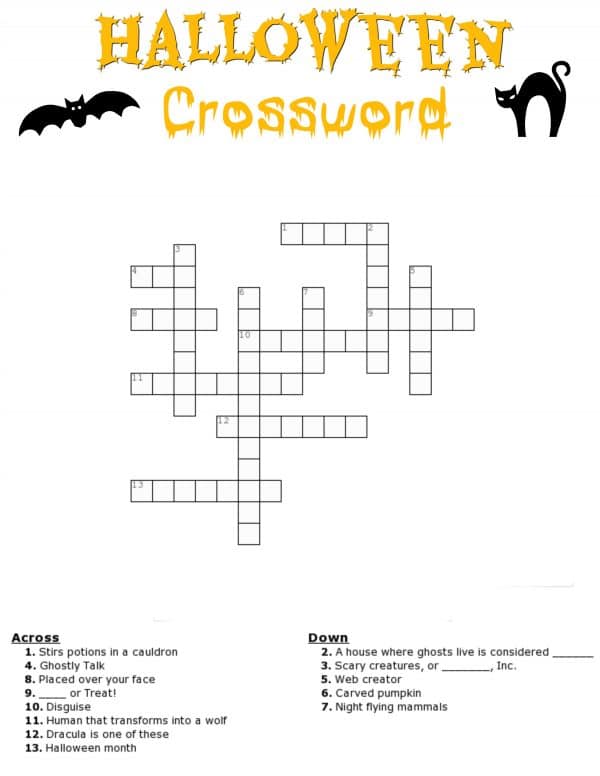 Halloween Printable #29: This Crossword Puzzle makes for the perfect holiday activity whether at home or at school! Aside from having fun, kids will also get to practice their vocabulary and spelling skills!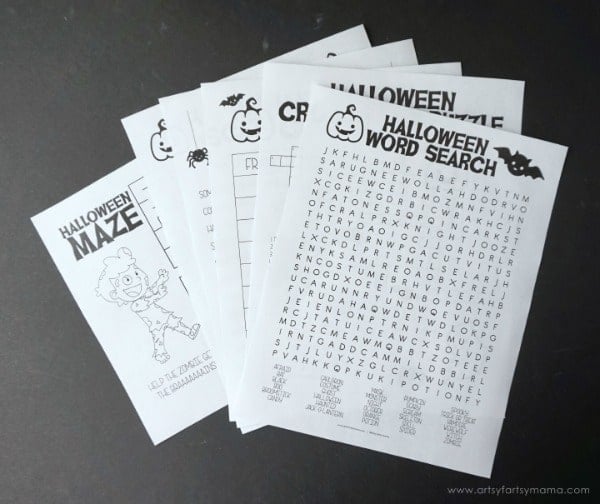 Halloween Printable #30: Looking for some great Halloween activities for your kids? Try this free Activity Pack For Kids. It won't disappoint! Your kids are going to have a blast with all the fun activies in this handy pack.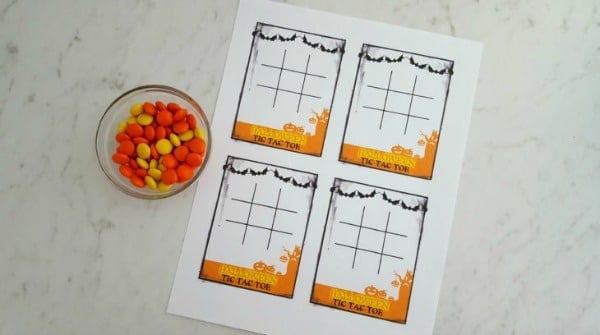 Halloween Printable #31: These Tic Tac Toe Game game cards will make your Halloween party extra festive! Use some candies as game pieces and eat them after the game.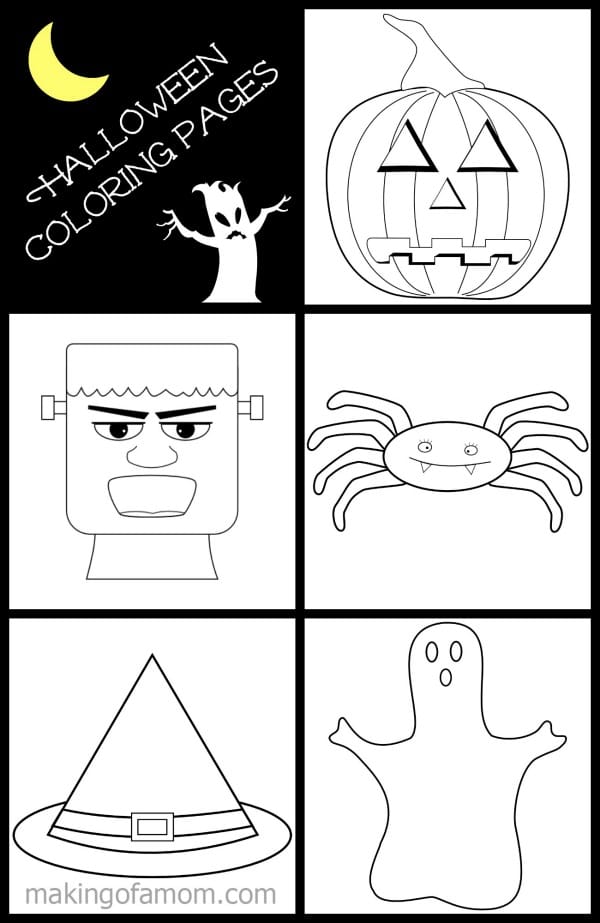 Halloween Printable #32: Get ready for the Halloween season with these fun Coloring Pages For Kids! These would keep your kids entertained as you celebrate the season.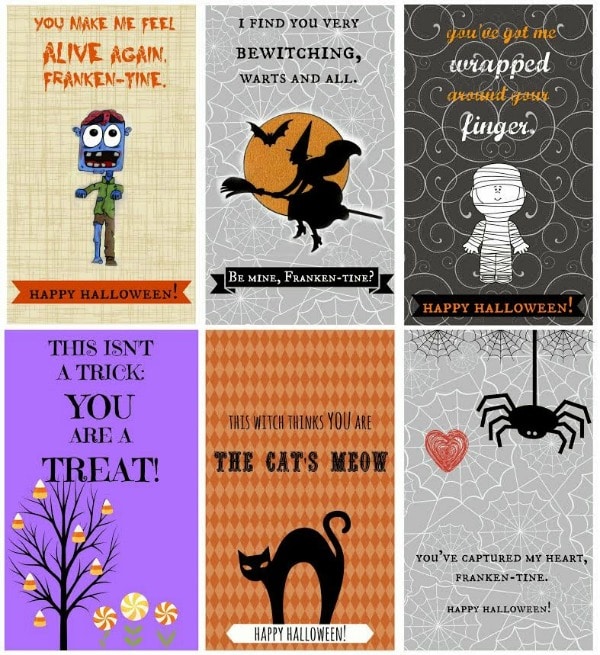 Halloween Printable #33: Just look at these adorable Frankenstein Cards! Just print them so your kids can give them away to their favorite pals! You can also put them in your kids' lunchboxes to brighten up their day.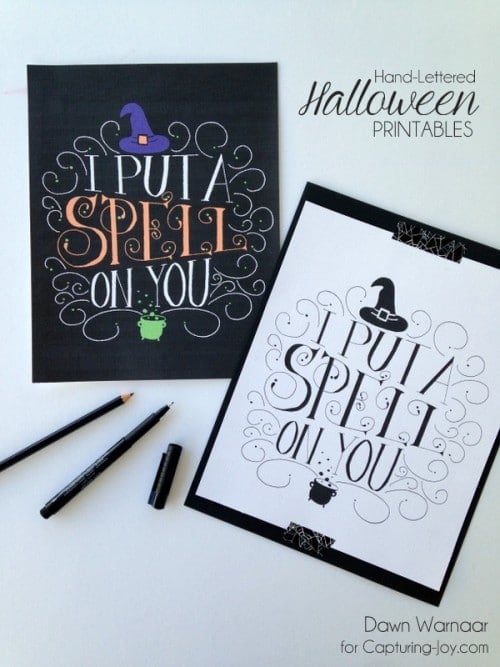 Halloween Printable #34: Check out this stunning Hand-Lettered Halloween Decoration. Whether you use them for decorations or as cards to give away, these printables are sure to make the season even more special!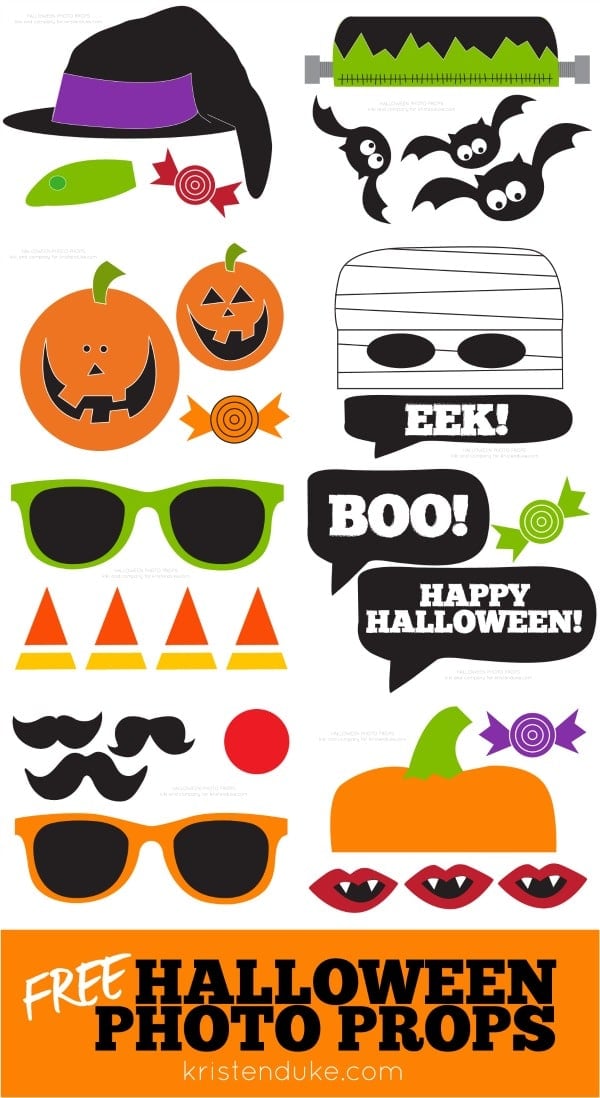 Halloween Printable #35: Your kids and their pals are sure to have a lot of fun using these awesome Photo Booth Props! No need to purchase some props as you can easily print these for free!
For more party ideas, follow us on Instagram @prettymyparty and Pinterest and join us in our private Facebook group.