Kung Fu Panda Birthday Party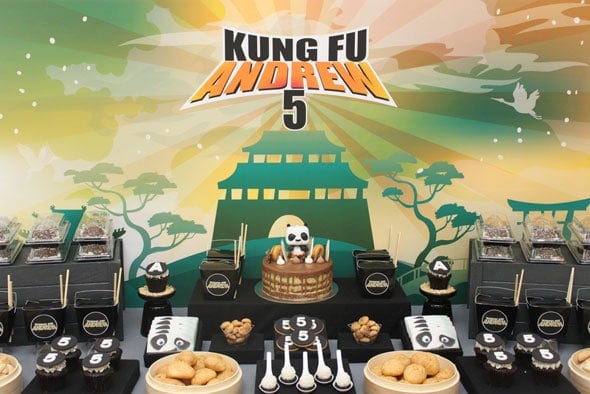 When the birthday boy is in love with anything karate, picking a theme is super easy! This Kung Fu Panda Birthday Party was so fun and every little karate lover was sure to love it too!
All of the fun details were created by isabels confetti and tables were decorated perfectly! Those dessert tables? Wow! Not a detail was left out!
The beautiful backdrops were created by Pretty and Print and were the perfect addition to the party. What little guy wouldn't love being the center of the universe with huge backdrops created just for them?!
The food prepared for the Kung Fu Panda Birthday Party is equally as gorgeous as everything else. All of the guests enjoyed a variety of "karate inspired" treats, with sugary "rice balls" and delicious fortune cookies!
The cupcakes and cookies sported cute "5" and "A" cake toppers from isabells confetti, customized just for the birthday boy! What a fun addition to the perfect karate-inspired party!
And those cakes?! That's right, there wasn't just one cake, there were two! New York Patisseries created the Kung Fu Panda cakes with perfect details! What a lucky birthday boy!
A favorite had to be the donut wall, along with the fun napkins on the tables! How fun!
The children were able to play tons of games, including racing challenges, pass-the-parcel, and fun face painting! They also took lots of pictures in the photo booth and had an absolute blast goofing around!
All of the details for this Kung Fu Panda Birthday Party were incredible! The thank-you boxes contained fun gifts for all of the guests. Specialized panda chocolate bars were also available to take home! We're not sure a karate themed party could go better than this one. What an incredible party and we can't wait what they do for next year!
Vendors & Credits
Event Styling and Photography – isabels confetti // Cupcake and Cookie Toppers – isabells confetti // Cakes – New York Patisseries // Backdrops – Pretty and Print
And that's not all …