How to plan the perfect boho chic baby shower
Check out these ideas for how to plan the perfect boho chic baby shower!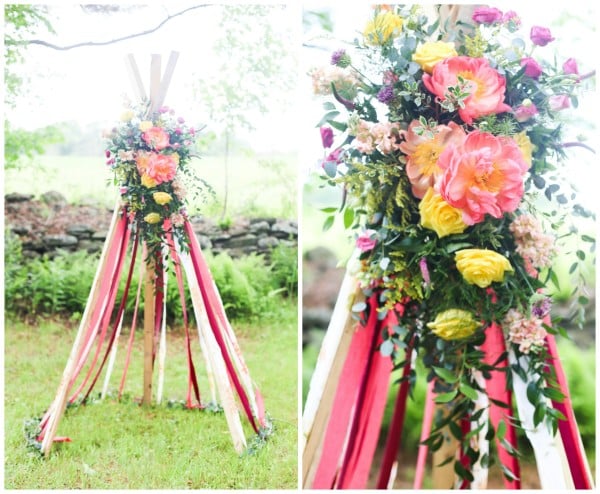 Are you looking for ideas on how to plan the perfect boho chic baby shower? I love baby shower themes of all kinds, but a bohemian theme has become my new favorite. A bohemian (or boho) theme is whimsical and free-spirited. Think of charming details like bouquets of wildflowers, dream-catchers and floral crowns. If you are planning a baby shower and the momma-to-be is a free spirit who loves nature, then a Boho Chic Baby Shower might just be the perfect theme for her! No matter what the gender of the baby, a boho-themed shower is a great gender-neutral theme.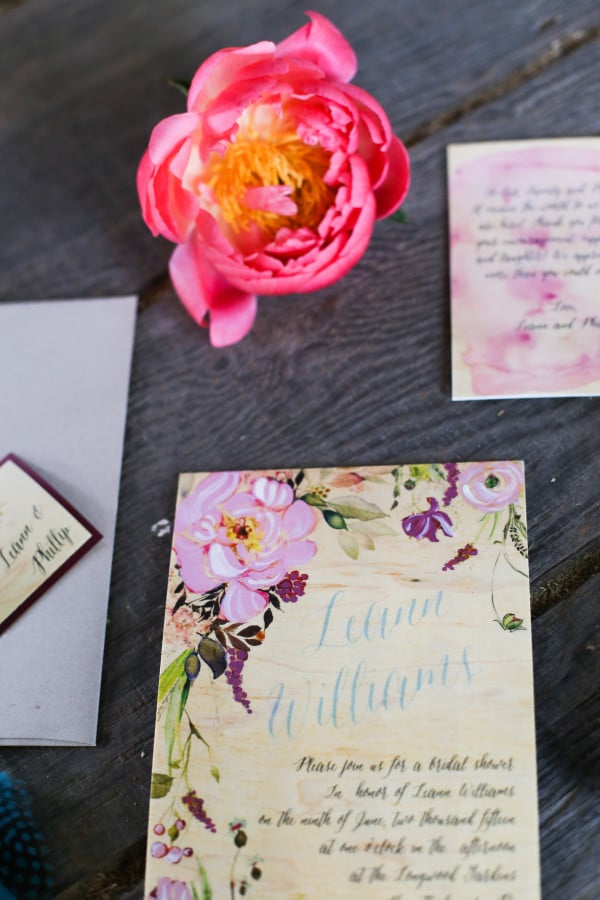 First, start with the invitations. The invite sets the tone for the whole shower. Invite your guests with a gorgeous floral watercolor invite like this one. This style is perfect for a free-spirited boho chic baby shower and really sets the tone for what's to come in the celebration.
Ok, so I'm slightly obsessed with these floral crowns! Another element of a great shower is to get your guests involved in the fun! The perfect way to get everyone to mingle is to set up a fun activity for guests like a flower crown station! This is one of my favorite ideas for a boho-chic baby shower. Just set up an area with the supplies everyone will need to create their own floral crowns to wear during the shower. Guests will have fun making their own floral headpieces. You can even have your guests make a crown for the baby of honor! Then mom-to-be can use those crowns for baby's first photo shoot!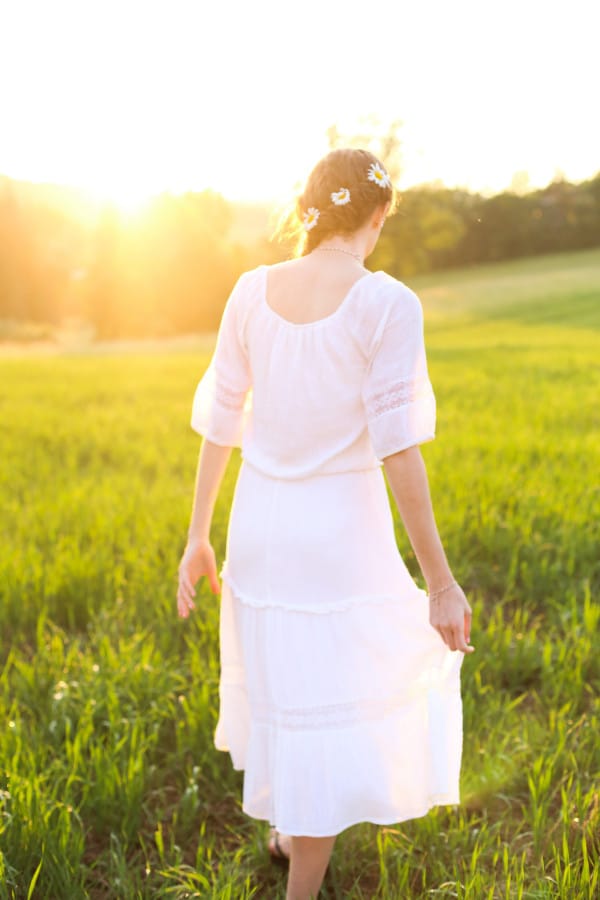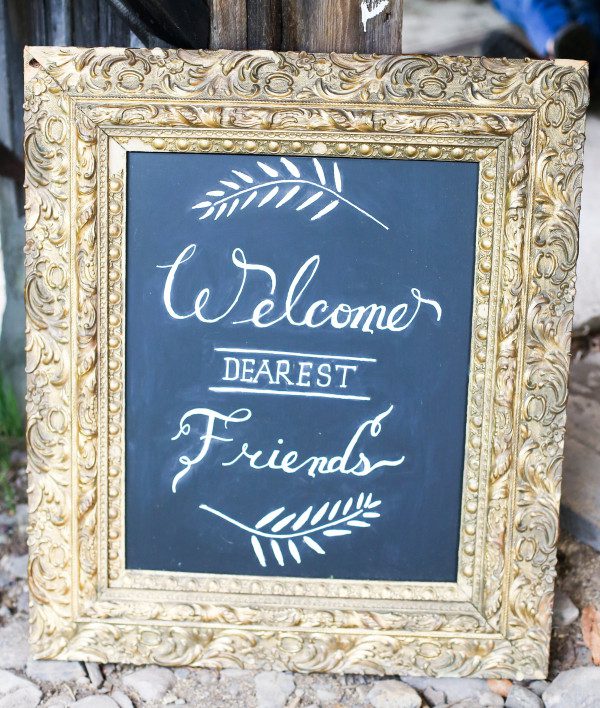 Adding vintage frames like this pretty gold one with a chalkboard sign welcoming guests is a great detail to add to your boho-chic affair!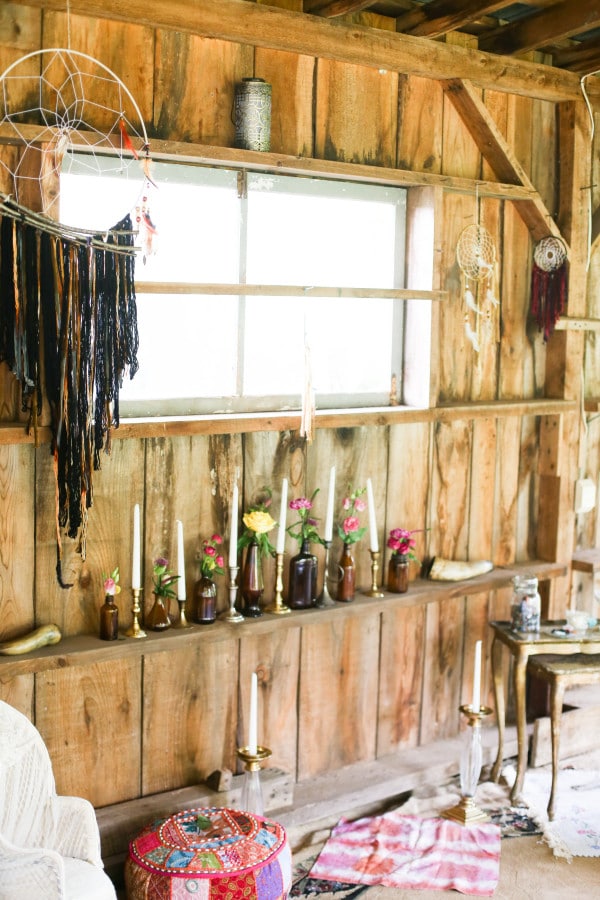 For the decor, find a local rental company with vintage pieces and add those elements to your shower. A variety of bottles, candle holders and flowers were added to the space to compliment the boho-chic theme.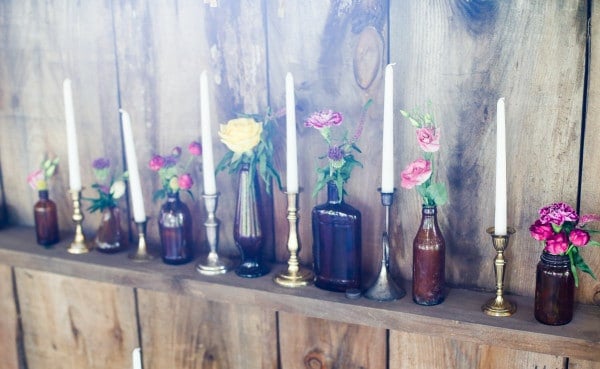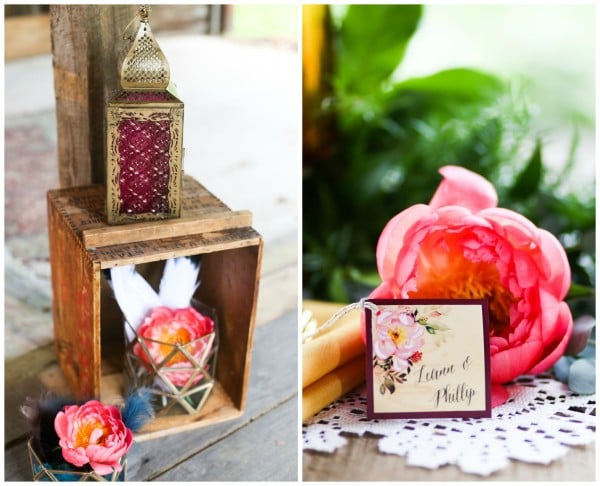 Create whimsical touches with authentic decor and add colorful, vibrant flowers, baby's breath, lace, colorful pillows, lanterns and other unique elements to set the tone for your unique event.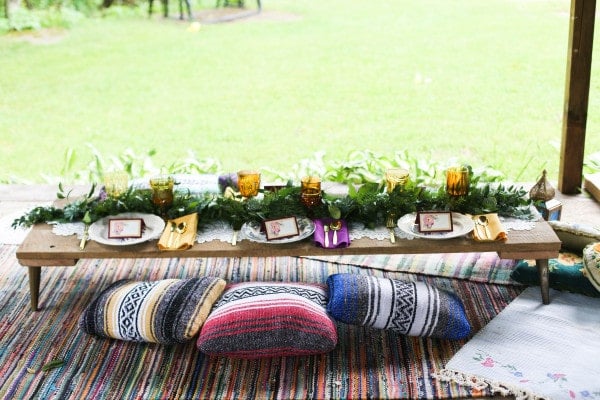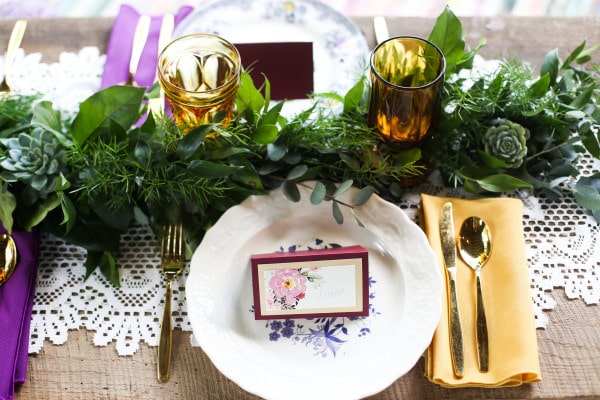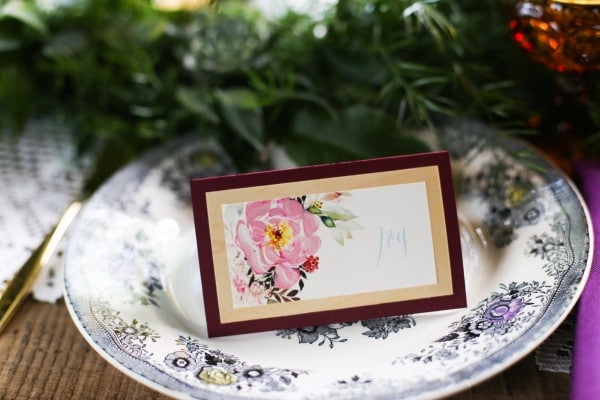 In this shower, I love how guests sat on pillows and dined on a lower wooden table. This creates a sense of intimacy for your friends and family and shows a little of that free-spirit vibe that goes along with a true boho theme. Vintage floral plates surrounded by lush greenery, gold candles and gold cutlery made the table complete. Floral place cards, which matched the gorgeous invitation, were on each place setting, welcoming everyone to the table.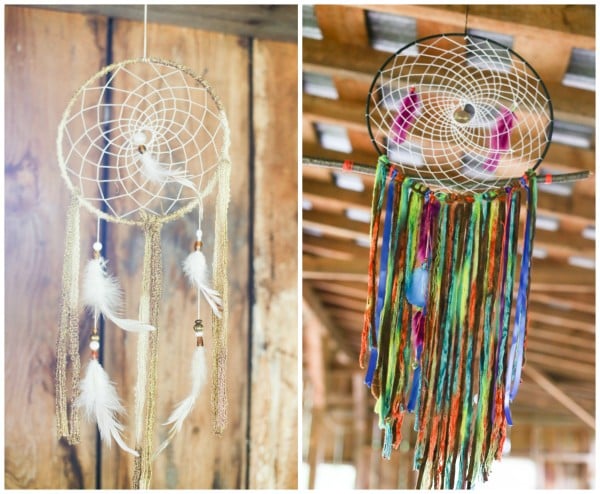 Colorful decor, along with these pretty dream catchers, were a must-have for this theme!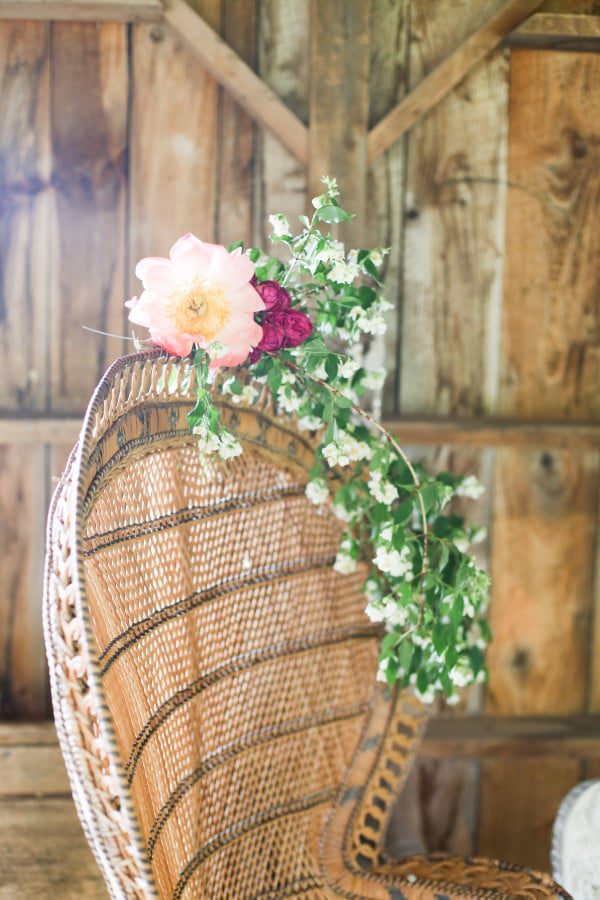 Remember, the momma-to-be has to have a special place to sit at the shower. We love how this wicker chair adorned with flowers was incorporated for the guest of honor.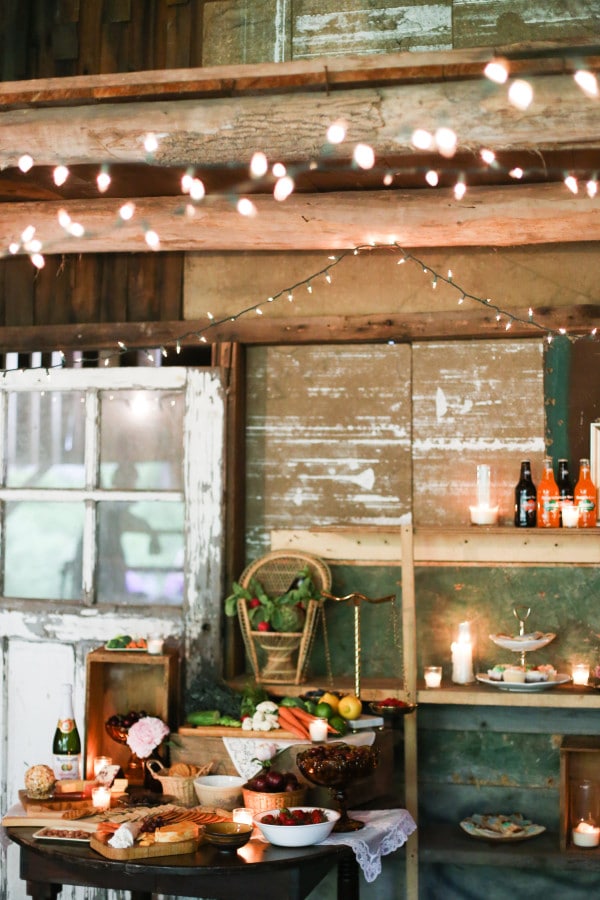 No only was this rustic event space just perfect for the event, but it was made more intimate with lights strung above and candles surrounding the food spread.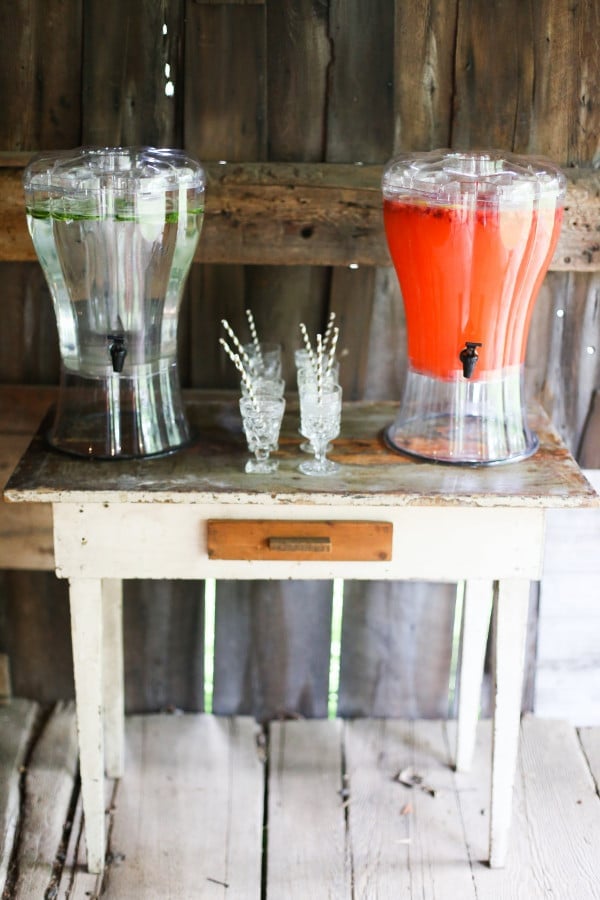 Having a beverage station set up like this one is a great alternative to a bartender. Make it even more fun with a signature "cocktail and mocktail!"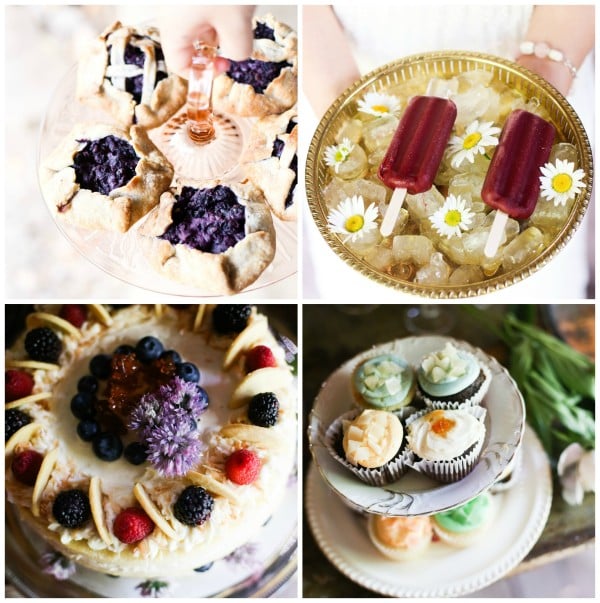 For the menu, keep it light with finger foods, salads and quiches. For desserts, good options are mini pies, cupcakes, and macaroons.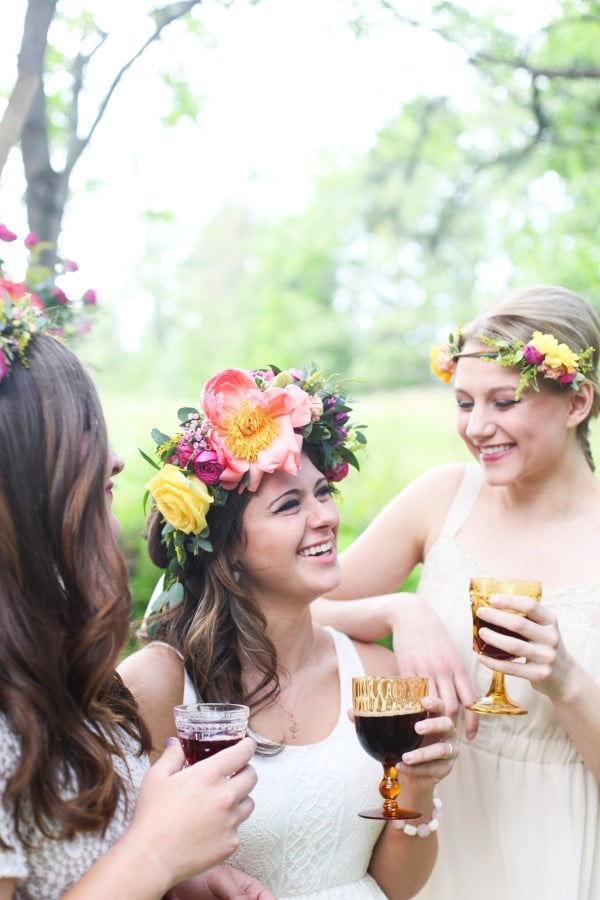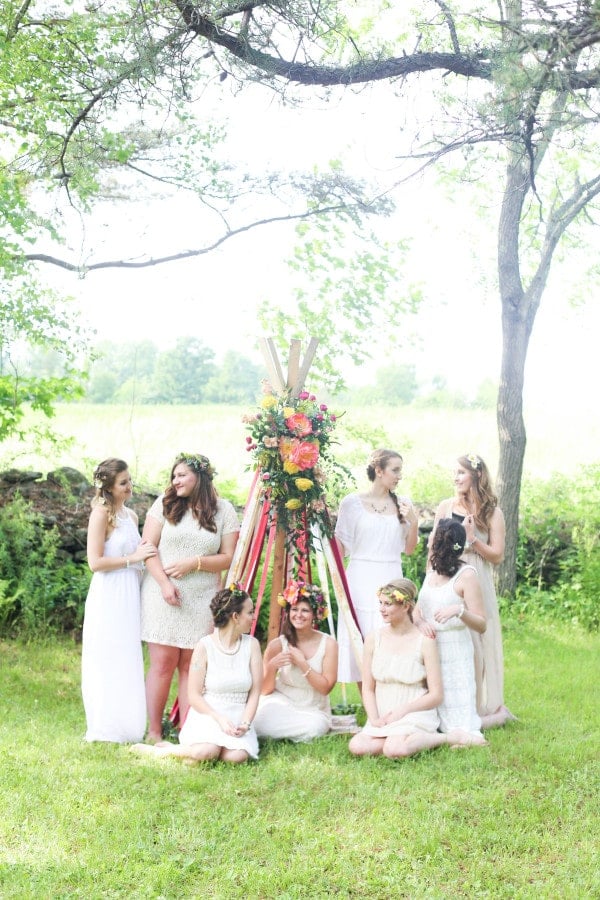 We just adore this floral and ribbon tent – perfect for photo-ops with your guests! Have fun with this theme and incorporate elements into the event that honor and compliment the momma-to-be. What's your favorite detail in this shower? Let us know in the comments below!
Vendors & Credits
Patchwork Planning // Forget Me Not Vintage Rentals (Styling + Rentals) // Photography by Seneca // Peculiar Culinary Company (Desserts) // Monzie's Floral Design (Florist) // Thrift Store Decor (Glass Cup Candles) // Mandy Chapman (Hair + House) // Erica Bolthouse (Make-up) // Woven the Shop (Dreamcatchers) // The Hunter Collection (Mexican Blanket Pillows) // The Post Home and Body Shop (Favors) // Candy by ET (Favors) // Jammin Barefoot (Favors) // Make Pie Not War (Rings) // Christine Conrad (Bracelets) // DJ Ryan Kenton (Fun) // The Dusty Daisy Shop (Driftwood Feathers + Name Cards) // Momental Designs (Invitations + Thank Yous + Name Cards) // MadebyTattooYou (Temporary Tattoos) // Lavender Linens (Napkins)
Boho Party Supplies and Decorations:
See more Baby Shower Ideas here: