Girly Sunshine Party Theme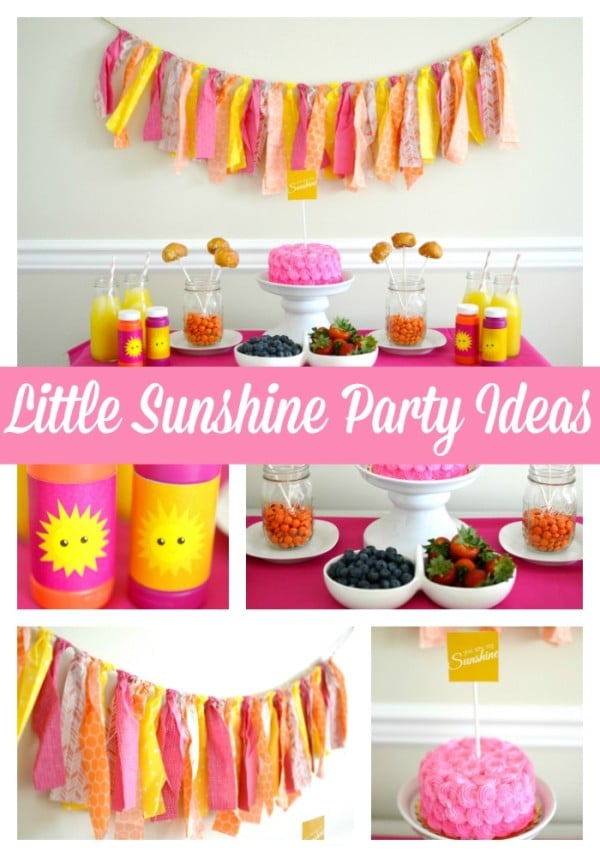 Hello again! I'm Michele from Sweet Threads Clothing Co. This adorable Girly Sunshine Party Theme is perfect for a small party or play date! Simple, colorful and bright details made this party both fun and adorable! What sweeter way to celebrate a birthday than with a bright and cheery brunch for a little ray of sunshine! A fabric garland from Lilly Paul Designs made the whole table pop with sunshine and was the perfect backdrop for our brunch table. The centerpiece was a bright pink mini rosette cake topped with a custom printable from Pamela Smerker Designs. Guests snacked on donut holes and fruit and fresh squeezed orange juice. Our little guests went home with simple party favors of mini bubbles. It was the perfect set up for an intimate birthday play date with close friends.
Michele is the owner and designer of Sweet Threads, a clothing and lifestyle brand. With a passion for styling, fashion and design combined with the inspiration of her three young children, Sweet Threads was born. She hopes to inspire others as she shares DIYs, crafts, recipes and more! Website // Etsy Shop // Facebook // Twitter // Pinterest
Credits & Vendors
Party Styling: Michele Brown: Sweet Threads Clothing Co. // Printables: Pamela Smerker Designs // Fabric Garland: Lilly Paul Designs
This feature contains affiliate links. Please see our full disclosure policy.
Plan the perfect Little Sunshine Party with these party products that are hand-picked by our editors!
Check out these other pretty party features on Pretty My Party!