Pretty Pastel Popsicle Birthday Theme
[convertkit form=4996735]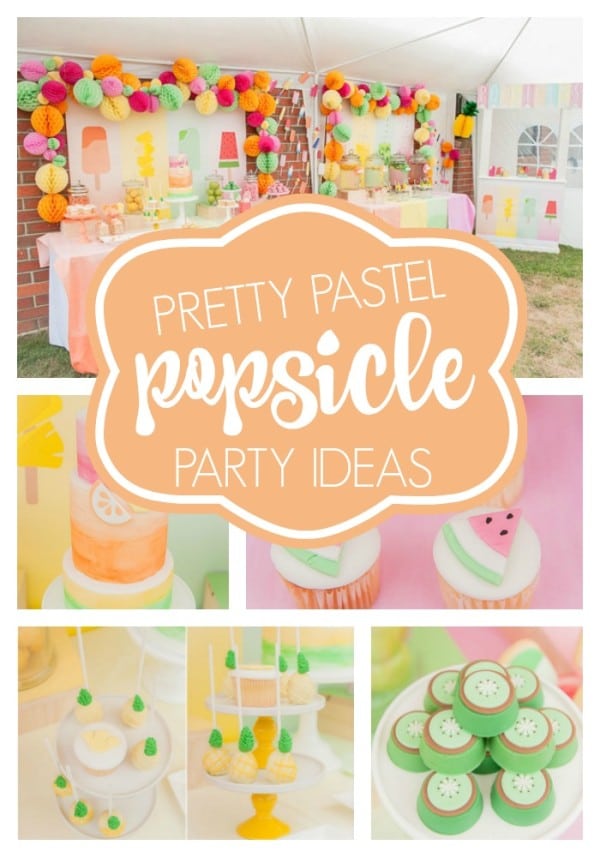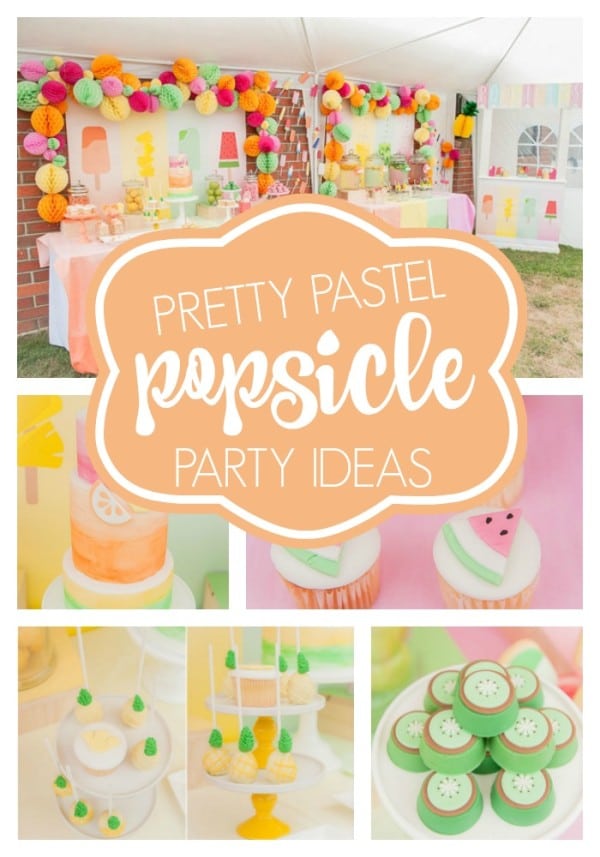 Every once in awhile it's so fun to think of a birthday party theme that will be eye-popping, heart-warming, and just really fun to create and organize. When thinking of what to do for this little girl's birthday party, it was quickly decided that it would be centered around her favorite treat, popsicles! After that, the colors all fell into place and it quickly became a Pretty Pastel Popsicle Birthday Theme. How sweet!
Sam of Dunne with Style (aka, the birthday girl's Momma!) styled this absolutely awesome party for her daughter! A rainbow of sorbet shades set the stage for this summer soiree and it couldn't have ended up any more perfect! It just MAKES you happy looking at these pictures with the sweet bright colors! Since the best popsicles are fresh and fruity, Sam chose 4 fruity popsicles to design the backdrop around (orange, pineapple & lemon, strawberry, and kiwifruit). From there, the colors of the fruits inspired the entire event! Sam also wanted to include some watercolor elements as it tied in with the 'icy' effect, so it was decided that the backdrops would include a slight color gradient, which mimicked the dip dyed table cloths.
The drinks station followed the same fruity theme as the desserts station had homemade fruit infused water and lemonade. How refreshing!
Studio Cake did an amazing job on creating a cake that matched the theme perfectly. Wow! They created a white chocolate and raspberry mud cake for the birthday cake which featured a watercolour effect and fondant fruits bringing together all of the colours and elements from the dessert table.
Because the birthday girl's favorite treat is popsicles, they obviously were the highlight of the party! But there were also other desserts, including vanilla cupcakes, orange inspired cake in a jar, pineapple cake pops, chocolate covered Oreos with fondant kiwi-fruit toppers and watermelon macarons. YUMMY!
Look at how gorgeous all of these wonderful desserts were! It all came together so perfectly!
Sam also enlisted the talents of Ham & Pea Paperie for the fun dessert table backdrop, along with all of the matching printables. They designed a range of popsicles which were used within the invitation and backdrops, along with the popsicle favor boxes, which guests could fill with desserts and lollies, and also the popsicle garlands which were stitched together. Everything looked gorgeous and flowed perfectly with each other!
The goal was to create a tablecloth that had vertical striped sections to tie in with the colour blocked backdrop, so to create this, Sam dip dyed fabric to create an ombre effect for each section. What a great DIY task!
This was one super fun party and you couldn't ask for a better summer theme than this! We're sure the birthday girl was blown away with her party and kudos to Momma! Thank goodness for Lee Bird Photography who captured the event for eternity! How fantastic! What's your favorite detail in this Pretty Pastel Popsicle Birthday Party? Let us know in the comments below!
Credits & Resources
Styling & Popsicles: Dunne with Style // Backdrop printables: Ham & Pea Paperie // Cake & desserts: Studio Cake // Photography: Lee Bird Photography
Looking to plan your own Popsicle Themed Birthday Party Celebration?! Check out these fun products:
Also, get FREE 2-day shipping on your party products when you sign up for a FREE trial of Amazon Prime.
Check out these other fun parties on Pretty My Party!