Marie Antoinette 1st Birthday Party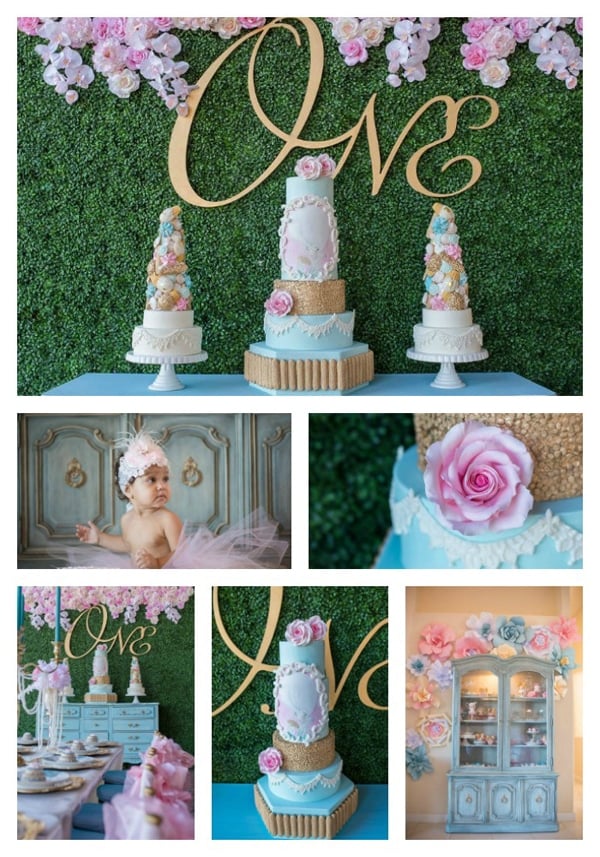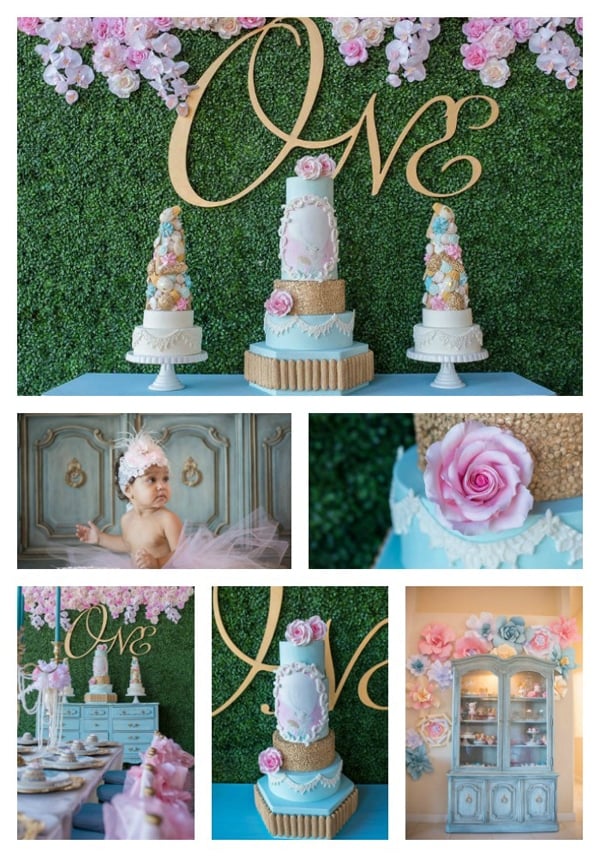 When you're as sweet as sugar and your mommy is a party-loving cake artist, the only sensible way to celebrate your first birthday is Marie Ant"ONE"nette style! Let them eat cake! (Mommy was pretty tickled at her original play on words for the party theme. 😉
This truly gorgeous Marie Antoinette 1st Birthday Party featured different hues of pink from blush to rose, soft blues, creams, white and gold. The party was held at home in South Florida and it was a small affair with about 40 guests.
Mommy is a cake artist. This theme was a perfect fit for us! Pinterest was a wealth of information for party ideas. Party supplies were purchased at Party City, HomeGoods and Michael's. All the baked goods were done by Mom and her (very talented) baker friends.
Mom's favorite elements of the party were definitely the little ladies getting their hair and make-up done. They were all SO excited to go into the dressing area for their own private hair and make-up session. Also, the cake decorating was a HUGE hit and perfect with the theme.
Going with the French theme, we served French food including quiche, croissants/french breads, baguette sandwiches such as brie/walnut/raisin and salads all from Paul's French Bakery and Patisserie.
Three lavish cakes adorned one dessert table while the smaller, more delicate treats, such as sugared marshmallows, chocolate covered apples, chocolate covered Oreos, brigaderios and meringues, were displayed in a China cabinet turned dessert station.
The DIY elements included:
Giant Paper Wall Flowers
Meringue Spoons
Ribbon Chandelier
Tutus
Cakes (ha! That probably doesn't count though!)
Centerpieces
Guests were greeted at the door with pink champagne for mommy and a hair/make-up session for all the little ladies of the court. Then, it was time to get dressed up in tutus that the birthday girl's mommy made for each party guest. After getting glammed up, party activities included cake decorating and party games such as donut-on-a-string, a game where donuts are tied to strings, held above each player's head and eaten using no hands. Sweet, sweet fun for all!
After having their fill of fun and treats, party guests were sent home with the cake they decorated, loads of sweets and a t-shirt that read, "KEEP CALM and EAT CAKE"!
Delicious fun was had by all!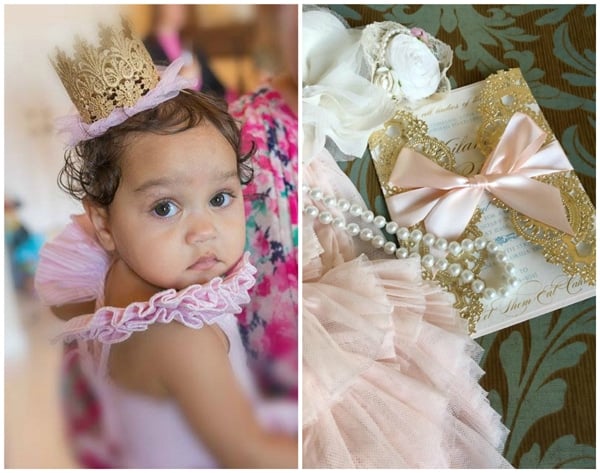 Kailani is the darling of her family being the youngest of 3 and the only girl. She is doted on by her older brothers, spoiled by daddy and is the apple of mommy's eye. She has the sweetest disposition and is loved by everyone she meets.
Credits & Resources
Event Stylist: Cynthia White // Event Rentals: Valash Events // Cookies: You Can Call Me Sweetie // Oreos and Brigaderios: Sugarloaf Brigaderia // Apples and Marshmallows: Baked with Love // Cakes: CAKED // Roses on cakes: Cakes by Angela Morrison // Hair and Make-up: Vavavoom Artistry // T-Shirts: Diamond Graphics and Sports // Invitations: Alexandria Lindo // Photography: KRo Photography
This feature contains affiliate links. Please see our full disclosure policy here.
Plan the perfect Marie Antoinette 1st Birthday Party with these pretty products!