Enchanted Forest Bridal Photo Shoot
There is something so romantic about this Enchanted Forest Bridal Photo Shoot that truly makes our hearts sing! Rustic and whimsical, this styled photo shoot peeks into the hearts of young and old and brings love to life. What a gorgeous and special wedding this would be for anyone and we are honored and excited to share the amazing details of this beautiful styled photo shoot!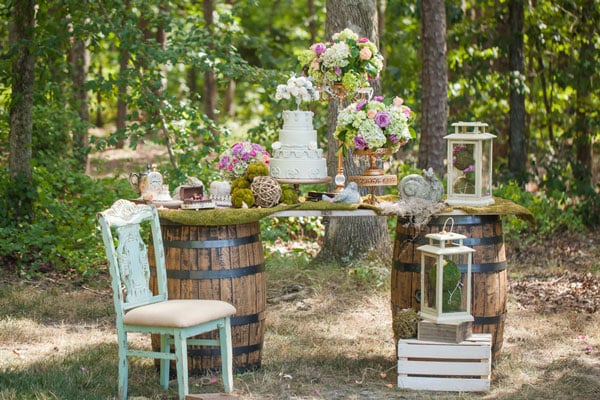 Casey Hendrickson Photography was able to capture all of the gorgeous details for this enchanted forest photo shoot. This beautifully crafted tablescape brought in items both old and new, while using the backdrop of the great outdoors to create the magic and romance that is craved during weddings.
Colors that were chosen were light peaches and lavender, among the many forest details, such as a moss-covered wooden door that was crafted into the cake table. There were also symbolic details to the fairy tales we all know and love and of course, the gorgeous floral designs from Chelish Moore Flowers were strategically created to bring everything together across the table!
The beautifully designed cake from Sky's The Limit Bridal Sweets was the perfect selection for this enchanted styled photo shoot. Look at those ornate details on the cake, along with the elegant cake topper! Absolutely exquisite and it looks like something that came straight out of a fairy tale!
The bride, Madison, wore this stunning and detailed gown from The Bride's Choice and wore her hair in a whimsical updo. It was the perfect combination! And the back for this dress, the gorgeous lace heart-shape pattern, would take any groom's breath away.
Invites were created by Sweetest Beginnings. The simple, yet elegant design and font selections contribute to the overall enchanted vibe of the event.
Not only did Chelish Moore Flowers provide amazing floral arrangements for the main table, the flowers that were found in the bride's bouquet were perfect. We love the design and the simple flower selections that contributed to the bouquet, while remaining true to the outdoorsy theme of the event with greenery incorporated perfectly!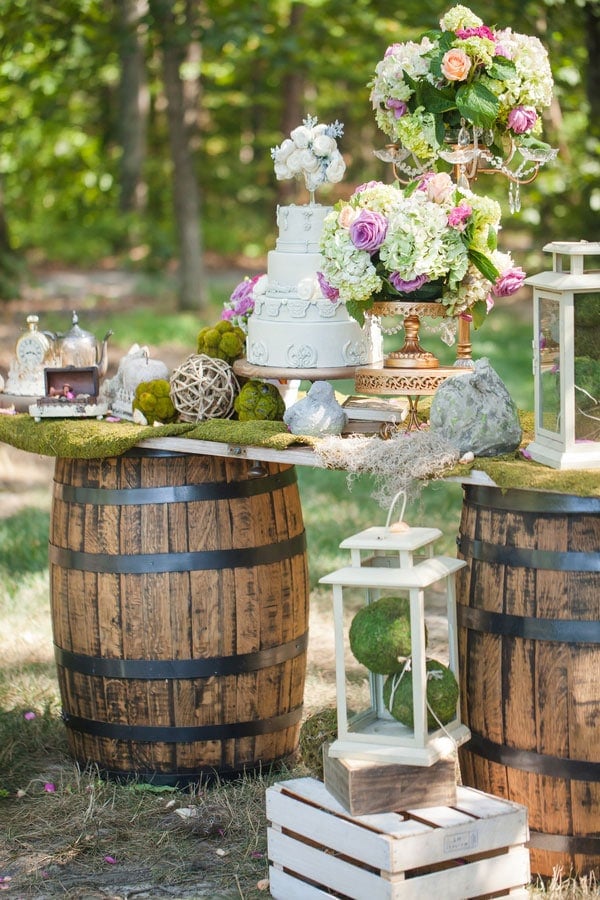 Any couple would be lucky to experience this gorgeous Enchanted Forest wedding for themselves. The details truly bring this magic fairytale to life and the rustic items included in the decor are absolutely perfect!
Credits & Resources
Photography: Casey Hendrickson Photography // Wedding Venue: Il Bella Gardens // Floral Designer: Chelish Moore Flowers // Invitations: Sweetest Beginnings // Cake Designer: Sky's The Limit Bridal Sweets // Dress Shop: The Bride's Choice // Salon and Makeup: Belize Salon and Day Spa
This post contains affiliate links, Please see our full disclosure policy.
Shop these gorgeous wedding and bridal shower products:
Check out these other gorgeous wedding features on Pretty My Party!