Elegant New Orleans Wedding Inspiration
Sometimes it's really important to get brides out of the "what everyone else is doing" box, but it can be a challenge! It's so much fun and amazing to see what you can do with your wedding when you use a little imagination. If you're in love with a certain destination, who says you have to actually go there in order to have your wedding there? Bring the wedding to your location with destination-inspired themes! That's what happened with this incredibly Elegant New Orleans Wedding Inspiration photo shoot!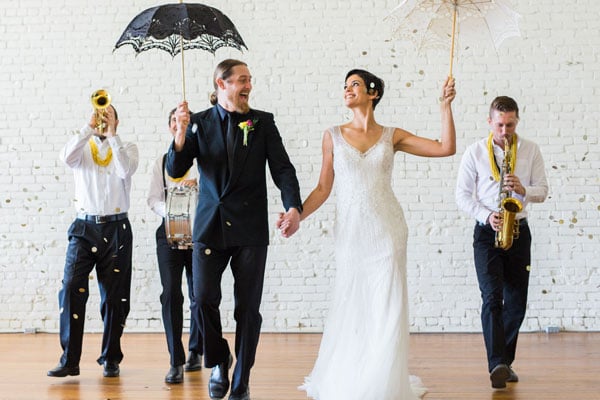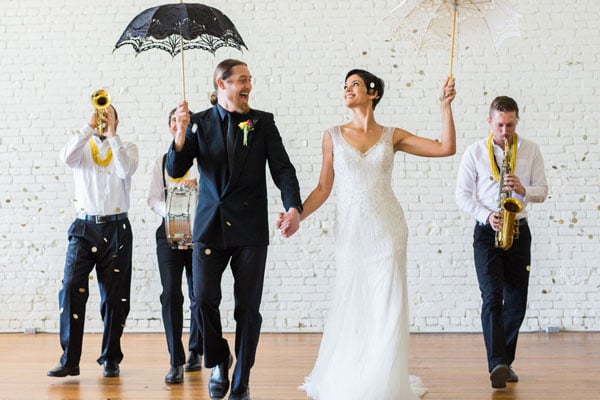 By taking the eclectic New Orleans culture, wedding traditions, a few french foods and gorgeous decor, this New Orleans-themed wedding took place at One Eleven East, Austin, TX! But you'd never know by looking at this styled photo shoot!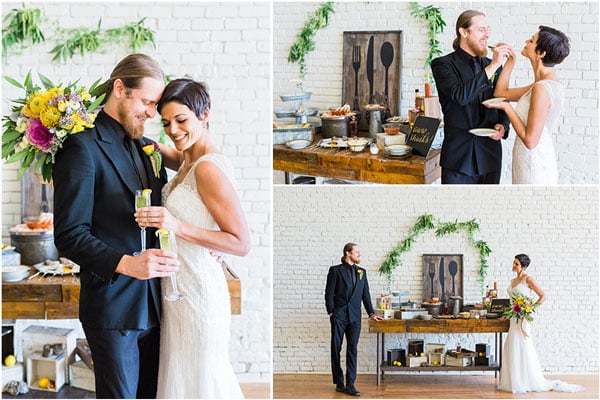 The styled shoot was in its planning stages just prior to the designer, Heavenly Day Events, leaving for a trip to the REAL New Orleans! That is when the wheels started turning and planning began for an actual New Orleans themed wedding in the Lone Star State!
Sweet and romantic umbrellas, a southern tablescape perfect for any lucky bride and groom, along with music, flowers and feather boas that complement New Orleans. These are all small touches to bring in for a New Orleans-inspired wedding, no matter where you are located!
Inviting Affairs provided the invitations for this wedding photo styled shoot and they had the perfect mix of New Orleans color and themes. The fun gold, black and silver colors, along with the confetti, were ready to greet all of the wedding guests! Now that's quite the party!
The dinner table for the event, along with the lovely place settings are nothing short of magical when it comes to celebrating a New Orleans-inspired wedding! Monarch Event Rentals provided a majority of the exquisite rentals that were available for this styled photo shoot. Every last detail was breathtaking!
What kind of New Orleans-inspired styled photo shoot would it be without food that epitomized the city of inspiration? With some oysters, shrimp and Cajun food provided by Royal Fig, this would be the perfect meal and appetizers to serve at a New Orleans-themed wedding!
How beautiful is this cake? Simply Delicious Custom Cakes created this fun cake for the styled photo shoot and it helped bring a slight pop of color into the event. The pretty purple color with the wisp of leaves that cascades down the side is just gorgeous!
With the elegant colors of the invitations, it was only fitting that the flowers, which were provided by Sweetwater Stems, would be bright and full of color! The purples, yellows and greenery were the perfect complement to the other touches that have been seen in this New Orleans-inspired wedding styled photo shoot. Gorgeous!
Nothing screams a fun New Orleans-inspired wedding more than some Mardi Gras face masks to bring out during the reception. Everyone will have a ball with picking out their perfect mask to help celebrate the lovely couple!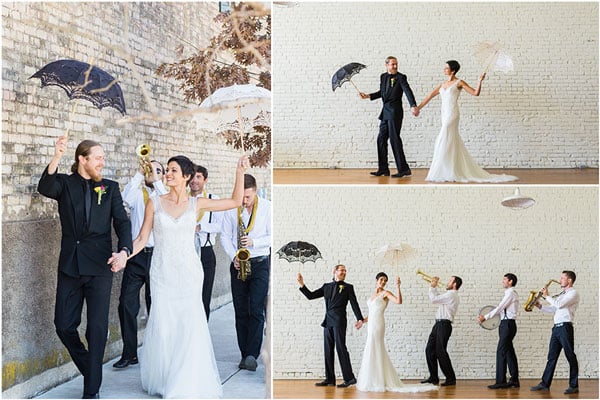 With the band playing behind you, how could you not love to be a part of a New Orleans-inspired wedding party?! The Saints are going to come marching in and everyone is going to be in a festive and joyful mood to help the lovely couple celebrate their recent nuptials. If you are searching for a unique and fun wedding theme and are as big of fans of New Orleans as this couple is, consider this Elegant New Orleans Wedding Inspiration idea!
Shop these gorgeous wedding and bridal shower products:
Check out these other gorgeous wedding features on Pretty My Party!
What's your favorite detail from this wedding shoot? Let us know in the comments below!