Easy Strawberry Shortcake Recipe
Guaranteed to be a hit at any party, this Easy Strawberry Shortcake is a lasagna cake layered with fresh strawberries, vanilla wafers, and sweet icing! It makes the perfect dessert for any party!
Strawberry shortcake is one of those classic dessert recipes everyone loves. It makes the best summer dessert too! Growing up, strawberry shortcake was always among the dessert choices at family gatherings. I even asked for strawberry shortcake for my birthday. My favorite time to serve strawberry shortcake is for Memorial Day and Fourth of July.
This easy strawberry shortcake recipe is the perfect dessert to make for any event. Plus, everyone will be coming back for seconds, so maybe make two! Not only is this strawberry shortcake delicious, but it's super easy to make. If you're looking for an easy shortcake recipe, this is the only one you will need! And after everyone tries this recipe you will see why.
Did you know that National Strawberry Shortcake Day is June 14? If not, now you can make this easy strawberry shortcake recipe to mark the holiday. You can even whip it up for spring or summer parties, birthdays, cook outs, etc.
Every year since my son was a toddler, we would take him strawberry picking. There's nothing like fresh strawberries from the farm. Plus, it's a great day out with the family! We always come home with an abundance of strawberries to eat. If you come home with more than you could eat, you can freeze them and use them for making more strawberry desserts. There are a few ways to freeze your strawberries properly. First, decide how many strawberries you are going to use and how many are left over to preserve.
How to freeze fresh strawberries
Wash, drain, and gently dry your leftover strawberries.
Cut off the hulls. Leave small strawberries whole and cut large strawberries in half or quarters.
Spread the strawberries on a baking sheet and place in the freezer uncovered for two hours. This method ensures that your berries won't be frozen together in the freezer bag.
Transfer the frozen berries to a freezer bag and keep them for up to six months.
Strawberries are in season from late April to August, so now is the perfect time to whip up your favorite strawberry shortcake recipe! You can use your frozen strawberries to make homemade strawberry glaze for your strawberry shortcake, jams, smoothies, ice cream or sorbet, toppings, and more!
How to make strawberry glaze
For this easy strawberry shortcake recipe, you can use a store-bought strawberry glaze or make your own. With a few simple ingredients, you can make your own strawberry glaze. To make, you'll need strawberries, corn starch, sugar, water, and food coloring (optional). A food processor works best to mash the strawberries. Check out this Strawberry Glaze Recipe for a simple and quick homemade glaze for your strawberry shortcake cake.

How to make strawberry shortcake
There are many ways you can make this easy strawberry shortcake recipe. You can make it as a sweet cake or biscuit. This recipe is a spin-off of the traditional strawberry shortcake. It's more of a sweet cake with layers, so some may call it a strawberry shortcake lasagna. The sweet icing for this cake includes cream cheese, sugar, vanilla, and heavy whipping cream. The layers of the cake include fresh, juicy strawberries, icing and vanilla wafers. Lastly, the strawberry shortcake is drizzled with a sweet strawberry glaze. Now that I have you hungry and ready to make this easy strawberry shortcake recipe, let's get started with all of the important details.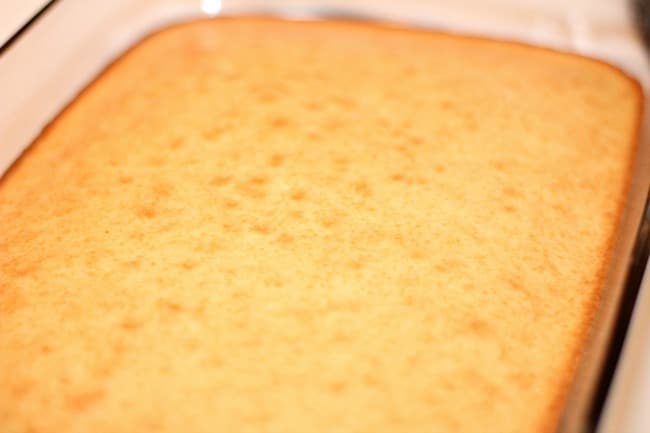 For the cake, you'll need a 9×13 baking pan. Fill the pan about 2/3 of the way. Use a toothpick to see if the cake is done. If the toothpick comes out clean, the cake is finished. Then set the cake aside to cool.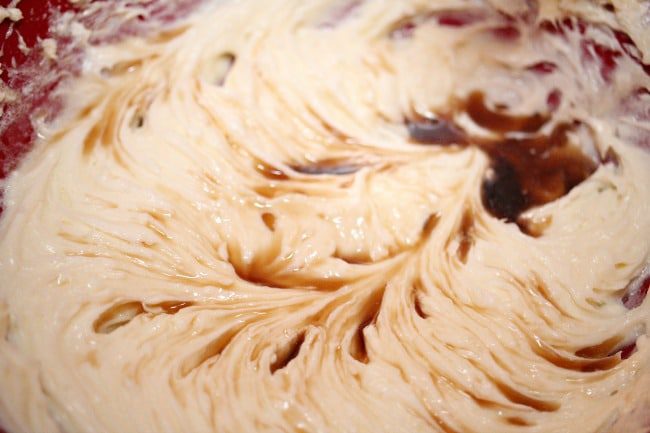 To make the icing, you'll mix cream cheese, sugar, vanilla and heavy whipping cream in a large mixing bowl.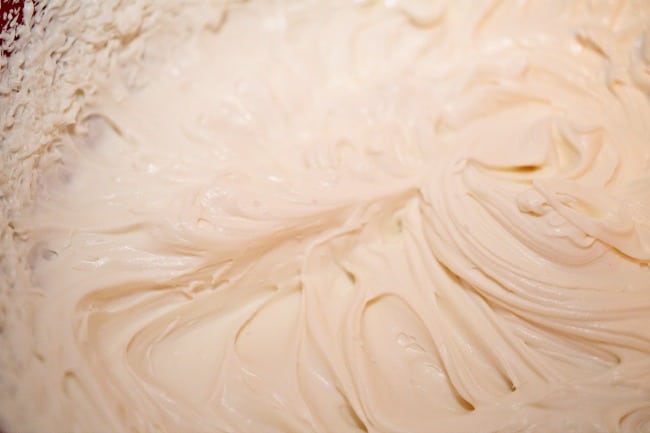 Mix the icing with your hand mixer until firm. How delicious does this sweet icing look?!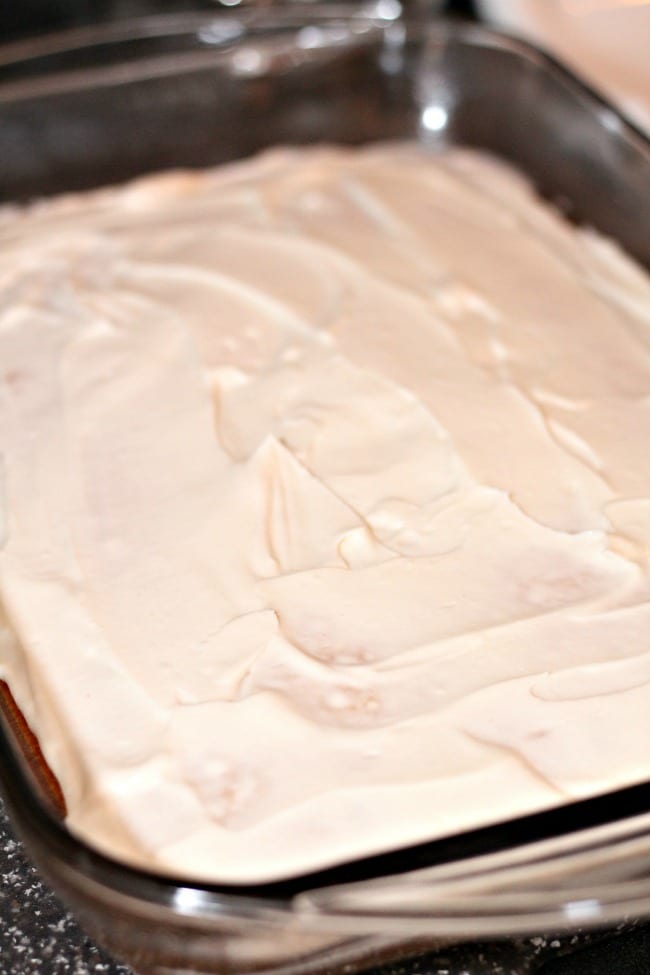 Add a layer of icing to the cooled cake.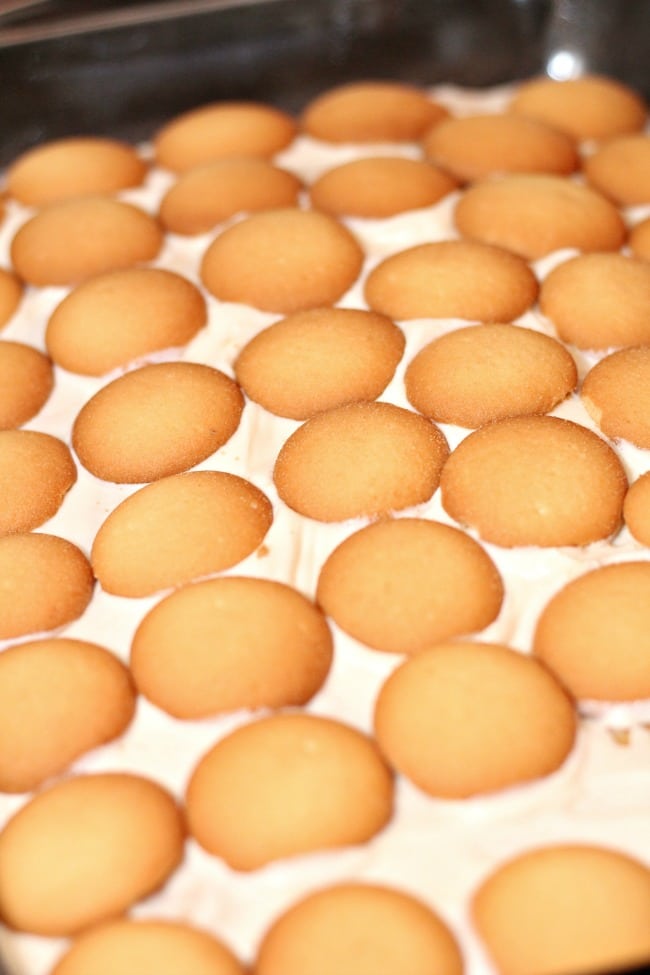 Then add a layer of your vanilla wafers.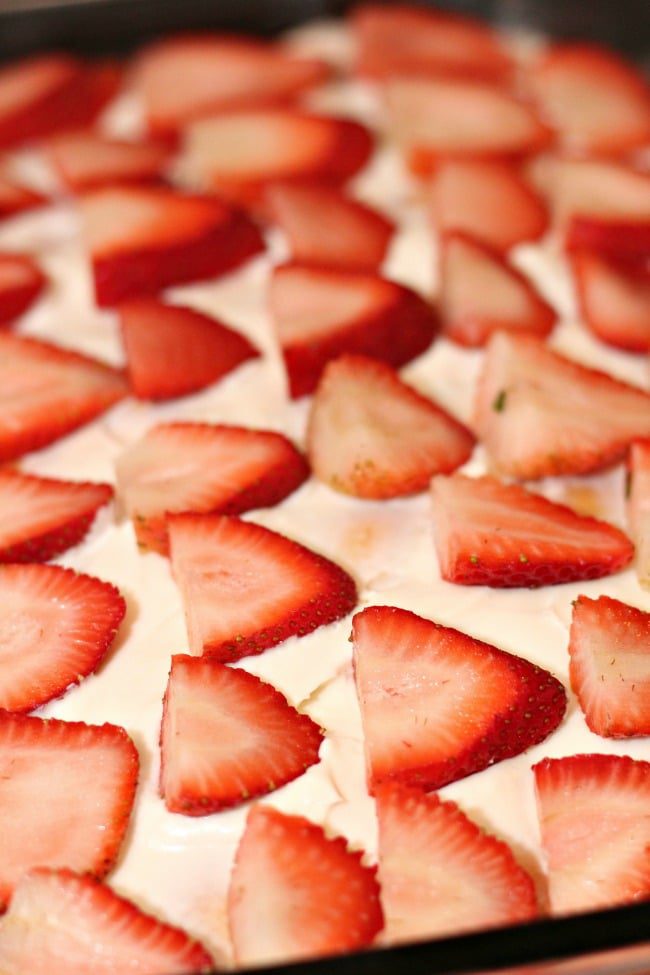 Next, add another layer of icing on top of the vanilla wafers. Then add another layer of fresh strawberries on top of the frosting. This is making it a strawberry shortcake lasagna! YUM! This easy strawberry shortcake will have everyone coming back for more!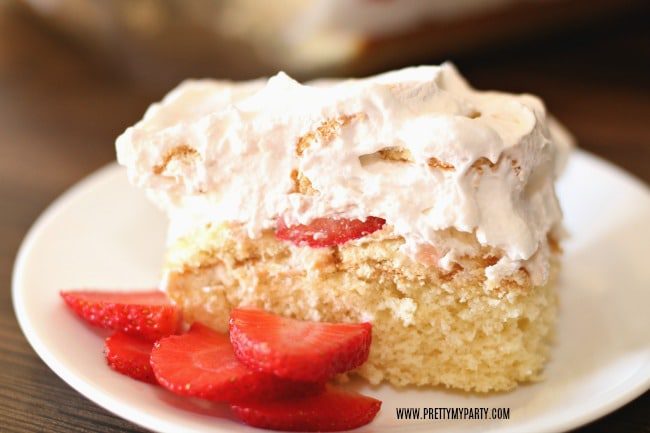 Look at all of that deliciousness! This is the perfect way to make this easy strawberry shortcake recipe!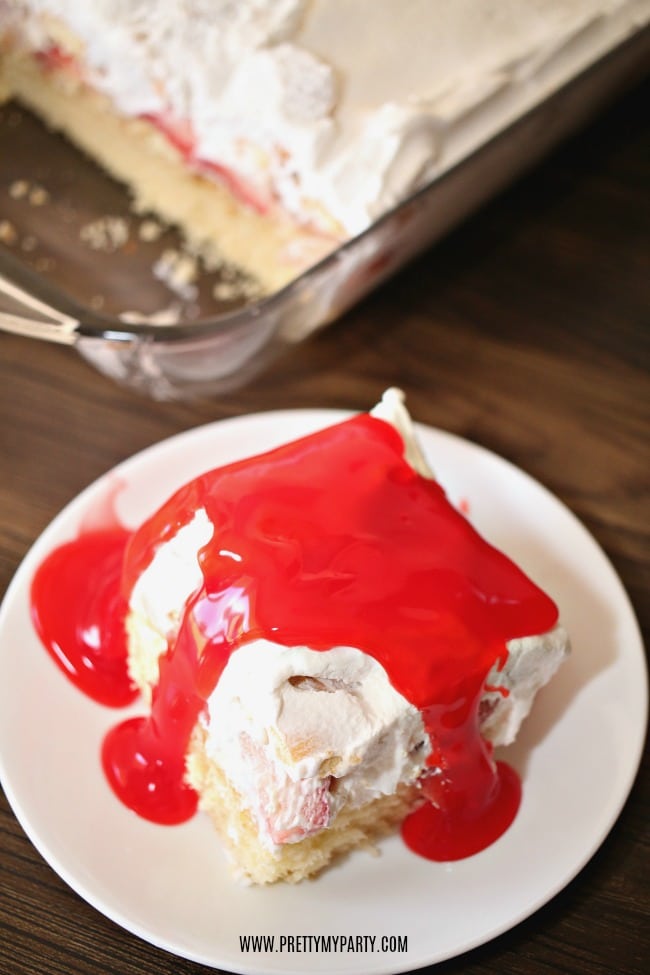 Don't forget to drizzle some sweet strawberry syrup on top! You can also top this easy shortcake recipe with more fresh strawberries if you desire.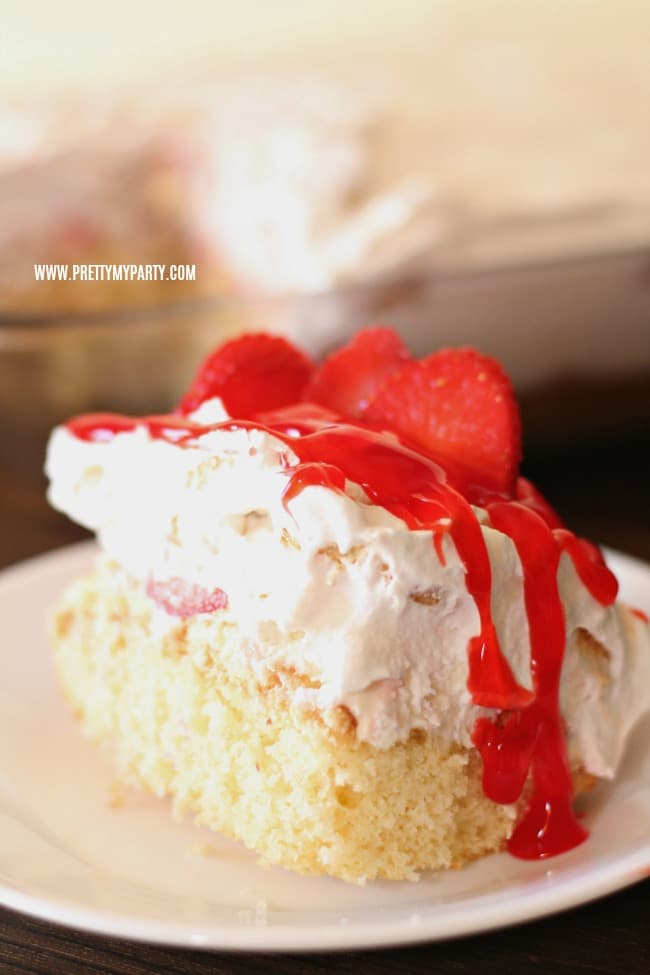 Easy Strawberry Shortcake Recipe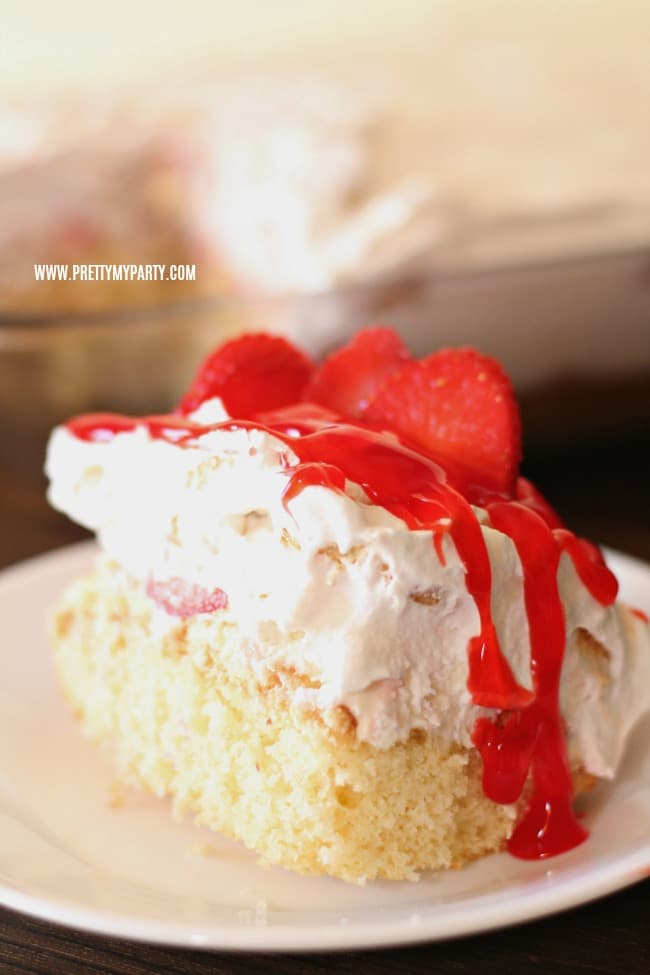 This Easy Strawberry Shortcake Recipe is perfect for spring and summer parties. It's quick and easy and everyone will becoming back for seconds. 
Ingredients
Cake:
1 cup butter
2 cups sugar
4 eggs
2 3/4 cups flour
2 tsp. baking powder
1 cup milk
Icing:
12 oz. cream cheese
1/2 cup sugar
2 tsp. vanilla
1 1/2 cups heavy whipping cream
2 tbsp. heavy whipping cream
Toppings:
1 large package fresh strawberries, sliced
1 box vanilla wafers
1 container strawberry glaze
Instructions
Cake
Preheat oven to 350 degrees and grease a 9 x 13 baking pan.
In a large mixing bowl, use a hand mixer to mix butter and sugar, until fluffy.
Beat in eggs and vanilla, until well blended.
In a separate mixing bowl, whisk your flour and baking powder.
Add your dry mix, and milk to your wet mix, and mix using your hand mixer. Do it slowly, about 1/4 at a time, and beat well with hand mixer. Make sure to scrape the sides and blend well.
Fill your baking pan with batter, only about 2/3 of the way. You may have batter left over, depending on how deep your pan is.
Bake for 20 minutes on middle rack. After 20 minutes, move to top rack, reduce heat to 320, and bake an additional 5 minutes, or until cake is baked through, and toothpick comes out clean.
Let cool.
Icing
In a large mixing bowl, mix cream cheese and sugar with hand mixer until fluffy.
Add in vanilla and mix.
Slowly add in heavy whipping cream and beat with a hand mixer until fluffy and firm.
Prepare Cake
Add a layer of icing to cooled cake.
Next, add a layer of vanilla wafers.
Add another layer of icing.
Cut the tops of your strawberries off, and slice long ways, and then add a layer of strawberries.
Add another layer of icing, followed by a layer of vanilla wafers.
Add one more layer of icing and refrigerate for 3 hours.
Once refrigerated, slice and serve with drizzled strawberry glaze and additional strawberries on top if desired.
Serve and enjoy!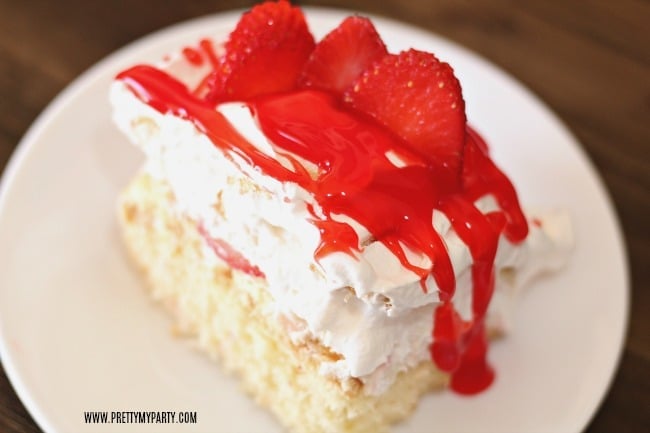 There you have it … an easy strawberry shortcake recipe you can whip up for any occasion!
What do you think of this Easy Strawberry Shortcake Recipe? If you try this recipe, give it a rating and let us know how you like it in the comments below! This strawberry shortcake recipe makes the perfect birthday cake too! It's light, fluffy and sweet – perfect for any party! For more recipes, party and entertaining ideas, follow us on Pinterest and join us in our private Facebook group.
SaveSaveSaveSave
SaveSave
SaveSave
SaveSave
SaveSave
SaveSave
SaveSave
SaveSave
SaveSave
SaveSave
SaveSave
SaveSave
SaveSave
SaveSave
SaveSave
SaveSave