18 Circle Ceremony Arch Wedding Decoration Ideas
Consider the newest trend for your wedding – a circular wedding arch. They are a gorgeous wedding decoration idea that adds the perfect amount of drama to your ceremony!
If you've ever been to a wedding ceremony outside of a church, you've probably noticed the couple exchanging their vows in front of a wedding arch. The wedding arch has been a long-standing tradition for some religions and cultures, but many non-denominational weddings also include a wedding arch in their ceremony. The wedding arch, especially at outdoor weddings, provides a lovely backdrop and serves as a focal point for the ceremony.
Throughout the years, the wedding arch has been decorated with flowers, greenery, crystals, feathers, and more! Brides have really taken a creative approach to the wedding arch and how it will add to their wedding ceremony.
Today, the wedding arch has evolved and we love seeing how creative people can get for their weddings. One trend we're totally loving right now is the circular wedding arch. These oversized wedding arches decorated with flowers are absolutely stunning and can be personalized by the bride's wedding colors and theme.
We love circular wedding arches that take center stage at a wedding ceremony. They are such a dramatic wedding decoration idea that really takes a wedding ceremony up a few notches. We also love that the circle symbolizes eternity, which goes with the idea of marriage lasting forever. These 18 Circle Ceremony Arch Wedding Decoration Ideas will give you some inspiration for your own wedding ceremony. Any one of these wedding arches will make the perfect backdrop for your wedding ceremony.
Shop these wedding arch decorations:

Circular Wedding Arch Ideas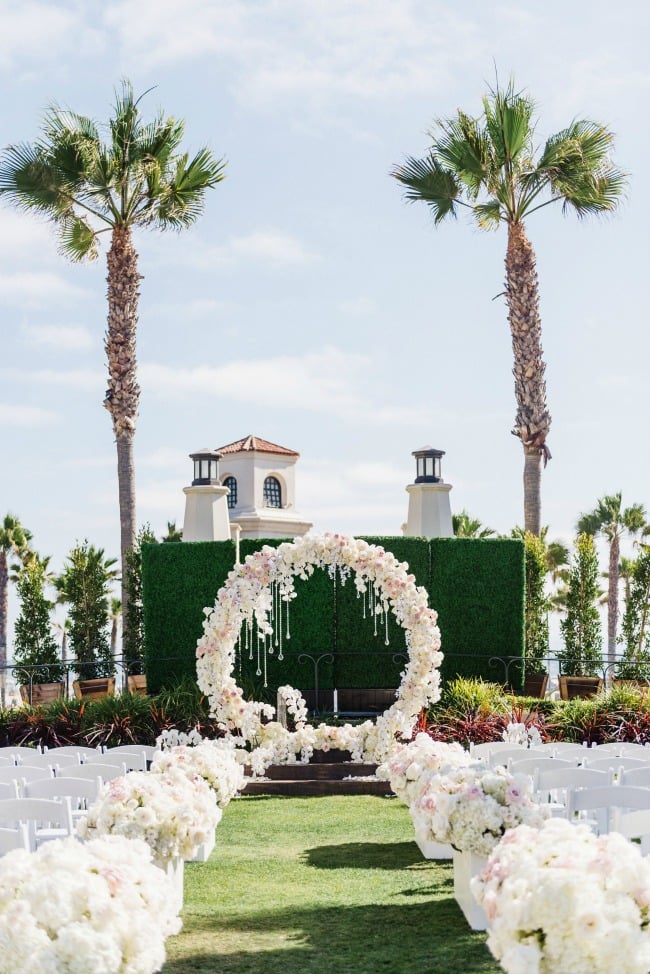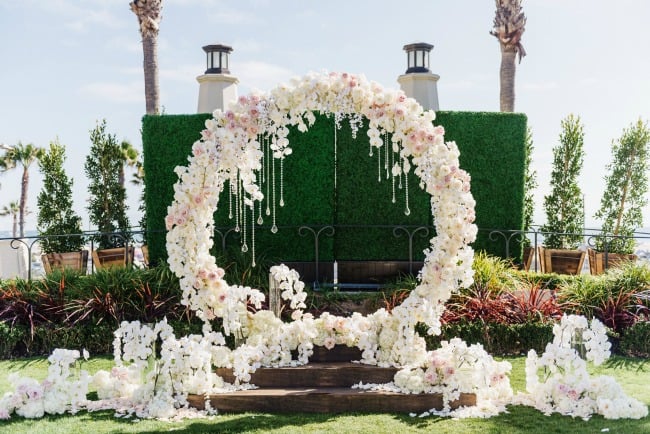 What a gorgeous circular wedding arch! This unique Circular Love was created By Blush Botanicals of San Diego, California. This dramatic backdrop is so elegant and gorgeous and is the perfect oversized floral wreath ceremony backdrop right by the altar.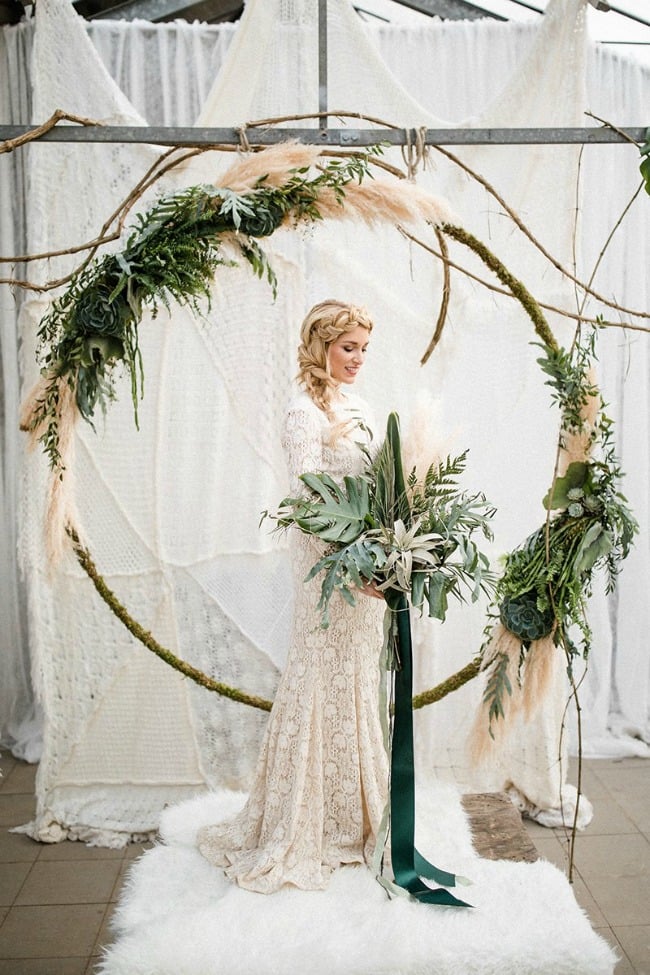 We love this Boho Inspired wedding arch by Frieda Theres! This is a wedding trend that is such an amazing addition to the wedding decorations. This specific wedding arch is understated, yet elegant, with greenery and a splash of color complementing the bride's look.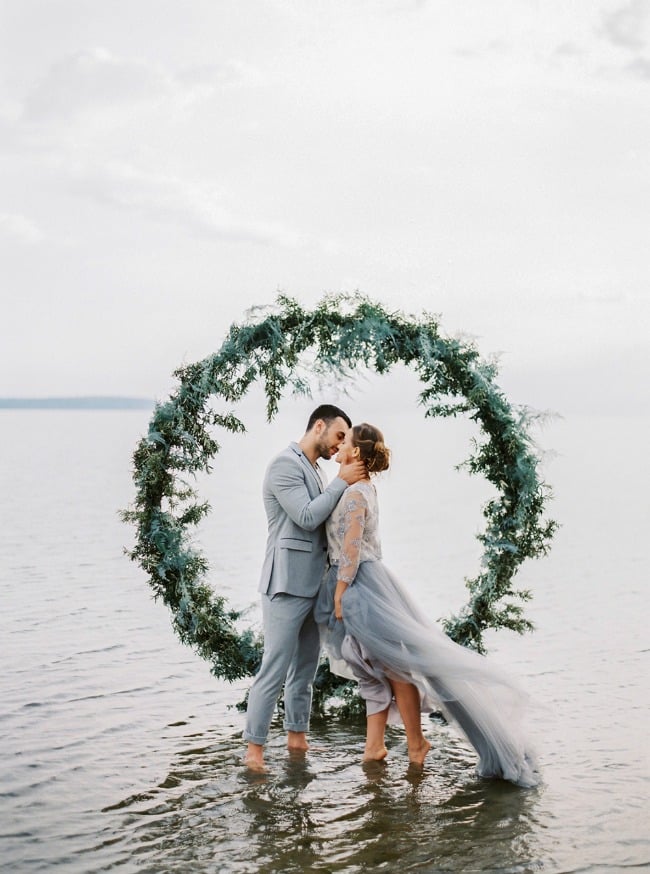 How dramatic is this circular wedding arch covered in greenery?! This Baltic Sea Wedding Inspiration is by Muravnik Photography and we just are enamored with the elegant look. Wedding backdrops don't have to be over-the-top. This simple greenery round wedding arch creates the most romantic and nature-inspired look!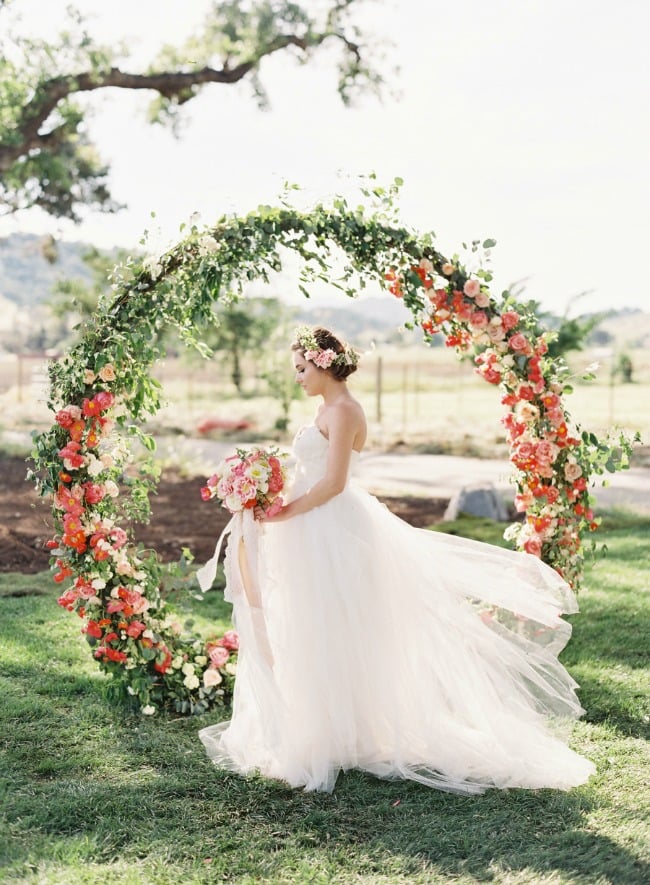 This Floral Inspired Circle Ceremony Arch By Caroline Tran is absolutely gorgeous with the bright pop of color the flowers provide. While it complements the bride's own bouquet perfectly, it doesn't overshadow the remaining wedding decorations, either. We love this flower-covered circle wedding arch!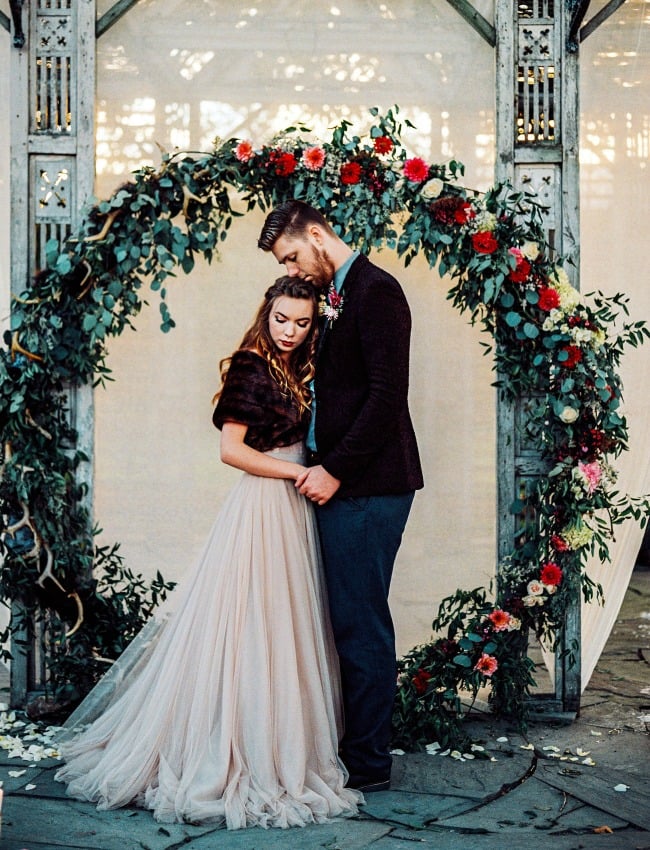 This wedding arch is inspired by a Rustic Winter Wedding Wreath created By Jessica Manns Photography and we just love it! The darker greenery really brings the rustic winter theme to life. This wedding ceremony arch idea is the perfect inspiration for anyone who is planning a similar wedding theme!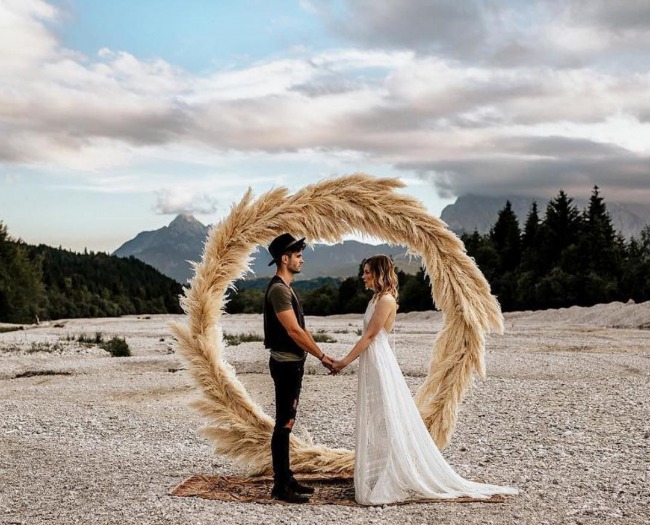 A Circle Ceremony Arch created with Pampas Grass by Chris & Ruth Photography is absolutely everything! We absolutely adore this unique take on a traditional Circle Ceremony Arch, with this wispy and unique look. It almost looks like wheat blowing in the wind. This is an absolutely breathtaking circle wedding arch.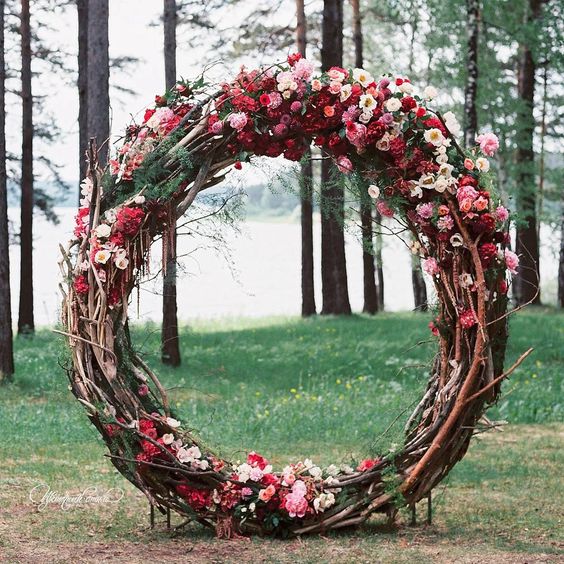 We love this Rustic Floral Wreath wedding arch By Artem Pretrov. The grapevine wreath provides a true rustic and woodsy feel for anyone looking for inspiration for that type of theme. Imagine the look on guests' faces when they walk into a wedding ceremony and see this different and dramatic backdrop waiting for the happy couple to stand in front of to pledge their love. Amazing!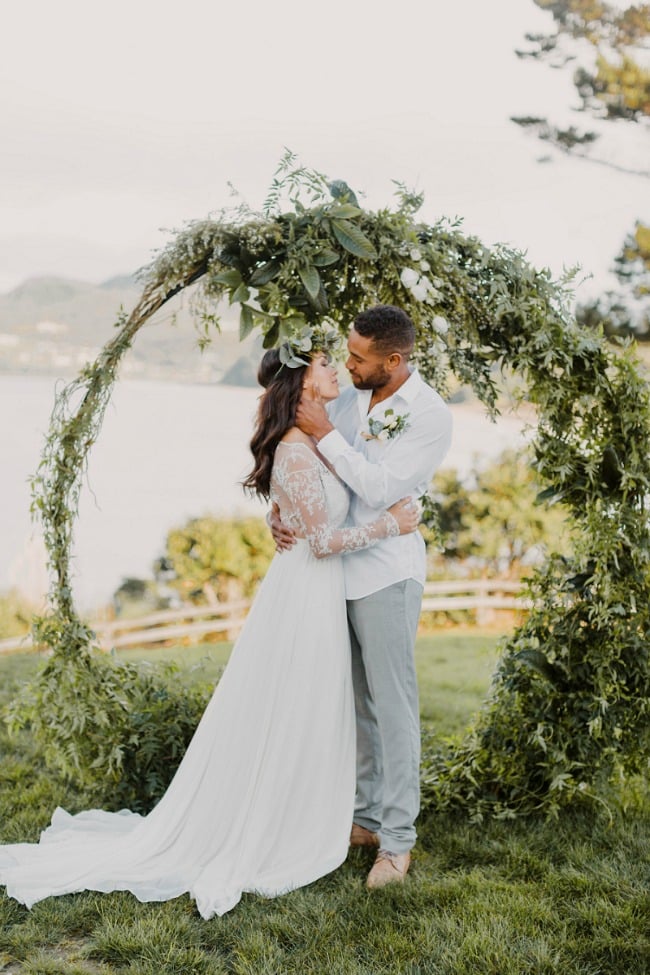 A circular wedding arch that was created with a Greenery Inspired Wreath By Dooley Street Styling and Wild Spirit Wedding Photography by Christina Schmidt is simple, yet completely unique! We love the look of eucalyptus and the greenery, which complements the wedding couple's look perfectly. The look of vines wrapping around the circle wedding arch is a great theme for an outdoor, backyard wedding!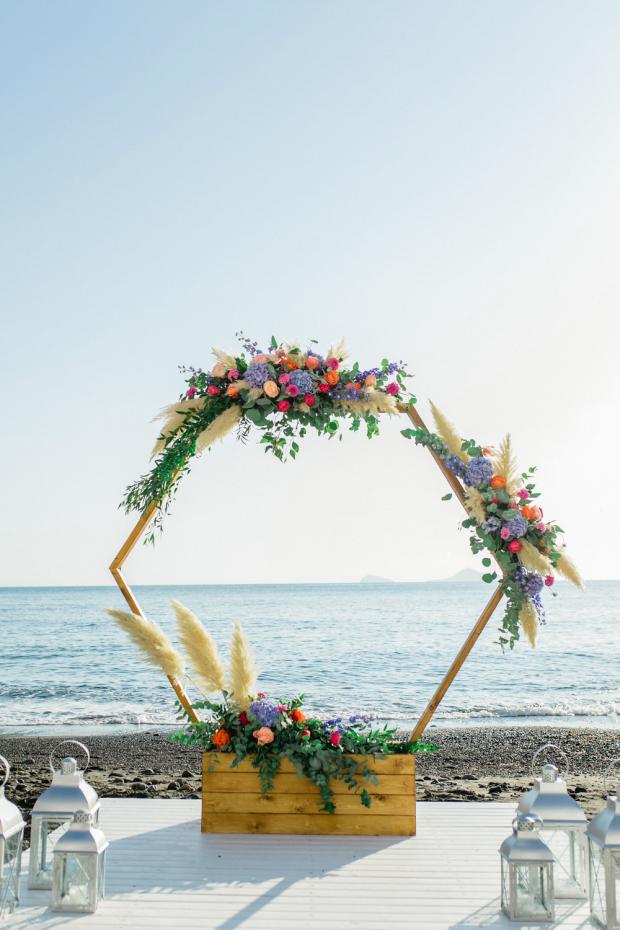 A wedding arch doesn't have to just be created by flowers and greenery! This Beach Floral Circular Arch by The Knot Santorini and Anna Roussos is a unique way to finish the look! What a great way to create a DIY circle arch without having to overwhelm the look with too many florals. This is a great idea for a seaside ceremony!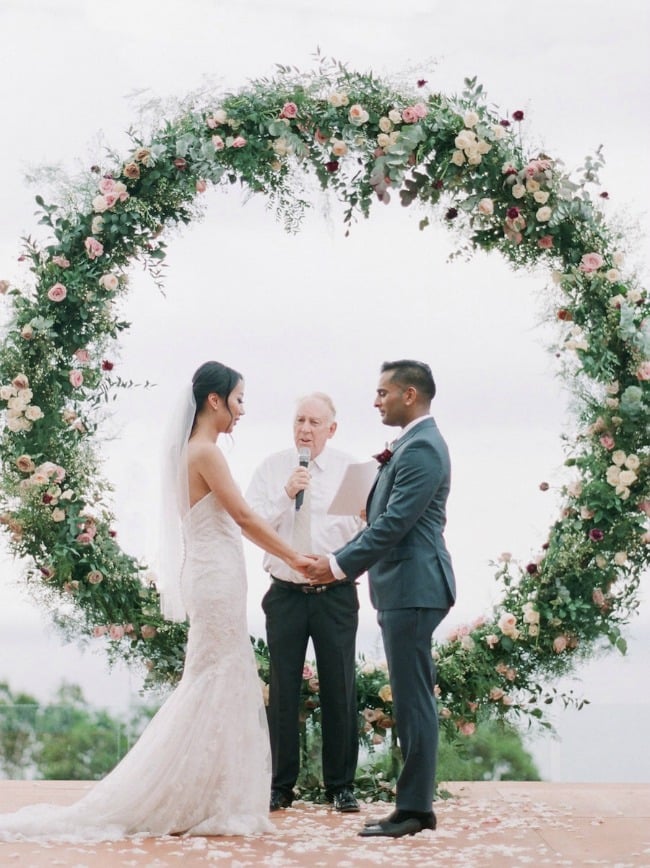 A Seaside Floral Ceremony Wreath By The Wedding Bliss Thailand and Blush Wedding Photography is a beautiful way to incorporate a Circle Ceremony Arch into your wedding. This oversized floral wreath ceremony backdrop is absolutely everything! It is such a dramatic backdrop that guests are going to be in awe as the bride finally makes her way down the aisle. Imagine the gorgeous wedding pictures that will be captured in front of this unique wedding arch!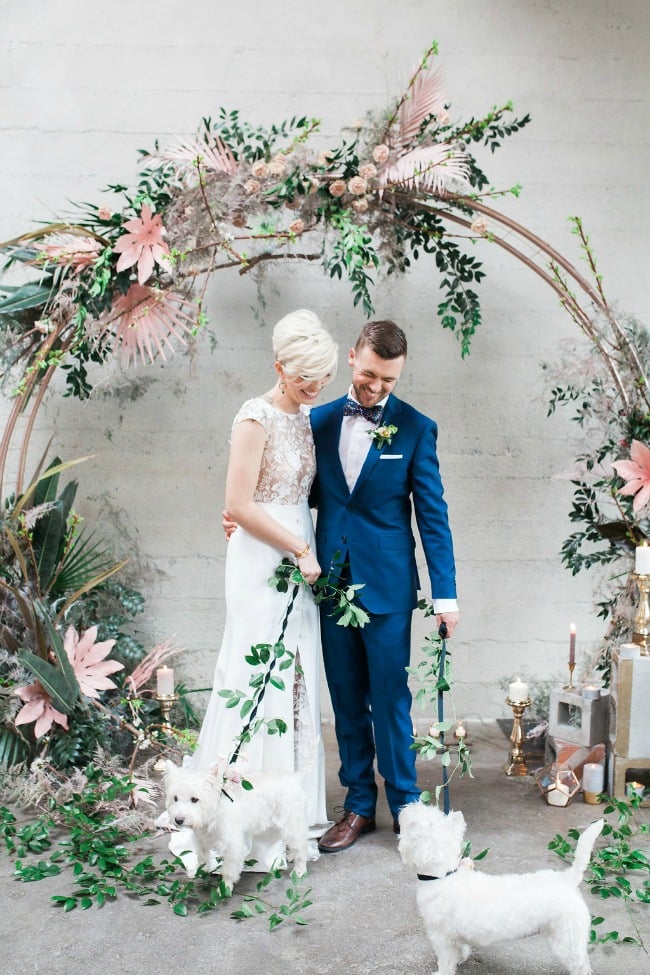 Wow! A circle wedding arch was created with inspiration from a Stylish Tropical Wedding Wreath By Filosophi Events and Kat Wilson Photography and it couldn't be more unique! We love the dramatic florals and greenery that were used to create this circle wedding arch. What a beautiful wedding ceremony idea for the summer or for more of a tropical theme!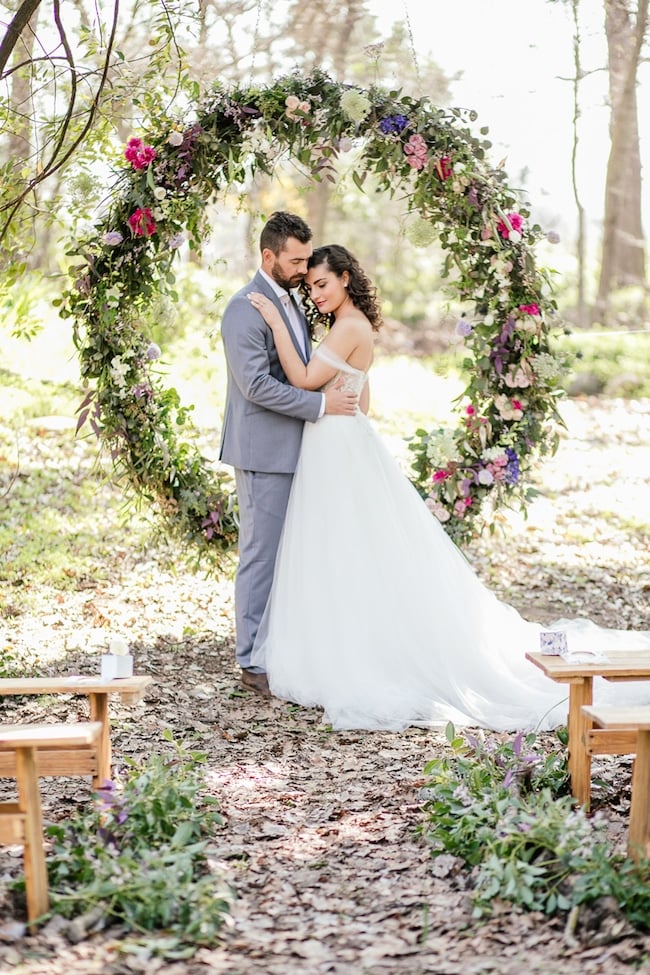 This Giant Floral Wedding Ceremony Wreath by Blank Canvas Event Design, Bloomstories Floral Designer, and Nicola Bester Photography is gorgeous! What a great wedding arch for the fall, where florals are still peeking through, yet doesn't overtake the lovely forest canvas that is seen at the ceremony.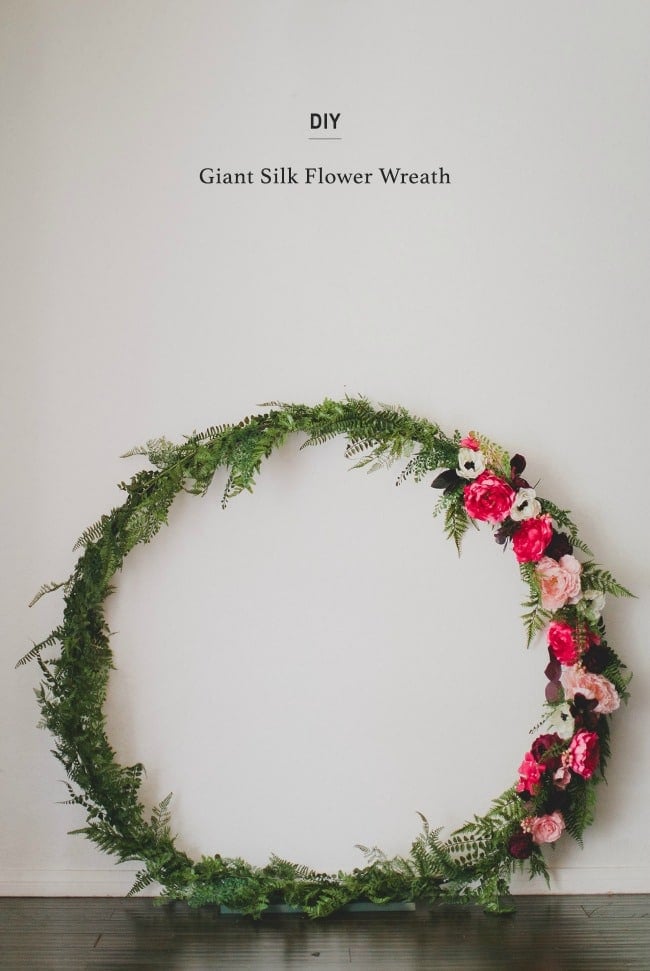 This DIY Giant Silk Flower Wreath Tutorial By Green Wedding Shoes will get you creating your own DIY wedding arch in no time! This wedding arch is a great wedding ceremony decoration. A simple circle installation will completely change the entire vibe of a wedding ceremony!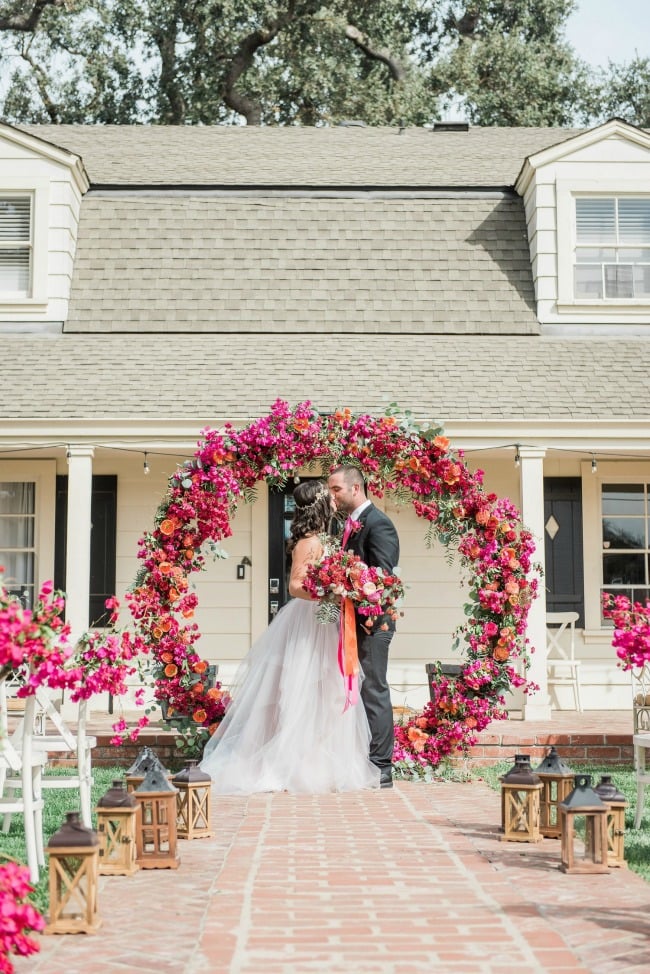 This Bright and Colorful Oversized Circular Wedding Arch By Vo Floral and By Luke1985 Photography is stunning! Set behind a white backdrop, this bright oversized floral wreath ceremony backdrop will pop and be the center of attention when it comes to the wedding decorations! By matching the florals down the aisle, along with the bride's bouquet, it creates a stunning visual path leading the bride right to where she belongs!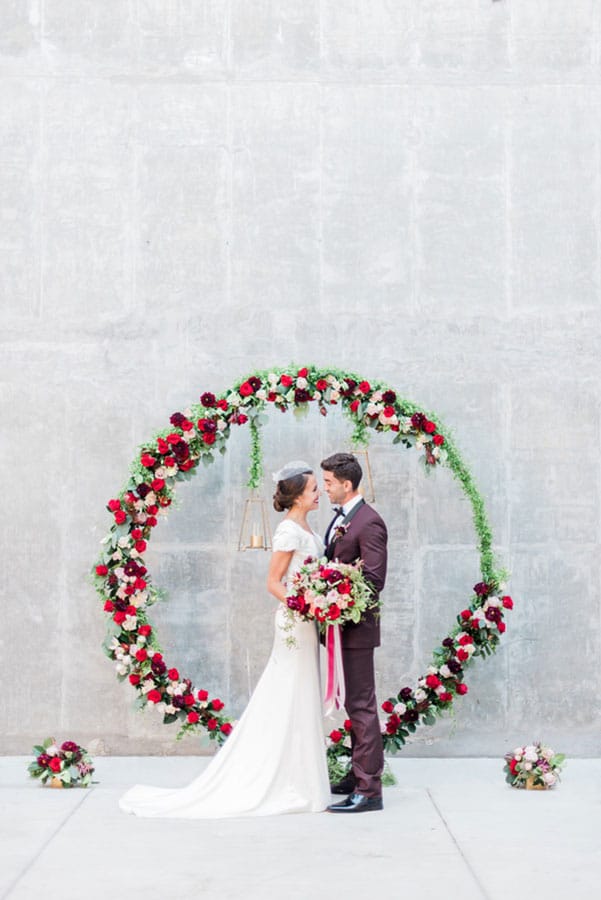 What a gorgeous Red Floral Wedding Arch By Peonies and Petals and Mink Photography. We love how the other flowers around the floral wreath complement the wedding backdrop perfectly! A true showstopper!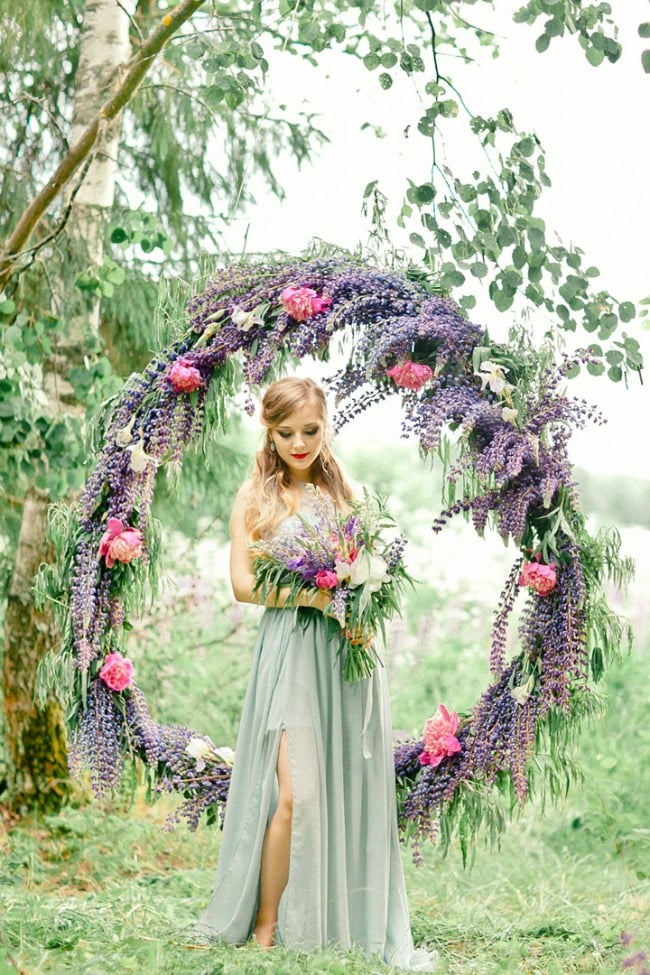 We love this whimsical-looking Giant Violet Circle Ceremony Arch By Elena Zhun! The best part of creating a Circle Wedding Arch is that you can truly use just about anything when it comes to matching the decor of your theme.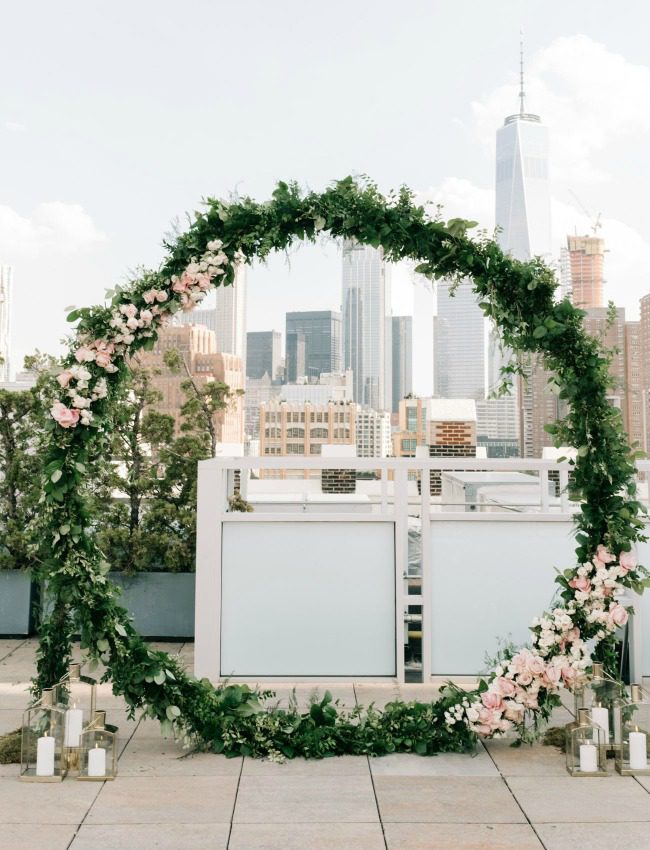 This Greenery Floral Circle Wedding Arch with a pop of color was created by The Hons and Runway Events. What a stunning creation and the candles on the sides absolutely make this not only simple wedding decorations, but truly a circle of love!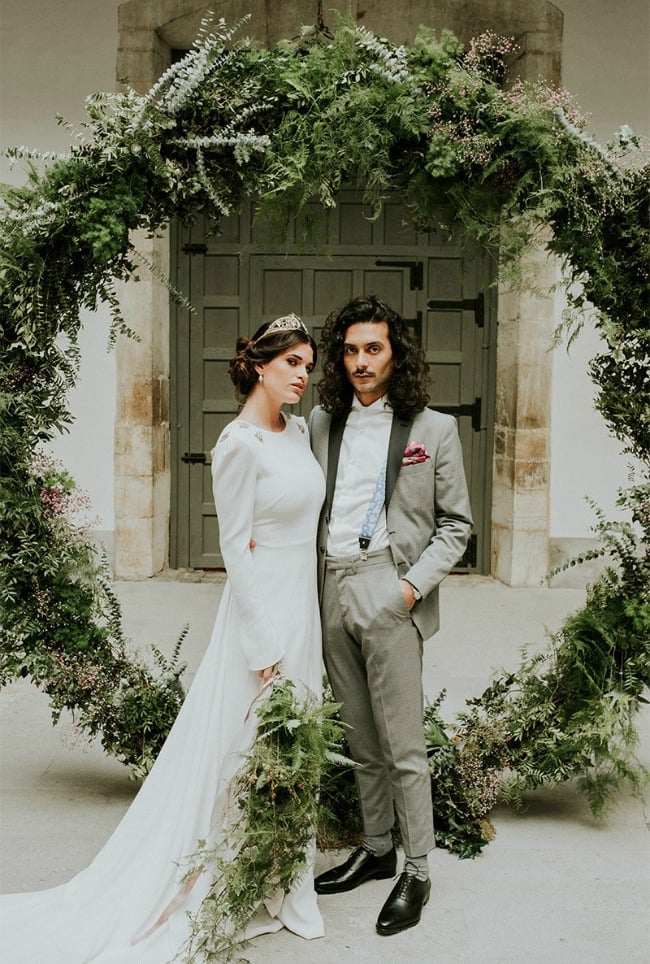 This unique and dramatic oversized wreath ceremony backdrop is the best wedding trend ever! The large Greenery Wreath was created by M2 Visual Studio and is such a statement piece when it comes to a Circle Ceremony Arch. Added greenery can create a dramatic and moody overtone. A true creation of art!
What's your favorite Circle Wedding Arch? Let us know in the comment below!
For more wedding ideas and inspiration, follow us on Instagram @prettymyparty and Pinterest and join us in our private Facebook group.
SaveSave
SaveSaveSaveSave
SaveSave
SaveSave
SaveSaveSaveSave
SaveSaveSaveSaveSaveSave
SaveSaveSaveSaveSaveSave
SaveSave
SaveSave
SaveSave
SaveSave
SaveSave
SaveSave
SaveSave
SaveSave
SaveSave
SaveSave