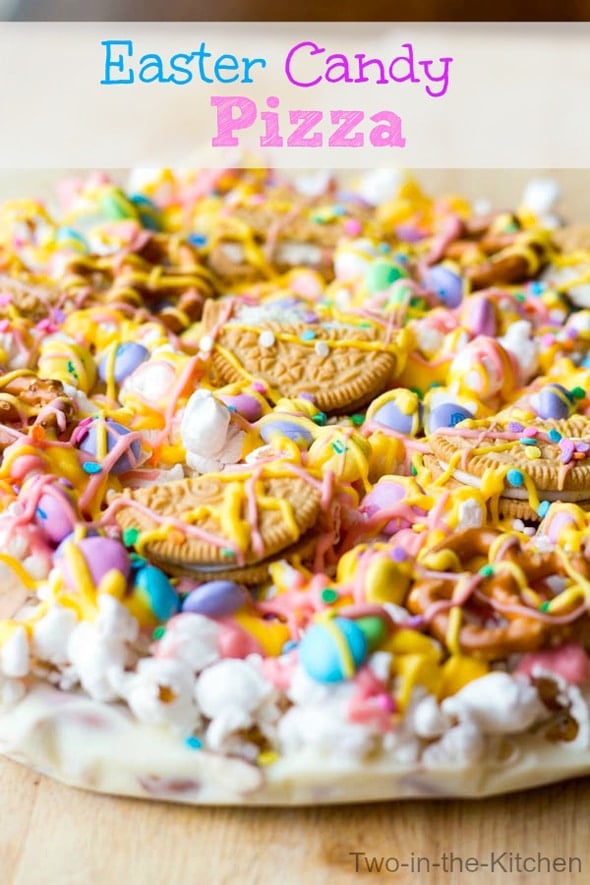 Renee of Two in the Kitchen is back today with another fun and delicious Easter recipe – Easter Candy Pizza! I just love the colors of Easter. They are just so bright, cheerful and pretty. So this fun Easter treat is dedicated to the beautiful colors of Easter. It is really a big kaleidoscope of pretty, spring, pastel colors!
This is a candy pizza! It is basically a big pizza of chocolate bark. But it is formed in a round springform pan and you can basically incorporate anything you want in it.
For this candy pizza, I laid out some wax paper in the bottom of a 9 inch springform pan. I then melted a bag of white candy melts and mixed in two cups of broken pretzels and spread that over the bottom of the pan for the base of my "pizza." Then, I took 2 cups of popcorn and poured that over the top, slightly pushing it down onto the white chocolate layer.
Now comes the fun part! At this point, I chose two colored candy melts, (yellow and pink) put 1 cup of each in two different plastic freezer bags, microwaved them for 30 seconds, slit a corner in each and just started drizzling the chocolates all over the popcorn layer.
I then sprinkled some Easter M+M's over the top, scattered several broken golden Oreo's, placed a few pretzels, and then drizzled more colored chocolate over the top and finished off the look with some pastel confetti sprinkles! The end result: Beautiful!!!
Now, when you cut into this, you can certainly cut it like pizza triangles (as I did above). But you will quickly find that the rest of this will just break all into pieces because it is after all, chocolate. And chocolate does not exactly slice like crust does. I actually just broke this pizza apart into pieces and we had a free for all!! (That is part of the fun!)
This is such a fun and tasty treat to make with kids! Give them a handful of M+M's and a bag of melted colored candy melts and let them go nuts! I hope that you and your kids have as much fun making and eating this Easter Candy Pizza as mine did!
Easter Candy Pizza
Ingredients:
1 14 oz. bag of white candy melts
2 c. broken pretzel pieces (I broke them by hand)
2 cups of popped popcorn
2 c. different colored candy melts
2/3 c. Easter M+M's
5 Golden Oreos
Some whole mini-braided pretzels
2 TBLSP Sprinkles
Instructions:
Line a 9 inch springform pan with waxed paper.
Melt white candy melts according to package instructions and mix them with 2 c. broken pretzel pieces. Spread the mixture evenly on the bottom of the pan.
Pour popcorn over the top and push gently.
Put the colored candy melts in two different plastic freezer bags. Place them in the microwave, one at a time, for 30 minute increments until melted. Snip holes in the corners.
Drizzle about half of each color over the popcorn.
Sprinkle the M+M's evenly over the top.
Break each Oreo in half and spread over the top. Sporadically place a few pretzels on top.
Drizzle the rest of the colored candy melts over the top and then evenly spread the sprinkles over that.
Cover and place in the refrigerator for 30 minutes.
Unhinge the pan and very carefully peel the waxed paper off.
Break the whole thing up as desired to serve.
Renee is a high school history teacher and blogs with her husband and kids at Two in the Kitchen. Her blog is all about making family memories by cooking and baking together in the kitchen. Visit her blog and you will find tasty treats that are perfect for the holidays, savory grilled meats that are ideal for entertaining a crowd, and easy casserole dishes that will come together in a pinch on those busy week nights. Renee is from the Chicago area and enjoys reading, traveling, and of course, cooking up family memories in the kitchen. Check out her Blog | Facebook | Twitter | Pinterest | Google+
Plan a Egg-cellent Easter Party with these fun party products hand-picked by our editors!
This feature contains affiliate links. Please see our full disclosure policy.
Check out these other Easter features on Pretty My Party!
Peanut Butter Gooey Easter Bars