DIY Custom Champagne Favors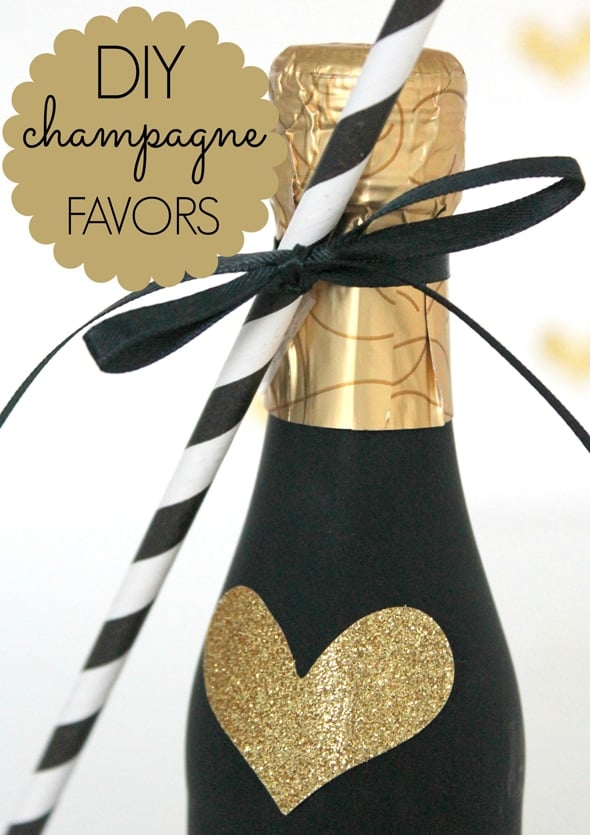 Hello again, Kristen and Missy here from Sweetly Chic Events and Design and today we're sharing these fabulous DIY Custom Champagne Favors that are not only chic, but delicious too! By taking a simple, miniature champagne bottle and adding a few personal touches, you can easily create a favor that is completely custom for whomever is lucky enough to receive it!
Supplies:
Miniature Champagne Bottles
Chalkboard Spray Paint
Painters Tape
Gold Leaf Pen
Ribbon
Paper Straw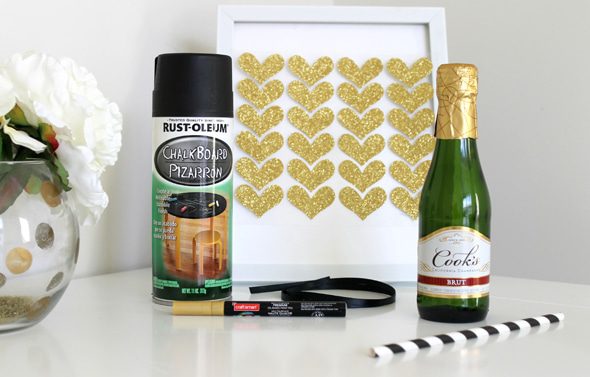 1. Begin by removing the label from your miniature champagne bottle. We found that soaking it in warm water made for a clean and easy removal!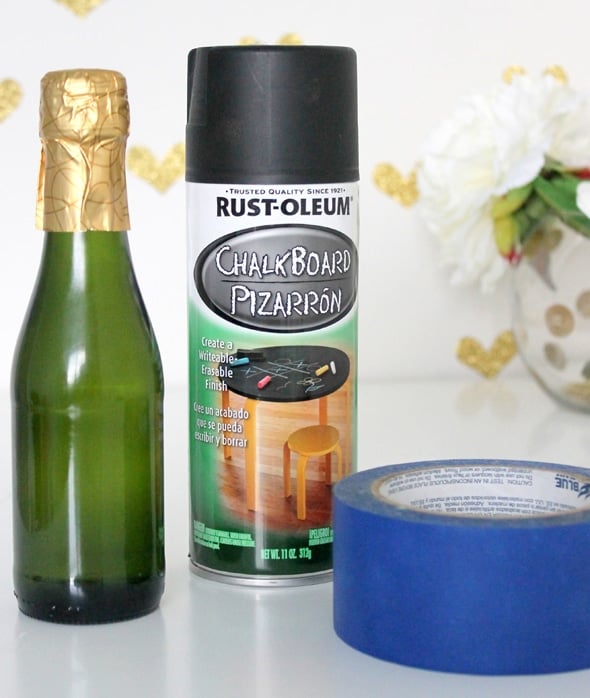 2. Once your label is removed, place a piece of painters tape over the foil top of your champagne bottle.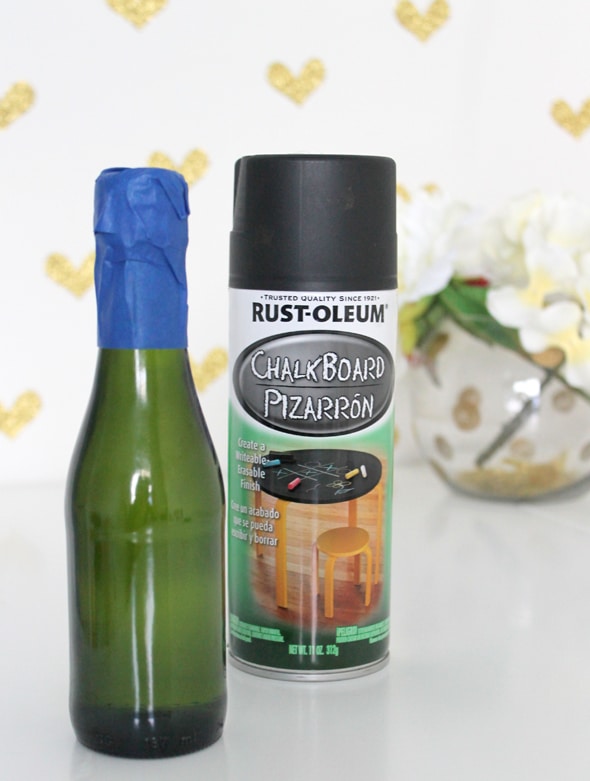 3. Once your painters tape is in place, carefully apply an even layer of black chalkboard spray paint to the bottle.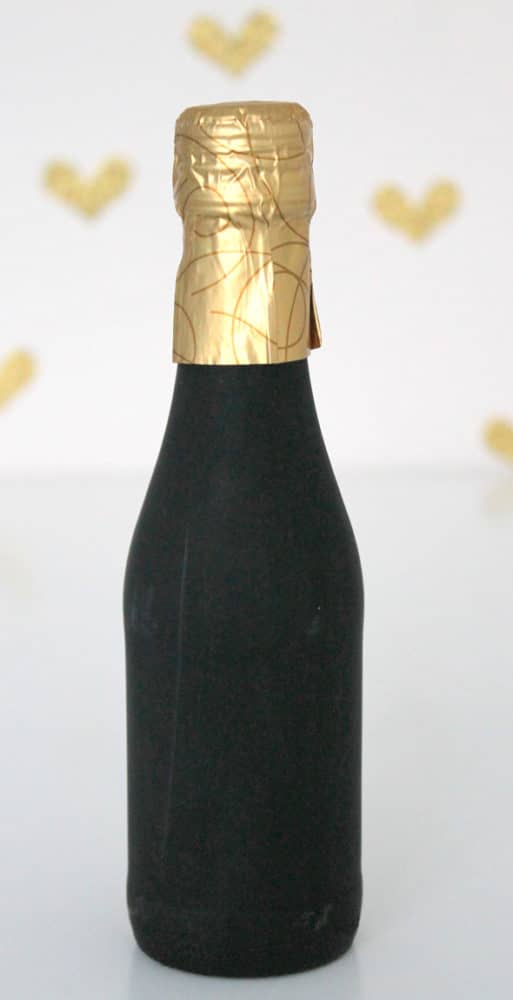 4. Once your paint has dried, it's time to personalize your champagne favors!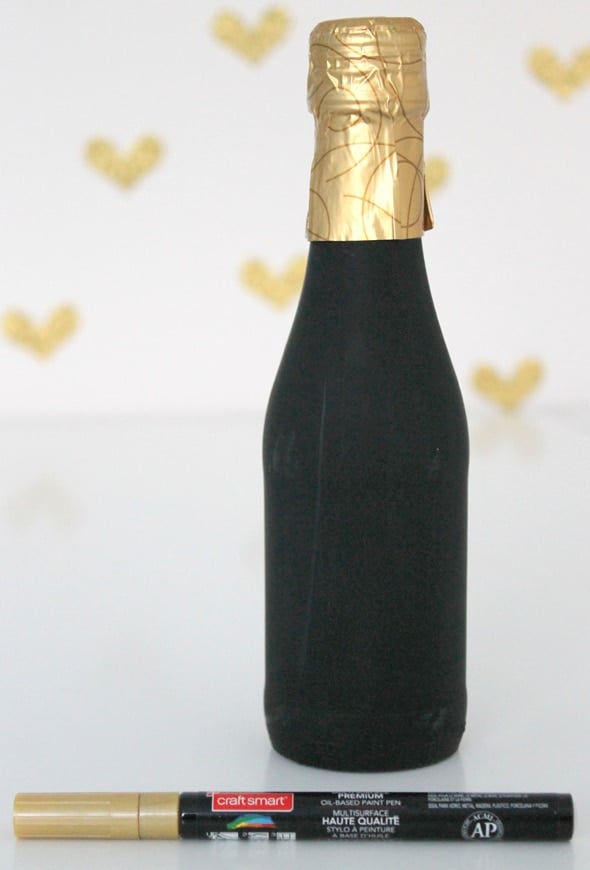 5. Using your gold leaf pen or Sharpie, spell out the name of the intended recipient of your favor.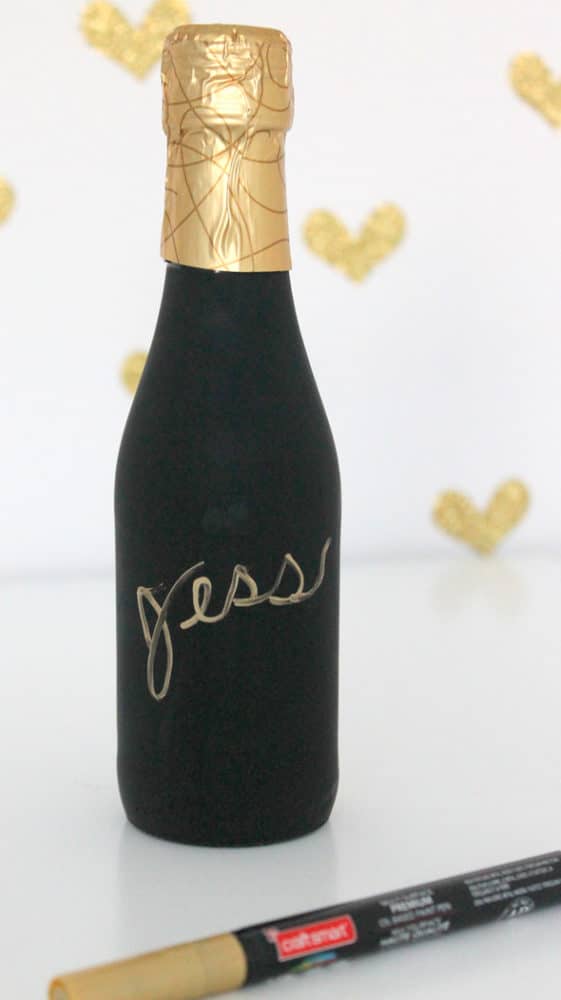 6. Now, it's time to add a little bit of bling with those gorgeous Gold Glitter Heart Stickers from My Bride Fairy!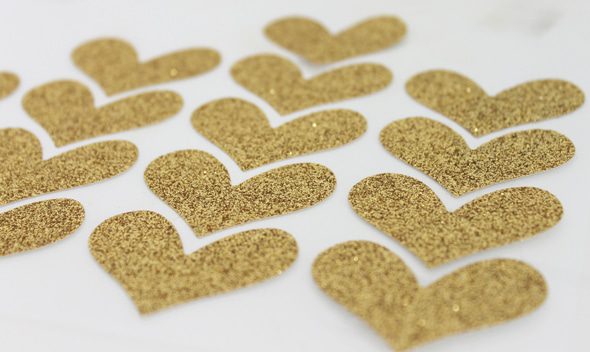 7. Choose where you would like to place the sticker and carefully adhere.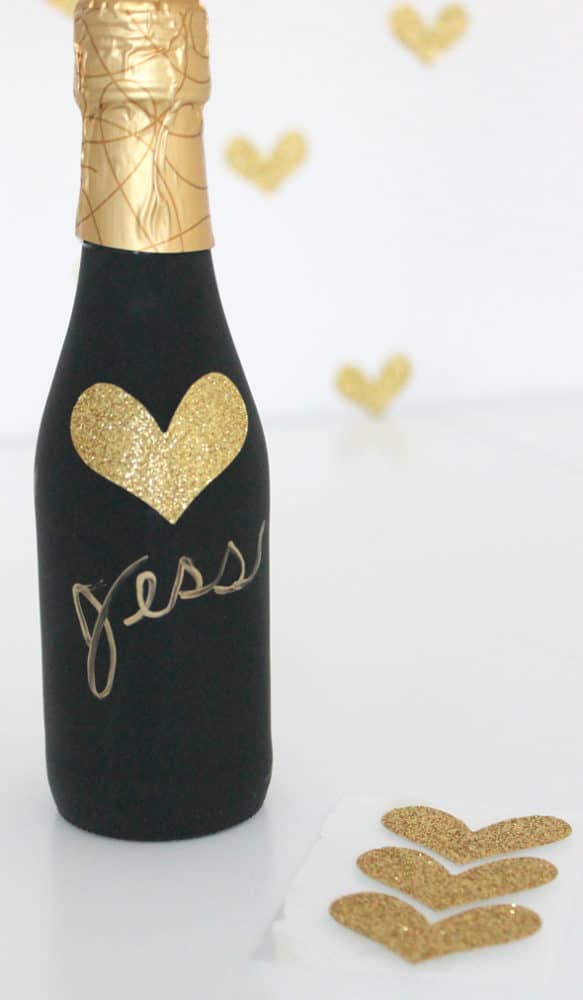 8. To help your recipient enjoy their delicious champagne favor, let's attach a cute, color coordinating paper straw!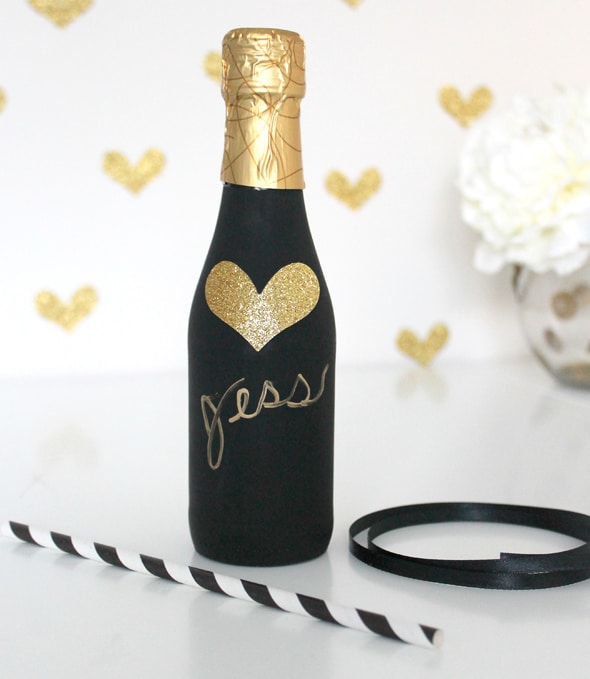 9. Simply attach with a ribbon and tie in a simple bow.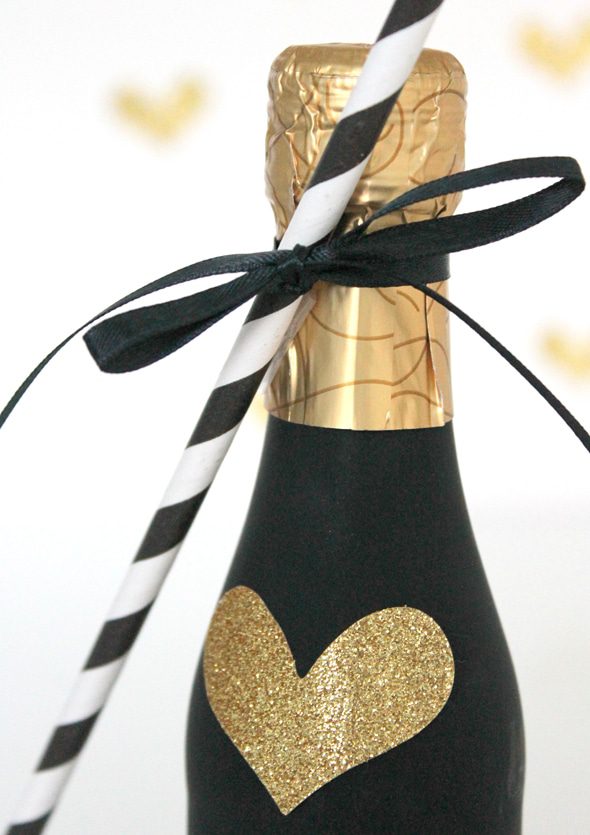 You now have an adorable, custom favor that will no doubt be enjoyed by the friend or family member who receives it!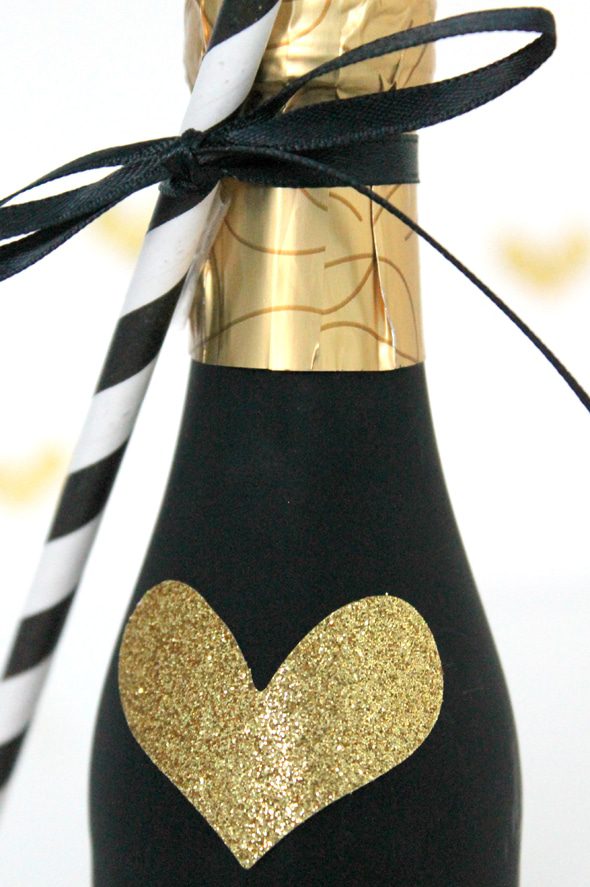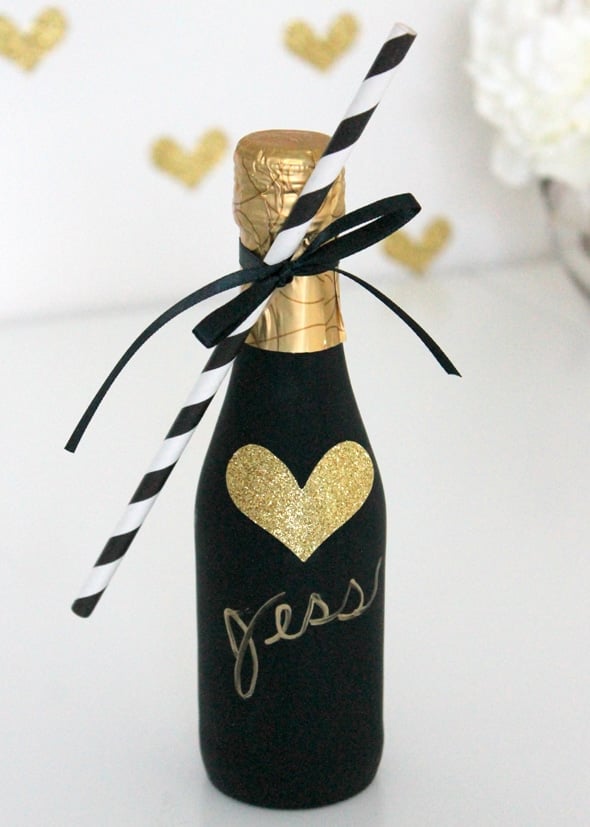 Perfect for bridal showers, cocktail parties or even weddings, these favors will have your guests swooning while sipping some bubbly! Thank you to My Bride Fairy for allowing us to use their stunning Gold Glitter Heart Stickers! To learn more about My Bride Fairy visit their Website, Facebook Page, Instagram!
Check out these other awesome DIY ideas:
Check out some of these gorgeous party products!
Missy LoFaso and Kristen Bound are Pretty My Party's DIY contributors. They are long-time friends who share a passion for pretty things and planning parties. Their mutual love and obsession for creating and styling events led them to develop Sweetly Chic Events & Design, an event styling and coordination company in Doylestown, PA. Sweetly Chic is based upon creating beautiful events that showcase a love of classic styles, unique trends and of course, a bit of glitz and glam! Follow Sweetly Chic Events & Design on Facebook | Pinterest | Twitter | Instagram