If you're looking for easy mini desserts, then you're in for a real treat with these 15 Best Desserts in Cups!
Dessert cups are all the rage right now and we think they're pretty fantastic for parties!
These mini dessert cups are easy to serve at any event and they're just enough to satisfy anyone's sweet tooth without going overboard.
Another thing that's great about these mini party desserts is you can offer a variety on your dessert table and make a fabulous dessert buffet.
Guests will love the variety of mini desserts displayed on the dessert buffet. I was at a wedding recently and they had the most amazing dessert buffet.
A dessert buffet is a great idea if you don't want to have a traditional wedding cake. We were able to try a few mini desserts and they all paired perfectly with our after-dinner coffee!
I loved sampling all of the mini desserts in cups!
Whether you're in the mood for chocolate dessert cups, trifle dessert cups or cheesecake dessert cups, there's a bite-sized recipe here for everyone!
How to make dessert in a cup
Depending on what type of dessert cup you want to make, there are many ways you can make these easy treats.
Choose your dessert, then follow the recipe below. You will be making your desserts in Individual serving sizes, so it's best to follow a specific recipe for the best outcome.
See also: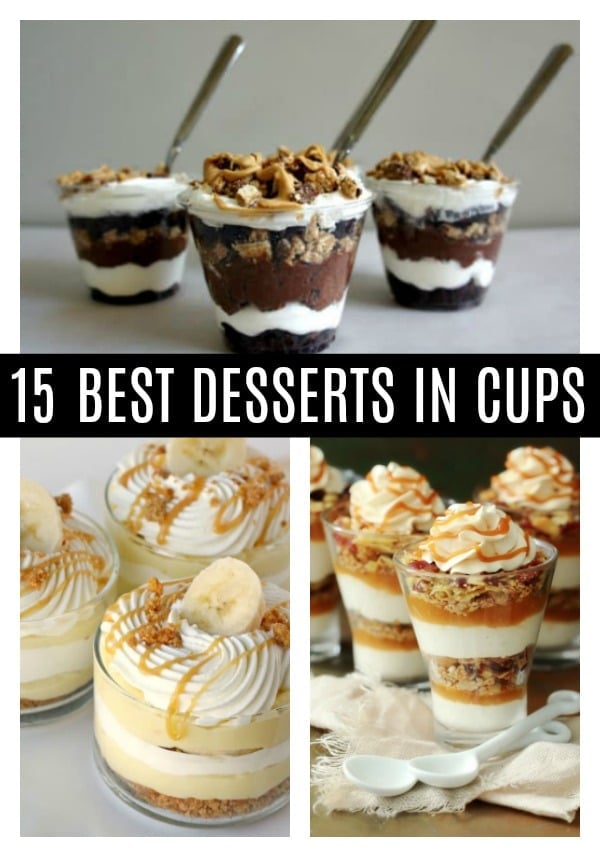 If you're wondering where you can buy mini dessert cups, Amazon is my favorite place to shop for party supplies. They have everything you need and you can even buy in bulk!
Of course, I'm an Amazon Prime member, so everything ships free to my door in 2 days!
This is perfect if you're planning a party last-minute and don't want to run around to shop for party supplies.
No matter if you're planning a children's birthday party, a baby shower, bridal shower, wedding, or graduation, mini desserts are always a good idea!
Check out our favorite dessert cup recipes below!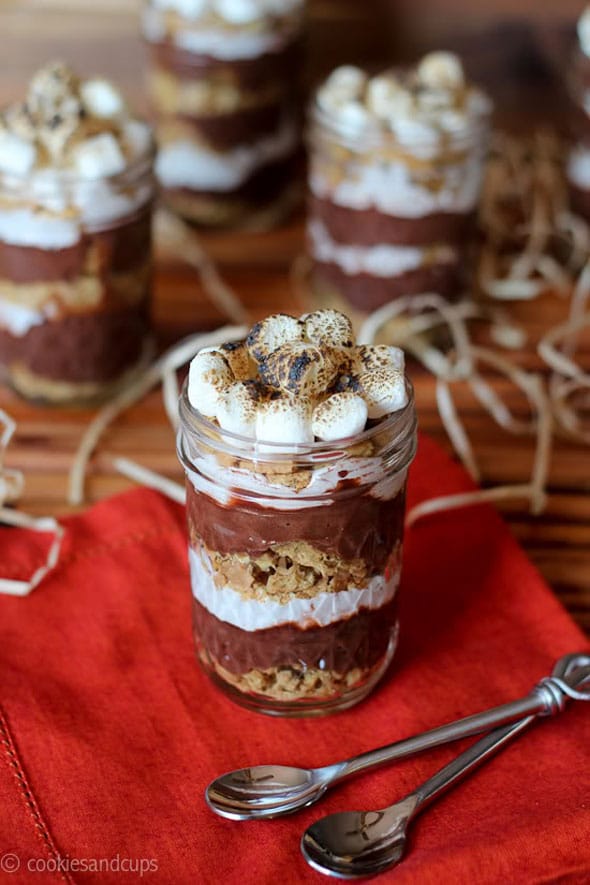 1. S'MORES IN A CUP
S'mores In A Jar are always a favorite of the young and old alike! And who could resist when the end product looks as delicious as this?
I love how the marshmallows are even crispy on top, just like you'll find in a real S'mores sandwich made around the campfire.
Layered with marshmallow, chocolate, and graham crackers, this dessert cup will be a bite-sized favorite at your party!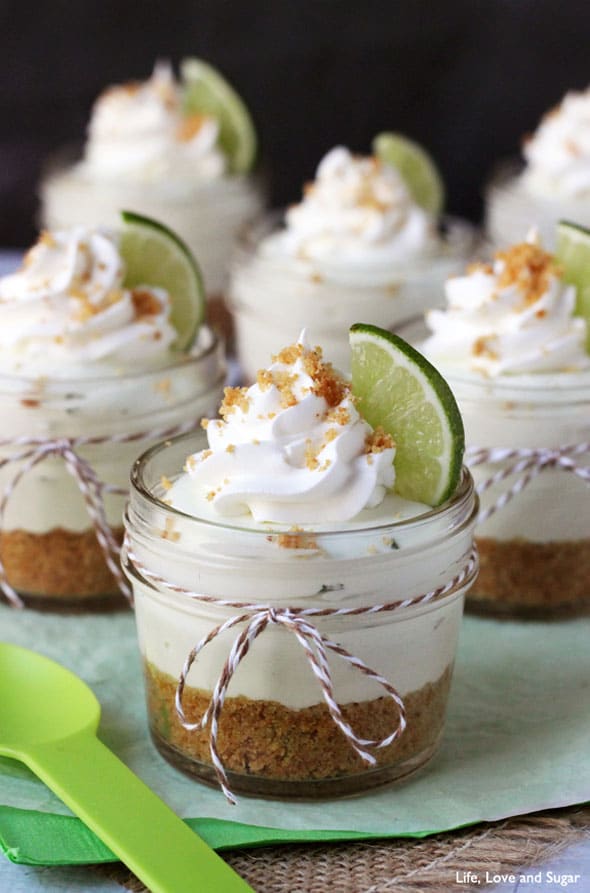 2. MINI KEY LIME CHEESECAKE
Key Lime Cheesecake is a personal favorite of mine and this sweet treat above looks like a perfect, refreshing dessert for a summer soiree!
Sprinkle some graham cracker crumbs on top and garnish with a lime and this mini dessert will be the hit of any party.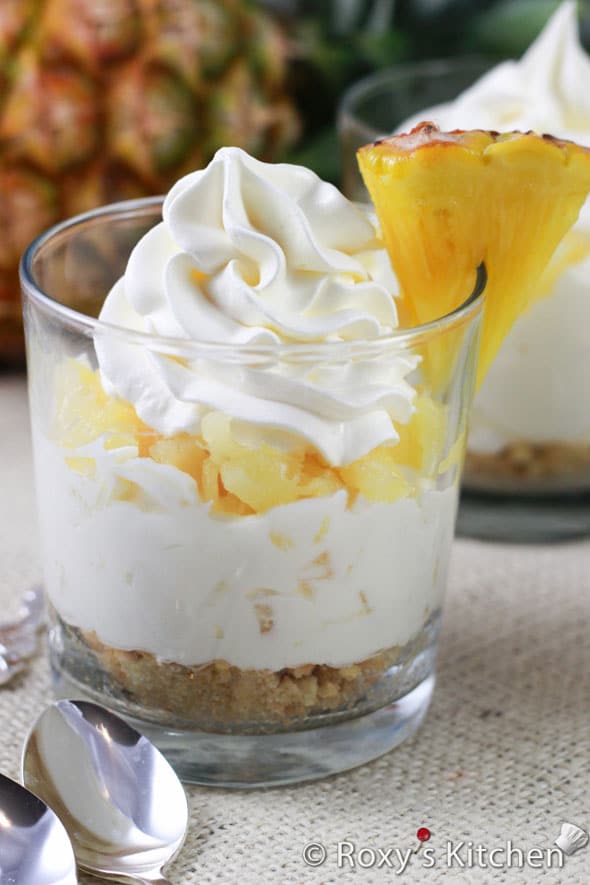 3. NO-BAKE PINEAPPLE CHEESECAKE
This No-Bake Pineapple Cheesecake would be the perfect mini dessert for a fun luau! Look at how delicious this is!
Any dessert that is quick, easy, and no-bake is a favorite in my book! No baking skills are required for this tasty treat!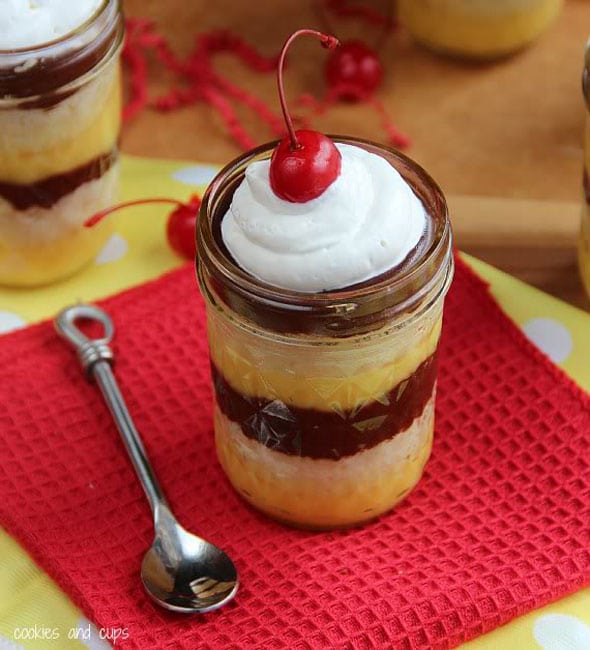 4. BOSTON CREAM PIE IN A CUP
Are you a Boston Cream Pie fan? Then this dessert in a cup is perfect for you.
Surprise the family with this sweet treat after a special dinner and you'll be sure to score some brownie points from everyone.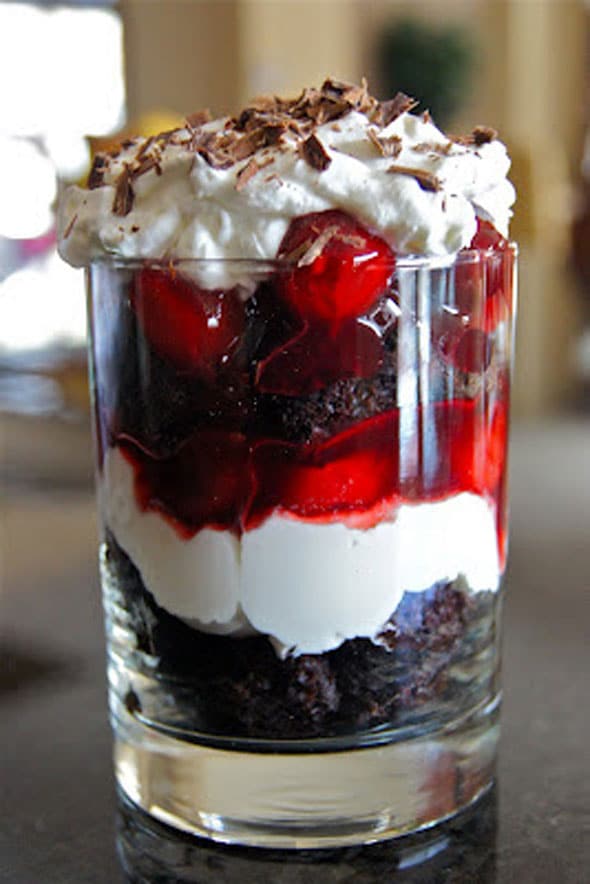 5. BLACK FOREST TRIFLES
Trifles are such a fun way to have a dessert and these Black Forest Trifles that are in small cups are such an elegant and gorgeous way to present dessert at your next event.
Chocolate and fruit? How could you go wrong?!
Depending on the type of event you're having, mini glass cups are great for an indoor, elegant party.
If you're hosting a children's party or an outdoor event, plastic is the way to go!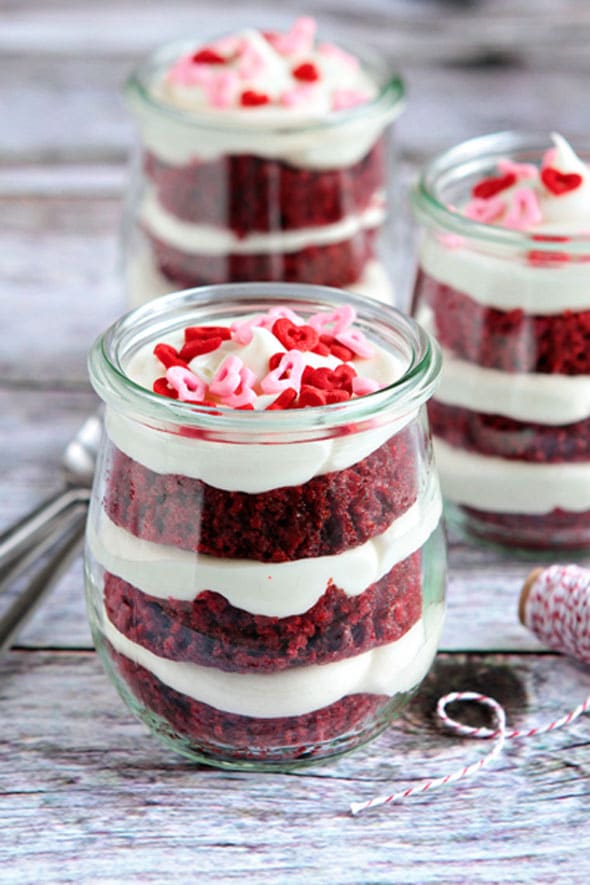 6. RED VELVET CUPCAKES IN A JAR
Red Velvet Cupcakes are a BIG hit in my home and when I saw this sweet red velvet dessert in a cup, I just couldn't resist.
What a sweet treat for your sweetheart if you're getting ready to celebrate an anniversary or even Valentine's Day. This is a great wedding idea, too! LOVE!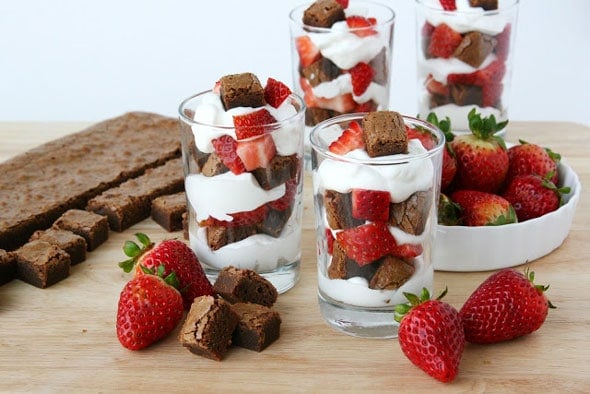 7. BROWNIE STRAWBERRY SHORTCAKE
A Brownie Strawberry Shortcake will be a hit at any birthday party for the little ones this summer. Or how about serving these dessert cups at a family reunion?!
And with how eye-appealing it is, you'll be hard-pressed to keep the party moving until dessert is finally served. They'll be mesmerized!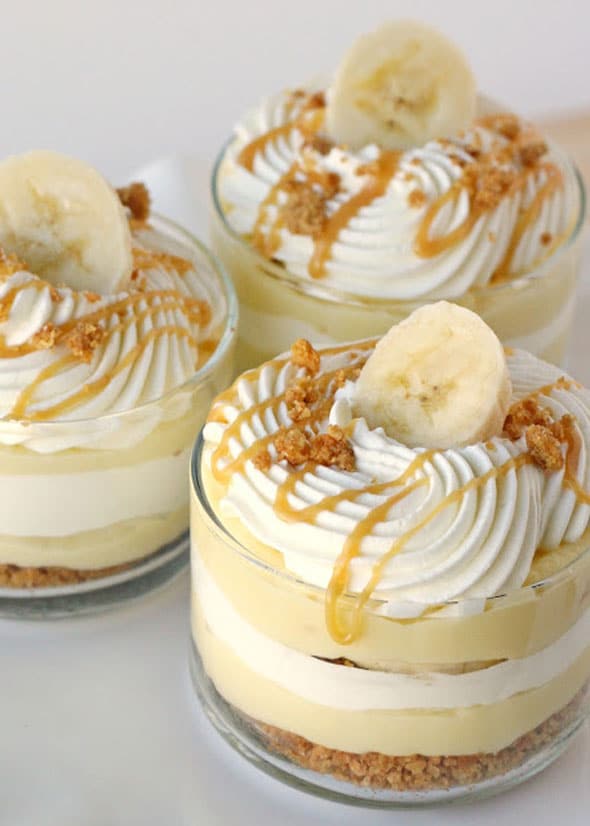 8. BANANA CARAMEL CREAM
Banana Caramel Cream mini desserts are a must-have for any event. These decadent dessert cups make an easy and delicious party dessert.
They will look amazing on any dessert buffet. And we're sure they will be the first desserts to go!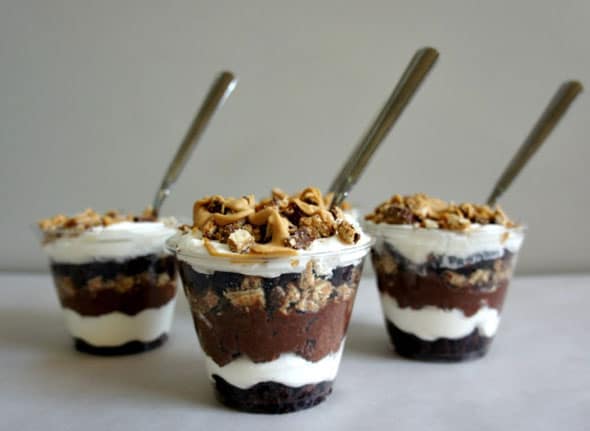 9. PEANUT BUTTER BROWNIE TRIFLE
This Peanut Butter Brownie Trifle dessert is going to be a hit with all of the peanut butter chocolate lovers in your circle!
Check out this great recipe and get ready to make all of your chocolate lovers' dreams come true!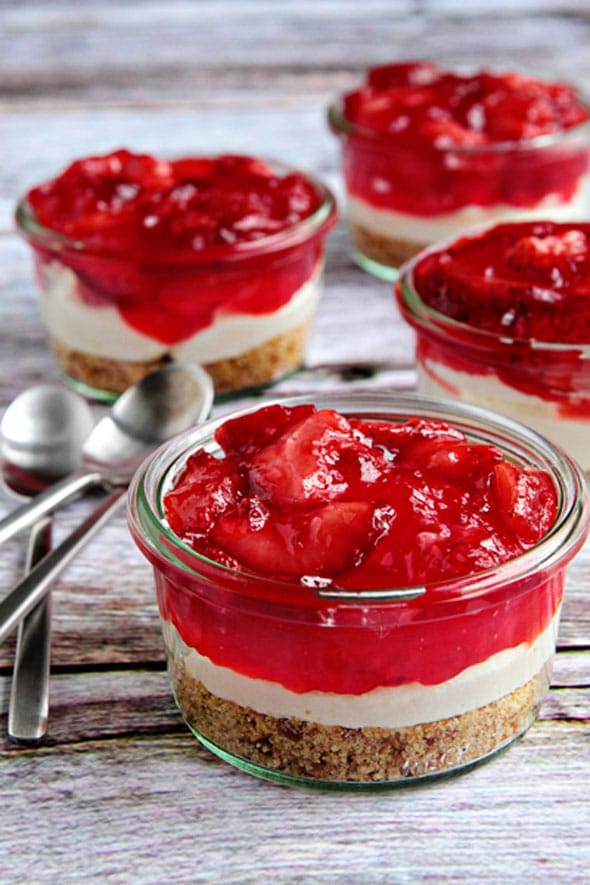 10. STRAWBERRY PRETZEL DESSERT IN A CUP
Strawberry Pretzel Dessert is such a wonderful treat in its regular pan form, but present it in mini-mason jars and it takes on a whole new meaning!
This is actually a family favorite for Thanksgiving in my house and I think this coming year we're going to have to try serving it like this. It's so adorable and delicious!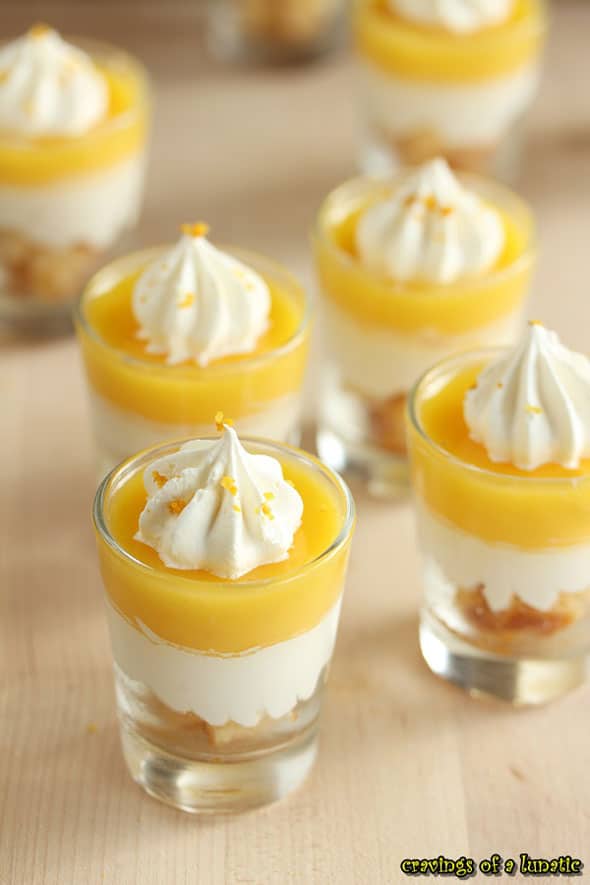 11. MEYER LEMON PARFAITS
11. Meyer Lemon Parfaits in tiny shot glasses will give you just the right combination of sweet and sour that you're looking for.
Serve them up and see how much your guests will love them!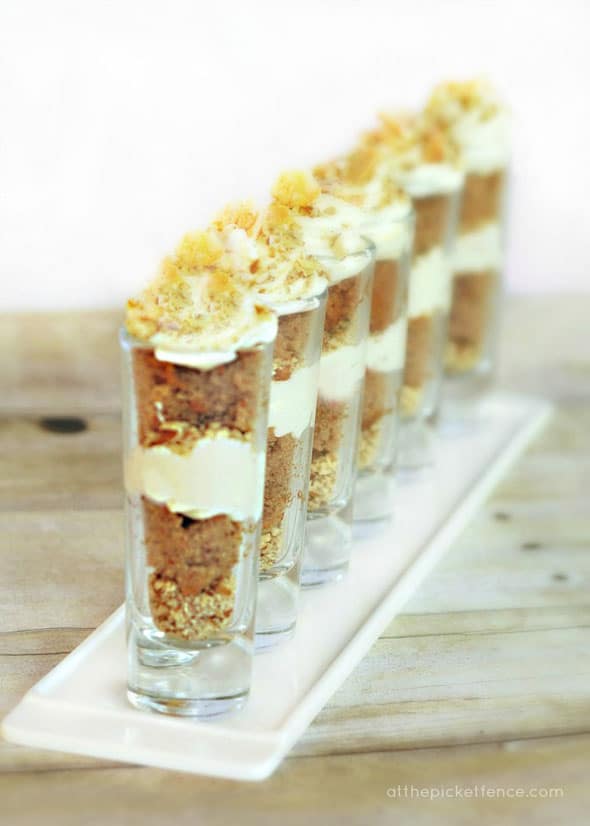 12. CARROT CAKE SHOTS
Carrot Cake Shots are a fun way to serve this staple dessert.
Carrot cake is a favorite around here and if you find some little carrot icing embellishments to serve on the top of these everyone will think it's the cutest idea ever!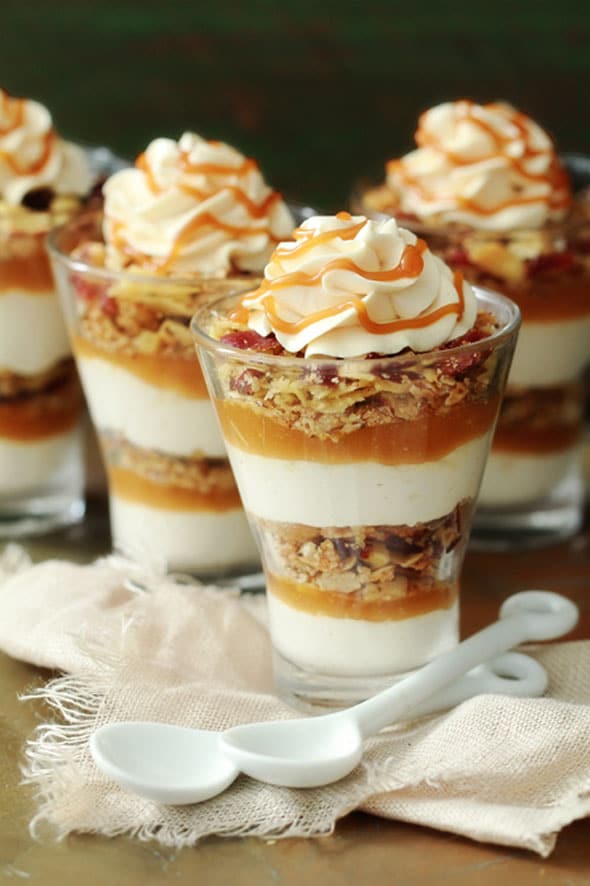 13. CARAMEL APPLE TRIFLE
This Caramel Apple Trifle mini dessert looks SO delicious!
I love that while the recipe calls for specific cup sizes, you can always change the recipes up to be able to serve them in cups you have available to you at home!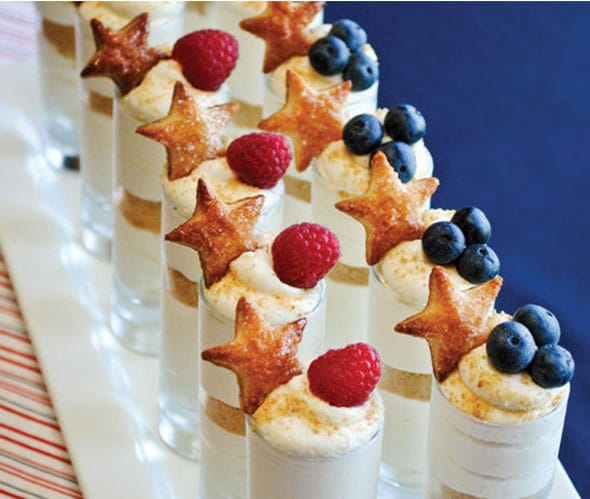 14. STARS AND STRIPES CHEESECAKE SHOTS
These Stars & Stripes Cheesecake Shots are absolutely perfect for your Memorial Day or 4th of July picnic this summer!
Show up with these in your arsenal and everyone will be so impressed they won't even notice what else is being served!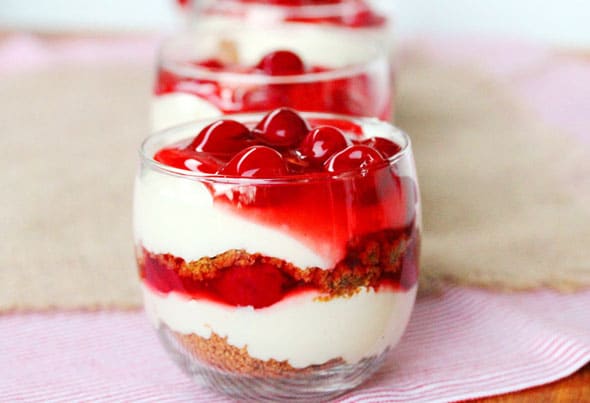 15. LAYERED CHERRY CHEESE PIE
This Layered Cherry Cheese Pie looks oh so tasty! We can see this party dessert served this summer for one event or another.
This is another one I might just have to make for the fun of it for a dessert after dinner.
So now that you're ready to eat dessert after seeing all of these delicious dessert cups, head to the kitchen and make your favorite!
And the next time you're hosting a party, make sure you offer your guests a variety of these bite-sized mini desserts.
Forget just one dessert when you can have several, right?!
Which of these 15 Best Desserts in Cups are your favorites? Let us know in the comments below.
For more recipes and party ideas, follow us on Instagram @prettymyparty and Pinterest and join us in our private Facebook group.