Toddler Birthday Party Finger Foods
If you're looking for finger food that will be a hit with the kids, check out these 15 Toddler Birthday Party Finger Foods!
Planning your toddler's birthday party can be stressful. You want everything to be perfect for their big day. Birthday party food doesn't have to be one of your worries. These 15 Toddler Birthday Party Finger Foods will even win over your pickiest eater.
Everyone knows that kids are picky eaters, so if you're throwing a kid's birthday party think bite-sized food. Kids love finger food because it's easy for them to eat.
Plus, kids get too excited to eat at birthday parties, so there will be a lot of leftovers if you don't do finger foods.
Seriously Moms, don't go overboard with the menu for your child's birthday party.
Ditch the extensive menu and put your time and energy into the party decorations and fun games!
Now that we're focused on quick and easy finger food ideas, this applies to desserts as well.
Some easy finger food desserts are mini fruit pizzas, Oreo pops, cake pops, fairy bites, and funnel cake fries.
You can still think outside of the box and get creative with desserts, while still sticking with the finger food idea.
Easy toddler birthday party finger foods:
Mini corn dog muffins

Mini pizzas

Mini burgers

Peanut butter and jelly kabobs

Mini meatballs

Chicken Fingers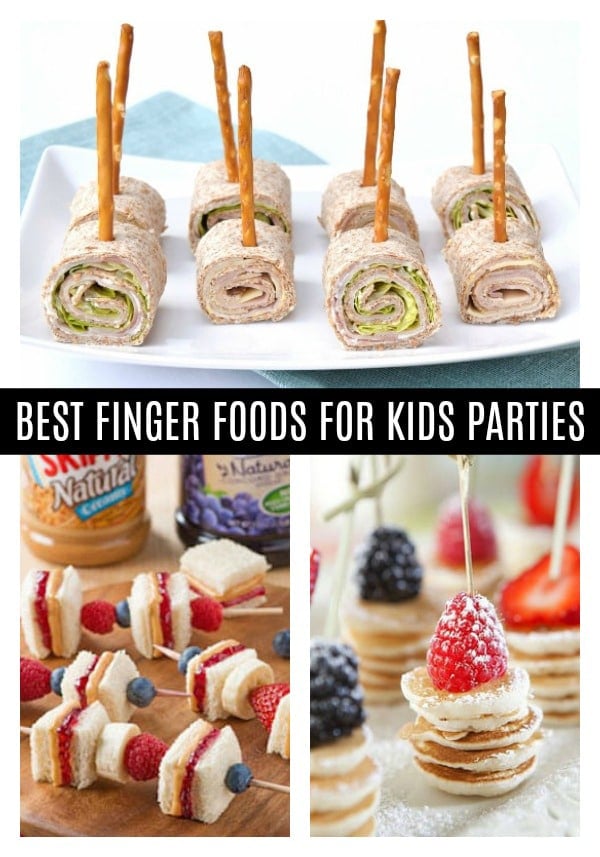 Planning the party menu doesn't have to be a lot of work. Save time and stress and offer the kids what they're really going to love – finger foods!
There are tons of finger foods to choose from. Whether you're looking for mini dessert ideas or mini lunch or dinner options, this list of finger foods will get you started.
1. MINI CORNDOG MUFFINS
Every kid loves corn dogs, right?! Make them homemade with cornbread and add some dipping sauces with these cups.
These Homemade Mini Corndog Muffins make the perfect finger food for a toddler birthday party and will be a hit with kids and adults!
I have never met a kid who didn't like mac n cheese and this next finger food doesn't even require a spoon! Just serve them on these white serving platters!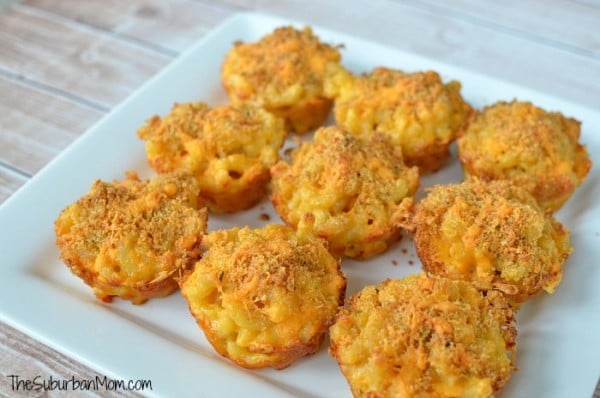 2. MAC AND CHEESE CUPCAKES
The kids will go crazy over these Mac and Cheese Cupcakes! This finger food recipe will definitely be your party go-to for kid's birthdays.
The adults will even try to gobble these up!
Make homemade pizza a whole new way, perfect for serving! You can serve your party guests this popular finger food with this pizza server.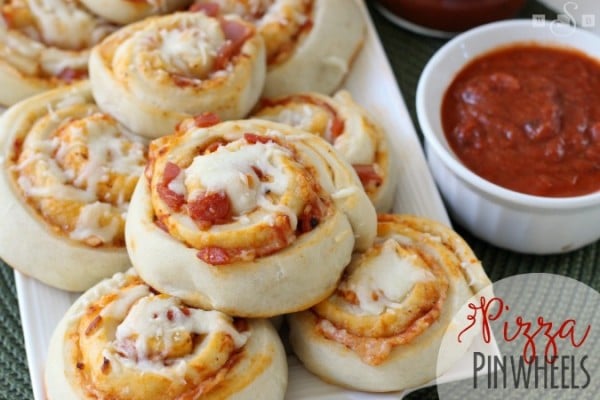 3. PIZZA PINWHEELS
Pizza at a party is always a good idea! The kids will love gobbling up these Pizza Pinwheels! They are the perfect finger food for any type of party.
Make sandwiches in a roll-up form with tortillas. Serve them on this versatile platter and the kids will eat them right up!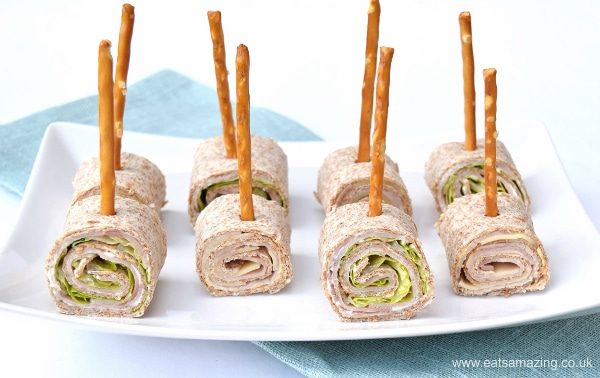 4. TORTILLA ROLL UPS
Don't these Tortilla Roll Ups look fantastic? They make the perfect finger food for kids and they will think they're pretty tasty too! It's a win-win Moms!
Make sandwiches and cut them into small squares and stack them on a skewer! Hello, GENIUS!!!! This would work for any sandwich, not just PB&J!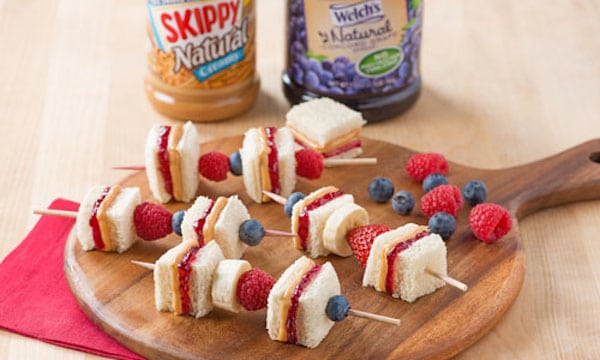 5. PB&J SKEWERS
How fun are these PB&J Sandwich Skewers for kids? What a great finger food idea!
You could make these mini pancakes ahead of time and pop them in the microwave to warm up before the party!
Mini pancakes are so fun! Add these mini skewers for an easy finger food for your party!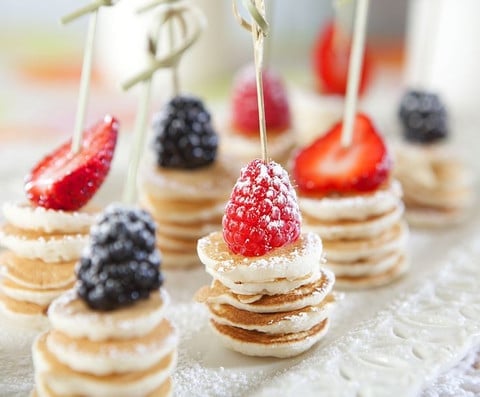 6. MINI PANCAKE STACKS
These Mini Pancake Stacks are the cutest thing! Add some fresh berries on top and offer a side of syrup for a party finger food no one will deny!
Make movie-watching or birthday party more fun with some party popcorn! Add some rainbow sprinkles for a little color!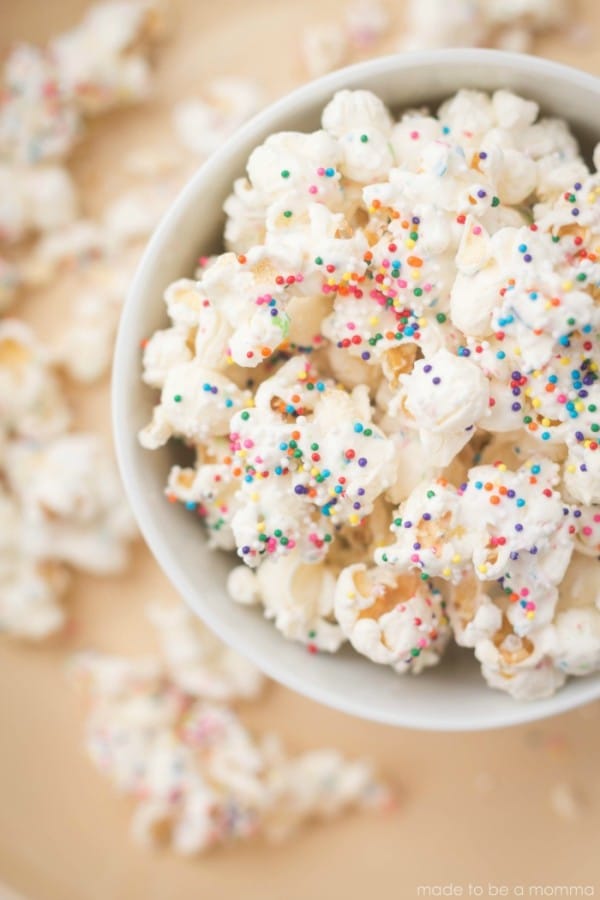 7. WHITE CHOCOLATE PARTY POPCORN
This White Chocolate Party Popcorn is totally kid-approved! The kids will love this sweet popcorn recipe topped with rainbow sprinkles!
Now, this is a finger food I can really get into! Plus, there are many more yummy popcorn recipes that taste like your favorite desserts! YUM!
Instead of a fruit tray, serve assorted fruits in chocolate-dipped cones! GENIUS!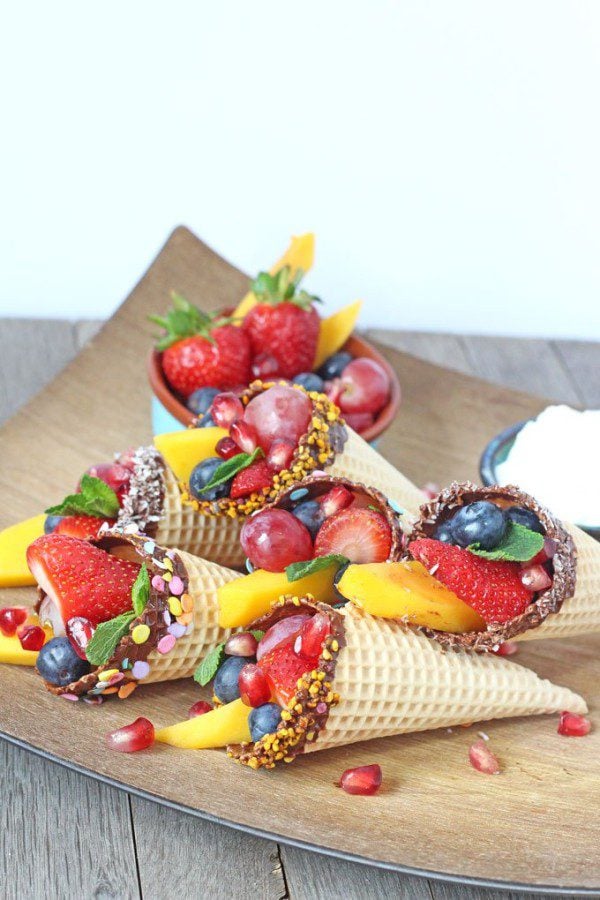 8. CHOCOLATE DIPPED FRUIT CONES
These Chocolate Dipped Fruit Cones are perfect for your child's birthday party! Kids and adults will love them!
Plus, it's a great way to get the kids to eat some fresh fruit! It's a win-win!
These would be a huge hit with the kids! Use a mix of different flavored yogurts and serve them in these nice glass servers.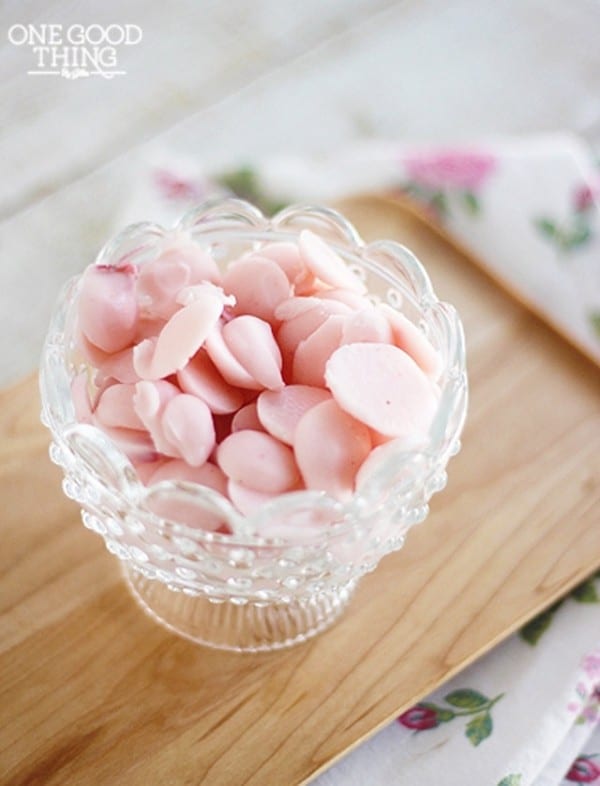 9. FROZEN YOGURT DROPS
If you've never had Frozen Yogurt Drops, you've been missing out! What a creative finger food for kids!
Give your sugar cookies a healthier twist by topping them with fruit instead of sprinkles. Serve them on this glass dessert plate for guests to enjoy!
10. MINI FRUIT PIZZAS
Another finger food that includes something healthy is these Mini Fruit Pizzas. Not only are they colorful but they are super delicious. The kids will love them!
Making donut hole cake pops are really easy to do! Grab some lollipop sticks and kids can eat them like a lollipop!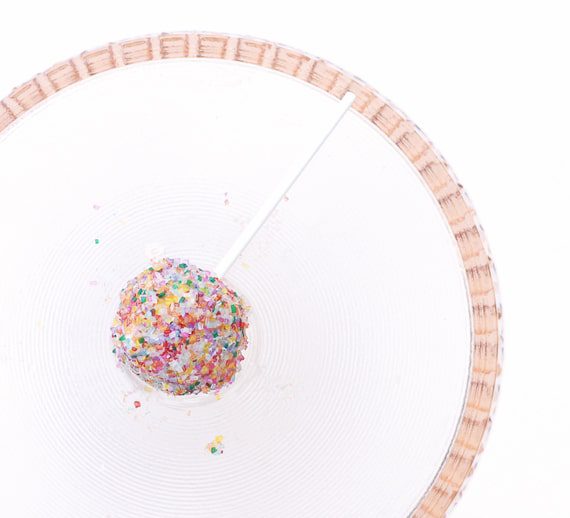 11. DONUT HOLE POPS
These colorful Sprinkled Donut Hole Cake Pops are an easy finger food for parties.
Your guests will love them because they are easy to eat and super yummy!
Oreos dipped in colored white chocolate, and even more fun – sprinkles! These are a great finger food idea for parties!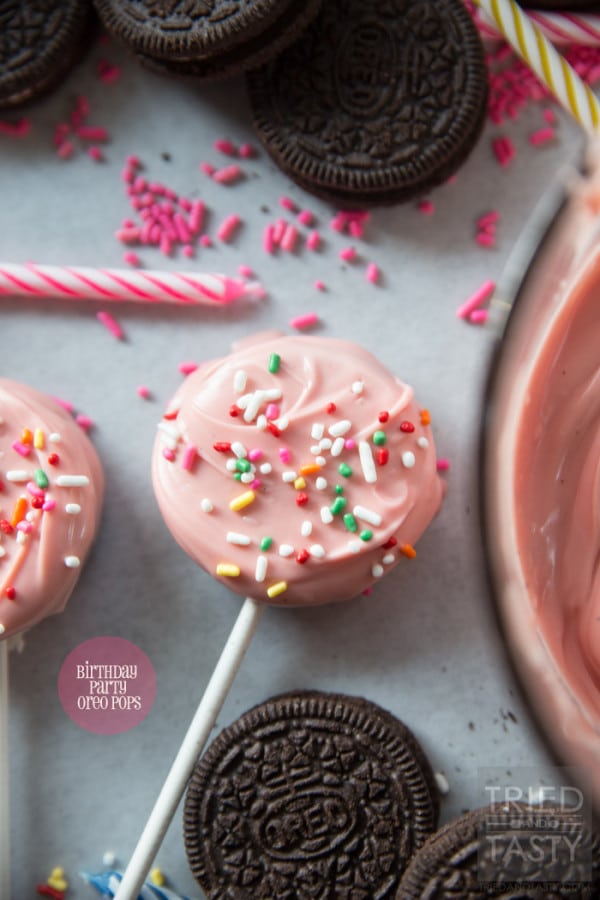 12. OREO POPS
Birthday Party Oreo Pops are quick and easy to whip up for a birthday party. Not only are these perfect for kid's parties, but you can make them for bake sales, school parties, or a quick treat for the kids!
Mini sugar cookies with sprinkles, or you can call them fairy bites for a little girl's fairy party or tea party birthday!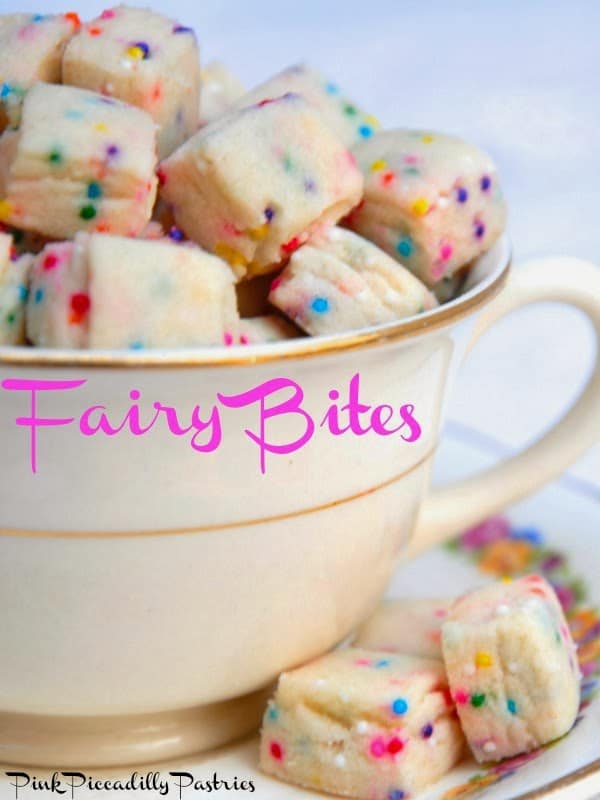 13. FAIRY COOKIE BITES
Fairy Cookie Bites are one of our favorite finger foods to serve at kid's birthday parties.
Not only are they cute and colorful but they are delicious! This finger food is so decadent like fair food always is!
Serve them on red and white checkered picnic paper and pretend you're at the county fair! Or even better, serve them at your carnival-themed birthday!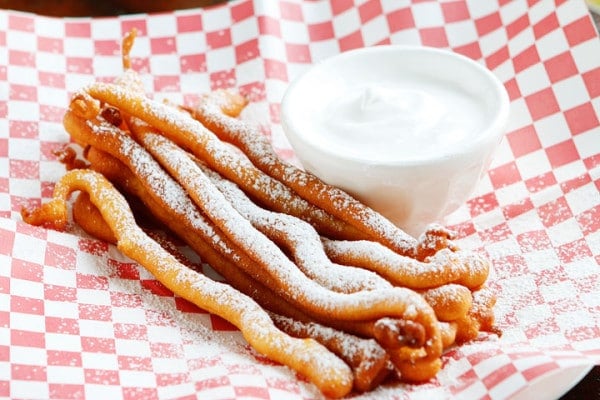 14. FUNNEL CAKE FRIES
Seriously, how amazing are these Funnel Cake Fries with Marshmallow Fluff Dip?! This might be our all-time favorite finger food!
It's a fun and simple twist on a favorite – and less messy too! Serve adorable finger food on this white serving platter for a nice display.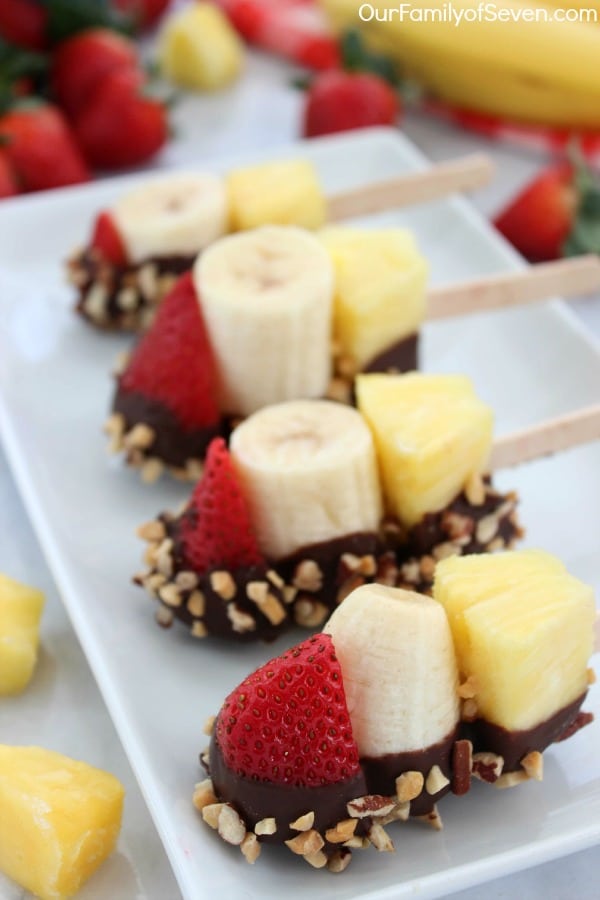 15. BANANA SPLIT BITES
Another one of our favorite finger foods is these delicious Banana Split Bites. Really, you don't even need to be planning a party to enjoy this sweet treat! YUM!
What's your favorite Toddler Birthday Party Finger Foods here?
Do you have a go-to finger food you love to serve at your children's birthday parties? If so, let us know in the comments below.
For more birthday party food ideas, follow us on Instagram @prettymyparty and Pinterest and join us in our private Facebook group.