10 Tips for Throwing an Ugly Christmas Sweater Party
The holidays can be a stressful time and it seems like there is a never-ending list of invites to sort through for the entire month. Are you looking to cause a splash with your friends and family this year and mix things up for a little Christmas fun to break the cycle? Check out these 10 Tips for Throwing an Ugly Christmas Sweater Party! It might just save everyone's sanity over this busy season and will be a great stress-reliever with all of the laughs it will be sure to get! Ps. Be sure to check out our Stocking Stuffer Gift Guide.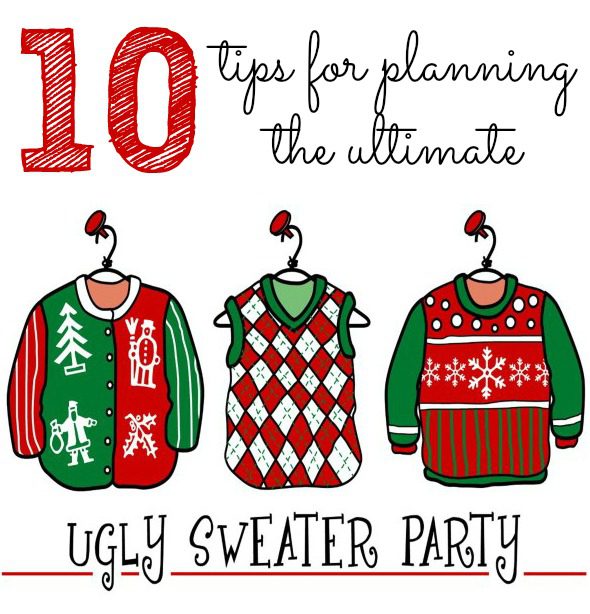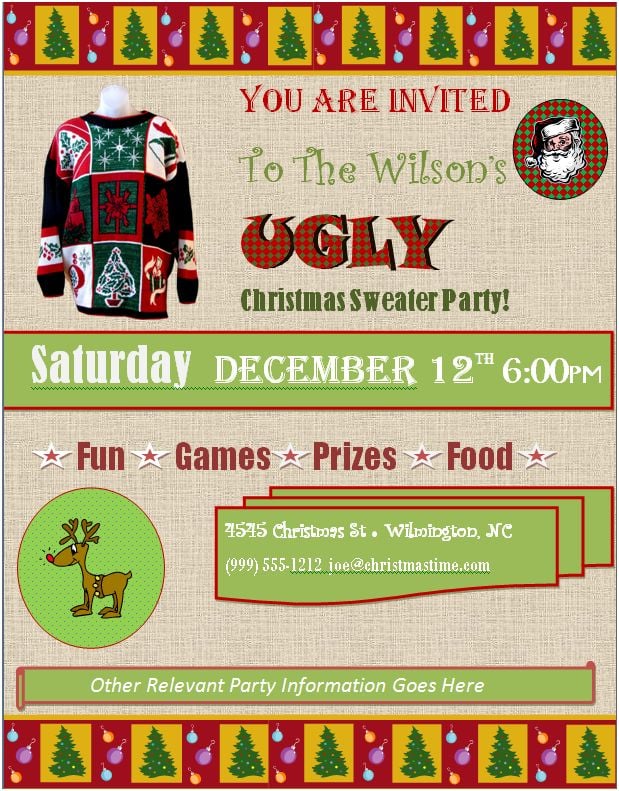 1. Invitations – The invites will make or break this event! The crazier the better and make sure you stress that everyone has to wear the ugly sweater to be granted entrance into the party! After all … that is the theme and is the best part of the entire event! Check out these FREE Downloadable Invites here. If you want additional options or something a bit more specific, you may also want to check out Etsy. And if you're all about tackling a great DIY project, where better to start than with the invites! No matter how you kick off the theme of your party, it's going to make the whole event spring to life!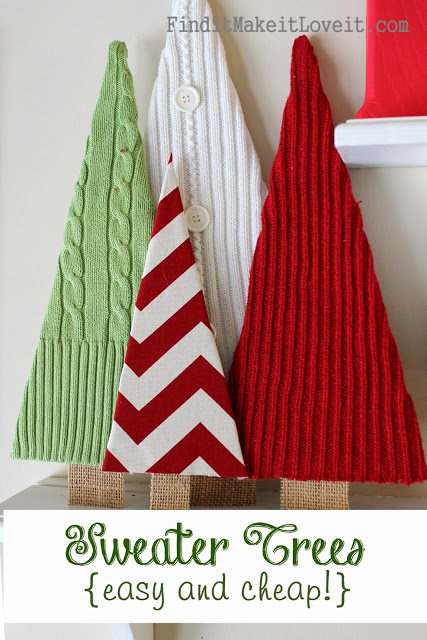 2. Decorations – How about creating some great DIY decorations to save the pocketbook, yet be wonderfully ugly as you would like them to be! First, check out this great DIY Sweater Tree. All you need is some cardboard, some old sweaters, and a little DIY elbow grease and you'll have these up and ready in no time! There is also a great Lighted Burlap Garland tutorial that you can make with any kind of crazy fabric your little heart desires to fit in with the theme of your party! Make sure you check out Michael's, Target, Hobby Lobby, The Dollar Store, or any other store in your area to keep an eye on any deals that may pop up to help save some cash on getting ready for your event. And don't forget to check their websites for coupons!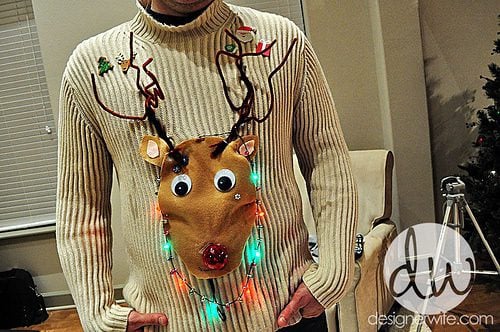 3. The Sweater – You can go as tame or crazy as you want to go, but we definitely suggest going crazy! Let loose for the holidays. Are you looking to make a DIY Ugly Christmas Sweater? Look no further than this great women's sweater tutorial, along with another one that focuses on a fun men's sweater tutorial! Get busy! Or if you're just not into the DIY route, there are so many websites out there right now with great Ugly Christmas Sweaters. You are sure to find the perfect one for your event! Check out Amazon and Etsy for starters!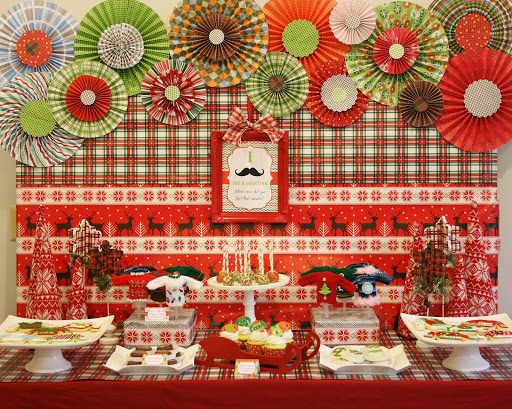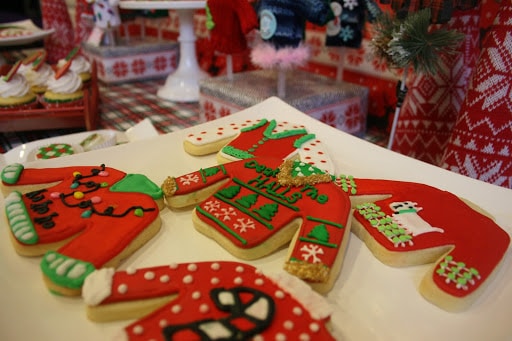 4. Dessert Table – And Everything Sweet takes the cake on an AWESOME dessert table that is such an inspiration! The sweater cookies were homemade and absolutely gorgeous! If you don't feel like you can pull off some homemade cookies like these, try out Sweet Wild Flour where you can get a little help with your preparation.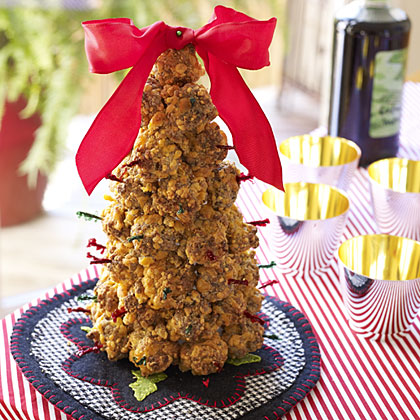 5. Appetizers – My Recipes and Celebrations has tons of great ideas on food ideas that you can serve at your Ugly Christmas Sweater party without breaking the bank. To lessen the stress, you could also make your party a pot-luck with everyone bringing a specific item to share!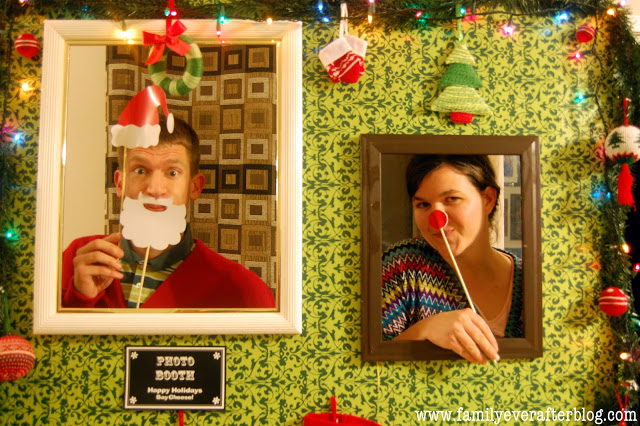 6. Photo Booth – Looking to go ALL OUT and get people into this party?! Create a DIY Photo Booth and you'll have everyone fighting to get in on the goofy pictures that are sure to happen! Check out a great tutorial on building a photo booth, along with wonderful embellishments to add to the fun HERE. Don't forget to make some props to go along with your photo booth! Don't have the energy for another DIY project? There are some great ideas at Paper and Cake Printable Partyware and at That Party Girl's Etsy shop. Fun stuff!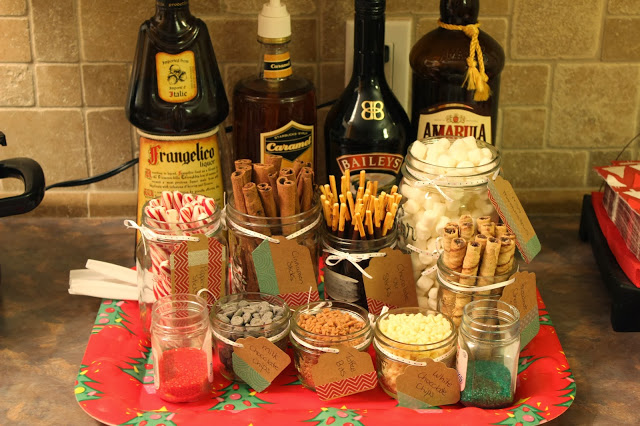 7. Drinks – What could be better than a Hot Chocolate Bar at your Ugly Christmas Sweater Party?! Feel free to liven it up and make it the adult version, depending on your guest list, and get some inspiration over at Love Create Celebrate. Yum! Design Loves Detail also has some extraordinary holiday drink recipes that will be sure to knock everyone's socks off. And don't forget some hot apple cider. Do with it what you will! I love themed drink ideas!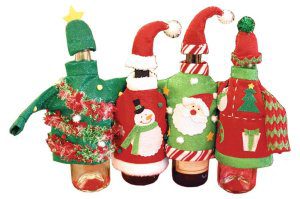 8. Sweater Bottle Covers – Check out Amazon for some great ideas on bottle covers that will add those perfect touches to the event! Or better yet … create an activity at your party for a "Make Your Own Ugly Sweater Koozie" that everyone can get into! Check out a great tutorial HERE.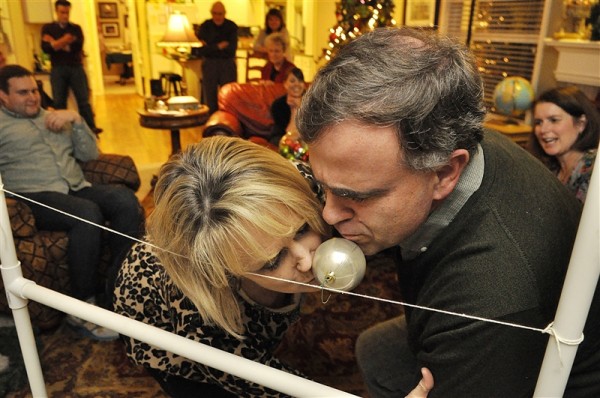 9. Games – Christmas Inspired Minute-to-Win-It games sound like a great way to get everyone involved. Your Homebased Mom has some excellent ideas to get your creative juices flowing in the game department! But be warned … you may have to find a referee for this party! The Dating Divas also have a wonderful White Elephant Gift Exchange that you could get everyone excited about. I have a feeling there will be tons of gag gifts being passed around!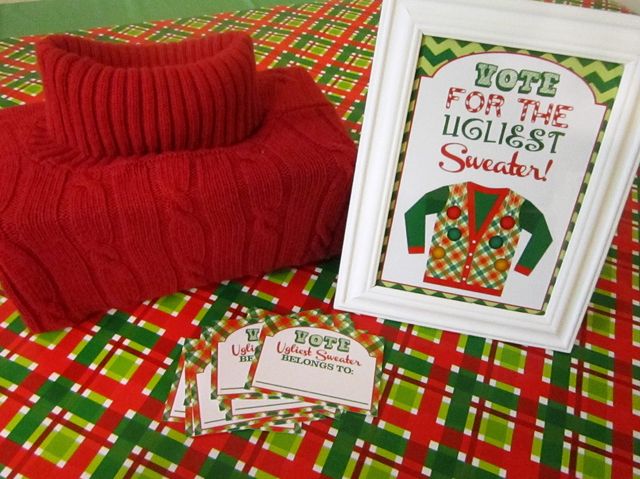 10. Awards – If you're going to get people to put all of this effort into getting dressed to the nine's in an Ugly Christmas Sweater, you better be prepared to do some judging and hand out some outrageously wacky awards! To make it even more fun, have everyone participate by voting for the winners of their choice in categories of your choosing, create a super fun ballot box (with a sweater, of course) and have everyone go nuts! Make some ballots of your own and print them off for everyone to use, and then make some fun awards of your own, or check out some great awards that you can purchase on Etsy! Having a hard time coming up with categories? How about trying these out (thanks for the ideas, ReallyUglyChristmasSweaters.com!):
All-Around UGLY Sweater
Most Original
Best Couple Combo
Most Likely to get Arrested if Seen in Public
Most Festive
Biggest Loser
Funniest
Most Likely to go Viral on Social Media
How excited has this got you to throw your own Ugly Christmas Sweater Party this year?! Which of these tips are your favorite? Tell us your ideas below for things you've seen in the past that might just tip this party over the edge.
Plan the ultimate ugly Christmas Sweater Party with these fun products:
Sign up for a free trial of Amazon Prime and get free 2-day shipping on your purchases!
SaveSave