25 Best Christmas Cookie Exchange Recipes
If you're looking for the 25 Best Christmas Cookie Exchange Recipes, you've come to the right place!
Christmas is a time for family, friends, and delicious food! One of the most popular dishes during this festive season is cookies. But it can be difficult to find recipes that everyone enjoys.
That's why we've created a list of the 25 best Christmas cookie exchange recipes to make your holiday even sweeter! Holiday baking is one of my favorite family traditions.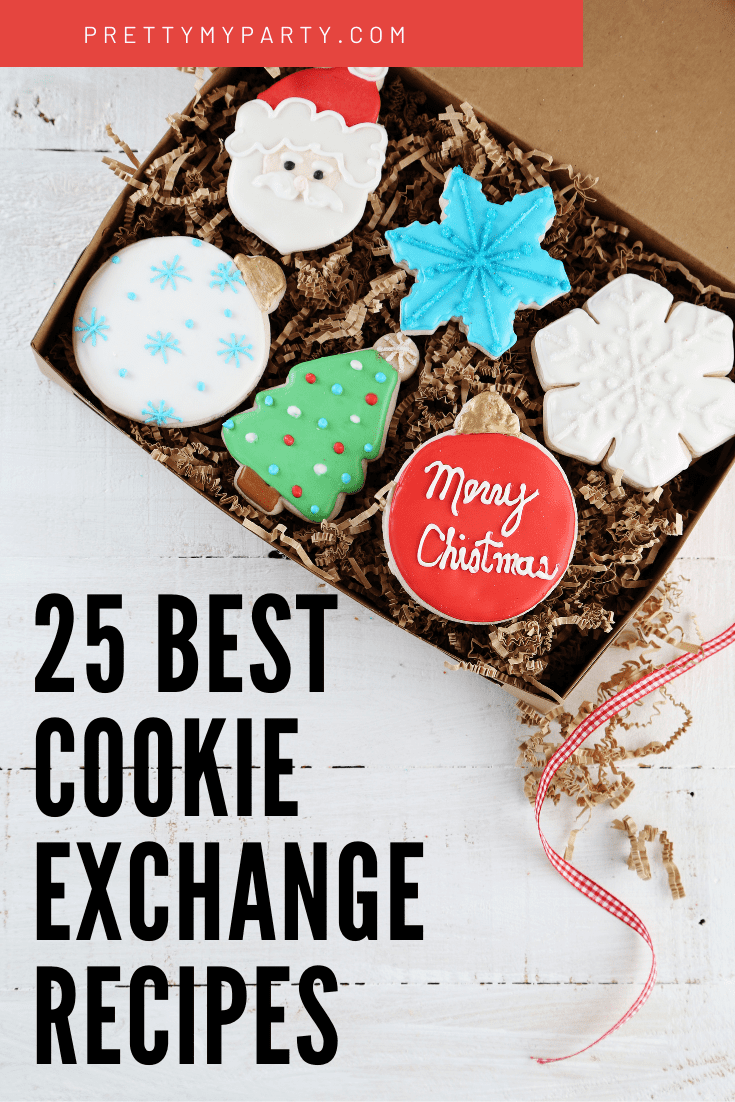 Everyone loves receiving an edible gift during the holidays. I know I do! How about this year, give the gift of cookies made with love!
Decorate your cookies with frosting and sprinkles and put them in a festive holiday tin for a sweet gift your friends, family, and co-workers will love!
What is a cookie exchange party?
It's that time of year again! The holiday season is in full swing, and many people are preparing for their annual cookie exchange parties. But what is a cookie exchange party, you ask?
A cookie exchange party is a seasonal event where people bring 7 to 8 dozen of their favorite holiday cookies and then swap them with guests at the party.
Guests typically tell the party host which recipe they will bring to the event. Doing this ensures you have a good variety of cookies to exchange between guests.
By the end of the night, everyone will go home with a big box or platter of Christmas cookies to enjoy for the holiday.
This is a great idea because then you don't have to bake various cookie recipes yourself. Plus, it's a great time to gather with your best girlfriends, have a glass or two of wine, and celebrate the most wonderful time of year!
Your cookie swap can be a themed event, an ugly sweater party, or anything you want it to be! You set the ground rules, so make your event is as big or as small as you want. Add some festive holiday cocktails for the ultimate cookie exchange party!
What's the most popular Christmas cookie?
Have you ever wondered what's the most popular Christmas cookie? Well, if you didn't know, now you can check out what the most popular Christmas cookies are in each state.
In my home state of Pennsylvania, peanut butter blossoms take the top spot. Based on data from General Mills, peanut butter blossoms are actually the most popular cookie in the U.S.!
Which state are you from, and what's the most popular holiday cookie?
But according to YouGovAmerica, the most popular Christmas cookies in America are chocolate chip and sugar cookies. No surprise there!
So, there you have it! The top contenders for this holiday honor are peanut butter blossoms, chocolate chip, and sugar cookies!
Do you agree with this data? Let us know your thoughts in the comments.
Best Christmas Cookie Exchange Recipes
This list of the best Christmas cookies includes traditional favorites and some new twists on old classics, so you'll be all set for some fun holiday baking!
These tasty treats include everything from sugar cookies to gingerbread men, so there's something for everyone!
When it's time for your cookie exchange this year, you'll be ready to go with the 25 best Christmas cookie exchange recipes!
And if you're looking for something a bit different than your traditional cookie, take a look at these fun Reindeer Bark and Ornament Rice Krispie Treats!
So grab a cup of eggnog, a festive ugly sweater, and feast your eyes on the 25 Best Christmas Cookie Exchange Recipes!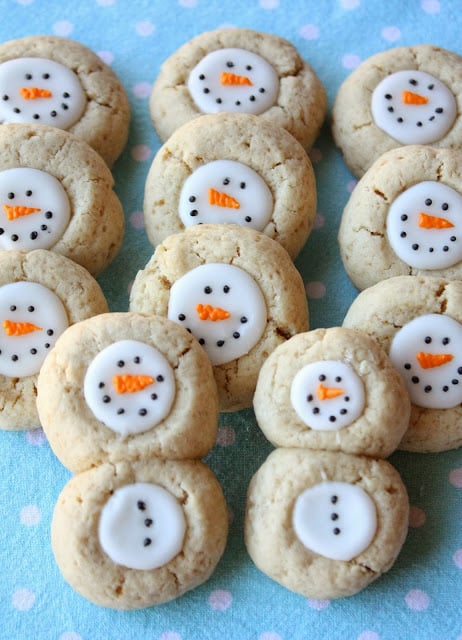 1. Thumbprint Snowman Cookies: Munchkin Munchies
Winter is here, which means it's time for baking! These thumbprint snowman cookies are a great way to celebrate the season.
Children love them because they can decorate their own cookies and are super cute too! They're also a nice addition to your holiday cookie spread.
Leave your best thumbprint and decorate with some royal icing for an adorable treat that will look festive on a cookie platter.
They're so tasty that you'll want to make these cookies year after year, especially if you entertain during the holidays. Your guests will love every last bite!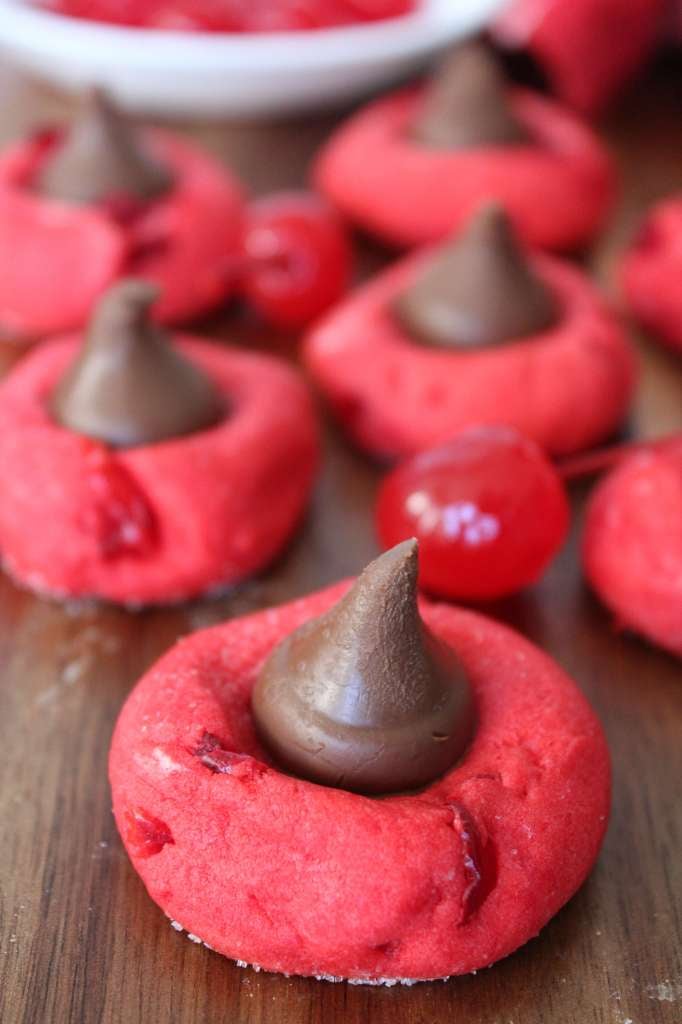 2. Chocolate Cherry Blossom Cookies: Baking Beauty
If you're looking for some delicious Christmas cookie recipes, then look no further! This year, try making these chocolate cherry blossom cookies.
These cherry sugar cookies topped with a Hershey's Kiss make the perfect holiday cookie. They are super easy to make and taste absolutely amazing.
When it comes time for the actual baking process, be sure not to overbake them or they won't have that soft texture.
This dessert would also pair nicely with a cup of hot cocoa or peppermint tea when you're ready to enjoy!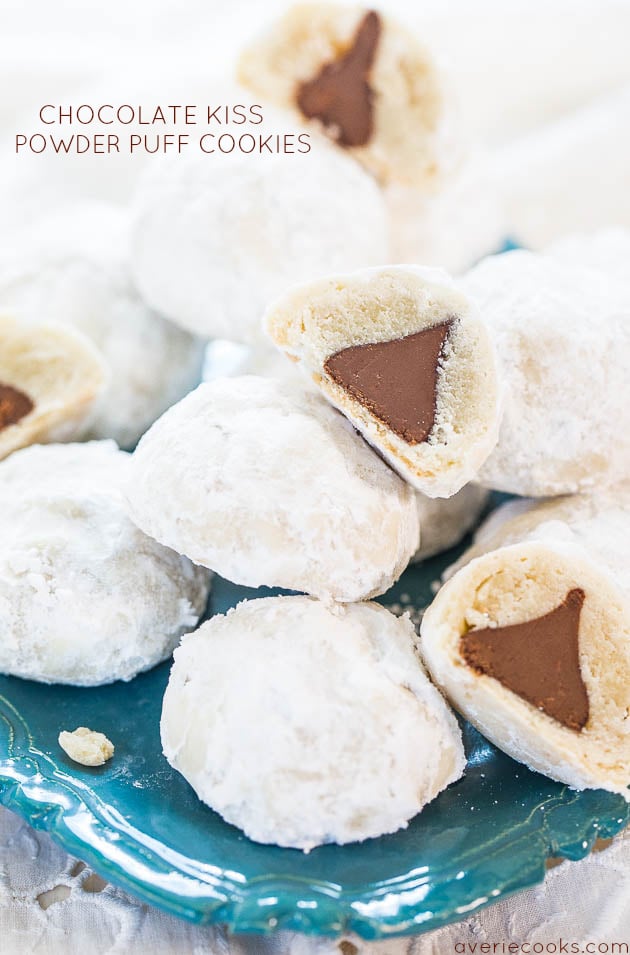 3. Chocolate Kiss Powder Puff Cookies: Averie Cooks
There are so many different Christmas cookie recipes you can try out for your holiday party.
If you have a large group attending the event, consider this irresistibly delicious recipe for powder puff chocolate kiss cookies!
For these quick and simple chocolate kiss cookies, you only need three ingredients!
They're like Russian teacakes, but with a fun twist – a chocolate kiss! Whip up a batch of these for any cookie swap this holiday season!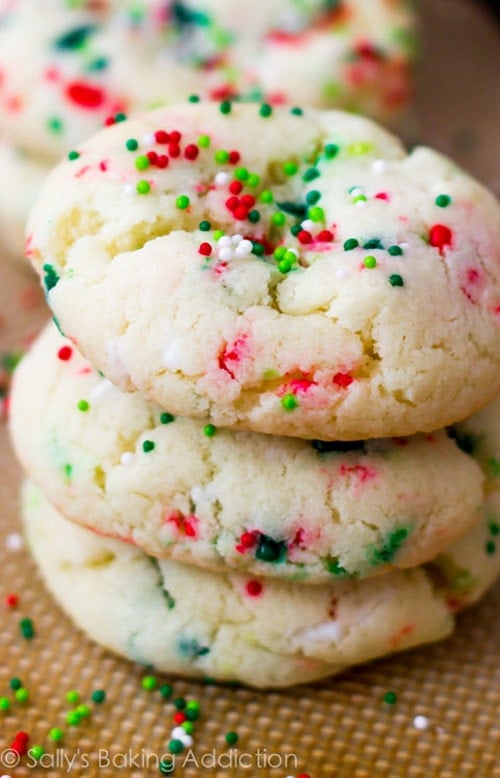 4. Holiday Confetti Cake Batter Cookies: Sally's Baking Addiction
These Christmas confetti cake batter cookies taste like they came straight from the bakery.
They are so incredibly soft and chewy, with a light buttery flavor that's too good to pass up!
The combination of sprinkles in these festive treats makes them perfect for any holiday gathering.
The kids will love these simple, yet festive cookies.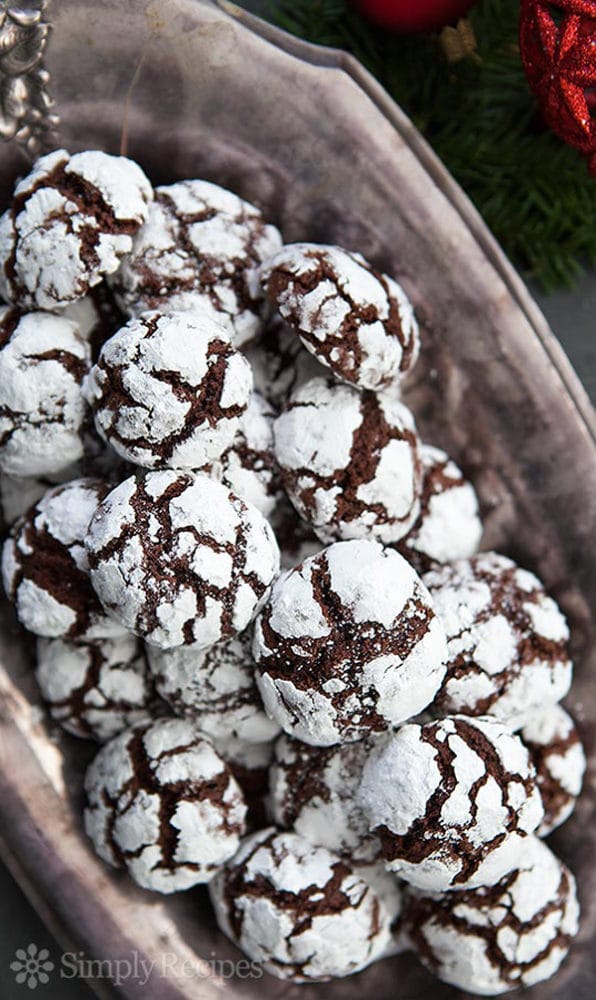 5. Chocolate Crinkles: Simply Recipes
These popular chocolate crinkle cookies are loved by many and can certainly be seen on a tray or two at Christmas. Trust us, these chocolate crinkles are quick and easy to make and won't last long on any cookie platter.
These homemade soft, devil's food-like cakey Christmas cookies are made with cocoa powder and dusted in powdered sugar for the perfect sweet treat.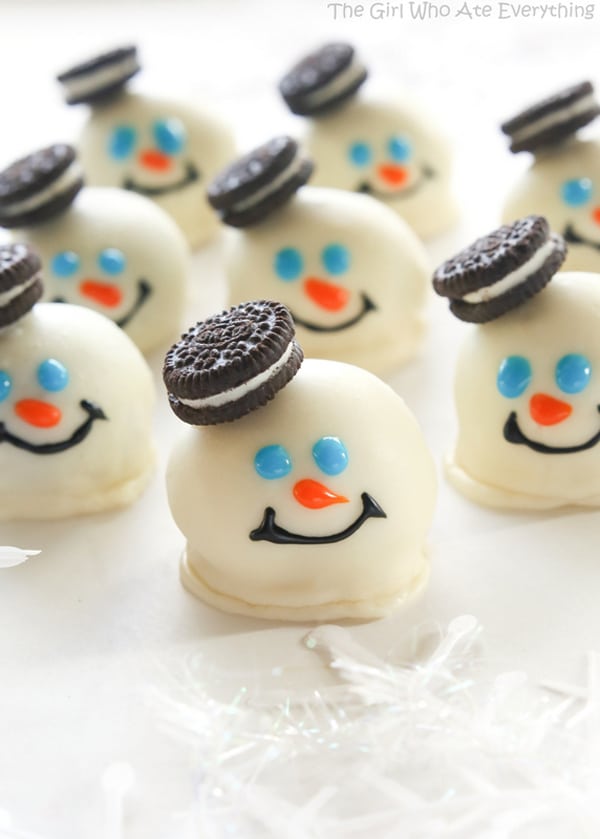 6. Melted Snowman Oreo Balls: The Girl That Ate Everything
These melted snowman Oreo balls are by far the cutest and most unique Christmas dessert ever!!!
They are a fun and creative Christmas treat that will be the first ones to go at any cookie swap! If you're making these for your holiday event, don't be afraid to add in some different flavors!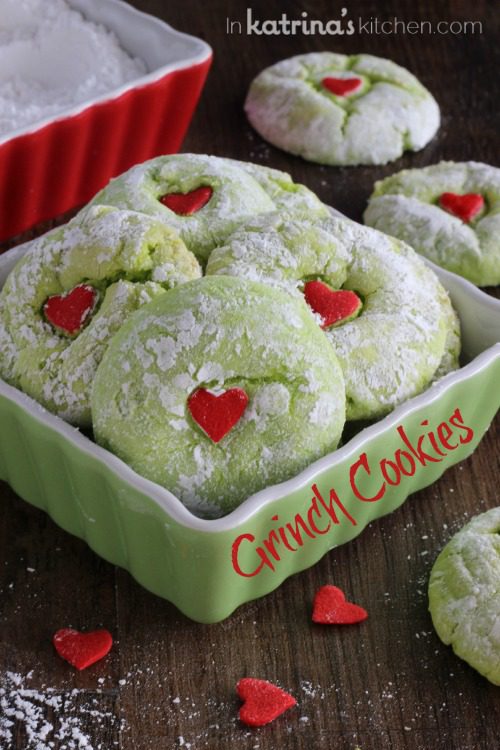 7. Grinch Cookies: In Katrina's Kitchen
These cake mix Grinch-inspired cookies are so easy and festive they will be sure to put anyone in a festive holiday mood!
Make sure these Christmas cookies are on your cookie tray this holiday season. Everyone will love them, especially the kids!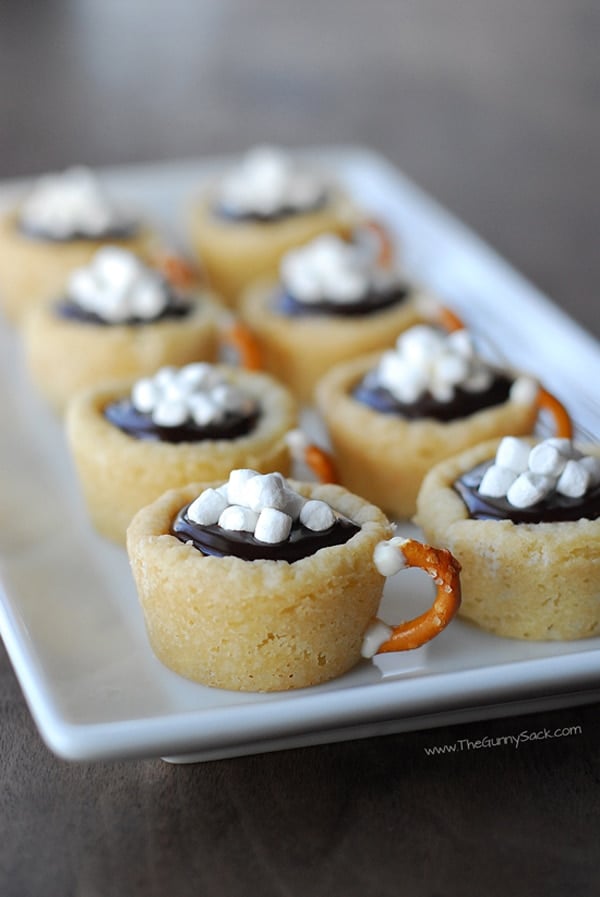 8. Hot Chocolate Cookie Cups: The Gunny Sack
Did I forget to tell you the recipes just keep getting better and better?! Yes, they certainly do! These adorable hot chocolate cookie cups are so unique and creative.
They definitely deserve a top spot on the best Christmas cookie list! Walk into a cookie exchange party with these cookies and everyone will think you're a master baker.
These hot chocolate cookie cups are made with sugar cookie dough, filled with hot chocolate ganache, have a pretzel handle and mini marshmallows on top.
The moment these cookies leave the oven, there will be some missing – promise!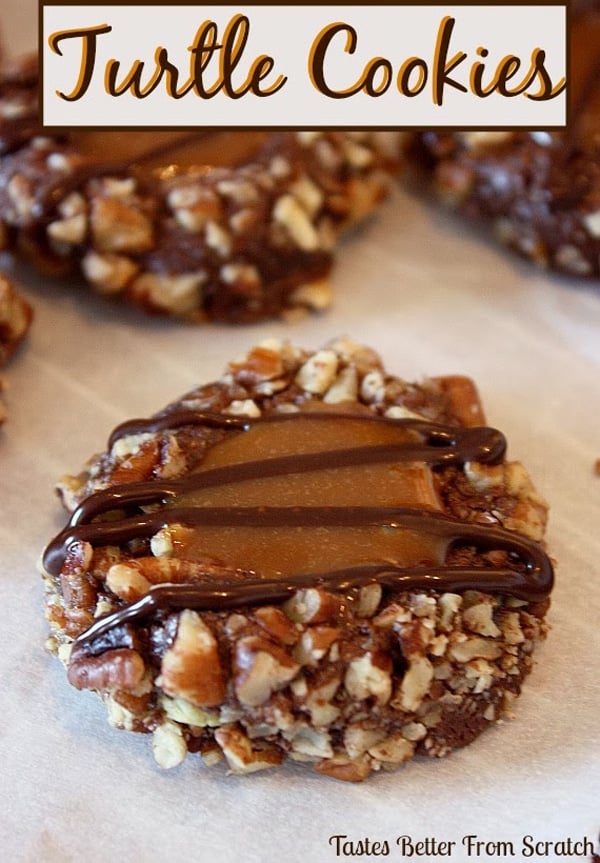 9. Turtle Thumbprint Cookies: Tastes Better From Scratch
Filled with caramel and drizzled with melted chocolate, these mouth-watering turtle thumbprint cookies are to die for!
If you're on the hunt for Christmas cookie ideas and love the combination of pecans, chocolate, and caramel, this recipe is your best bet.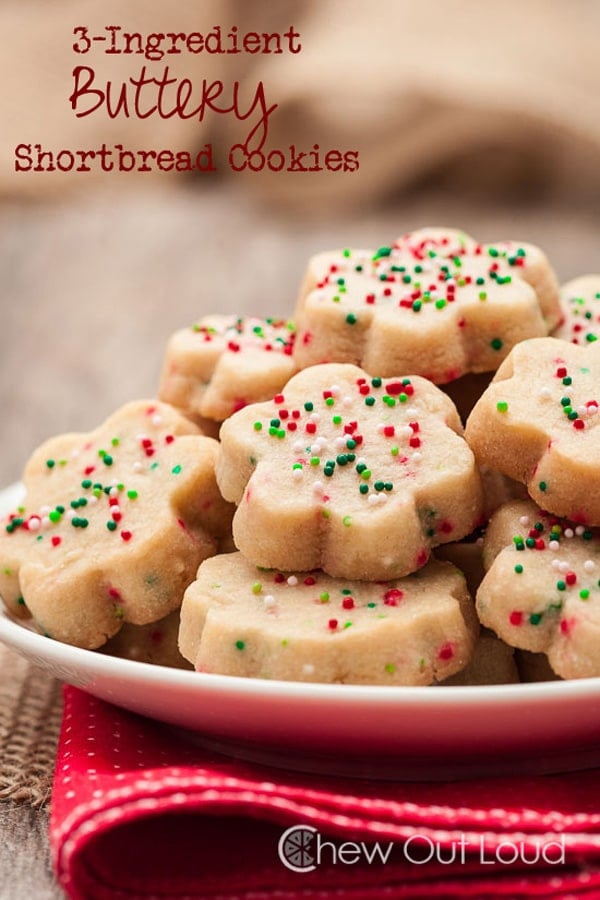 10. Three-Ingredient Buttery Shortbread Cookies: Chew Out Loud
Who doesn't love a good buttery shortbread cookie, right?! If you're looking for a quick and easy Christmas cookie recipe, take a look at these yummy shortbread cookies.
Add some festive red and green sprinkles for Christmas and you're ready to join your friends and family at the annual Christmas cookie swap.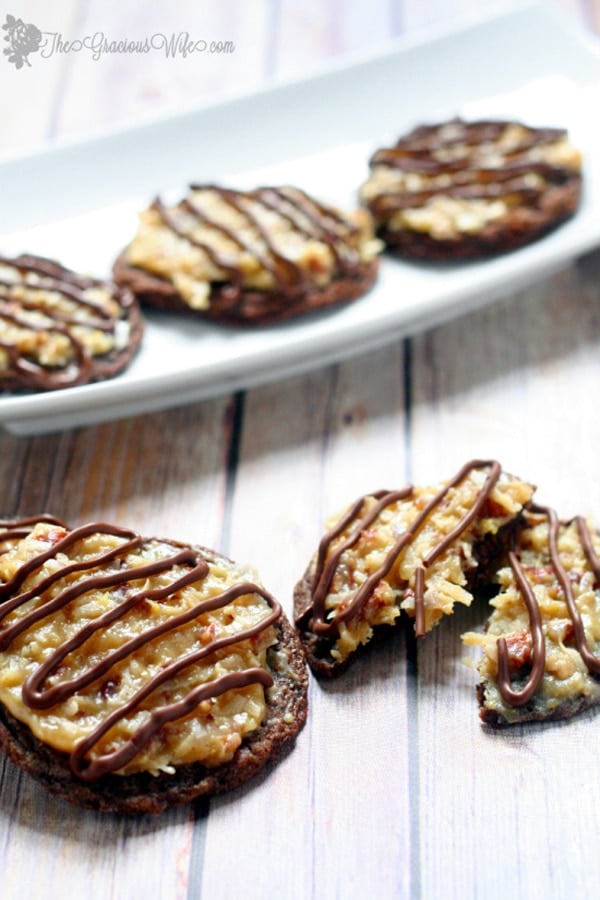 11. German Chocolate Cake Cookies: The Gracious Wife
These delectable German chocolate cake cookies are a delicious combination of sweet and decadent chocolate cookies and gooey caramel coconut pecan frosting! YUM!
These chocolate cookies will definitely not disappoint! It's like having a small German chocolate cake!
If you want to make the best Christmas cookie exchange recipe to impress your friends, put these on your must-bake cookie list!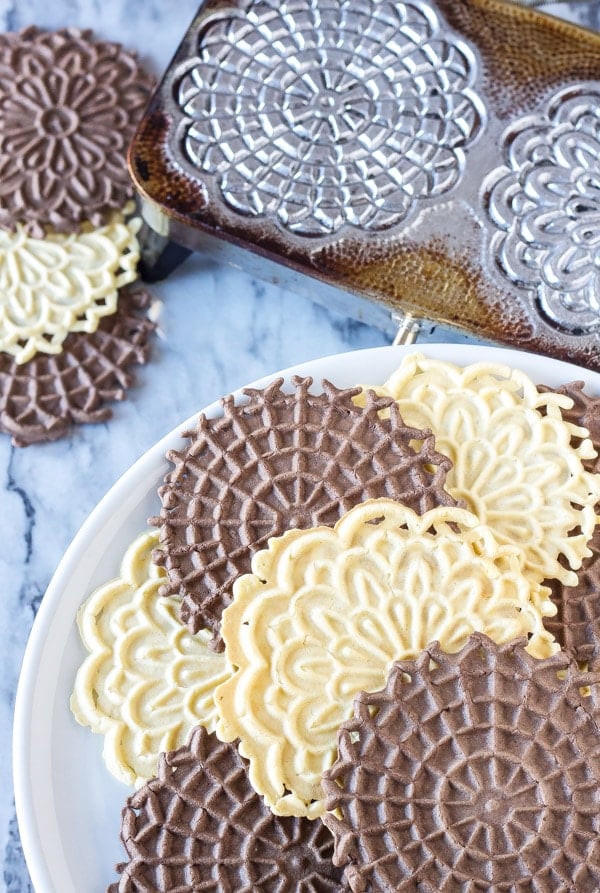 12. Vanilla and Chocolate Pizzelles: Recipe Runner
In case you aren't familiar with pizzelles, they're a flat, round, Italian, waffle-type cookie.
They are light and delicious and make the perfect treat for a cookie exchange party. They're easy to make and a unique Christmas cookie for those who aren't Italian.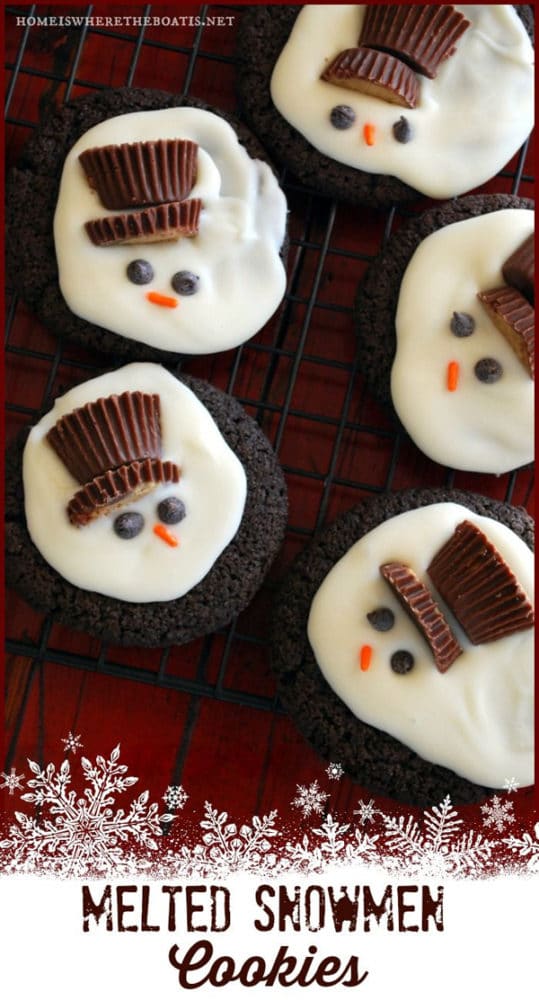 13. Melted Snowman Cookies: Home Is Where the Boat Is
Here's another melted snowman cookie that is fun and easy to make for a cookie swap. These chocolate Christmas cookies are so delicious and will be a hit at any Christmas party.
They are easy enough that the kids can help you make them. They will have a blast making these Christmas cookies! Be sure to leave one or two for Santa as well!
14. Soft & Chewy Triple Chocolate Fudge Cookies: Roxana's Home Baking
If you LOVE chocolate, these soft and chewy triple chocolate fudge cookies will certainly put you under their spell.
They are every chocolate lover's dream and make the best option for chocolate lovers.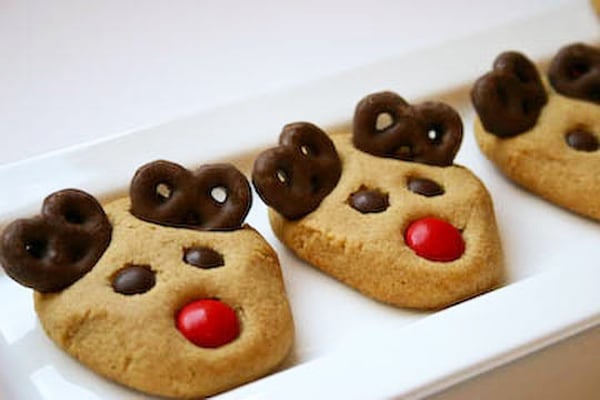 15. Christmas Cookies Recipe #15: Peanut Butter Reindeer Cookies: Baker Girl
If you want to make the best Christmas cookies for an upcoming cookie exchange party, these adorable peanut butter reindeer cookies will have everyone talking.
They are so festive for Christmas and super delicious too. The kids will definitely love these seasonal cookies.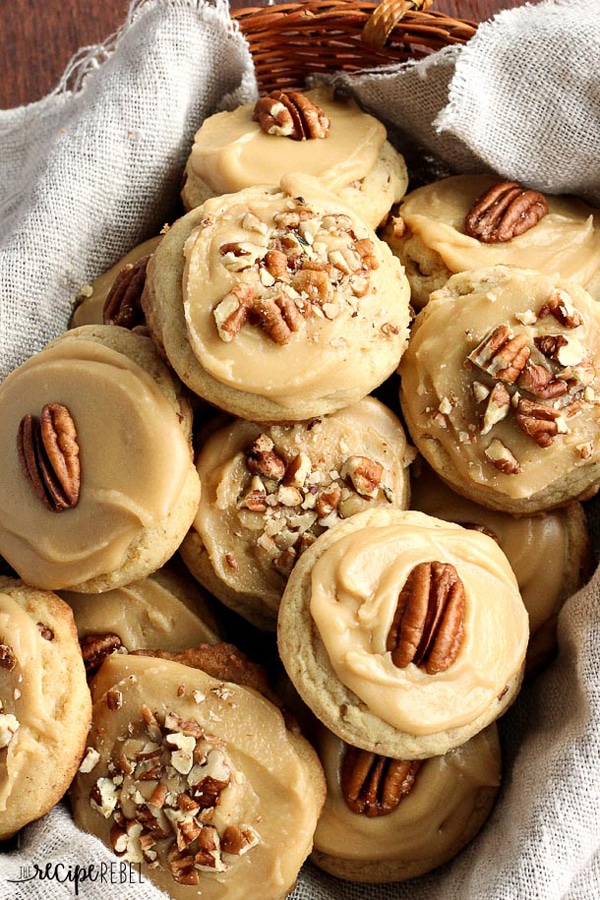 16. Brown Sugar Pecan Cookies: The Recipe Rebel
We're not done with the best Christmas cookies just yet! These brown sugar pecan cookies will melt in your mouth.
Try your hand at these Christmas cookies for your upcoming cookie exchange parties. This cookie recipe will be a nice change from your typical Christmas cookies.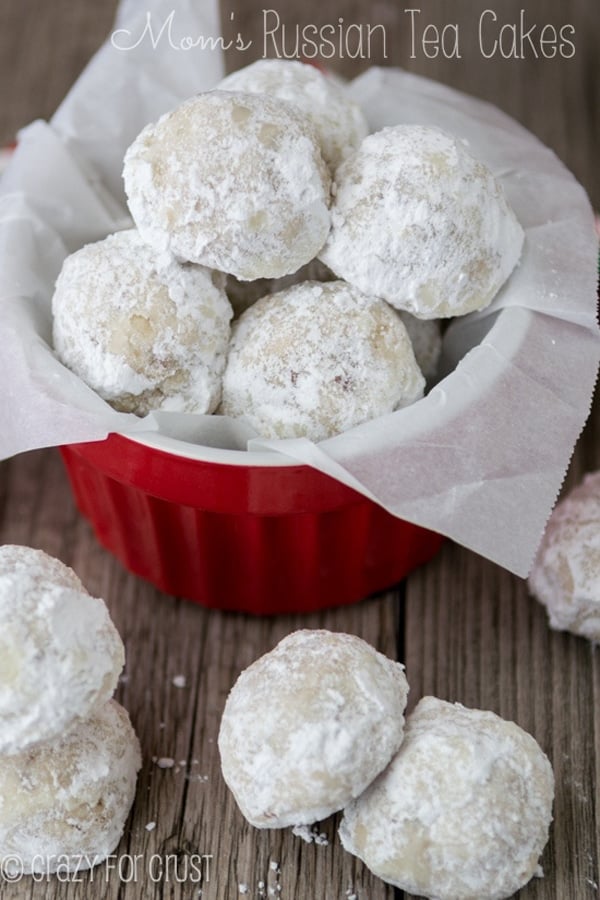 17. Russian Tea Cake Cookies: Crazy For Crust
These traditional Russian tea cake cookies are one of our favorite Christmas cookies to make every year.
Filled with pecans and rolled in powder sugar, these cookies will melt in your mouth. Your Christmas cookie platter will not be the same without these Russian tea cake cookies.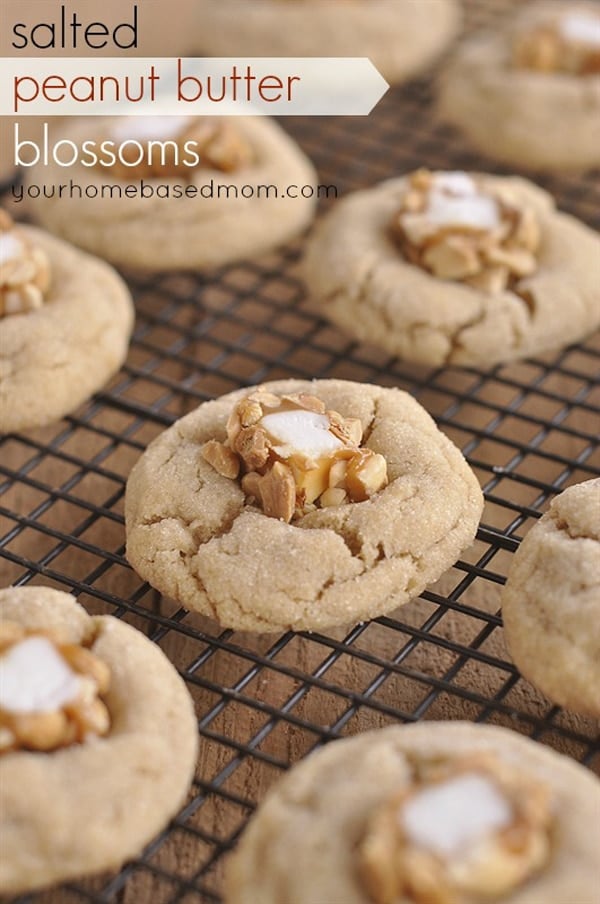 18. Salted Peanut Butter Blossoms: Your Homebased Mom
Do you LOVE peanut butter? If so, there's nothing more delicious than these salted peanut butter blossoms.
Mix up your Christmas cookie recipes and add in some delicious peanut butter cookies with this Christmas cookie recipe everyone will love.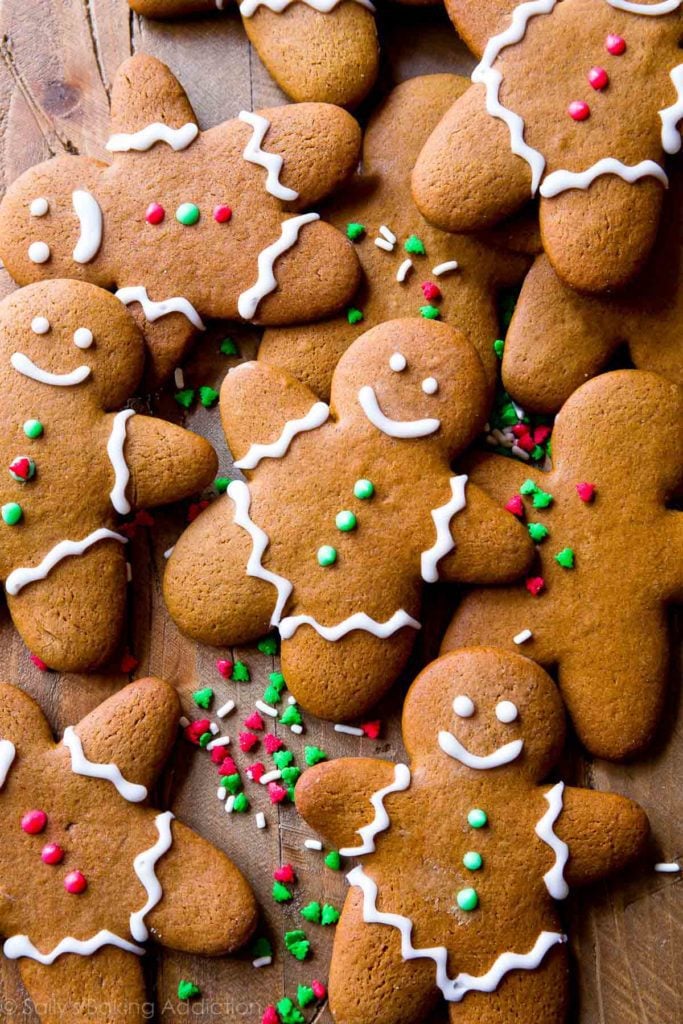 19. Best Gingerbread Cookies: Sally's Baking Addiction
If you're searching for the best, classic gingerbread cookie recipe, then look no further!
These delicious cookies are soft in the centers, crisp on the edges, perfectly spiced, molasses, and brown sugar-sweetened holiday goodness.
You can't go wrong with classic gingerbread men cookies!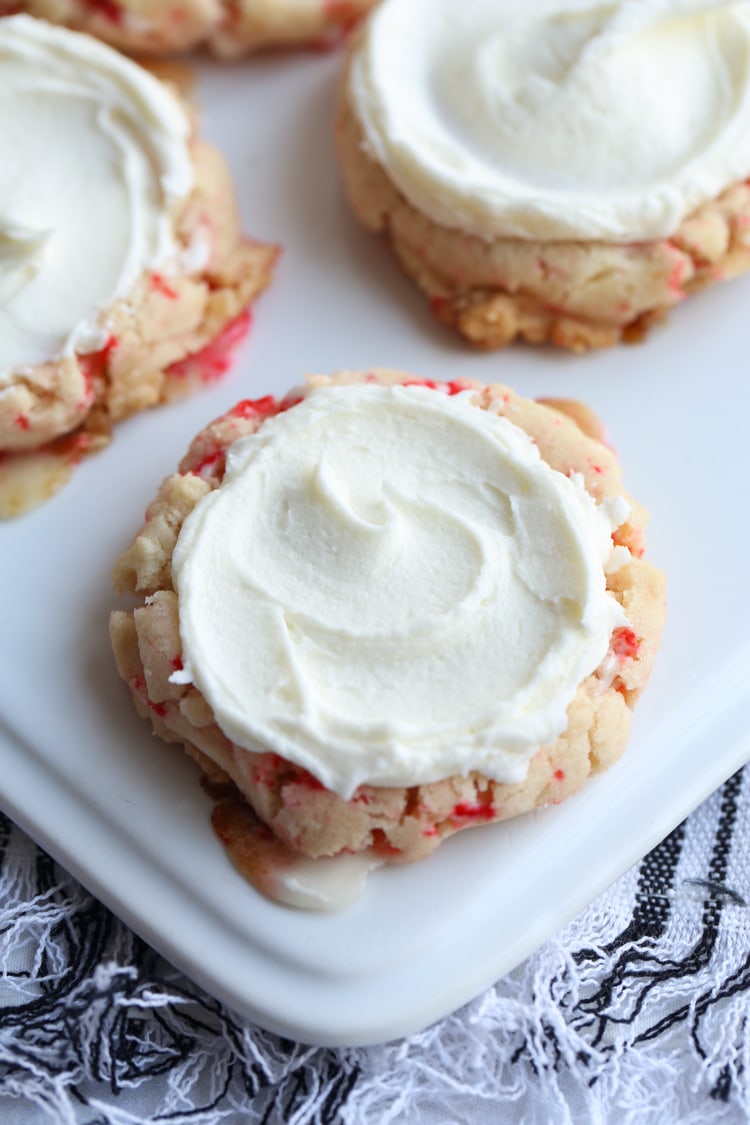 20. Candy Cane Sugar Cookies: Cookies & Cups
These candy cane sugar cookies are outrageously delicious!
This soft sugar cookie recipe is loaded with crushed candy canes and topped with creamy buttercream – making them a top contender for any holiday celebration!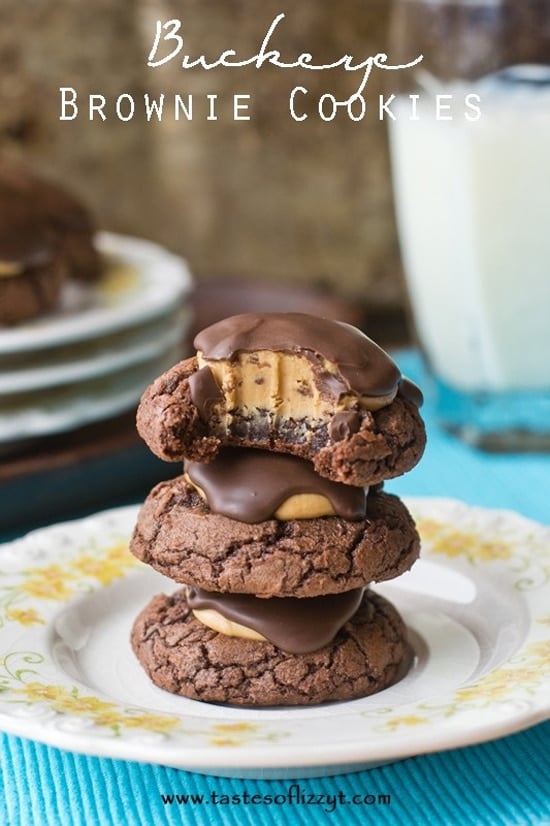 21. Buckeye Brownie Cookies: Tastes of Lizzy T's
These heavenly chocolate peanut butter cookies are a sweet combination of brownies and buckeyes. Who wouldn't love these as Christmas cookies?!
These sweet cookies are definitely at the top of our best Christmas cookies list. Who can deny the combination of chocolate and peanut butter? It's the best combination in the whole world.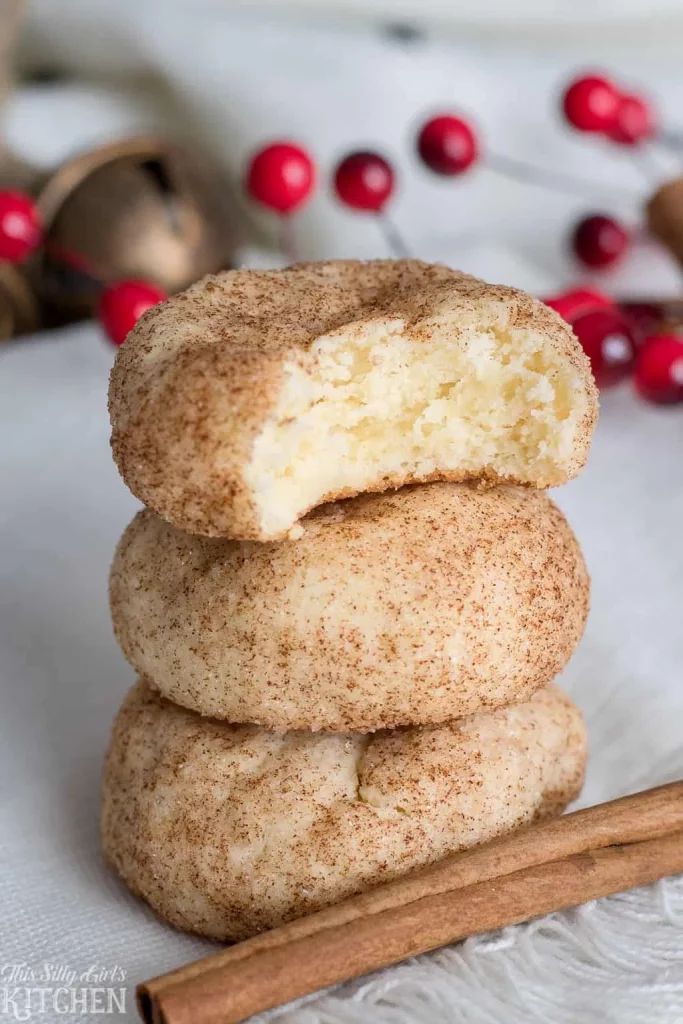 22. Cinnamon Cream Cheese Cookies: This Silly Girl's Kitchen
These delicious cinnamon cream cheese cookies are the ultimate cookie bursting with cinnamon sugar.
These cinnamon cream cheese cookies are a lot like snickerdoodles, but have the texture of meltaways. They're absolutely the perfect combination for an irresistible treat everyone will enjoy!
Make this mouth-watering dessert recipe for any holiday cookie exchange or festive get-together!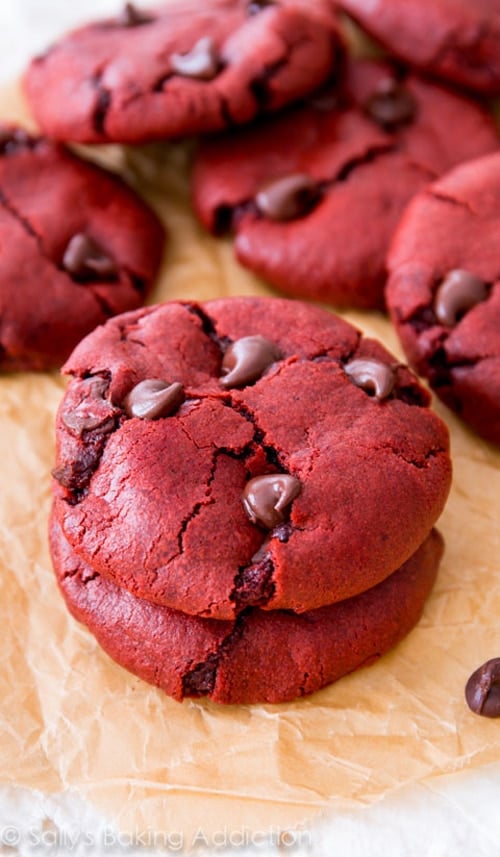 23. Red Velvet Chocolate Chip Cookies: Sally's Baking Addiction
We know anything red velvet, especially for Christmas, will be a total hit. That's why these red velvet chocolate chip cookies make the best recipe for a cookie exchange. They are easy and oh so delicious!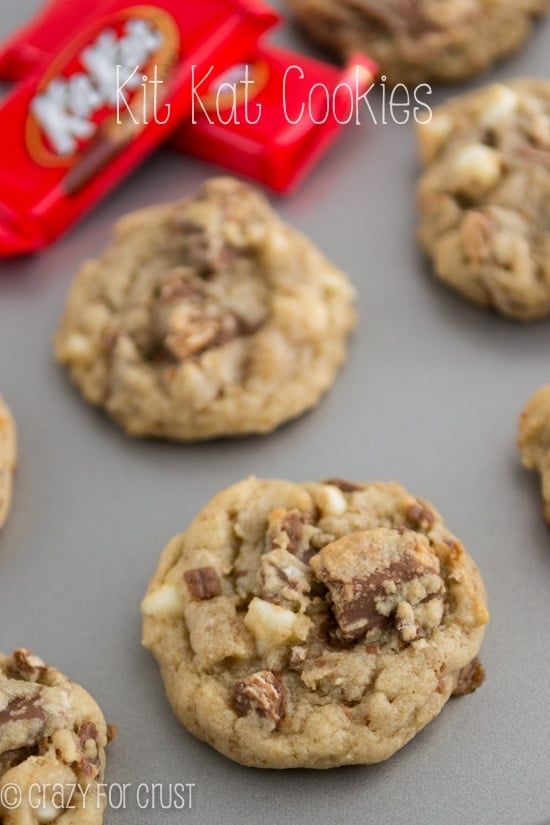 24. Kit Kat Cookies: Crazy For Crust
Are you a fan of Kit Kat candy? If so, these Kit Kat cookies will make your mouth water!
Chocolate chip cookies are always better with your favorite candy added in and we totally approve of these Kit Kat cookies for any holiday cookie exchange.
25. Italian Ricotta Cookies: Love Bakes Good Cakes
These soft and delicious Italian Ricotta cookies will become everyone's favorite indulgence.
Topped with an almond glaze and some sprinkles, these are easy cookies you can whip up in no time for any seasonal event.
Make them more festive for Christmas by adding red and green sprinkles for the best holiday cookies.
Get baking with these essentials:
That's our list of the 25 Best Christmas Cookie Exchange Recipes!
Which cookies on this list are your favorite and which ones will you bake this holiday? Have a recipe you don't see on the list? Let us know in the comments below!
For more holiday party ideas, follow us on Instagram @prettymyparty and Pinterest and join us in our private Facebook group.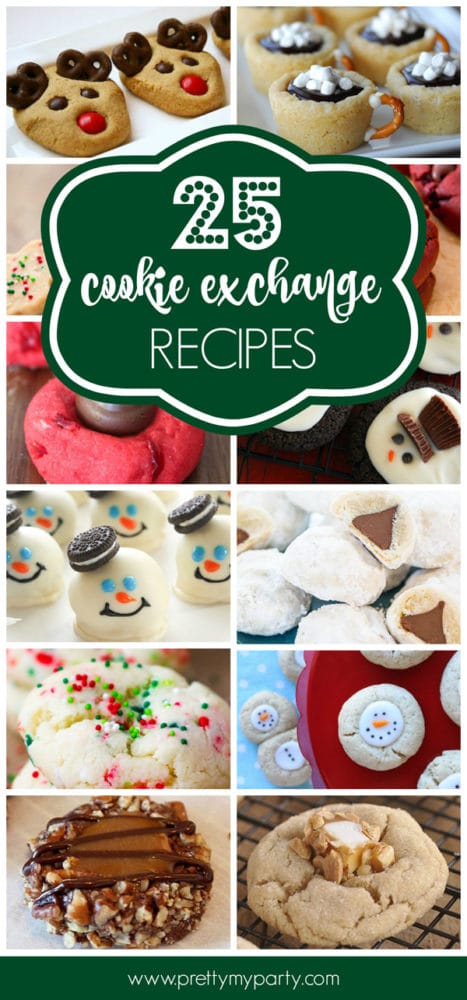 SaveSave
SaveSave
SaveSave
SaveSave