"Then the Grinch thought of something he hadn't before! What if Christmas, he thought, doesn't come from a store. What if Christmas…perhaps…means a little bit more!"
― Dr. Seuss, How the Grinch Stole Christmas!
Who here loves The Grinch?! This Christmas tale is a classic for a reason — everyone just loves the heartwarming story of the evil green villain turned town hero. If you're one of the thousands of fans of The Grinch, how about having a Grinch-themed Christmas party?
Aside from decorating your home in lots of green stuff and printing out masks and other party decorations with the Grinch's face on them, you also need one more important Grinch-themed item to complete your amazing party. Yup, you guessed it: Grinch party food!
Here are 12 wonderful Grinch party food ideas for your Christmas party.
See also: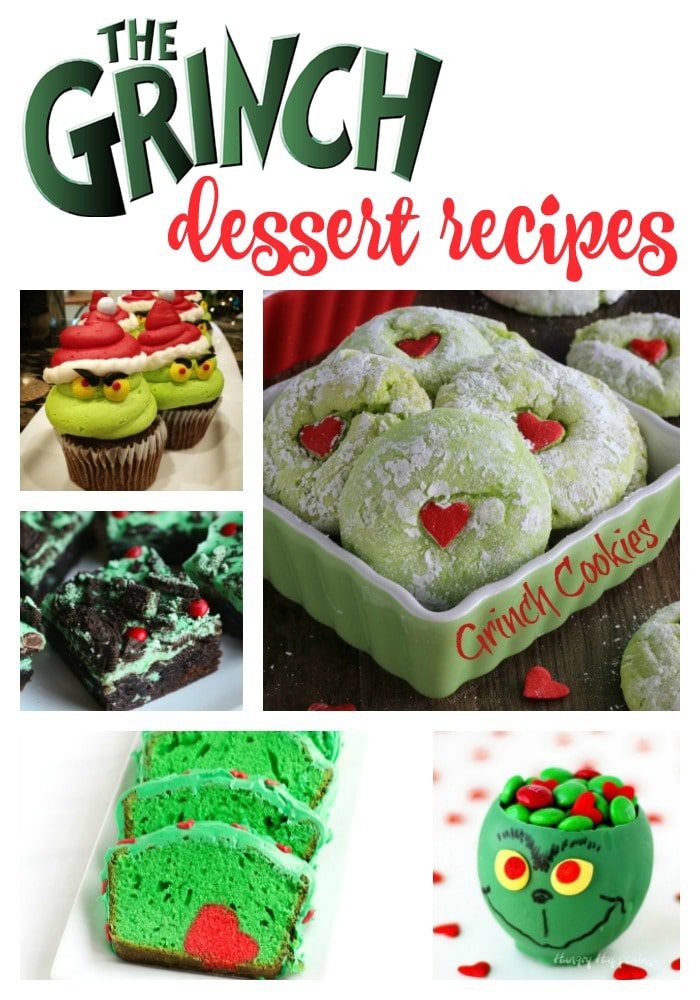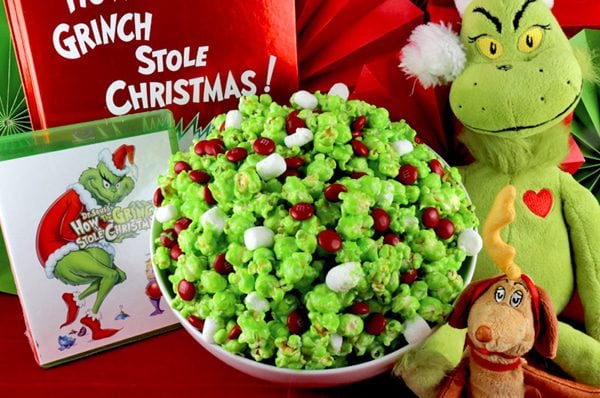 The Grinch Party Food Idea #1: If you want something that's super simple to make, try your hand at making this Grinch Popcorn. This green popcorn is perfect for those who love a mixture of sweet and salty flavors. It's so easy to make, you don't even need a party to have it. Make this Grinch popcorn for all your holiday movie nights!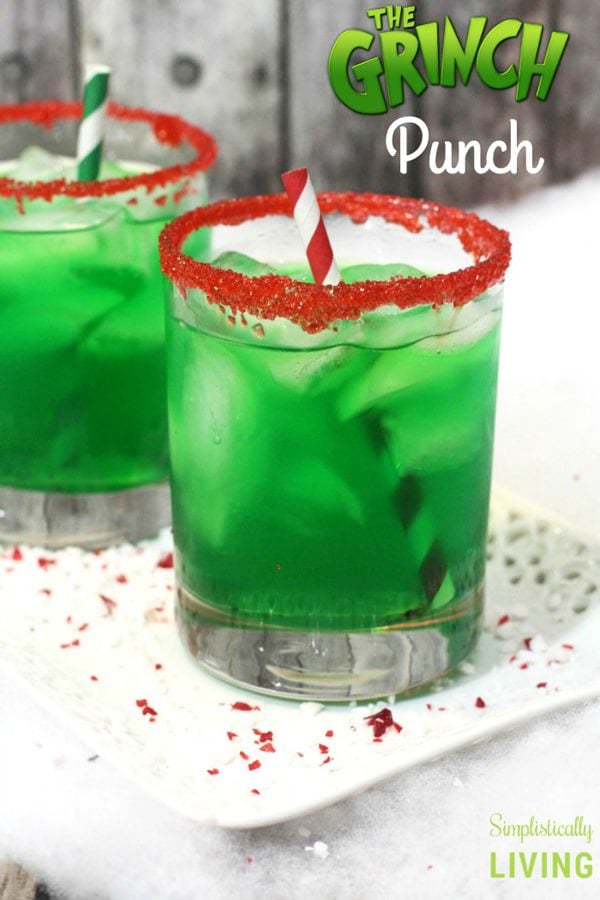 The Grinch Party Food Idea #2: Green and refreshing! This Grinch Punch will quench the thirst of all your party-goers. It's made from super simple ingredients – lemon lime or apple Kool Aid, pineapple juice, lemonade concentrate, sprite, sugar, and ice – so you won't have a hard time recreating it. Don't forget the red sugar for the rim of the glass to complete the look of your Grinch Punch!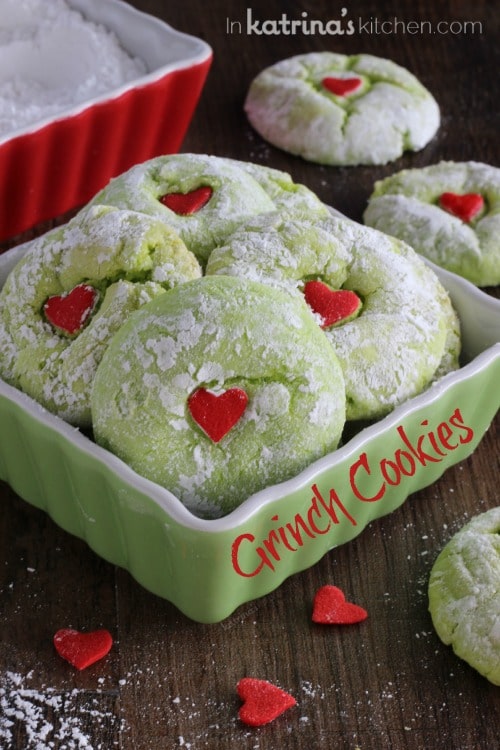 The Grinch Party Food Idea #3: These pastel Grinch Cookies look gorgeous and delicious! These yummy cookies are made from boxed French vanilla cake mix, but you can make your own signature cookie recipe if you want. For the Grinch's heart, you can use large heart shaped candies or you can even make tiny hearts from fondant — the possibilities are endless!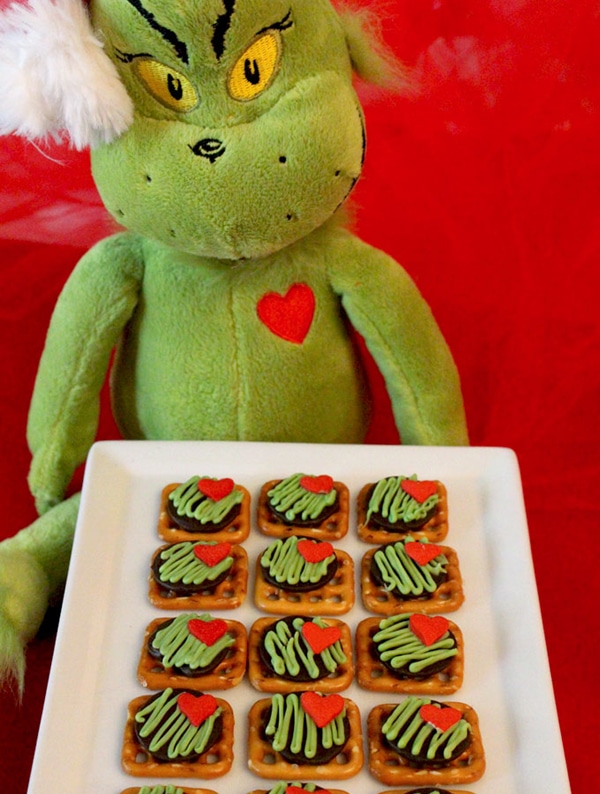 The Grinch Party Food Idea #4: These Grinch Pretzel Bites look so adorable! The colorful presentation will make it stand out at any Christmas party table spread, and it's definitely going to be a hit for kids and adults alike. This recipe calls for two different green colored candy melts to make that perfect Grinch green. You will also need a bunch of jumbo heart sprinkles for these pretzel bites, so you can make these ones and the cookies above to make use of all those heart candies!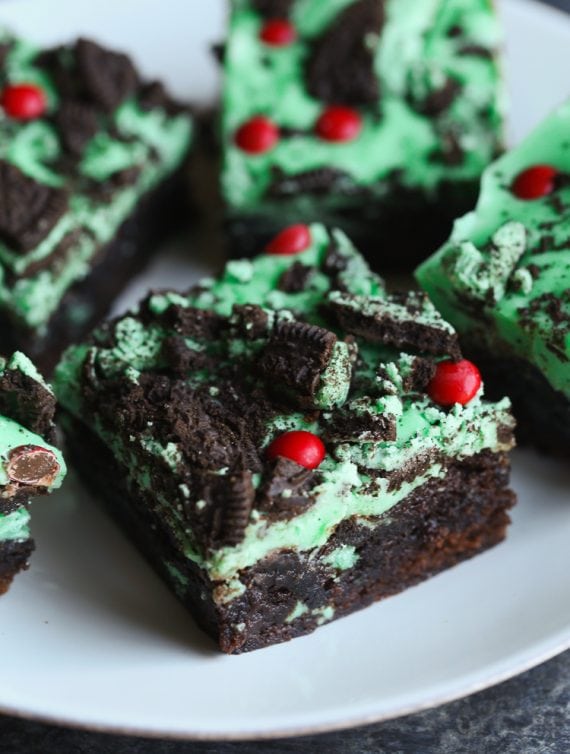 The Grinch Party Food Idea #5: Does anyone in your family love chocolate brownies? How about some mint Oreos? If you answered yes to any of those questions, then these Grinch Brownies will be a perfect addition to your Christmas dessert spread! These brownies can be created from a simple brownie mix plus a bunch of mint Oreos. You can also add a chocolate ganache made from white chocolate and green food coloring plus a sprinkling of red M&Ms or any similar red candies to complete the red and green themed Grinch look!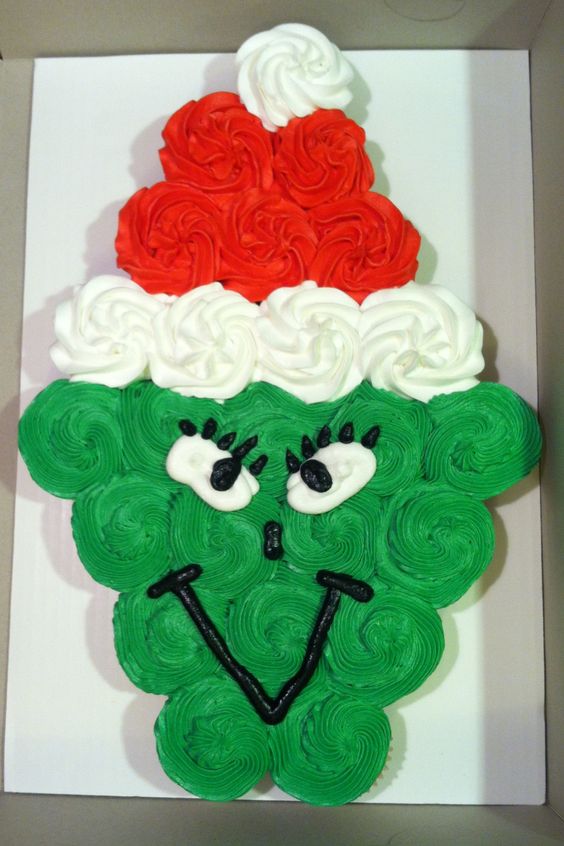 The Grinch Party Food Idea #6: Here's another spectacular Grinch dessert idea: a Grinch Cupcake Cake! A pull apart cupcake cake is an excellent alternative to making a huge Grinch cake. It's easier to make and decorate and it will look just as good on your party table! You can also use different flavored cupcakes depending on the color of your frosting (there's green, red, and white to choose from) so that people can choose their favorite flavor!
The Grinch Party Food Idea #7: This simple Grinch Cake is so cute! Cake rolls aren't very popular, but they are definitely a great option. This Grinch Cake is so clever because of the surprise heart inside! If you're looking for an easy cake recipe to serve at your Christmas celebration, consider giving this adorable peek-a-boo Grinch cake a go!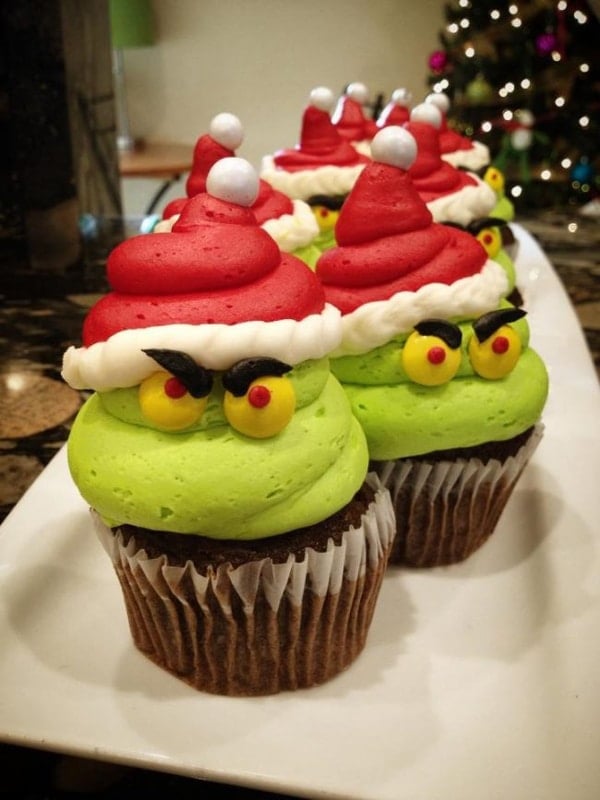 The Grinch Party Food Idea #8: These Grinch Cupcakes look amazing! These are definitely some of the best Grinch-themed Christmas party food ideas we've seen. The perfectly frosted cupcakes with the grumpy Grinch face is just too adorable to resist. Your party guests will definitely enjoy seeing this on your dessert table.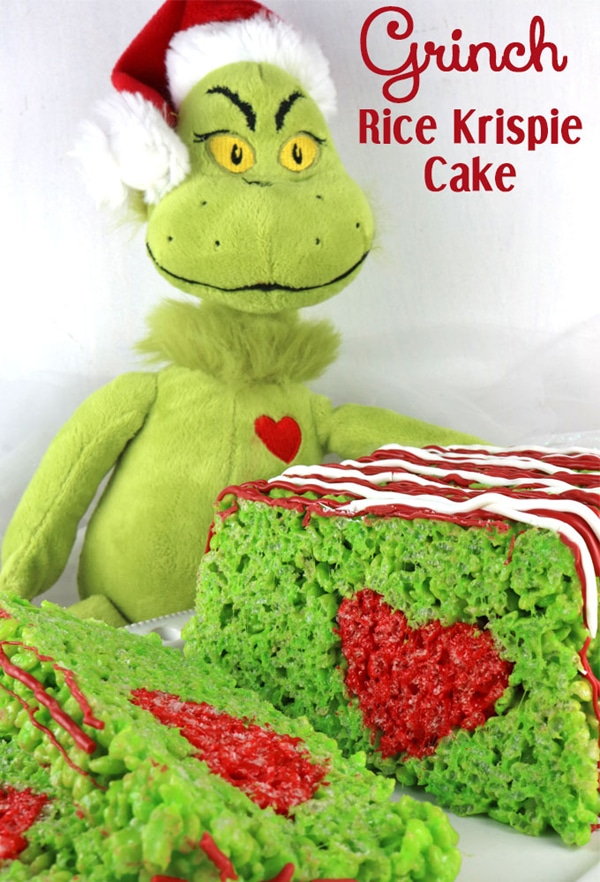 The Grinch Party Food Idea #9: Rice Krispie treats are so easy to make, but kids and adults love them a lot because they are so delicious and enjoyable to eat! If you want to take regular Rice Krispie treats to the next level, try making this amazing Grinch Rice Krispie Cake! To make it even more amazing, this Rice Krispie cake even has a surprise heart inside! The Grinch's heart will definitely grow three times when he sees this amazing dessert.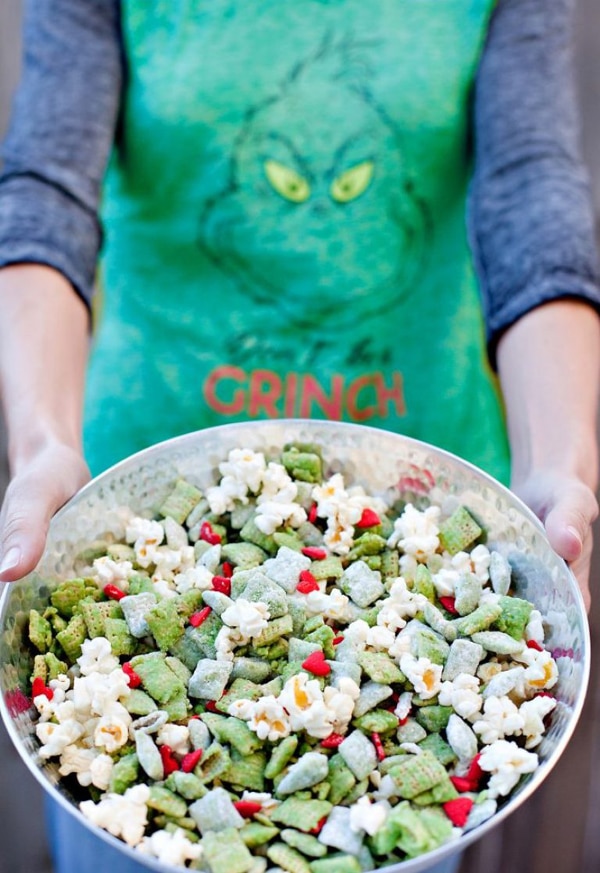 The Grinch Party Food Idea #10: Here's another easy to make party food to fill up your Grinch party table: a Grinch-themed Chex Mix! This Grinch Chex Mix Recipe only has a handful of ingredients including Rice Chex plus white chocolate chips, butter, peanut butter, sugar and green food coloring for the green coating. Don't forget to add some popcorn, and here's another use for those jumbo red heart sprinkles!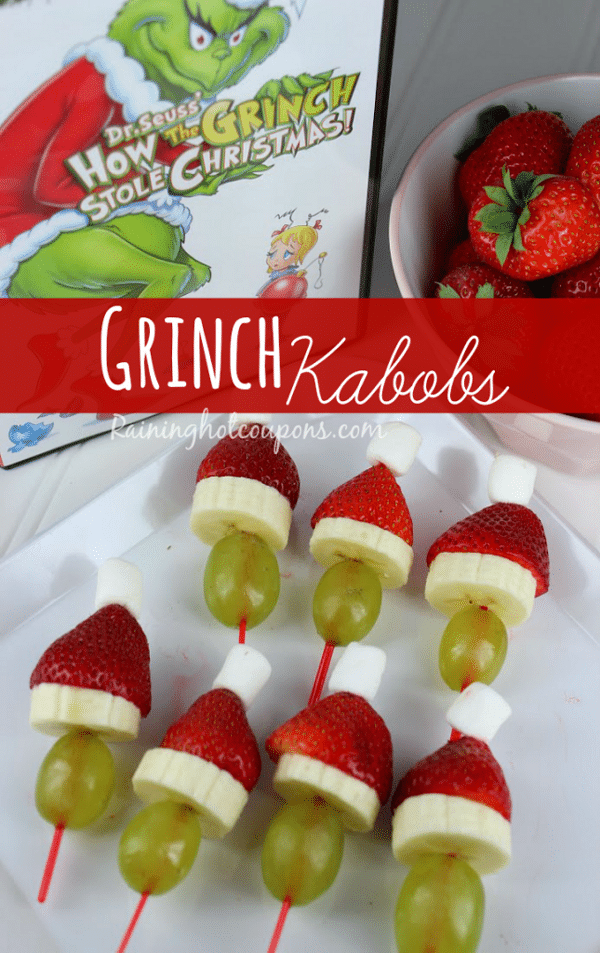 The Grinch Party Food Idea #11: Tired of all those sweets? How about something a little more healthy? These Grinch Kabobs use a mix of fresh fruits (grapes, strawberries, and bananas) so they are a great healthier alternative for those guests or family members who are trying to cut back on sugar. You can even leave those tiny marshmallows out to make it completely healthy!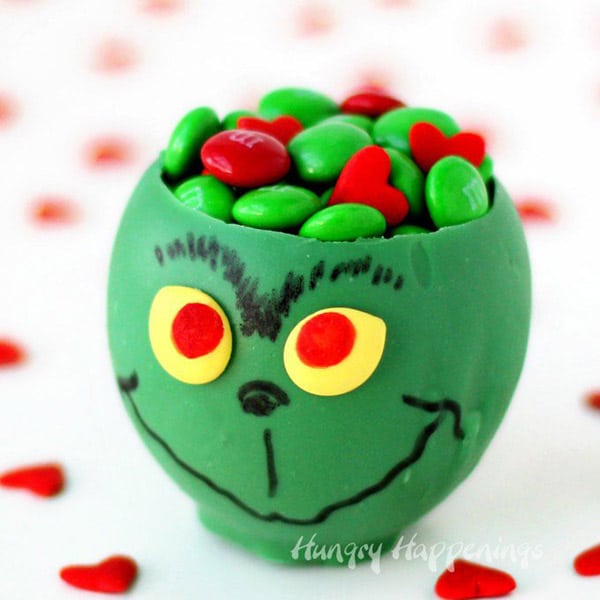 The Grinch Party Food Idea #12: Last but definitely not least are these Grinch Candy Cups! What's great about these is that you only need to make the edible Grinch cups and then fill them with everyone's favorite Christmas candies! These will look amazing on your party table!
Which of these amazingly creative Grinch party food ideas are you itching to try? Share your favorites with us by leaving a comment below!
For more party ideas, follow us on Instagram @prettymyparty and Pinterest and join us in our private Facebook group.