13 DIY Holiday Ornaments Kids Can Make
Are you looking for ideas for DIY Ornaments For Kids? Check out this list of fun DIY Ornaments you can make as a family!
The holiday season is the perfect time to get crafty with the kids! With school out and your kids in a very festive and energetic mood, you will have plenty of time to spare making DIY Christmas Ornaments for Kids.
Kids love making their own ornaments to hang on the tree. Whether you're doing a fun kid-themed Christmas tree this year or just want to have more of your child's favorites on the family Christmas tree, you have so many ways to involve your little ones more when it comes to your holiday decorating.
If you are looking for ideas for Christmas ornaments for kids to make, you have come to the right place! Here are 13 DIY Holiday Ornaments Kids Can Make! From toddler Christmas ornaments to Christmas ornaments for preschoolers to make, you can find kids ornaments ideas for children of all ages right here.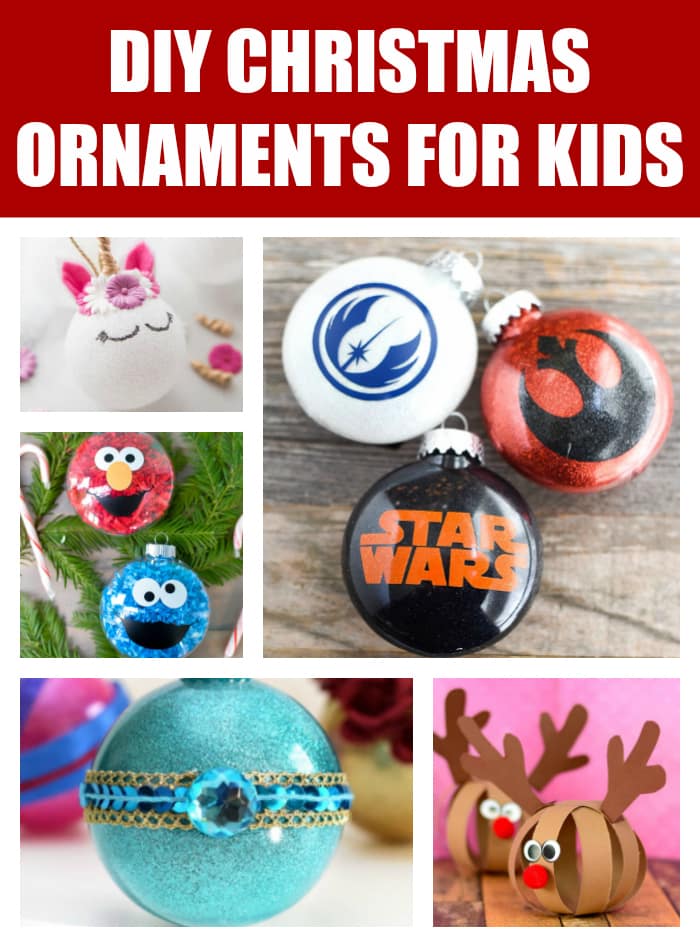 You will also love:
Shop Christmas ornaments: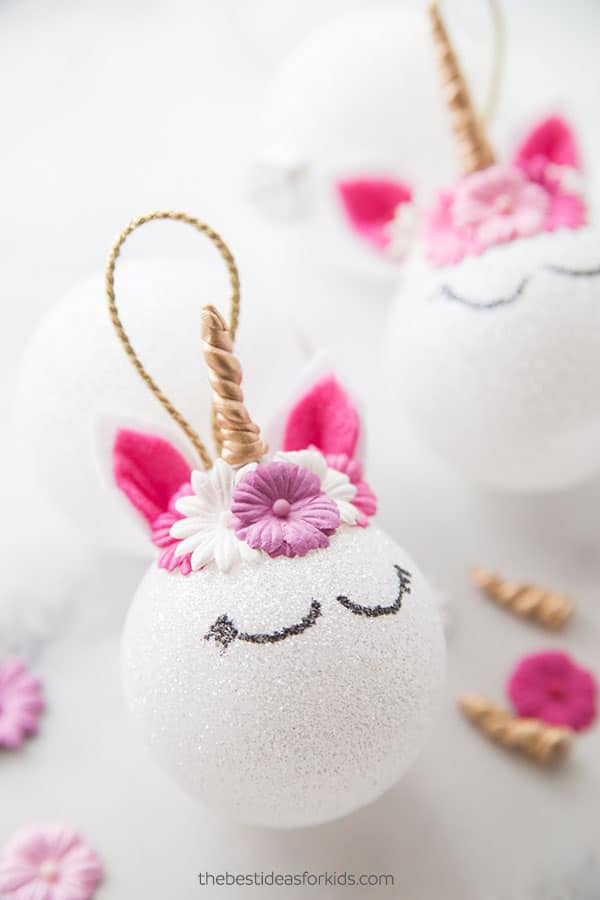 Kids Christmas Ornament #1: How sweet is this DIY Unicorn Christmas Ornament? It's easy enough for the kids to make too. This ornament requires you to use hot glue though, so make sure you do this part yourself and supervise the kids at all times to make sure they don't burn themselves! If your little one LOVES unicorns and pretty little things, this idea is perfect!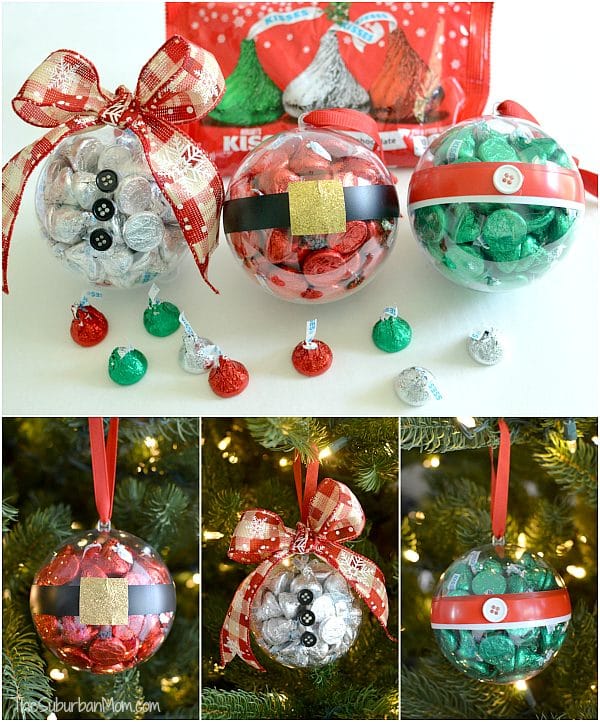 Kids Christmas Ornament #2: Grab some holiday Hershey Kisses and clear ornaments to make these DIY Hershey Kiss Ornaments! DIY ornaments plus chocolates? Your kids are going to love this! Your little ones will definitely grab some those Hershey Kisses as you're making these kids ornaments, so make sure you've got plenty in stock!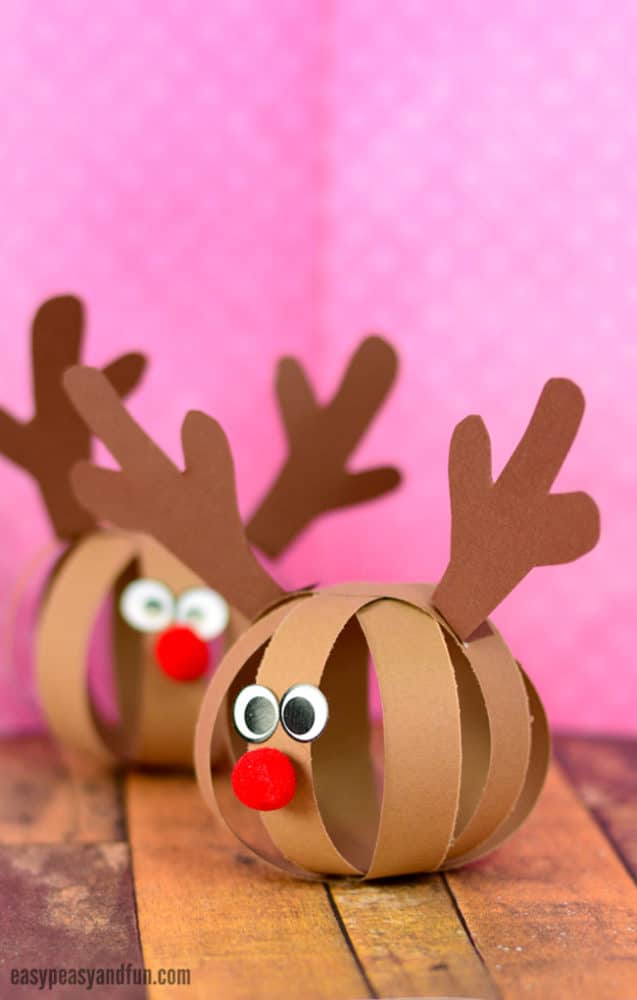 Kids Christmas Ornament #3: This Paper Ball Reindeer Craft can easily be converted into a fun holiday ornament! It's so adorable and definitely one of the easiest Christmas ornaments kids can make. The kids will love making this for the Christmas tree!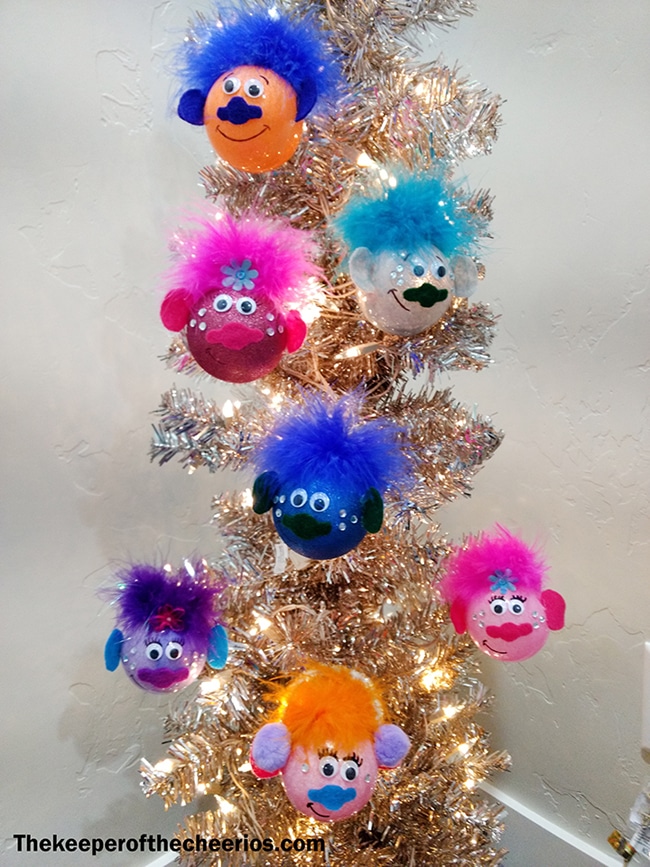 Kids Christmas Ornament #4: Whose kids are into Trolls? Check out these fun DIY Trolls Christmas Ornaments! If your kids enjoyed watching the Trolls movie, they will definitely be delighted to make these super cute kids Christmas ornaments. The colorful feather boa hair definitely makes these DIY ornaments fun!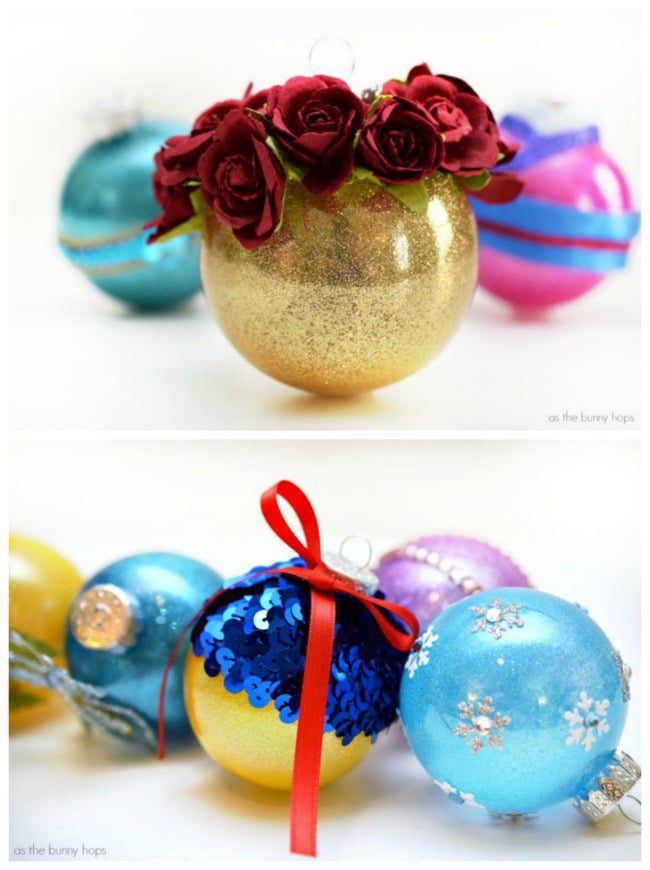 Kids Christmas Ornament #5: We absolutely LOVE these Disney Princess-Inspired Christmas Ornaments! Have your little princess make one representing her favorite Disney princess! They are super subtle, but you can definitely see how well they fit the Disney princesses! As DIY kid friendly Christmas ornaments go, these ones are definitely among the prettiest.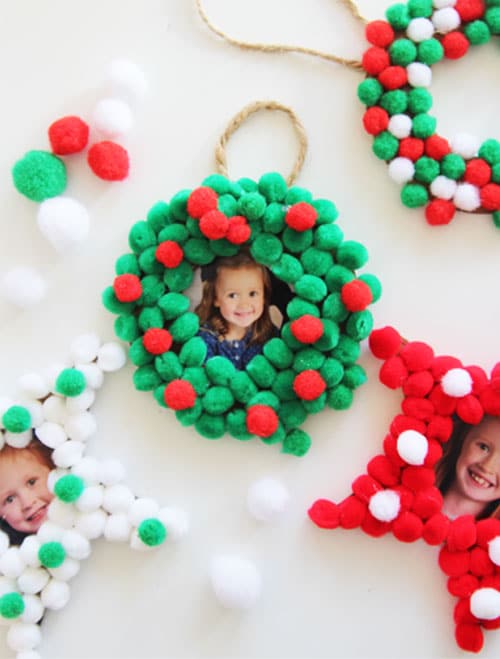 Kids Christmas Ornament #6: Grab a photo of your kids and make these adorable DIY Pom Pom Photo Christmas Ornaments! Your little ones will love seeing their adorable faces on your tree in this cute and easy Christmas ornaments for kids.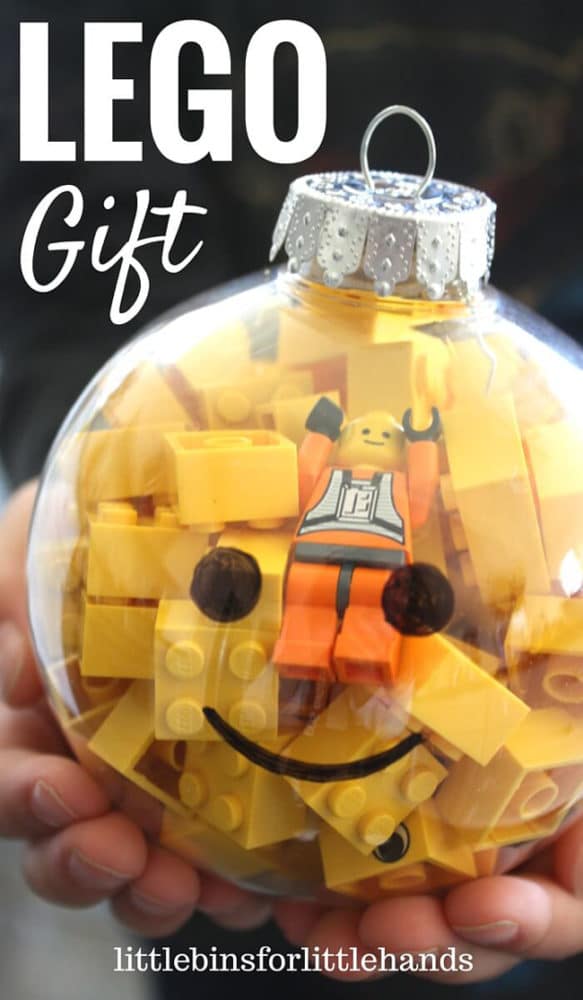 Kids Christmas Ornament #7: If your little one loves to play with LEGOS, they will have a blast making this DIY LEGO Ornament! This is a great way to find another use for all those random Lego pieces that don't fit in with anything else anymore. If your kids have a lot of Legos, you definitely have some odd ones lying around. Don't let them go to waste and use them as Christmas ornament crafts for kids instead.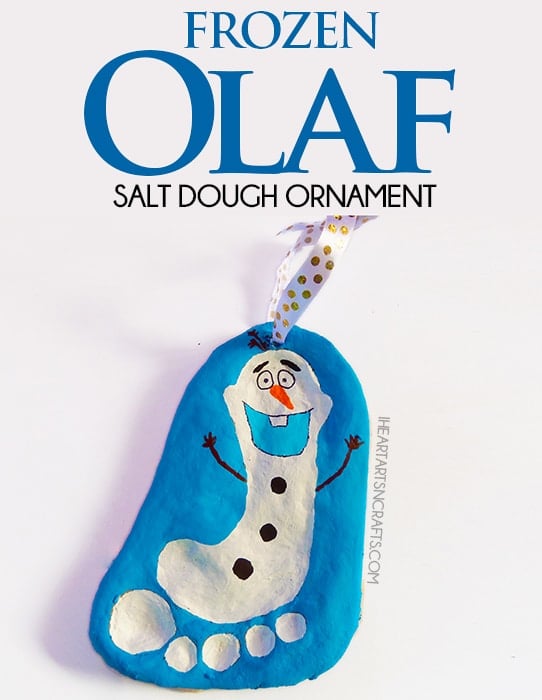 Kids Christmas Ornament #8: This Frozen Olaf Salt Dough Ornament is too adorable for words! This idea is perfect for little Frozen fans! Plus, nothing says unique like their tiny footprint on an ornament. This is truly one of the most charming homemade Christmas ornaments for kids that we have seen.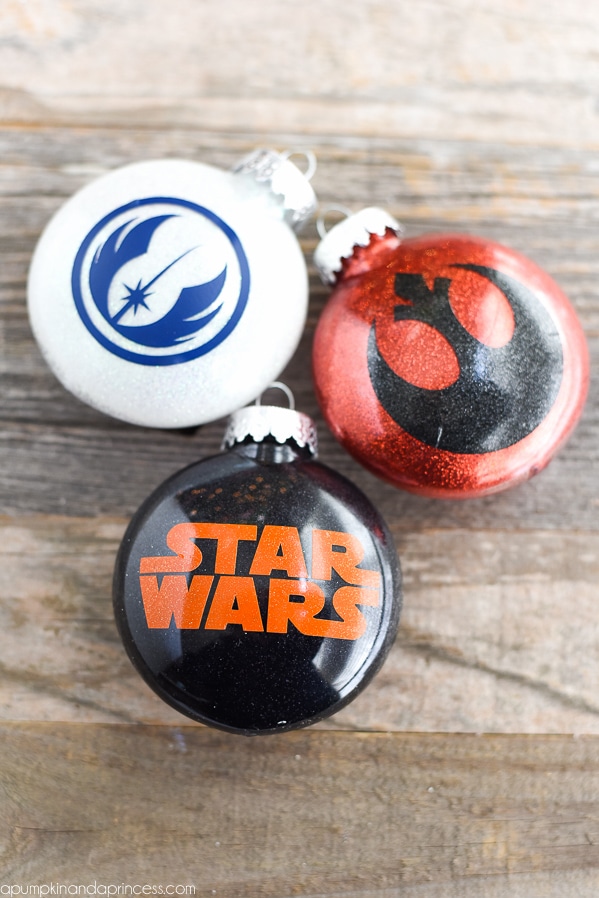 Kids Christmas Ornament #9: If you have any Star Wars fans in your house, these DIY Star Wars Ornaments will be perfect to make and add to the tree. If your kids are growing up and are not into Disney princesses or cuddly cartoons anymore, these awesome Star Wars-themed ones are a great idea for Christmas ornaments to make with your little grown ups.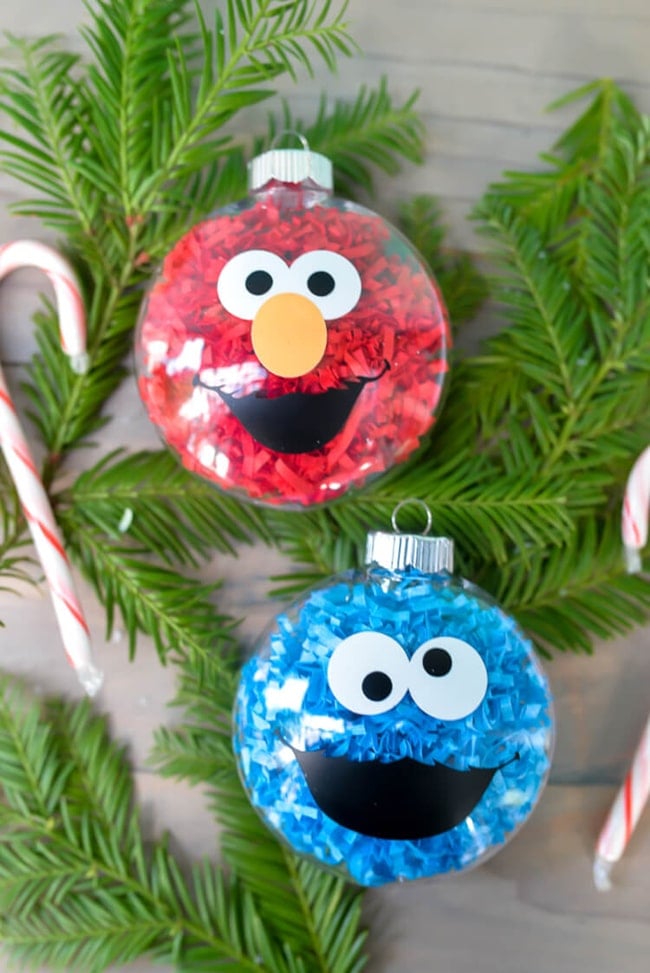 Kids Christmas Ornament #10: These easy DIY Sesame Street Ornaments are perfect for the little ones who absolutely adore Elmo, Cookie Monster, Big Bird, Oscar the Grouch and the rest of the fun Sesame Street gang! This is definitely one of the most creative ornament crafts for kids on our list. You and your little ones will have a blast thinking up creative ways to turn as many Sesame Street characters into ball-shaped Christmas ornaments!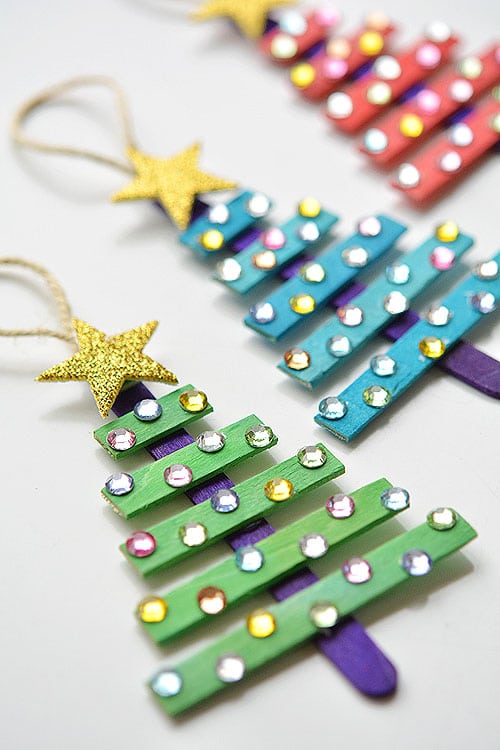 Kids Christmas Ornament #11: These DIY Glittering Popsicle Stick Christmas Tree Ornaments are perfect for your holiday craft day with the kids! They are very easy to make with materials that you can find at any craft store near you. These DIY ornaments for kids is perfect if you want something that's fun, easy, and doesn't need a ton of materials or amazing crafting skills.
Kids Christmas Ornament #12: Wow these tiny crystal wreaths look amazing! Make these Easy DIY Ornament Wreaths for the tree with your kids using Christmas green starflake beads, red plastic beads, scissors, satin ribbons, and a pipe cleaner. So easy, right? These are absolutely perfect children's Christmas tree decorations.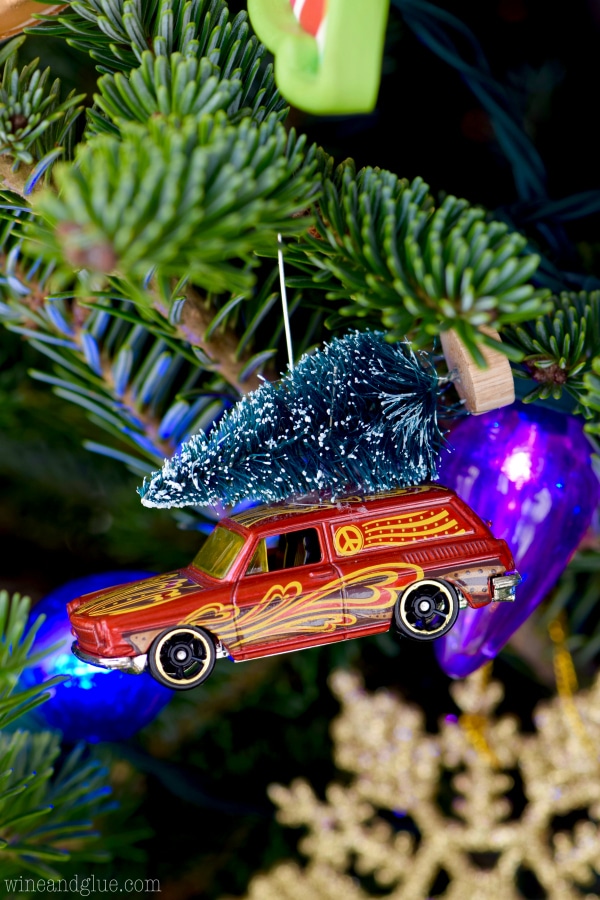 Kids Christmas Ornament #13: If your little one loves cars, then these DIY Matchbox Car Ornaments are the perfect thing to add to your family tree this year! You can easily find those tiny Christmas trees and Hot Wheels. Have fun making these super creative children's Christmas tree decorations!
What do you think of these 13 DIY Holiday Ornaments Kids Can Make? So many of these DIY ornaments are super easy to recreate and it will definitely be worth spending a day with the kids to make them.
Prepare some delicious snacks so that your kids won't go hungry and make a party and fun-filled family bonding moment making these easy DIY Christmas Ornaments! Which one of these incredible holiday ornaments will you be making this year? Let us know your favorites in the comments below!
For more holiday party ideas, follow us on Instagram @prettymyparty and Pinterest and join us in our private Facebook group.SaveSave SaveSave SaveSave SaveSaveSaveSaveSaveSaveSaveSaveSaveSave SaveSave
SaveSave
SaveSave