11 Christmas Salt Dough Keepsake Ornament Ideas
Get the kids together this holiday and make some fun salt dough ornaments!
Making DIY holiday ornaments is such a fun thing that many people remember from their childhood. Growing up, you probably have lots of fond memories with your family making your own ornaments to hang on the tree. One of the most popular ornaments to make are salt dough ornaments! Salt dough ornaments are easy enough for the kids to make, and you can create an endless variety of keepsake ornaments with salt dough!
Kids love making their own ornaments for the Christmas tree and these salt dough ornament ideas are perfect for a fun holiday craft day! Salt dough is a fun and easy craft for the kids and they make awesome keepsakes. In fact, aside from the baking part, kids can do everything themselves when it comes to making salt dough ornaments! Everyone will have a blast making these Christmas ornaments that Mom and Dad can treasure forever.
There are so many creative salt dough ornament ideas that even your favorite furry friend can have his own salt dough paw print ornament! All you need to make these easy salt dough ornaments are all purpose flour, salt and water. You will also need some paint, ribbons, a rolling pin, and some other craft items depending on what you will be making. Don't forget to poke a hole in the ornament before you bake it!
Now that you're ready and excited to make your own salt dough ornaments, here are 11 Christmas Salt Dough Keepsake Ornament Ideas to inspire you!

You will also love:

Salt Dough Ornament #1: How precious is this handprint photo and heart ornament keepsake? As a parent, this would probably be one of your most cherished salt dough ornaments. This ornament idea would also make a great gift idea for the grandparents for Christmas!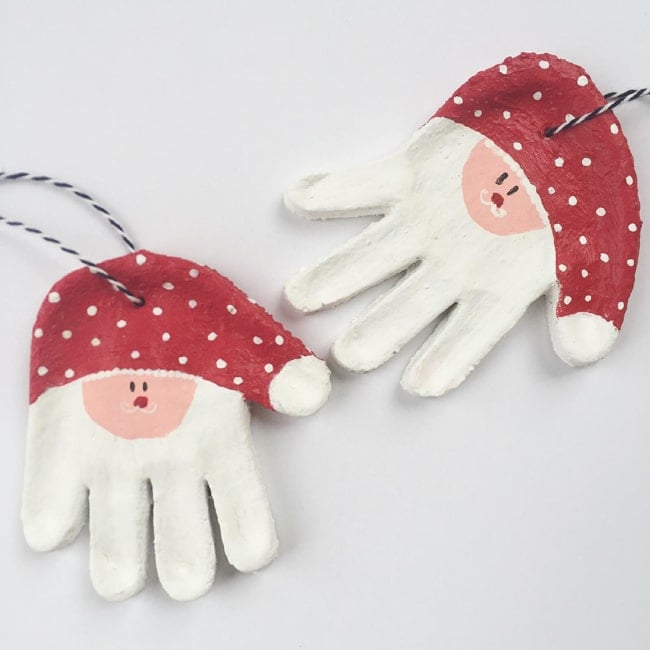 Salt Dough Ornament #2: Ho, ho ho! The kids will have so much fun making these salt dough handprint Santa ornaments! Using their cute, tiny hands as Santa's face is so creative! The beard and hat are just perfect.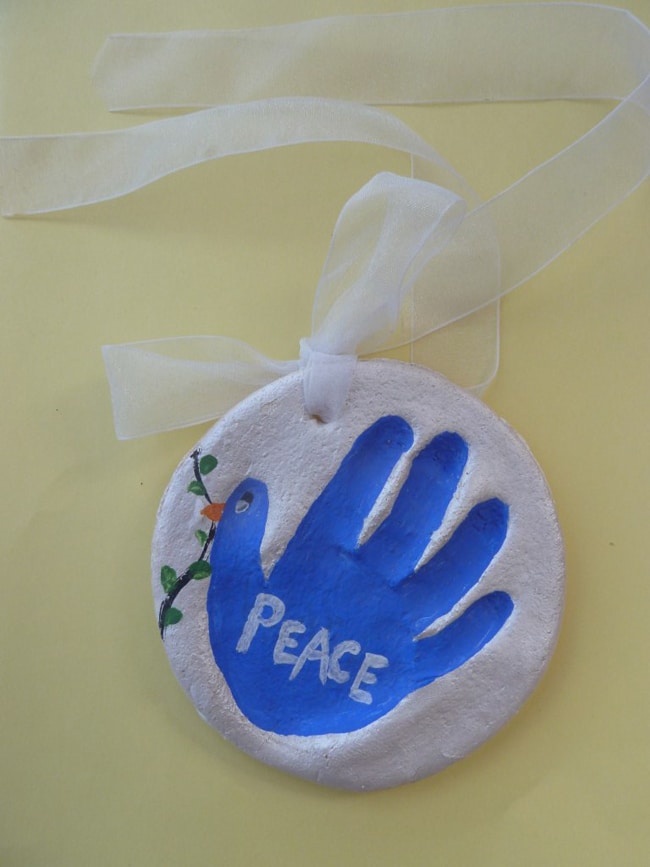 Salt Dough Ornament #3: This sweet salt dough handprint peace ornament is another great option for the kids to make. They can paint whatever decoration and word they want on it too. Have your child put their name and the year on the back for a forever keepsake.
Salt Dough Ornament #4: There are so many fun Salt dough ornaments the kids can make like Santa, Rudolph, Olaf, and more! Let your kids' creative juices flow when making these ornaments. You'll be pleasantly surprised at what amazing designs they can come up with!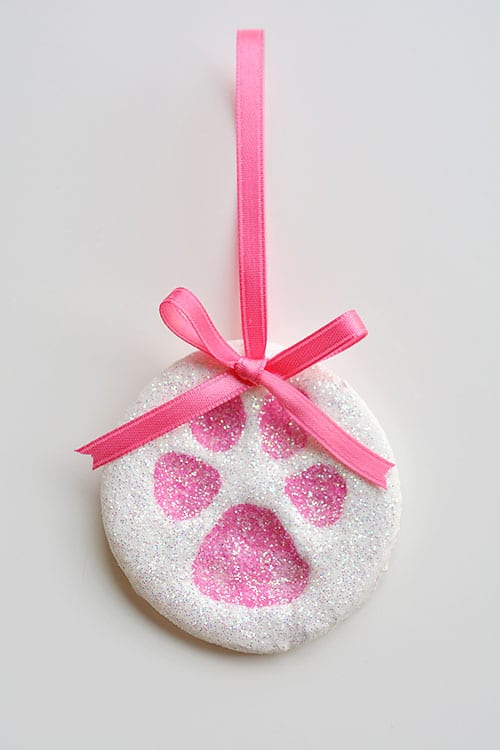 Salt Dough Ornament #5: Who says your family pet has to be left out of all the holiday fun? Get your furry little friend in on the fun with this Paw Print Salt Dough Ornament. With some Mod Podge and a whole lot of glitter, you can make this adorable salt dough paw print ornament in any style or color you want! Your furry friend will definitely have fun spending time with the kids and playing a part of your little party!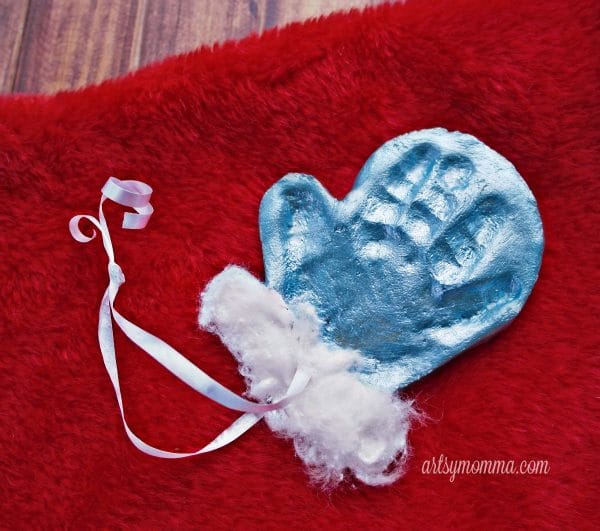 Salt Dough Ornament #6: This Salt Dough Mitten Ornament Keepsake is adorable! Your little one's tiny hands will make for the perfect little mitten ornaments. Add a little paint and some cotton and your salt dough ornament is complete! To really personalize your little one's mitten ornaments don't forget to paint it in their favorite color. You can also paint their name or even have them do a cute drawing on the mittens.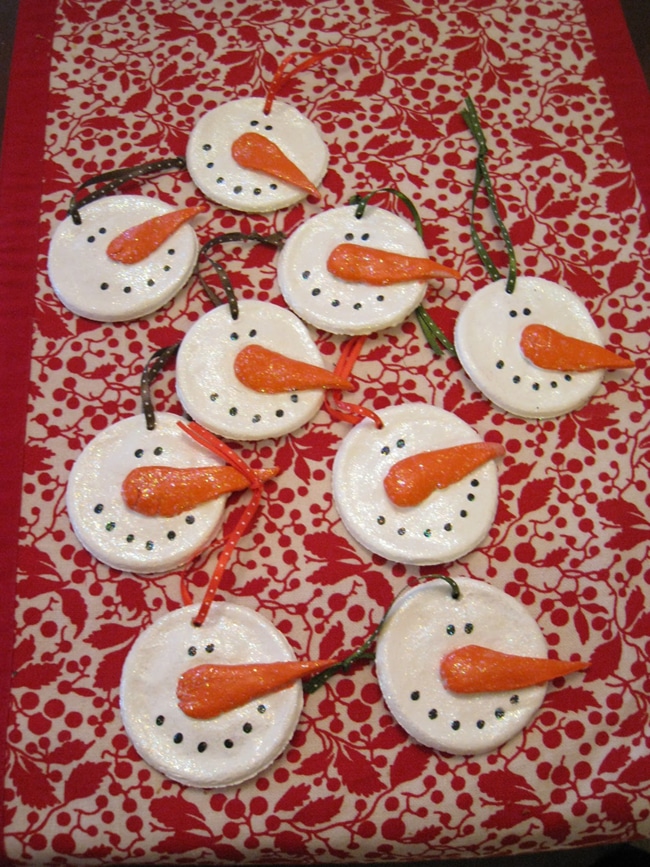 Salt Dough Ornament #7: Get the kids together with some of their friends and make these cute salt dough ornament snowmen. The kids can even make them as gifts for their grandparents or aunts and uncles. They will love making these sweet DIY ornament gifts. To make perfect circles, cut out the dough with a cookie cutter. You can use an appropriate cookie cutter for the noses too, but they will still turn out fine if you let the kids be creative with the snowmen's noses!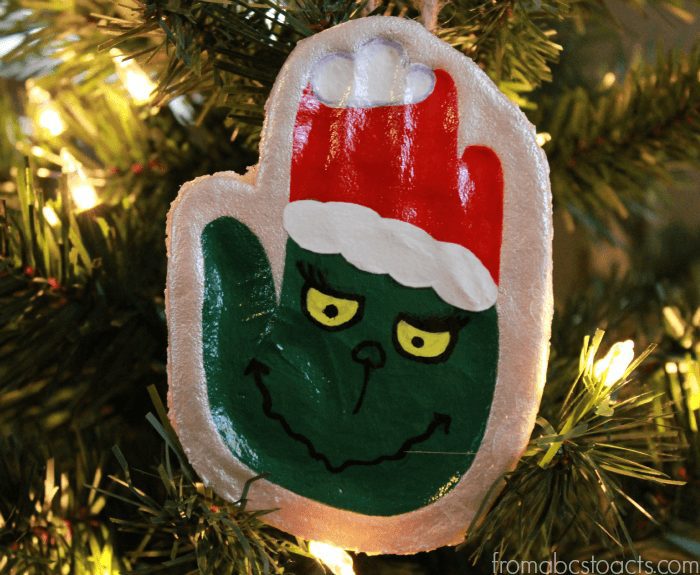 Salt Dough Ornament #8: Who loves the Grinch?! If your kids' favorite Christmas movie involves this mean, green thing, make this Grinch Handprint Christmas Ornament with them! The kids will treasure it as a fun childhood ornament keepsake, and like the timeless Grinch, this ornament can definitely be used to decorate your tree for the next holidays to come.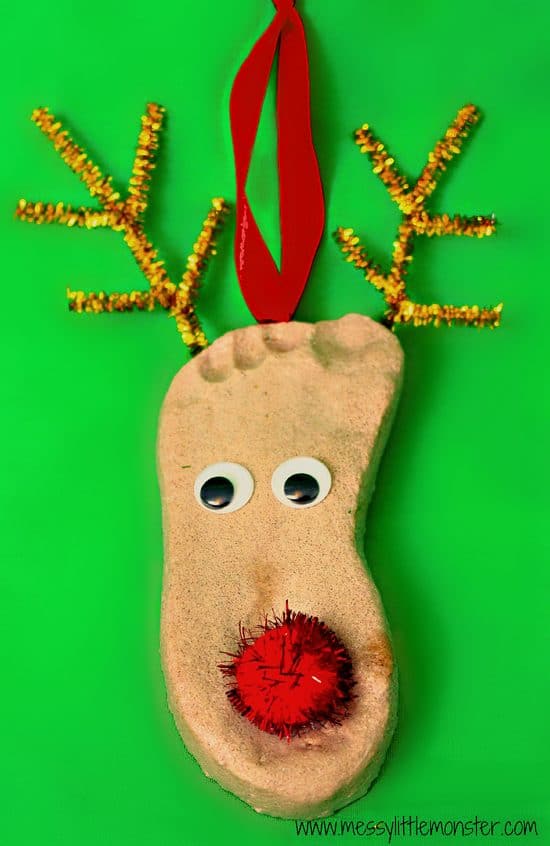 Salt Dough Ornament #9: This Salt Dough Reindeer Footprint Keepsake Ornament is seriously too cute for words. The kids will love making this reindeer salt dough ornament! Your kids' cute little feet will be the perfect canvas for Rudolph's face! To make his red nose really stand out, use a sparkly pom pom nose! You can use sparkly gold pipe cleaners for the antlers, and don't forget to add googly eyes to complete Rudolph's adorable face!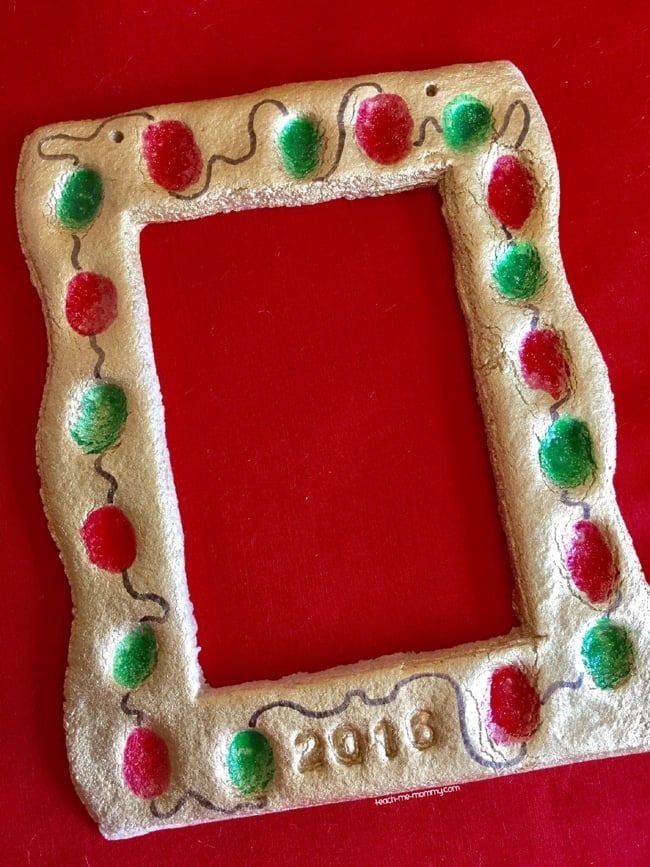 Salt Dough Ornament #10: Make a fun Salt Dough Fingerprint Lights Frame Ornament like this one this year! Add a holiday photo and you have one cute holiday ornament keepsake. You can even turn this one into a yearly tradition to remind you how much your little one is growing year after year! If you want to shake things up, let your creative juices flow and think of a new design for your frame for each year.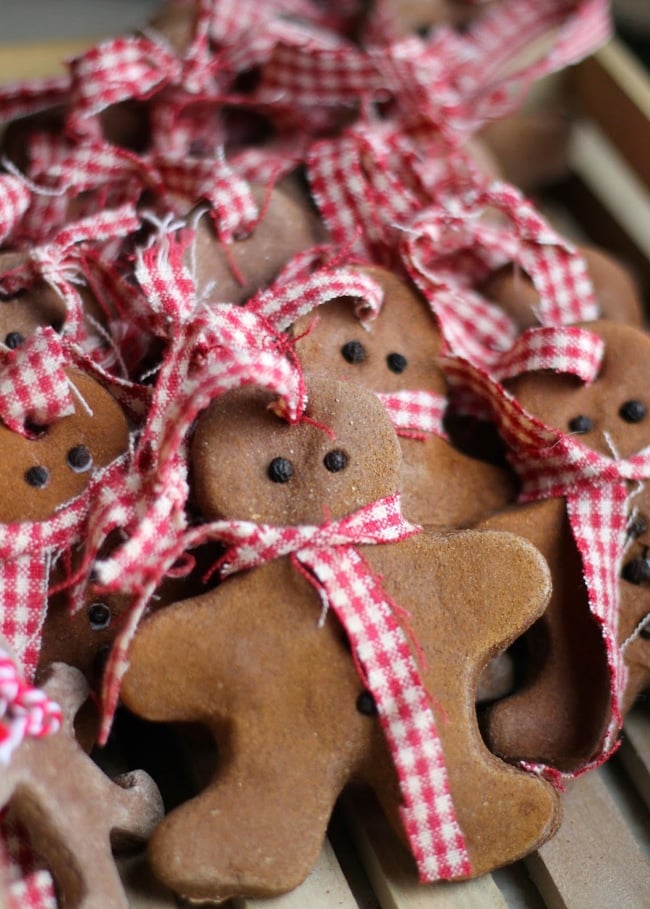 Salt Dough Ornament #11: Homemade gingerbread men are a classic fixture on the Christmas tree, so why not make these Gingerbread Salt Dough Ornaments with the kids? These adorable gingerbread salt dough ornaments are perfect if you want something that's subtle and timeless. To make the perfect little gingerbread men, use a cookie cutter and some small black beads for the eyes and buttons. You can also add your favorite essential oils to your salt dough to make them smell deliciously amazing!
Which of these 11 Christmas Salt Dough Keepsake Ornament Ideas are your favorites? Do you have your own personal salt dough keepsake ornament ideas you want to share? Let us know in the comments below!
For more holiday and party ideas, follow us on Instagram @prettymyparty and Pinterest and join us in our private Facebook group.