Vintage Train Birthday Party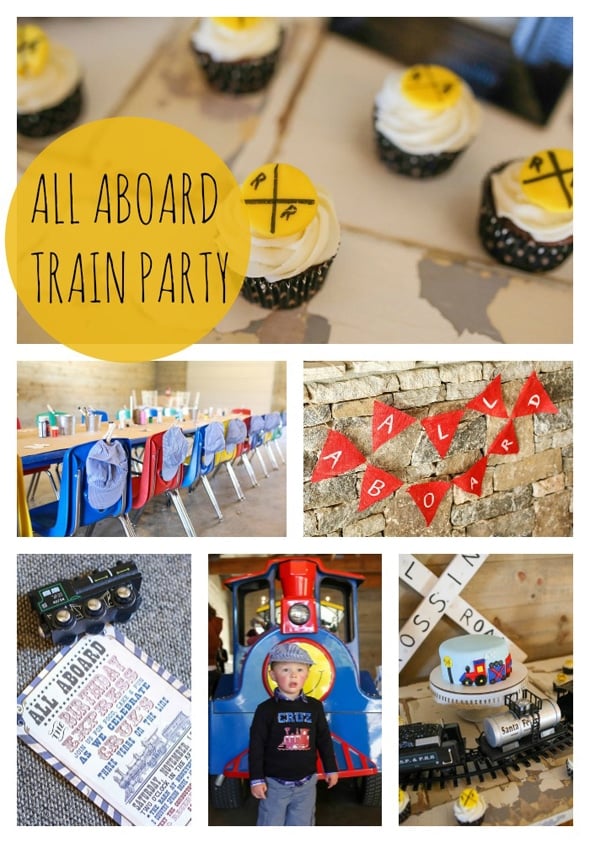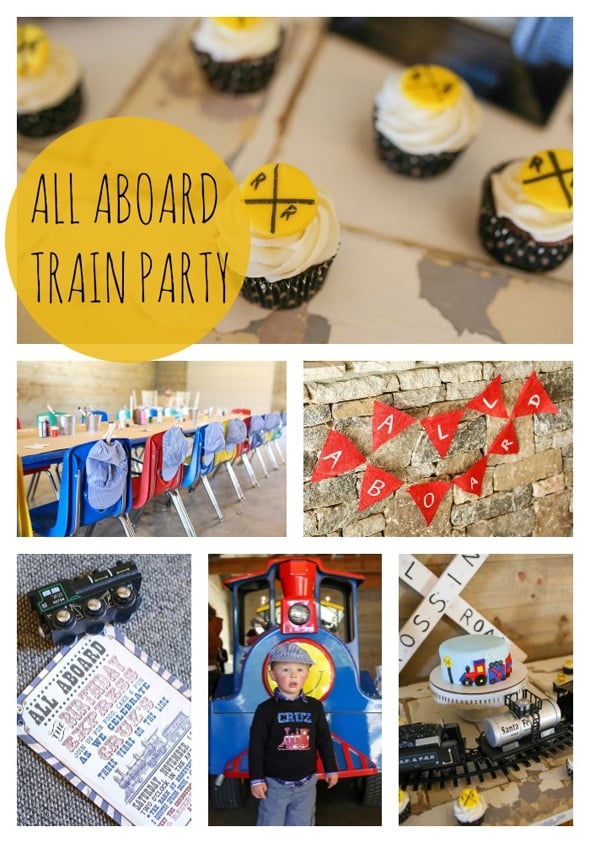 All aboard this adorable Vintage Train Birthday Party complete with a colorful train ride for all! What little boy doesn't LOVE trains?! Well, this lucky guy definitely had the party of his dreams thanks to some talented vendors who put together the best train party ever!
Candace is the owner of Mingle Events & Vintage Rentals and this is what she had to say about Cruz's 3rd Birthday Party: All Aboard for a fun ride on the Cruz Express! What better way to celebrate a precious 3-year-old who loves trains than with a birthday party full of just that! Mingle Events designed a vintage inspired travel themed party complete with vintage luggage, a rotating globe and a vintage motorized train set. Guests of all ages enjoyed fueling up on "Choo, Choo Chicken," Smokestack Sandwiches" and "Freight Car Fruit Skewers." After the wee ones munched they all dove into the dessert "station" which included brownies, creatively named "coal," and railroad crossing cupcakes that were too cute to eat. At the "steam engine workshop" the kiddos painted and decorated their own wooden trains to take home and enjoy, but the biggest surprise came when a life-size train pulled up! All the guests hopped on the colorful train for a ride on the Cruz Express, but not without their conductor hats, of course. Upon their departure, the party-goers took home a wooden train whistle from "baggage claim" with a note from Cruz, "Thank Choo for coming." What a magical day for a special birthday boy!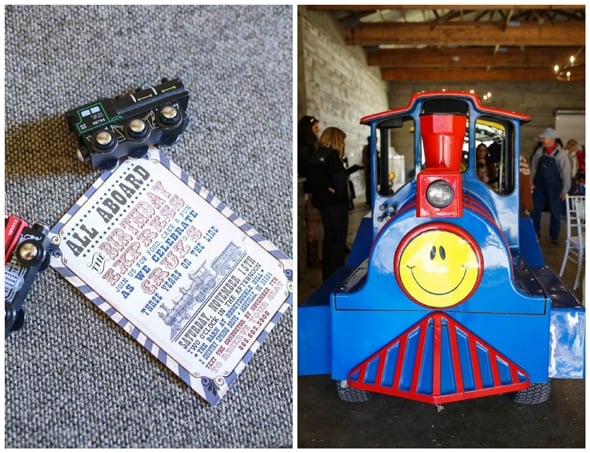 This lucky 3-year-old birthday boy loves everything about trains, so it was the perfect birthday theme!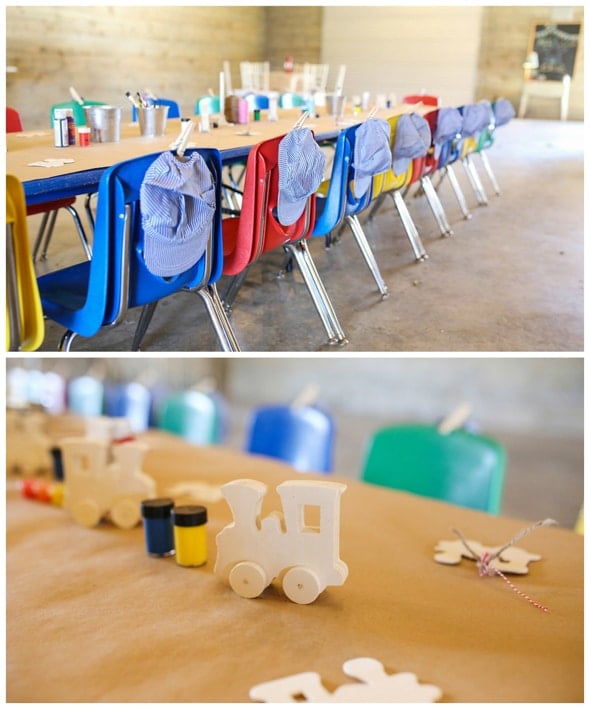 At the "Steam Engine Workshop" all of the little conductors sat in colorful chairs and painted wooden trains. How fun! And we can't forget about the cute little conductor hats for the kids to wear! Adorable!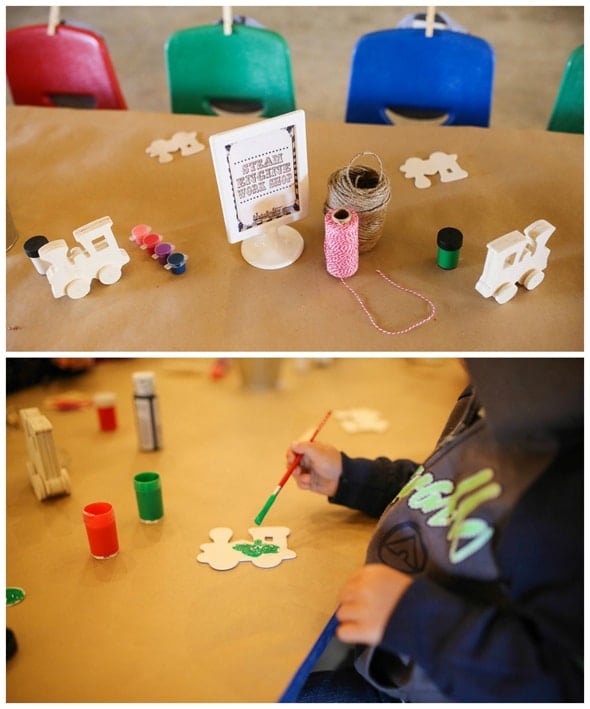 The kids really enjoyed painting their very own choo choo trains! What a great party activity for the kids!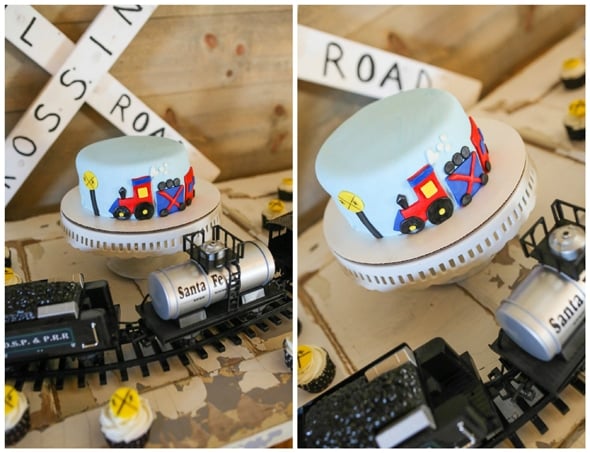 The sweet train birthday cake was perfect for this occasion and matching railroad crossing sign cupcakes were also on hand for guests to dig into! Yum!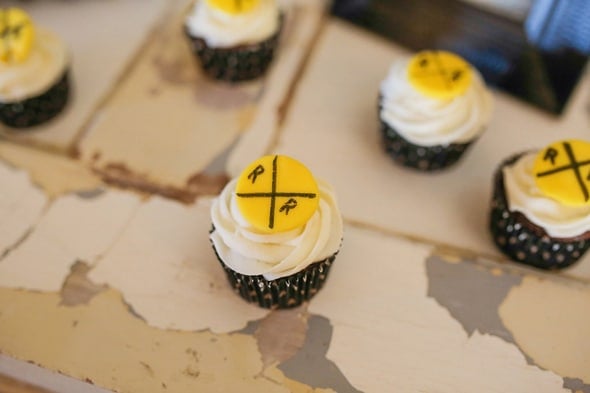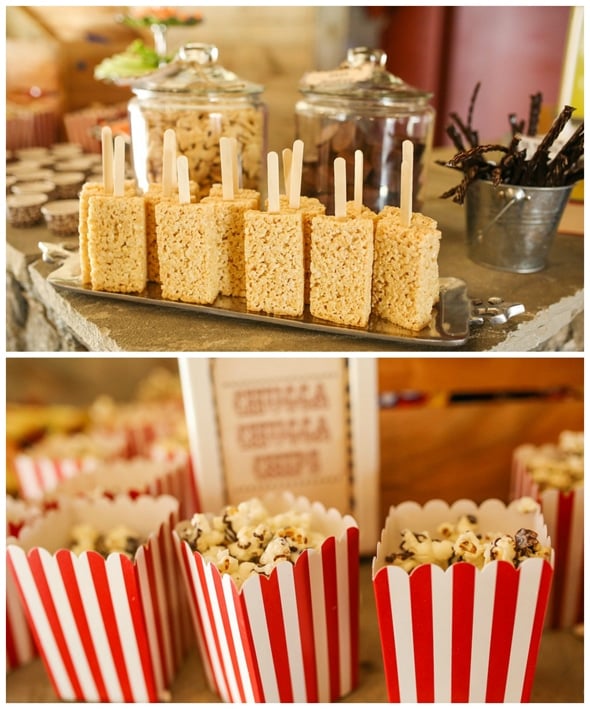 Popcorn and Rice Krispie treats also filled the table along with themed food like "Choo Choo Chicken" and "Smokestack Sandwiches." Very creative!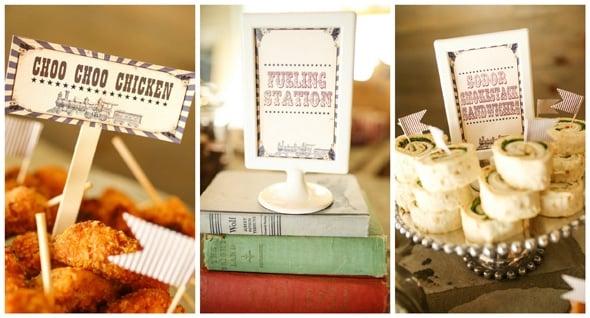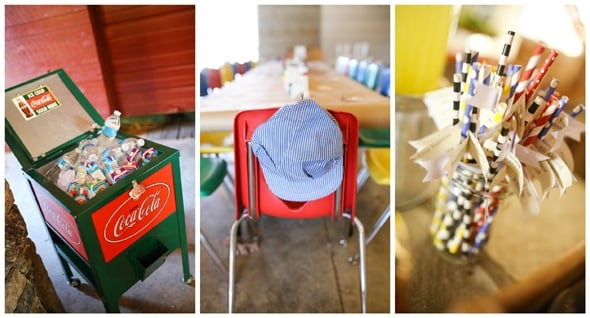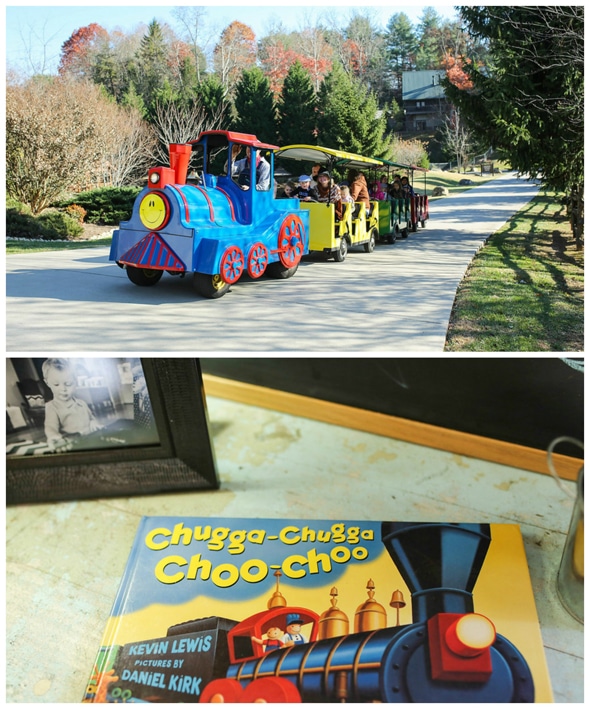 A surprise train ride on a big, colorful train was the highlight for this birthday boy! How fun!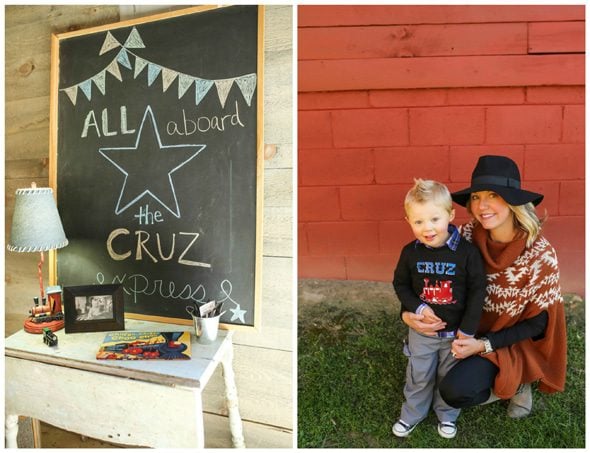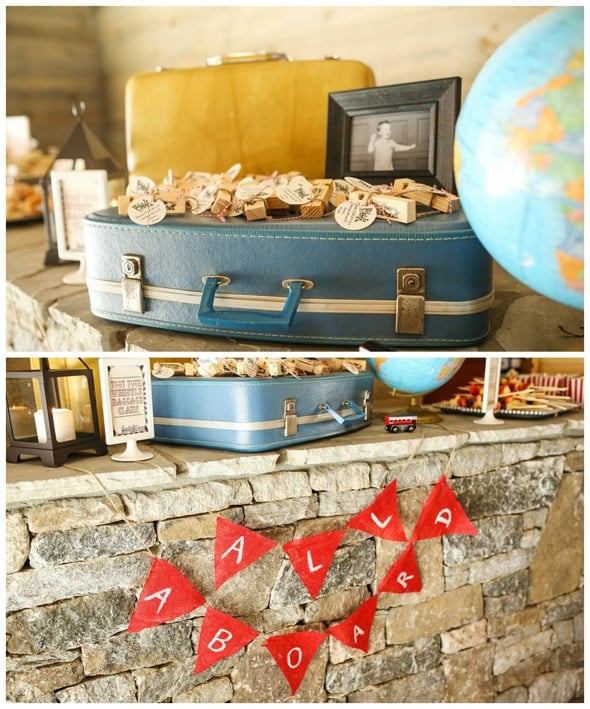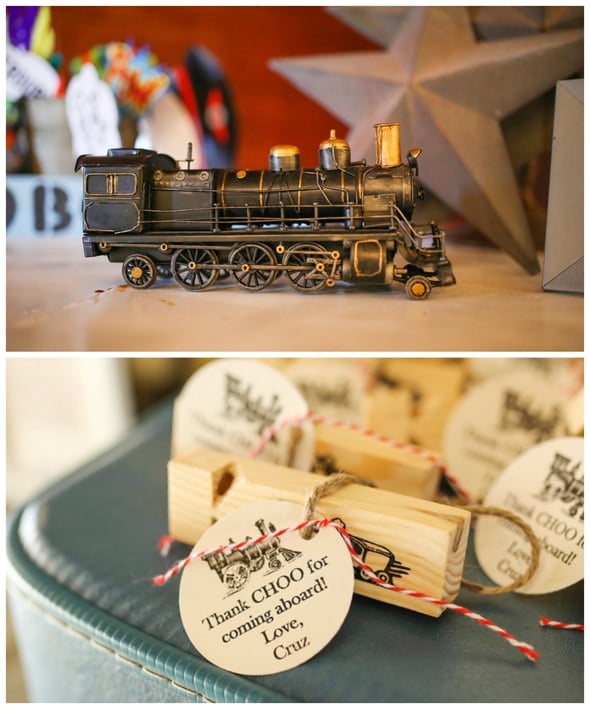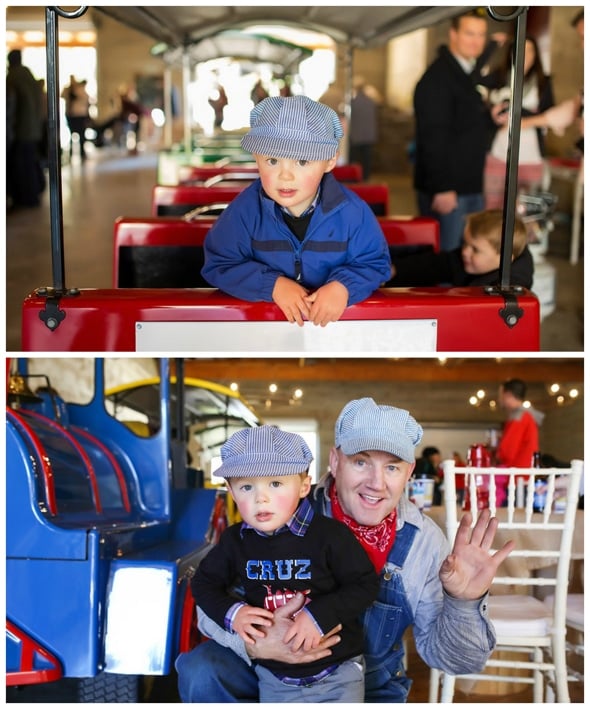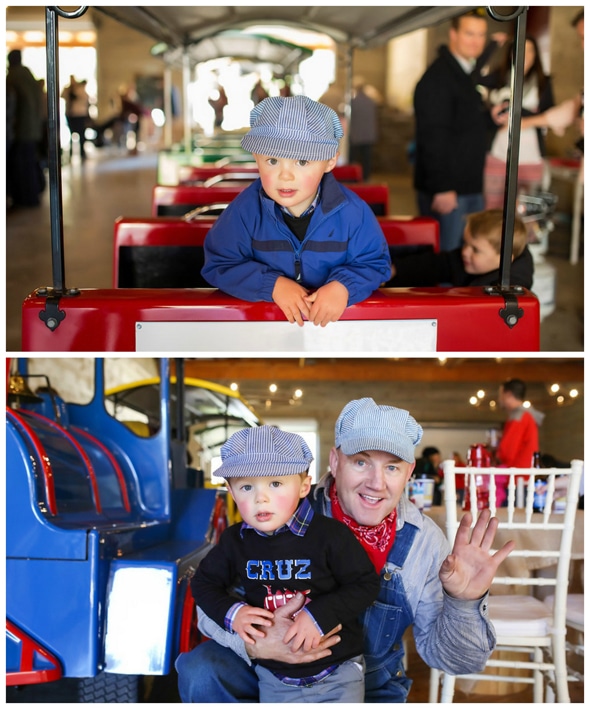 I'm sure this little guy had the time of his life seeing that his favorite toy came to pick him up for a fun birthday ride!
Vendors
Photographer: Gabrielle von Heyking Photographie//Bakery: Kelly's Creative Cakes // Event Planner: Mingle Events & Vintage Rentals
Check out these fun train party products!