Spooky Halloween Haunted House Party
This Spooky Halloween Haunted House Party from Sunshine Parties is seriously SPOOK-TACULAR! Who wouldn't want to have a BOO-tiful birthday party centered around Halloween and all things spooky?!

When my son Tom turned 6 years old, his greatest wish was to have a creepy, scary, spooky style birthday party! Like Halloween, but for his birthday. Which was close to Halloween. And who says no to this little face anyway?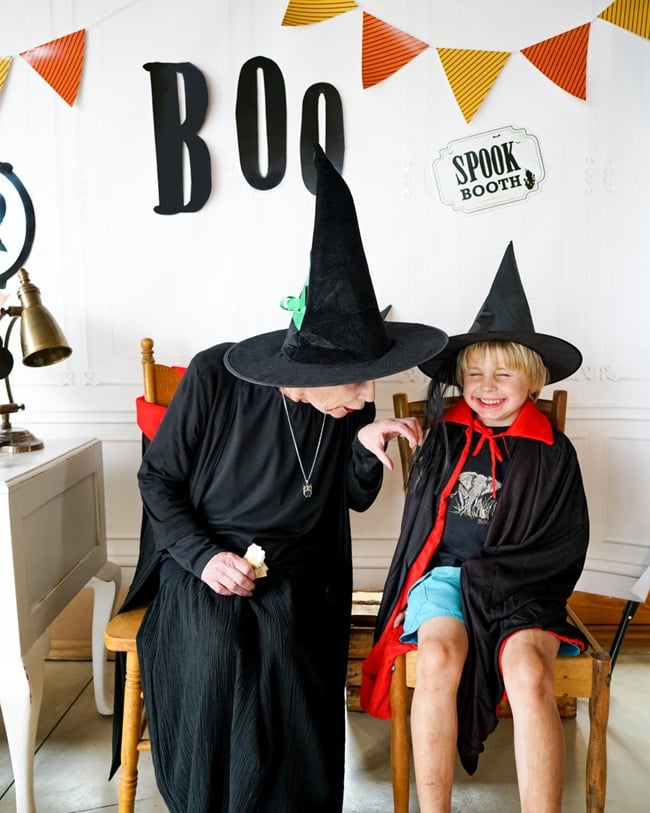 Get Your Ghoul On
So, we took the opportunity to create a fabulous, comprehensive set of kid-friendly Halloween party decorations. And once we got on the Haunted House Party Broom, we just COULDN'T stop.
The Result? A SPOOKTACULAR Haunted House / Halloween Party. The kids LOVED it, we LOVED it and the party decorations set just grew and grew to include a bat-crazy amount of cool extras, like a full 'Spook Booth' Printable set, and cake toppers that just kept coming!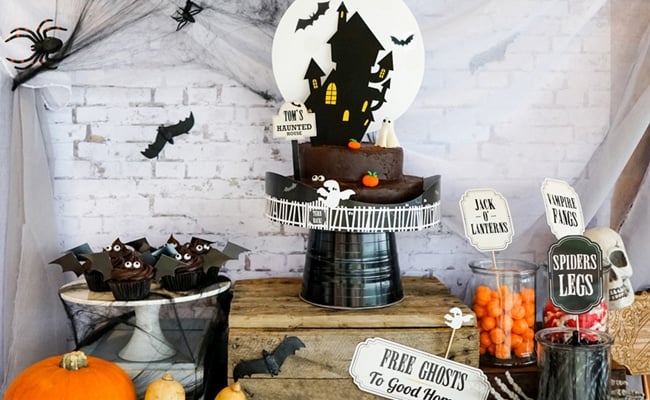 The main party table looked like this. Cool huh? And seriously effective, in a bone-chilling kind of way! ☺.
The backdrop is part of the party decorations set, and features a dilapidated white brick wall. This gives a great spooky effect, without being too dark in color (which works well for your party photos.)
Deliciously Creepy Cake
We are particularly proud of the cake in this table set up. It's so dramatic, so super spooky! And so tasty too! For this look, we made a delicious chocolate cake, with chocolate icing. Two layers, with the base layer larger than the top layer. The trick (and treat) with this was in the printable toppers. A large, glowering full moon with swooping bats, a suitably crooked, super spooky haunted house with a few lights on in the windows, and a creaky old fence surrounding the scary scene.
The chocolate cupcakes got the spook-treatment too! With printable bat wings that you print, cut and attach, and some ghoulish gOOgly eyes.
Free Ghosts to Good Homes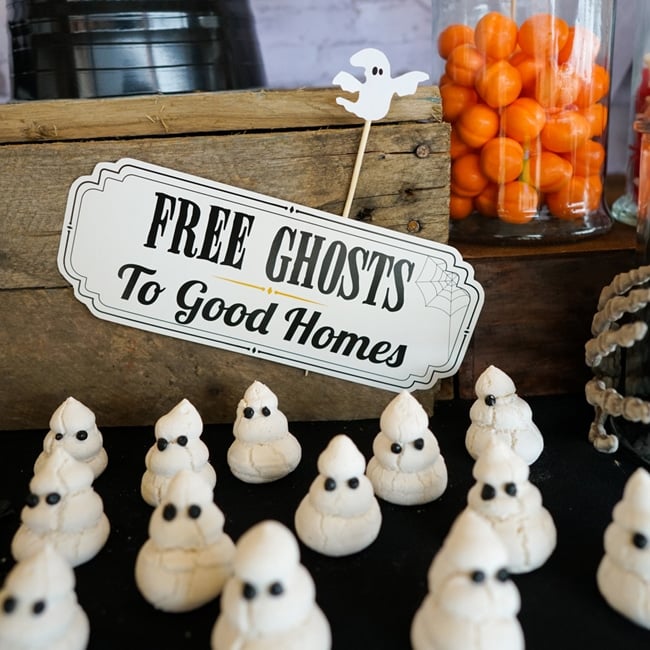 How cute are these little ghosties, free to good homes! A small, medium and large meringue on top of each other. You can use black fondant for their eyes, or just a black food marker. Done!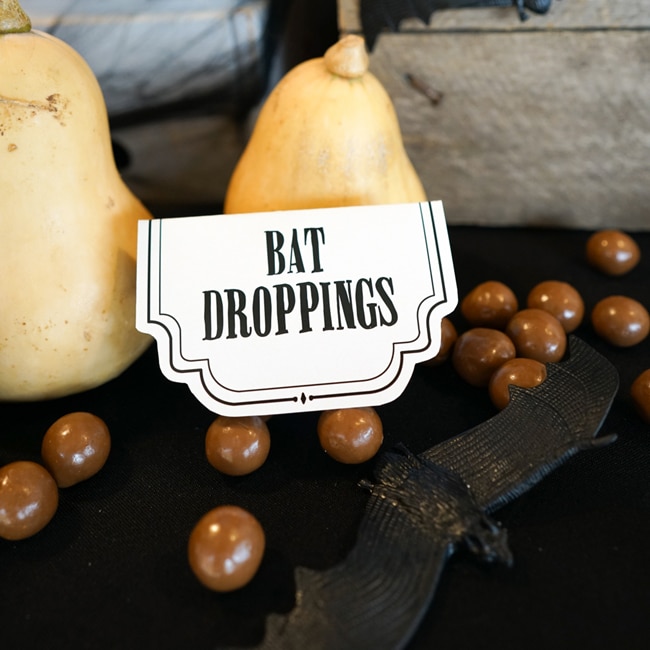 Great food labels are always a hit. Like for these delicious chocolate balls, AKA 'Bat Droppings'.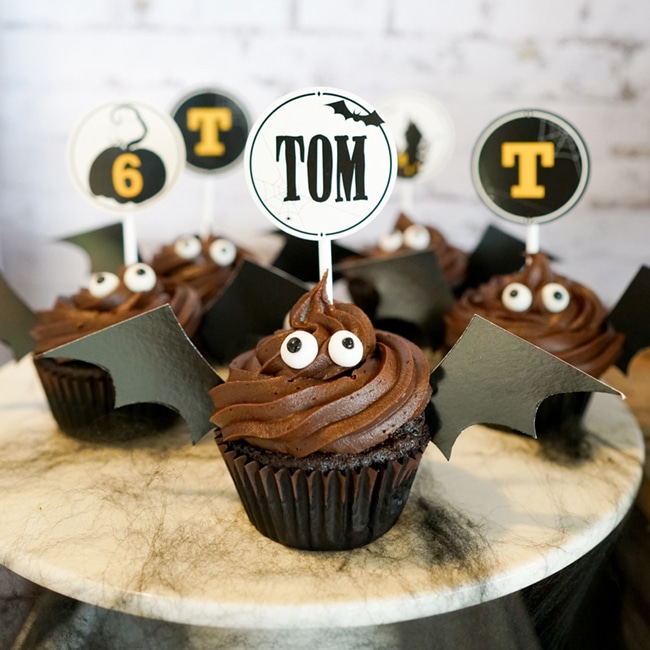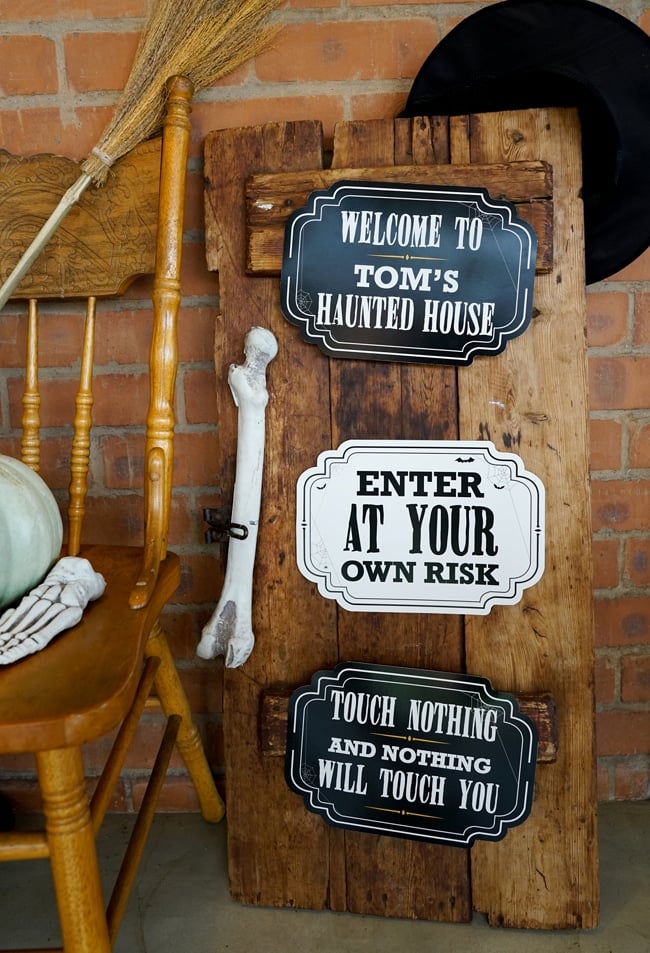 Nothing sets the party scene quite like having all the perfect signs. Tom loved these additions to his Haunted House party, especially the warnings! No scaredy cats allowed at his party!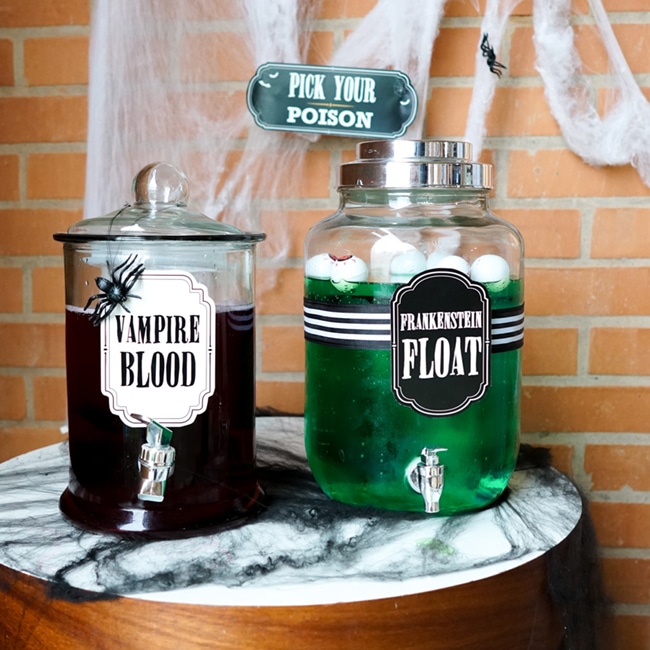 Pick your poison! It's so cool, grab yourself a long, tall drink of Vampire Blood. Or some Frankenstein Float. Use appropriately-colored drinks, or a bit of food coloring to up the drama. A few plastic eyeballs floating around just adds to the effect.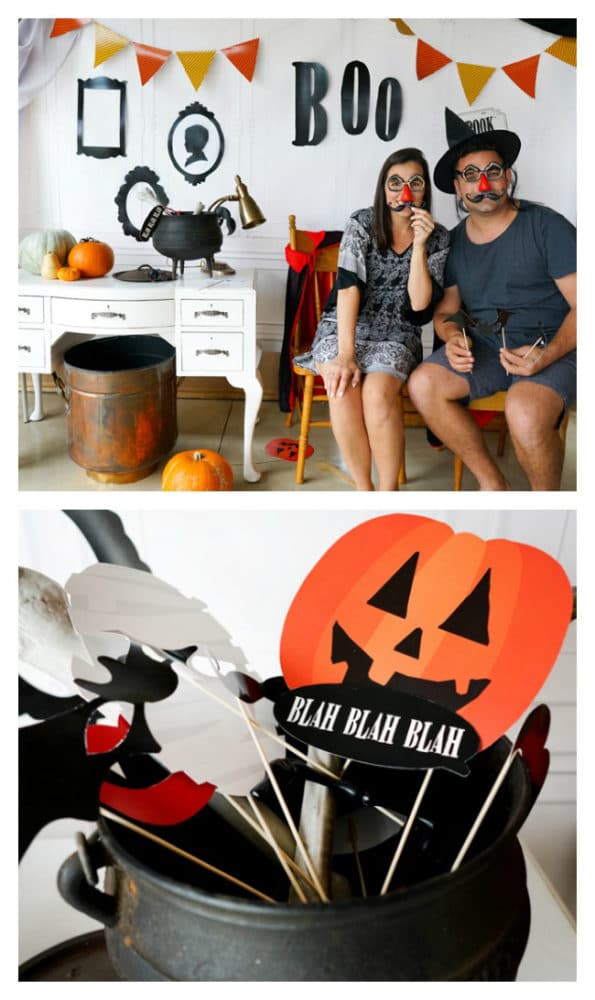 EVERYONE loves a good photo opportunity! The big guys, the little guys, everyone! Create this fun space with printable decorations, all part of the party set, or on their own. Includes all the 'Spook Booth' Photo Props too! All the photo booth props make for loads of great photos! Simply download, print, cut out and attach a stick to the back. A black 'cauldron-style' pot is a great place to store them!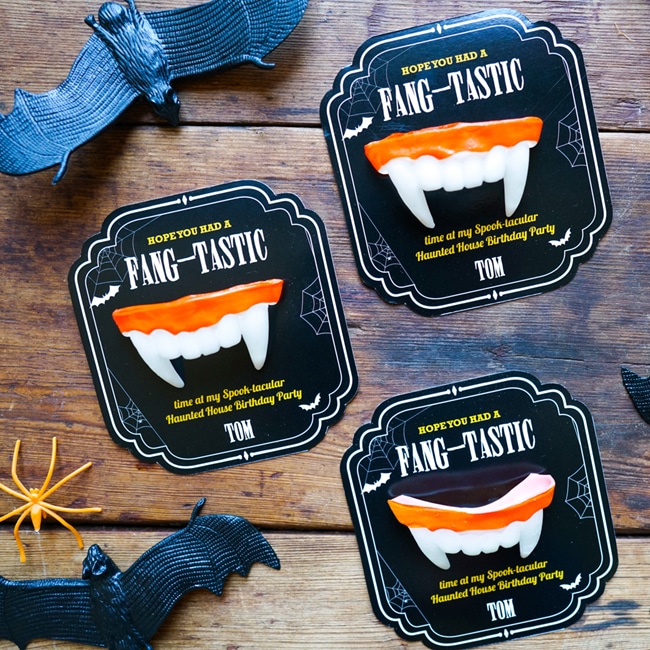 Tom and his mates loved these 'Fang-Tastic' Party Favors. Use the party favor printable, edit with your own message and your guests walk away delighted!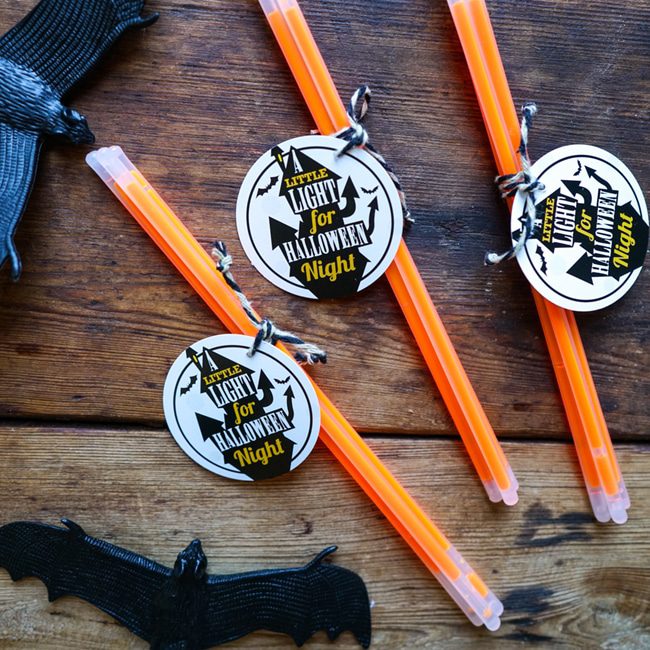 They also adored their neon glow stick party favors, with a 'Haunted House' round party favor tag.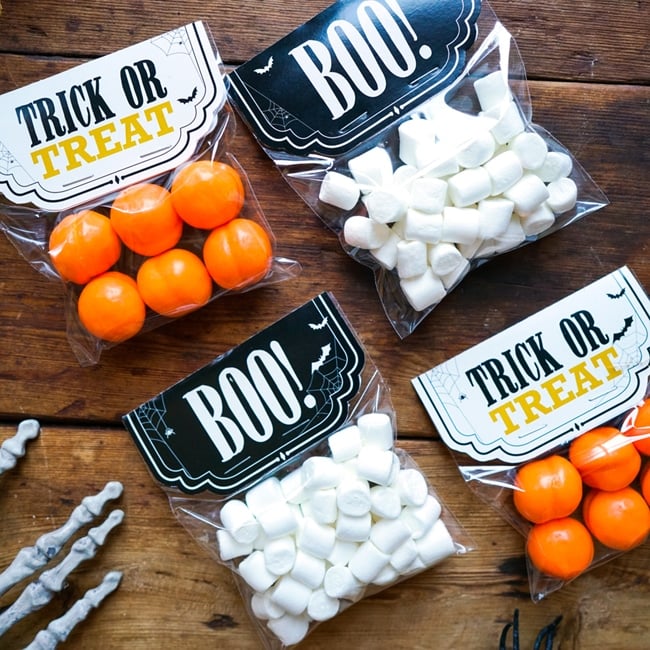 So, you can imagine that they nearly jumped over the 'spooky moon' with delight when they received these 'BOO-diful' treat bags too! Great for a party, or for Halloween Night for trick or treaters!
And so, Tom went to bed tired and happy with his spooktacular party. And, despite all the hocus pocus and super spooky goings on, he had sweet dreams anyway!
Keen on Halloween or Haunted House Themed party goods?
Check these out … Haunted House Party Decorations Set
What's your favorite details in this Spooky Halloween Haunted House Party?! Let us know in the comments below!
Vendors & Credits
Party Styling and Printables: Sunshine Parties // Etsy Shop: Sunshine Parties
Be sure to check out our most popular Halloween post: 10 Halloween Packing Tape Ghost Ideas