Pineapple Jalapeno Margarita Recipe
Happy National Margarita Day!
Did you know that was even 'a thing'? Well, whether you're a Margarita Day pro or a complete newbie to this tequila-tastic celebration, you're in luck because I've got the perfect recipe to help you celebrate in style!
Hi everyone, Christin from Blue Crab Martini here, and I'm excited to be celebrating National Margarita Day with you here on Cristy's beautiful blog. Today I'm sharing a Pineapple Jalapeno Margarita recipe. It's a sweet and spicy twist on the classic cocktail that's sure to please your palate.
If ever there was a holiday worth celebrating it's National Margarita Day (because, let's be real … anything involving tequila is worthy of a little fiesta)! Traditional Margaritas are made with tequila, lime juice, and triple sec. Although that's quite tasty, it's fun to spice things up a little and give new flavors a try.
This Pineapple Jalapeno Margarita has just the right balance of sweet and spicy. Pineapple juice gives the drink a bright, fresh, and fruity flavor while the jalapeno offers just a hint of heat. Those ingredients, combined with three different liquors, makes for one seriously delicious drink!
Whether you're celebrating National Margarita Day with a quiet evening at home or hosting a big ol' tequila-infused par-tay, make sure you mix up a batch of these Pineapple Jalapeno Margaritas. This recipe is designed to make one drink, but you could easily increase the ingredients to make a whole pitcher … that would really get the party started!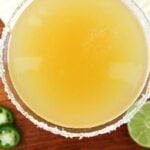 Pineapple Jalapeno Margarita
Ingredients
3

slices

of fresh jalapeno

3

oz

tequila

2

oz

Patron Orange Liqueur

1

lime

juiced

1

TBSP

agave nectar

6

oz

fresh pineapple juice

Splash of Grand Marnier

Sea salt

to rim the glass
Instructions
First, rim a margarita glass with sea salt, set aside.

Then, in a shaker container, muddle the jalapeno slices until they are well broken down.

Next, add the tequila, Orange Liqueur, lime juice, agave, and pineapple juice. Fill the shaker with ice and give it a good shake, shake, shake.

Pour the mixture through a fine mesh strainer and into the salt rimmed margarita glass.

Finally, pour a splash of Grand Marnier on top for a little extra kick. Cheers!
So raise a (salt rimmed) glass, and let's toast one of the greatest culinary holidays ever created. Happy National Margarita Day everyone, cheers!
This post contains some affiliate links. Please read our full disclosure policy here.
Sign up for a 30-day free trial of Amazon Prime and get free 2-day shipping on your products!
Christin of Blue Crab Martini is a Chesapeake Bay loving, country girl with a passion for real food and good wine. She grows her own veggies and is always up for a good time. She is also an adventure seeker and expert marshmallow roaster, which comes in handy when raising two little boys! When she's not busy testing recipes in the kitchen and being a super mom (in training), she is a graduate student at the Johns Hopkins University.