Kate Spade Inspired Bridal Shower
Is your bestie getting married soon? Getting overwhelmed by the myriad of themes and choices for the bridal shower? Keen on having a Kate Spade bridal shower but don't know where or how to start? We got your back, girl!
This fun and fabulous Kate Spade Inspired Bridal Shower features everything the Kate Spade brand represents – a modern femininity with chic and bold details. Go ahead, take a peek at what we have in store for you! No matter what theme you choose, make your bridal shower fun with these bridal shower games!
Why A Kate Spade Bridal Shower?
Once upon a time in a far-off land called New York, a beautiful senior editor at a magazine company decided to make the perfect handbag. She wanted a bag that could, "assume the personality of the wearer, not the reverse." And so she rolled up her sleeves and did just that. And the rest, as they say, is history.
Fortune was spot on when they said that Kate Spade signifies sophistication, freshness, and impeccable good taste, all rolled into one. Kate Spade is the embodiment of sophistication, elegance, and beauty all rolled into one. And what bride-to-be can resist having all that for her bridal shower?
Kate Spade Inspired Bridal Shower
The gold, the pink and black, the classic stripes – all these elements combine to make your Kate Spade inspired bridal shower as unique and as elegant as you could possibly want! There are no limits when it comes to having a Kate Spade bridal shower. With just a little bit of pink and glam, you can add that perfect blend of color and sass to your event.
Ready for more? Come and have a look at this Kate Spade themed bridal shower by Ashley Nicole Events. They sure pulled out all the stops for this event. From the gorgeous yet classy outfits to the intricate flower arrangements, they were able to successfully recreate the famous designer's chic signature of pink and gold glam. They've also shared the inspiration behind their creative ideas.
Shop these Kate Spade Bridal Shower Decorations:
When it comes to having a Kate Spade theme, it's all about the details. You can't go wrong with these ultra-glam Kate Spade bridal shower invitations (which you can easily recreate as free printables in Canva, by the way) to the sophisticated pink and gold flower arrangements.
"I have always loved the bold color patterns Kate Spade represents. Her brand projects a modern, clean, influential femininity that is often overlooked. Powerful women are often put into boxes and meant to "be dealt with." – Ashley Nicole Events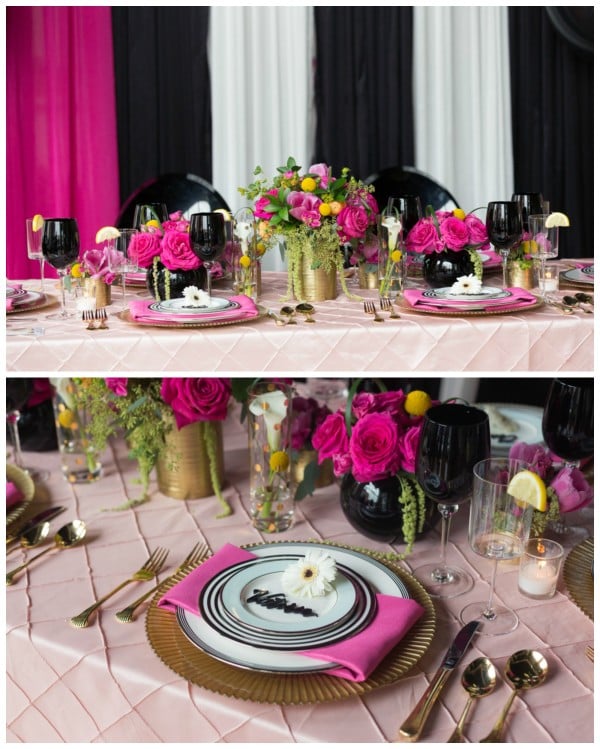 Entice and impress your tribe with this elegant and sexy table arrangement. The elegant pink roses match the black round vases. Also, the black champagne glasses add a touch of dramatic flair while the dainty little white flower contrasts nicely with the name plate and complete the whole ensemble.
"Based off of my own wedding china pattern, I loved the clean lines and modern colors. I wanted to create a shoot that would be focused on the girls of the day and not the typical Bride and Groom."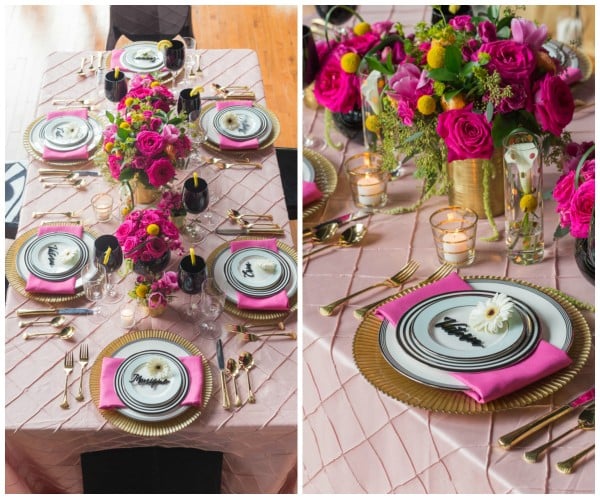 Now, this is a table that would do Kate Spade proud! The pink and gold theme complements the plate arrangement beautifully making it a tablescape that your guests will remember. Everything looks so elegantly inviting!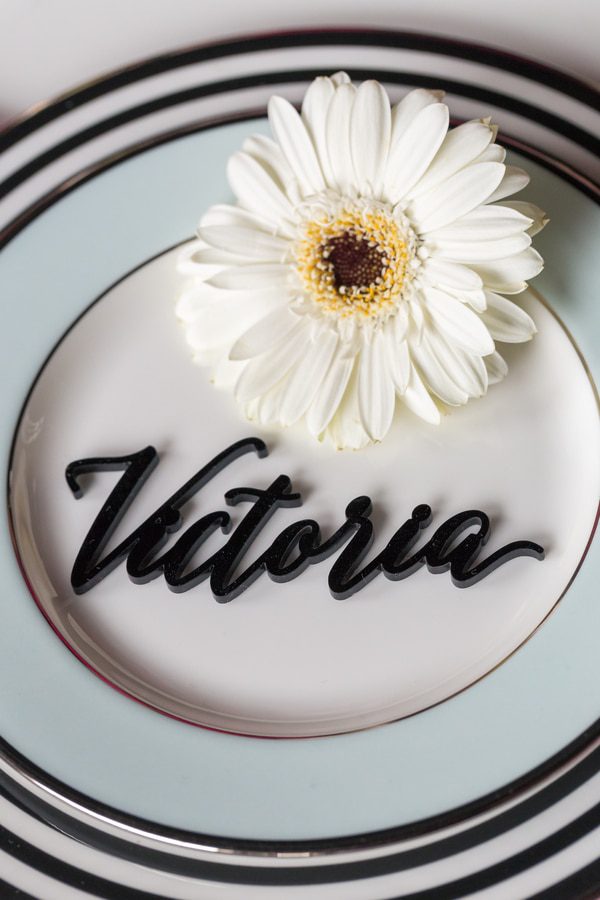 Look how chic this name plate is! This is such a cute and creative way to let the girls know how special they are. They are sure to squeal with delight when they see their names in such an elegant display!
"There are so many events that go into a wedding from the engagement party, bridal shower, lunches, bachelorette and bachelor parties, rehearsal dinner, and finally the wedding. So often the bridal party members just fork over money to be a part of their friend's big day. I wanted to take a moment to stop and really celebrate the love that a bride has for her closest friends. These girls make up her wolf pack, her closest confidants, her squad. These women need to be celebrated."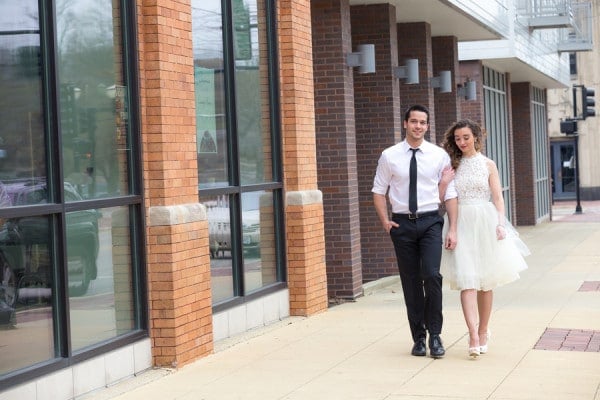 Nothing like a casual stroll while holding on to the arms of the love of your life, and looking absolutely beautiful and stylish while you're at it! You can pull off this Kate Spade theme by choosing simple yet classic outfits.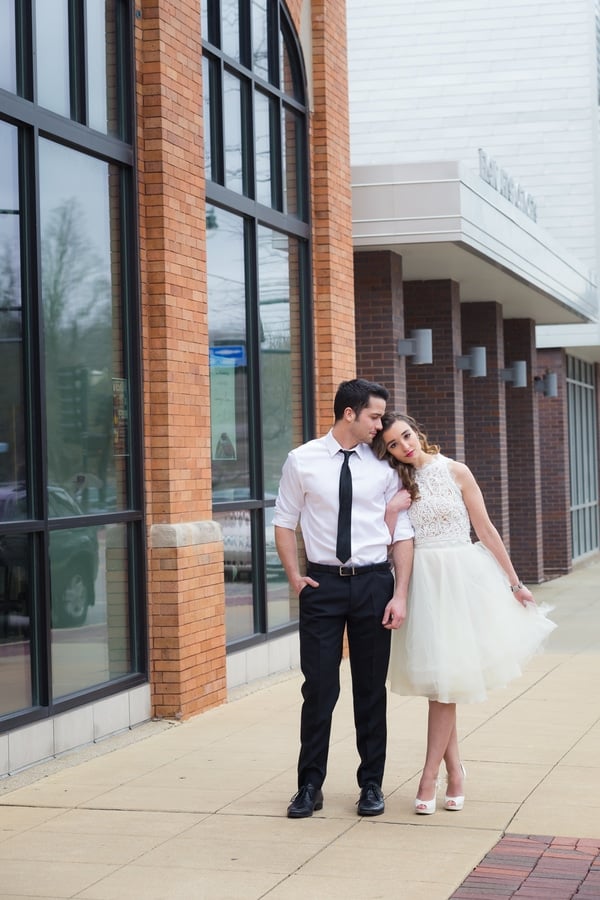 The bride-to-be's classically beautiful gown goes really well with her partner's dashing outfit. All these exquisite details make up for a perfect Kate Spade themed bridal shower. Don't they look AH-mazing?!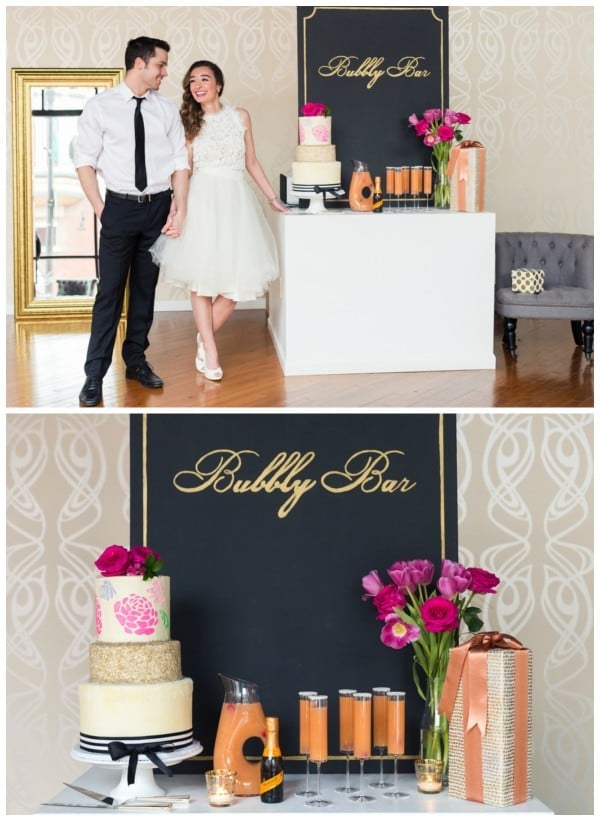 We're swooning at the chemistry between these two and amazed at how stunning their outfits are. But hello! Look how gorgeous this bubbly bar is! The pink flowers and the cake look amazing while the black background makes the colors of the whole arrangement pop out.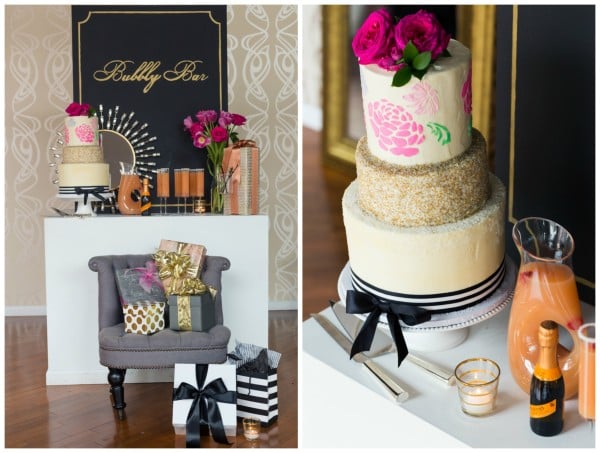 From the elegant black background to the three-tiered Kate Spade cake, there are so many amazing elements in this bubbly bar that we had a hard time picking out our favorite! Which one is yours?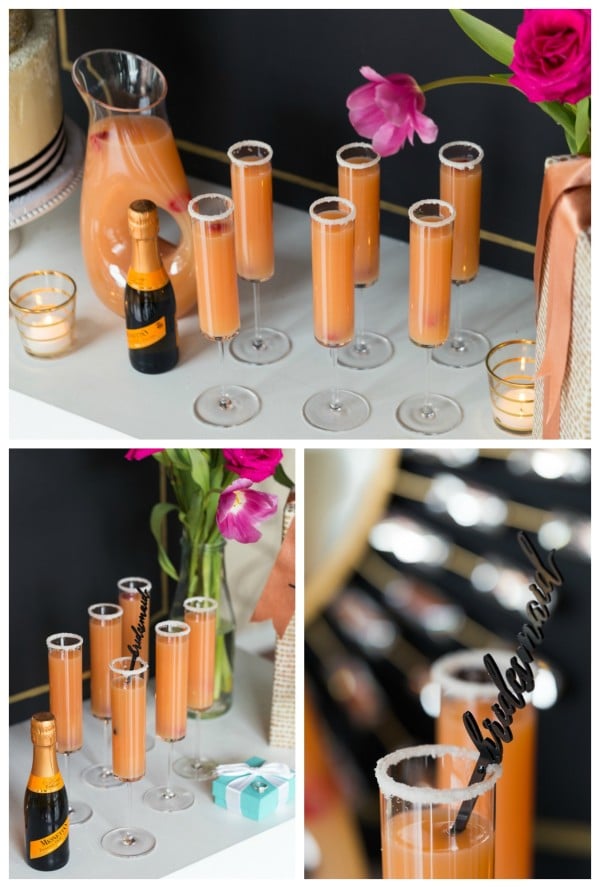 Nothing says "Team Bride" than a bridesmaid cocktail stirrer! These skinny cocktail glasses are utterly delightful while the three-tiered cake with the flower cake toppers is to-die-for. Guests will surely come flocking over to this bar in no time! Did we mention a Bubbly Bar is an absolute must at a Kate Spade Bridal Shower!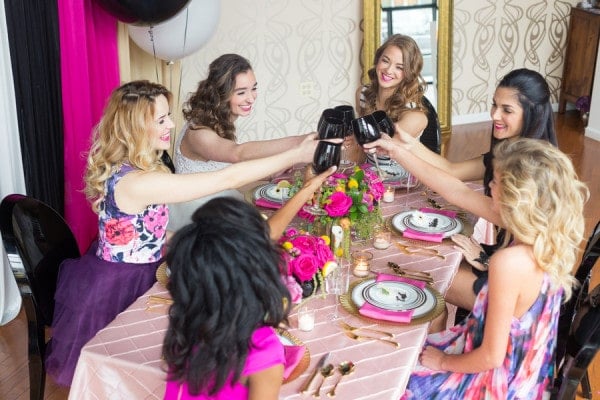 When it comes to bridal showers, it's all about coming together and connecting with each other. It's about being with the bride-to-be in one of the most important events in her life, and by having a Kate Spade bridal shower, you can do all that in style!
"I wanted to represent a group of girls who love life, love each other, and want to celebrate all of the pre-wedding joy and celebrations."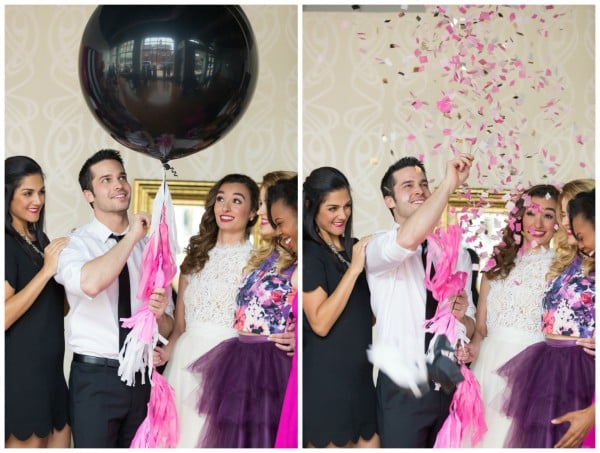 This fabulous confetti-filled balloon is super easy to make and is sure to add a burst of color, pun not intended, to your event! All you need are some colorful confetti, a big black balloon and voila! You're all set!
"The moment a bride asks her girlfriends to be a part of her wedding is such a special moment. These are the moments that make up the complete wedding memory."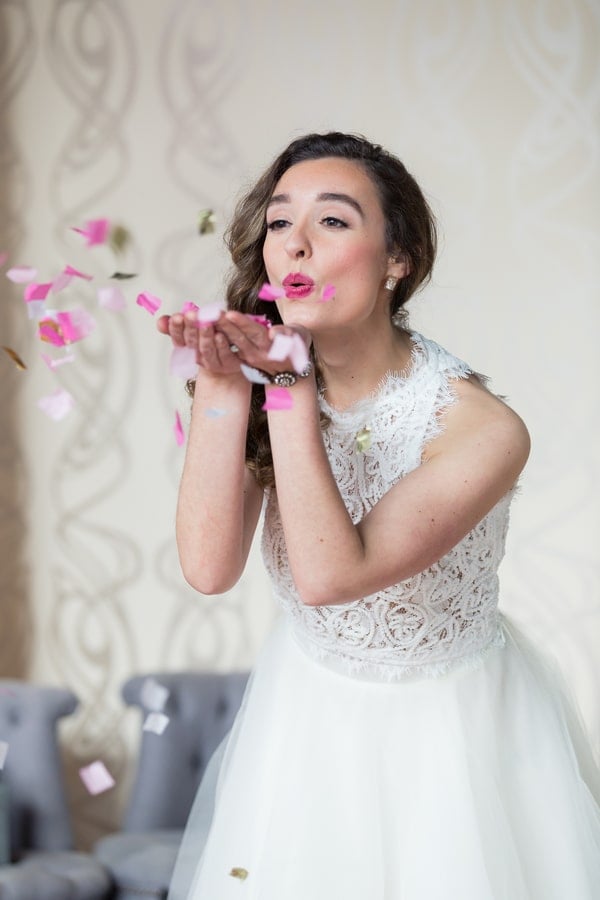 She looks lovely, doesn't she? At the end of the day, it's about celebrating the bride-to-be and friendship. It's about enjoying this special time together with your best girlfriends. And what better way to do that than have an elegantly beautiful Kate Spade bridal shower?
And there you have it, our list of favorite Kate Spade Inspired Bridal Shower ideas. Which idea are you keen to try first? We'd love to know so don't forget to pop in your comments below.
For more party ideas, follow us on Instagram@prettymyparty and Pinterest and join us in our private Facebook group.
Credits & Vendors
Photographer: Being Joy Photography // Dress Designer: AbbyBella Couture // Makeup Artist: Adrianna Ghilarducci // Model: Angelika Rol // Event Planner: Ashley Nicole Events //Model: Erin Welytok //Jewelry: Gemma Jewels Shop // Invitation Designer: IJORERE The Invitation // Model: Jack Schumacher // Event Designer: JD Event Design // Model: Kawani Villanueva // Model: Kyria Coulla // Hair Stylist: Mariefel Lagatuz Westa // Model: Monique Rosteing // Design and Decor: Oh Shiny Paper Co // Event Venue: Ola la Ijorere // Cinema and Video: Red Weddings // Model: Sarah Turner // Cake Designer: The Sugar Path // Dress Designer: Whimsy Luxxe
SaveSave
SaveSave
SaveSave