12 Healthy Halloween Snack Ideas
Are you a parent sick of sugar overload during Halloween? If so, try these healthy Halloween snacks! The kids will love them!
It's almost time for Halloween! And you know what that means: spooky decorations, fun and scary costumes, and tons and tons of candy all around!
Halloween is such a fun holiday for the whole family to enjoy. It's a great time to play dress up and have a super fun party at home or for the kids to go trick or treating with their friends around the neighborhood.
No matter how you celebrate it, the holiday is filled with a lot of sugar and more candy than you can think of!
Unfortunately, too much sugar is really bad for your health. And while it's totally fine to give the kids their fair share of sweets on Halloween, it doesn't hurt to prepare some healthy Halloween treats as well!
So, I was on the hunt for fun but healthy snacks for Halloween and came up with these awesome ideas that you can do for an after-school snack, classroom parties, birthday parties, Halloween parties, etc.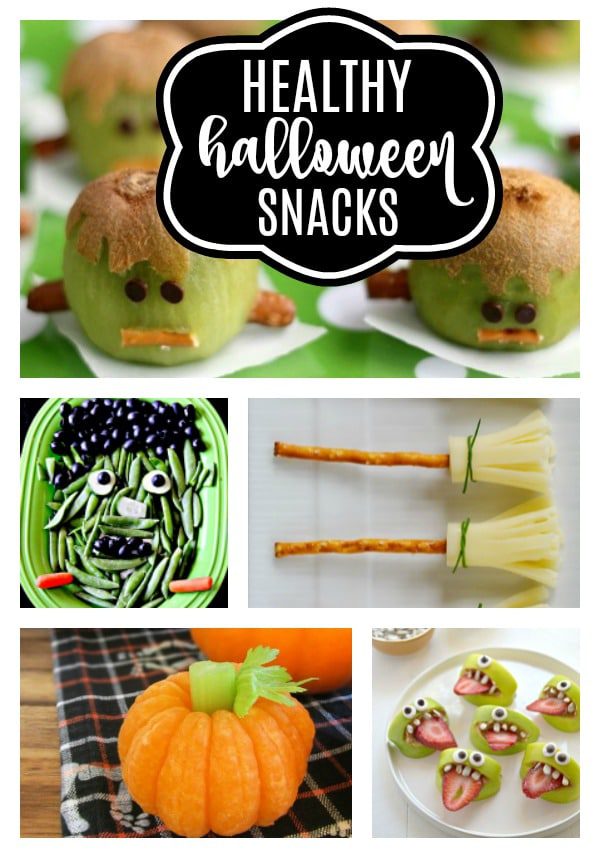 Without further ado, here are 12 Healthy Halloween Snack Ideas!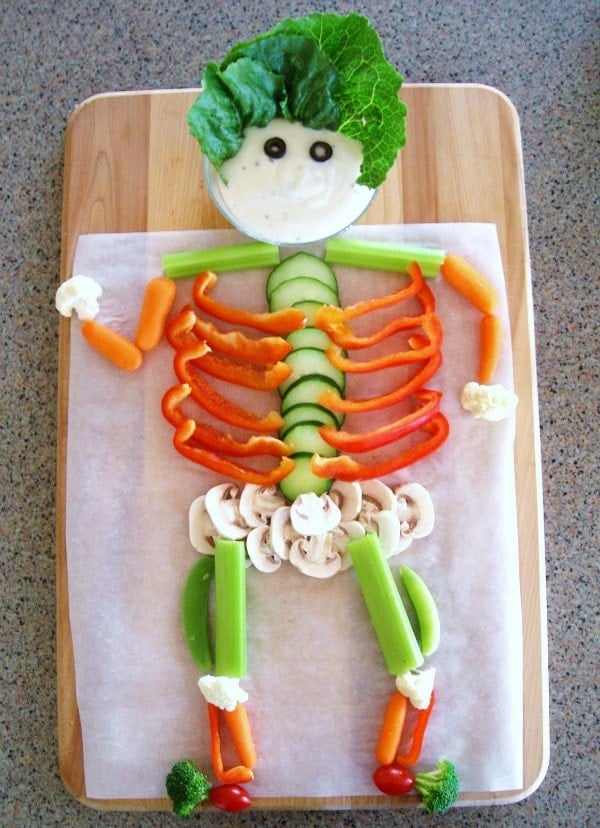 Healthy Halloween Snacks Idea #1: How cool is this groovy Veggie Skeleton? Your kids with their typical weird kid sense of humor will definitely have fun eating this tiny skeleton's bones!
You can have a lot of fun picking vegetables and arranging them to recreate this veggie skeleton. This takes just a few minutes to make and is great if you're looking for easy Halloween treats for school or snacks for a kids party.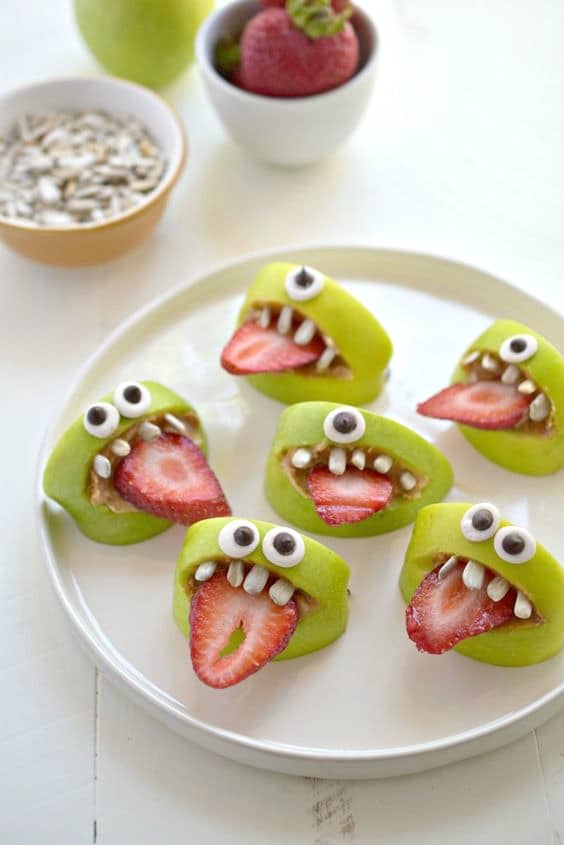 Healthy Halloween Snacks Idea #2: These Silly Apple Monster Bites are so adorable!
You know kids love it when you make silly faces, so they are absolutely going to love these cute apple bites with their strawberry tongue sticking out!
Add in some googly eyes and your masterpiece is complete. This is definitely one of the cutest Halloween fruit ideas around.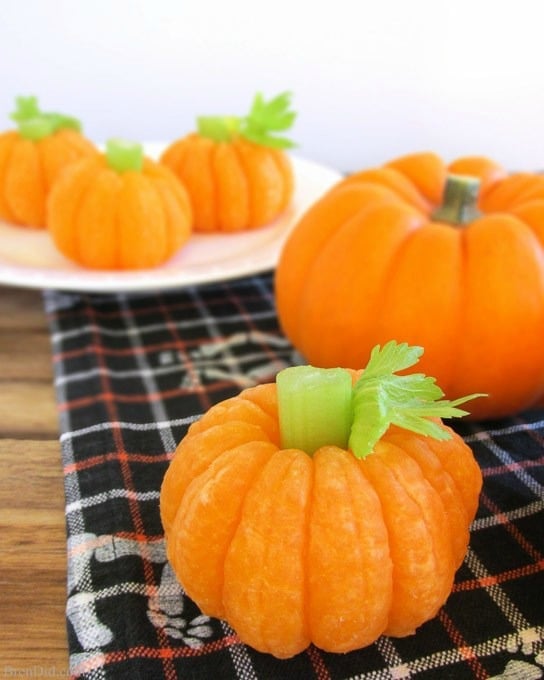 Healthy Halloween Snacks Idea #3: If you want halloween snacks for school that practically take zero effort to make, these cute Tangerine Pumpkins are perfect for you.
All you need to do is peel your oranges and cut up some celery stalks and you're good to go!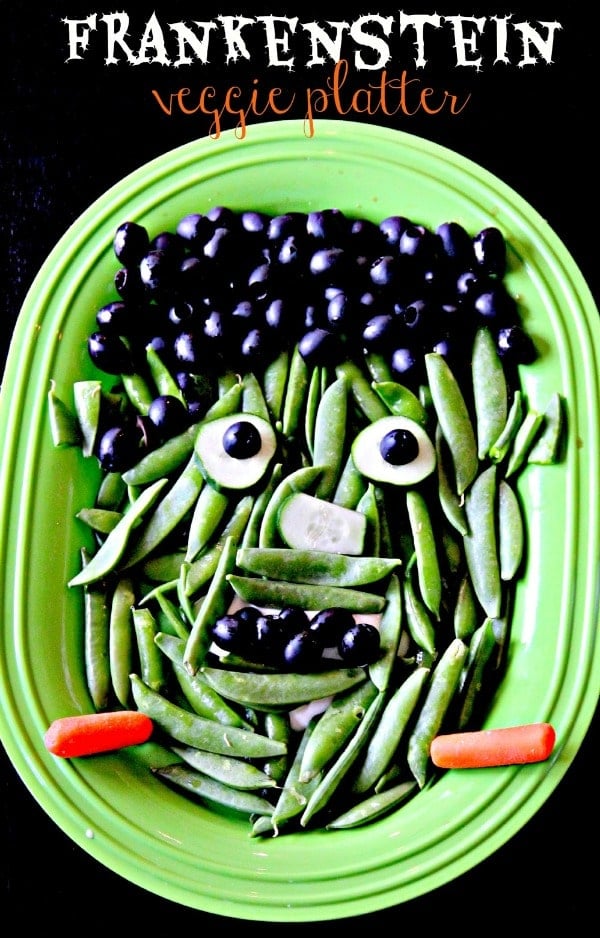 Healthy Halloween Snacks Idea #4: Your kids are gonna have fun munching on the veggies on this scary Frankenstein Veggie Platter.
To assemble this cute little monster, you just need a couple of snap peas, olives, sliced cucumbers and baby carrots. Add in a yummy dip on the side and get ready to see your kids eat it all up in one sitting!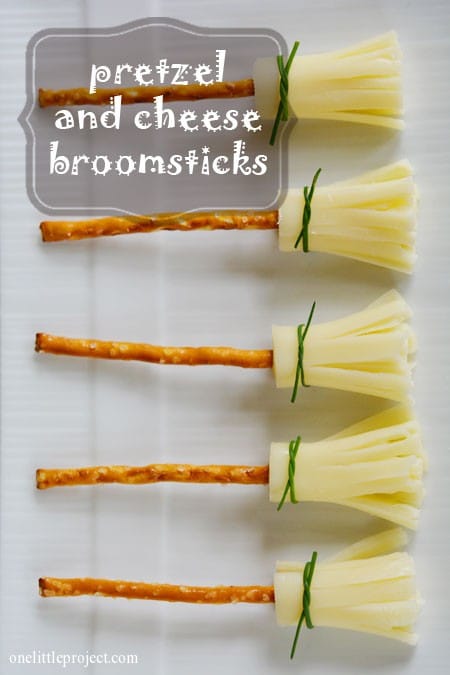 Healthy Halloween Snacks Idea #5: These Pretzel and Cheese Broomsticks are a great Halloween snack for a party and yummy after-school Halloween food for kids too!
To prepare them, you just need some pretzel sticks, some string cheese, and some chives to tie those little brooms to their handles. It's very easy to make and they look so adorable!
This is one of the cutest Halloween treat ideas we've seen so far!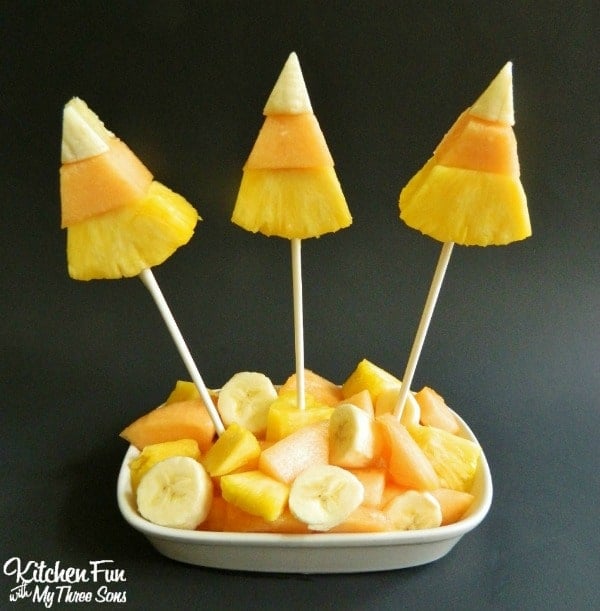 Healthy Halloween Snacks Idea #6: Tired of seeing your kids munching on those sugary candy corns? How about giving them these Candy Corn Fruit Pops instead?
Since they're also sweet, you will have an easy time getting your kids to eat these instead of more candy! They're super easy to prepare too which makes them great Halloween Treats For kids after they come home from school.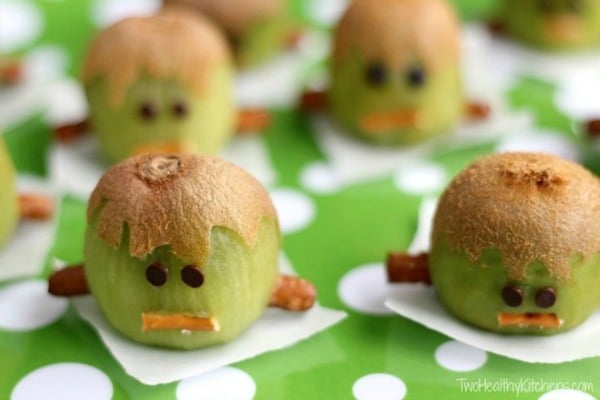 Healthy Halloween Snacks Idea #7: Look at how adorable these Frankenstein Kiwis are! These tiny green monsters are perfect healthy halloween snacks for a party because they will look amazing on your dessert table!
The best part is, you can whip these little monsters up in under 30 minutes, and you can make them ahead if you want to store them and serve them as after-school halloween snacks for kids!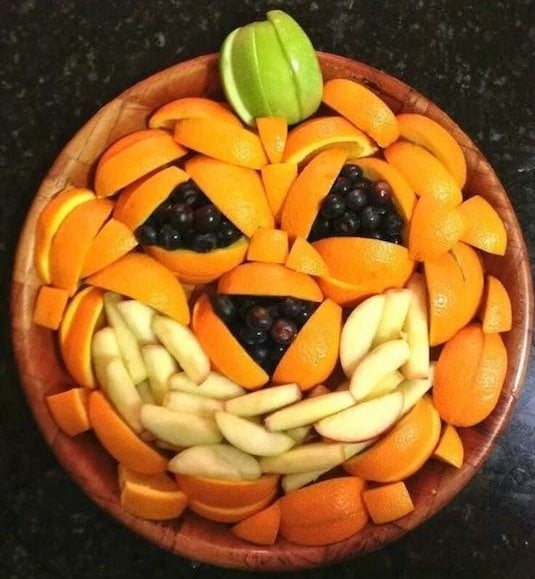 Healthy Halloween Snacks Idea #8: What an eerily cool Jack-O-Lantern Fruit Platter! This is another easy to prepare Halloween food for kids.
If you don't want fruits, you can also recreate this jack-o-lantern platter using vegetables!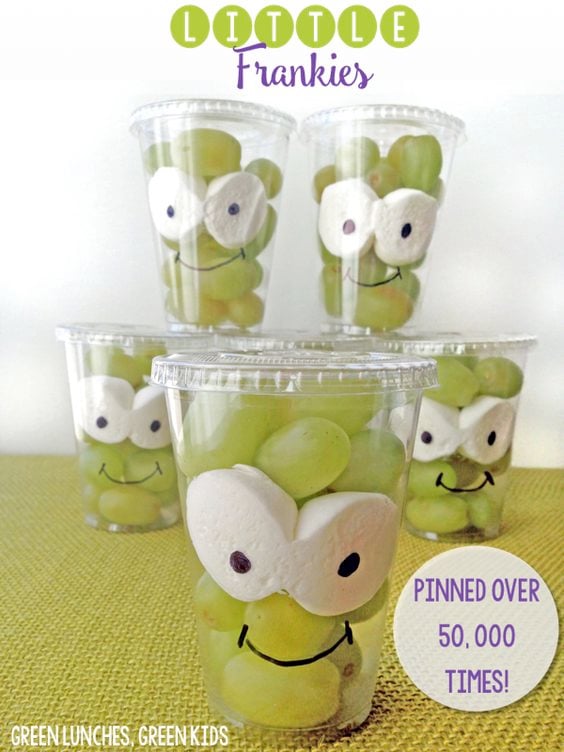 Healthy Halloween Snacks Idea #9: These delightful Little Frankies are the perfect dessert for a healthy school lunch for your kids!
They take so little effort to do, but your kids will surely love munching on these cute fruit cups instead of regular grapes!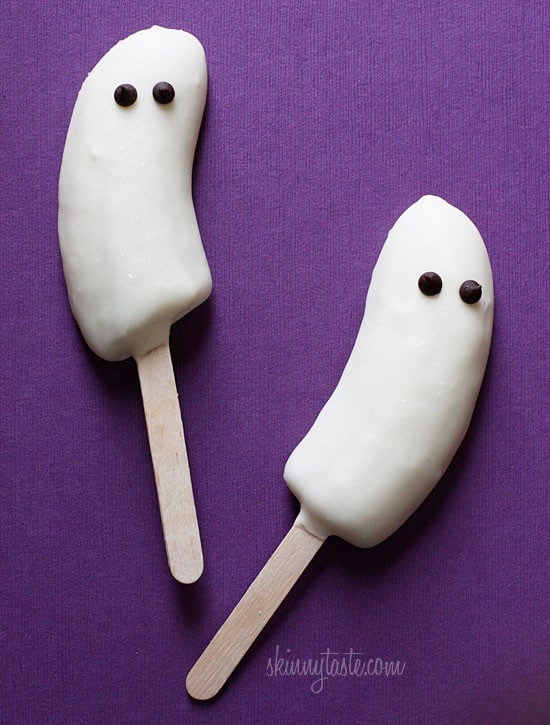 Healthy Halloween Snacks Idea #10: Boo! These Frozen Boo-nana Pops will surely be a hit even to picky eaters!
The white chocolate coating on these banana pops are very minimal, and you can make them as thin as you want, so it's still a healthy but delicious treat!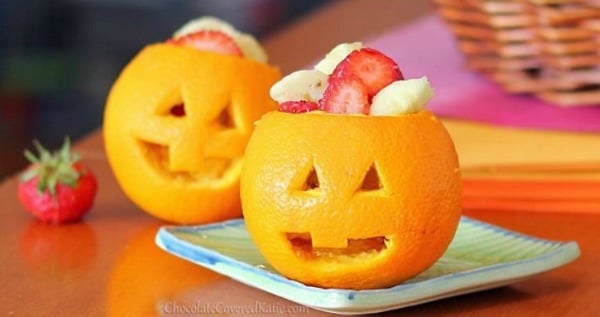 Healthy Halloween Snacks Idea #11: Don't throw away those orange peels just yet! You can turn them into these lovely Jack-O-Lantern Fruit Cups.
Make sure you have a small, sharp knife so you can carve your "pumpkins" easily!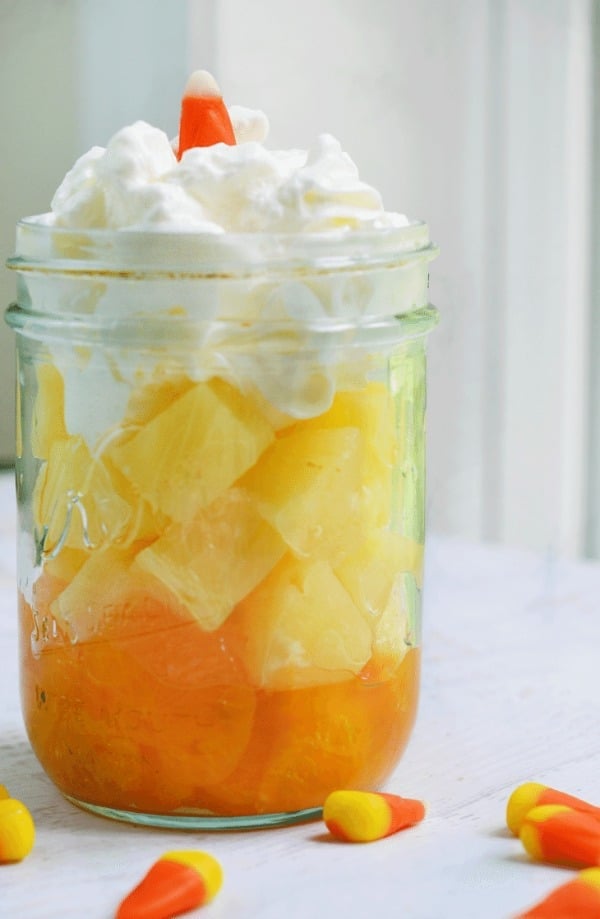 Healthy Halloween Snacks Idea #12: Last but definitely not least, we have this Candy Corn Fruit Cup! You can choose yellow and orange colored fruit of your liking and top it with a homemade whipped cream so you can be sure that it's not too sugary.
It's so important for parents to offer healthier snack options to their children, especially around the holidays.
Because we all know they will be coming home on Halloween night with bags full of candy, it's up to you to give them fun halloween treats that are healthy too.
Listen, I love sweets too! And giving your kids sweets is okay but only in moderation. So from now until Halloween, these snacks will be your go-to.
You can even get the kids involved in making them with you. These are all easy halloween snacks that are so much fun to make and devour!
Your little ones will surely love these Halloween snacks for kids because they are full of spooky and fun stuff like ghosts, skeletons, pumpkins, candy corn, and more! Even the pickiest eaters will LOVE these fun snack ideas!
Do you have Halloween snack ideas your kids love? Let us know in the comments below. We love hearing your creative ideas.
For more party ideas, follow us on Instagram @prettymyparty and Pinterest and join us in our private Facebook group.